Actinobaculum massiliense

Proteome Profiled in Polymicrobial Urethral Catheter Biofilms

1

J. Craig Venter Institute, 9605 Medical Center Drive, Rockville, MD 20850, USA

2

College of Science, Northeastern University, 360 Huntington Avenue, Boston, MA 02115, USA

*

Author to whom correspondence should be addressed.

†

Present address: The University of Alabama in Huntsville, Huntsville, AL 35899, USA.

‡

Present address: Evelo Biosciences, Cambridge, MA 02139, USA.

Academic Editors: Rembert Pieper and Yanbao Yu

Received: 10 October 2018 / Revised: 27 November 2018 / Accepted: 3 December 2018 / Published: 9 December 2018
Abstract
Actinobaculum massiliense
, a Gram-positive anaerobic coccoid rod colonizing the human urinary tract, belongs to the taxonomic class of Actinobacteria. We identified
A. massiliense
as a cohabitant of urethral catheter biofilms (CB). The CBs also harbored more common uropathogens, such as
Proteus mirabilis
and
Aerococcus urinae
, supporting the notion that
A. massiliense
is adapted to a life style in polymicrobial biofilms. We isolated a clinical strain from a blood agar colony and used 16S rRNA gene sequencing and shotgun proteomics to confirm its identity as
A. massiliense
. We characterized this species by quantitatively comparing the bacterial proteome derived from in vitro growth with that of four clinical samples. The functional relevance of proteins with emphasis on nutrient import and the response to hostile host conditions, showing evidence of neutrophil infiltration, was analyzed. Two putative subtilisin-like proteases and a heme/oligopeptide transporter were abundant in vivo and are likely important for survival and fitness in the biofilm. Proteins facilitating uptake of xylose/glucuronate and oligopeptides, also highly expressed in vivo, may feed metabolites into mixed acid fermentation and peptidolysis pathways, respectively, to generate energy. A polyketide synthase predicted to generate a secondary metabolite that interacts with either the human host or co-colonizing microbes was also identified. The product of the PKS enzyme may contribute to
A. massiliense
fitness and persistence in the CBs.
View Full-Text
►

▼

Figures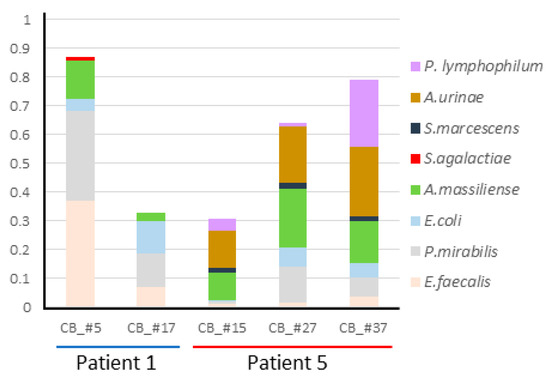 Figure 1
This is an open access article distributed under the
Creative Commons Attribution License
which permits unrestricted use, distribution, and reproduction in any medium, provided the original work is properly cited (CC BY 4.0).
Supplementary materials
Supplementary File 1:

ZIP-Document (ZIP, 1093 KB)

Externally hosted supplementary file 1
Doi: no
Link: http://no
Description: Table S1 (File S1). Metaproteomic database searches and entire genome sequence-derived protein sequence entries (ORFs) from Homo Sapiens and microbial species colonizing the human urogenital tract, bladder catheters and cause urinary tract infections. Dataset S1 (File S2). LC-MS/MS based proteomic data for four catheter biofilm (CB) extracts derived from clinical specimens and one in vitro cell culture pellet (CCP) derived from an Actinobaculum massiliense isolate. Figure S1 (File S3). Glycogen degradation and synthesis pathways and dTDP-L-rhamnose synthesis. MS archival data: raw and msf data in ProteomeXchange/ PRIDE identifier PXD011327

Share & Cite This Article
MDPI and ACS Style
Yu, Y.; Tsitrin, T.; Singh, H.; Doerfert, S.N.; Sizova, M.V.; Epstein, S.S.; Pieper, R. Actinobaculum massiliense Proteome Profiled in Polymicrobial Urethral Catheter Biofilms. Proteomes 2018, 6, 52.
Note that from the first issue of 2016, MDPI journals use article numbers instead of page numbers. See further details here.
Related Articles
Comments
[Return to top]