Light Energy Partitioning under Various Environmental Stresses Combined with Elevated CO2 in Three Deciduous Broadleaf Tree Species in Japan
1
Hokkaido Research Center, Forestry and Forest Products Research Institute, Hitsujigaoka 7, Sapporo 062-8516, Japan
2
Department of Plant Ecology, Forestry and Forest Products Research Institute, Matsunosato 1, Tsukuba 305-8687, Japan
3
Institute of Ecology, Key Laboratory of Agrometeorology of Jiangsu Province, School of Applied Meteorology, Nanjing University of Information Science & Technology, Nanjing 210044, China
4
Laboratory of Plant Nutrition, Hokkaido University, Sapporo 060-8589, Japan
*
Author to whom correspondence should be addressed.
Received: 28 March 2019 / Revised: 27 May 2019 / Accepted: 30 May 2019 / Published: 3 June 2019
Abstract
Understanding plant response to excessive light energy not consumed by photosynthesis under various environmental stresses, would be important for maintaining biosphere sustainability. Based on previous studies regarding nitrogen (N) limitation, drought in Japanese white birch (
Betula platyphylla
var.
japonica
), and elevated O
3
in Japanese oak (
Quercus mongolica
var.
crispula
) and Konara oak (
Q. serrata
) under future-coming elevated CO
2
concentrations, we newly analyze the fate of absorbed light energy by a leaf, partitioning into photochemical processes, including photosynthesis, photorespiration and regulated and non-regulated, non-photochemical quenchings. No significant increases in the rate of non-regulated non-photochemical quenching (J
NO
) were observed in plants grown under N limitation, drought and elevated O
3
in ambient or elevated CO
2
. This suggests that the risk of photodamage caused by excessive light energy was not increased by environmental stresses reducing photosynthesis, irrespective of CO
2
concentrations. The rate of regulated non-photochemical quenching (J
NPQ
), which contributes to regulating photoprotective thermal dissipation, could well compensate decreases in the photosynthetic electron transport rate through photosystem II (J
PSII
) under various environmental stresses, since J
NPQ
+J
PSII
was constant across the treatment combinations. It is noteworthy that even decreases in J
NO
were observed under N limitation and elevated O
3
, irrespective of CO
2
conditions, which may denote a preconditioning-mode
adaptive response
for protection against further stress. Such an
adaptive response
may not fully compensate for the negative effects of lethal stress, but may be critical for coping with non-lethal stress and regulating homeostasis. Regarding the three deciduous broadleaf tree species, elevated CO
2
appears not to influence the plant responses to environmental stresses from the viewpoint of susceptibility to photodamage.
View Full-Text
►

▼

Figures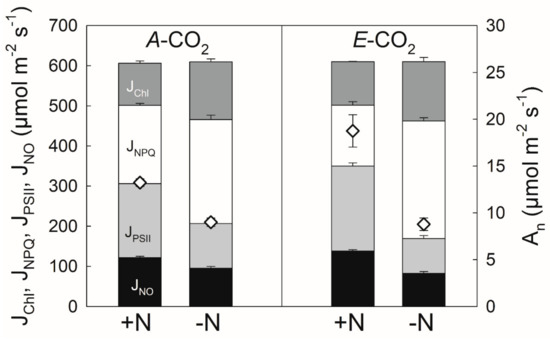 Figure 1
This is an open access article distributed under the
Creative Commons Attribution License
which permits unrestricted use, distribution, and reproduction in any medium, provided the original work is properly cited (CC BY 4.0).

Share & Cite This Article
MDPI and ACS Style
Kitao, M.; Tobita, H.; Kitaoka, S.; Harayama, H.; Yazaki, K.; Komatsu, M.; Agathokleous, E.; Koike, T. Light Energy Partitioning under Various Environmental Stresses Combined with Elevated CO2 in Three Deciduous Broadleaf Tree Species in Japan. Climate 2019, 7, 79.
Note that from the first issue of 2016, MDPI journals use article numbers instead of page numbers. See further details here.
Related Articles
Comments
[Return to top]