Open Access This article is
freely available
re-usable
Article
Influence of Regulated Deficit Irrigation and Environmental Conditions on Reproductive Response of Sweet Cherry Trees
1
Dpto Ingeniería Agronómica, Universidad Politécnica de Cartagena (UPCT), Paseo Alfonso XIII, 48, E-30203 Cartagena, Spain
2
Dpto Automática, Ingeniería Eléctrica y Tecnología Electrónica, Universidad Politécnica de Cartagena (UPCT), Campus de la Muralla s/n, E-30202 Cartagena, Spain
*
Author to whom correspondence should be addressed.
Received: 23 November 2019 / Accepted: 8 January 2020 / Published: 11 January 2020
Abstract
:
The reproductive response of fifteen year old sweet cherry trees (
Prunus avium
L.) combination 'Prime Giant'/SL64 under Mediterranean climate to deficit irrigation was studied in a commercial orchard in south-eastern Spain for four seasons. Three irrigation treatments were assayed: (i) control treatment, irrigated without restrictions at 110% of seasonal crop evapotranspiration; (ii) sustained deficit irrigation treatment, irrigated at 85% ET
c
during pre-harvest and post-harvest periods, and at 100% ET
c
during floral differentiation, and (iii) regulated deficit irrigation treatment, irrigated at 100% ET
c
during pre-harvest and floral differentiation and at 55% ET
c
during post-harvest. The duration and intensity of the phenological phases of sweet cherry trees, including cold accumulation, flowering, fruit set or fruit and vegetative growth, were assessed to ascertain whether the different irrigation strategies imposed affect the trees' reproductive response (fruit yield, fruit size, leaf area, fruit physiological disturbances, and starch and soluble carbohydrates stock) in the same season or have a negative effect in the next season. Deficit irrigation did not advance, enhance or penalize flowering, fruit set or fruit growth. Neither did it diminish carbohydrate concentration in roots or cause an increase in the number of double fruits, which was more linked to high temperatures after harvest. However, deficit irrigation decreased vegetative growth and consequently the leaf area/fruit ratio, which, when it fell below 180 cm
2
fruit
−1
, affected cherry size.
Keywords:
carbohydrates stock; chill hours; flowering; fruit setting; irrigation; leaf area;
Prunus avium
L.
1. Introduction
The main aim of this work was to ascertain how deficit irrigation strategies affect the generative or reproductive response of 'Prime Giant' sweet cherry in semiarid zones. This research focuses on four different goals: (i) tree reproductive growth, (ii) fruit defects, (iii) roots starch concentration and its influence on the following yield, and (iv) the relationship between crop phenological responses and weather conditions during four consecutive seasons in the southeast of Spain.
4. Materials and Methods
4.1. Experimental Site and Plant Material
The experiment was conducted during four growing seasons (2015–2018) in a fifteen year old commercial orchard located in Jumilla (Murcia, Spain), latitude 38° 8′ N, longitude 1° 22ʹ W and 675 m above sea level, with a typical Mediterranean climate. Soil and irrigation water were characterized. Soil texture was sandy-loam (67.5% sand, 17.5% silt and 15% clay), and moderately stony. Low salinity irrigation water (electrical conductivity of 0.8 dS m−1) with concentrations of sodium and chloride below 1.7 and 1.05 mmol L−1, respectively, was used.
The plant material consisted of sweet cherry trees (
Prunus avium
L.) of the combination 'Prime Giant'/SL64 trained to a vase system with 'Early Lory' and 'Brooks' as pollinizers at a tree density of 667 trees ha
−1
.
Trees were automatically drip irrigated using a single drip line with three pressure-compensated emitters of 4 L h−1 each per tree. The different irrigation treatments were initiated each season before flowering and suspended at the end of November. Trees of all irrigation treatments were similarly managed by the technical department of the commercial orchard according to standard fruit farming practices for the cultivar and region. Fertilization, which consisted of 63, 30, 107 and 8 kg ha−1 of N, P2O5, K2O and CaO respectively, was applied through the irrigation system with the water and was the same in all treatments regardless of the amount of water applied.
4.2. Irrigation Treatments
The crop evapotranspiration (ET
c
) was calculated as the product of the reference evapotranspiration (ET
0
), the crop-specific coefficient (K
c
)—which, in the case of sweet cherry trees was reported by Marsal [
44
]—and a localization factor related to the percentage of ground covered by the crop, as reported by Fereres et al. [
45
].
The experiment consisted of three irrigation regimes: a control (CTL), irrigated at 110% ETc to maintain non-limiting soil water conditions throughout the season; a regulated deficit irrigation treatment (RDI), which applied 100% of ETc during preharvest and flower differentiation and 55% of ETc during postharvest; and a sustained deficit irrigation treatment (SDI), which irrigated at 85% of ETc during preharvest and postharvest, except for the 15–20 days after the first harvest (floral differentiation), when trees were irrigated at 100% ETc.
Treatments were distributed according to a completely randomized block design with four blocks per treatment. Each block consisted of seven trees, but only the five central trees were used for experimental measurements.
4.3. Weather Conditions
Daily agrometeorological data such as temperature, relative humidity, rainfall, wind speed, radiation and ET
0
were recorded by a weather station near the experimental orchard owned by the Spanish Consultancy Service for Irrigation Users (SIAR;
http://crea.uclm.es/siar/datmeteo/
).
The quantification of chill requirements was calculated by three different methods: (i) the chilling hours model described by Weinberger [
46
], as the number of hours below 7 °C and above 0 °C; (ii) the modified chill unit model [
47
], which considers positive and negative chill unit contributions depending on air temperature during the dormancy period; and (iii) the chill portions model [
48
,
49
] calculated as a dynamic model that considers two stages, a first, reversible, stage in which high air temperature destroys chill accumulation, and a second, irreversible, stage. Heat requirements were calculated as the accumulation of GDH based on average hourly air temperature minus 4 °C. The accumulation of GDH was considered from the end of dormancy (buds at BBCH stage 53) to the date when 50% of the flowers were open. The phenological calendar was expressed as day of the year (DOY) and days after full bloom (DAFB).
4.4. Flowering and Fruiting
Two principal branches, randomly selected from east and west exposures in three trees per block, were used to measure the total number of fruiting spurs, flower buds per fruiting spur, flowers per flower bud and total number of fruits finally developed. The fruit set was calculated as the final number of fruit developed on the fruiting spurs on the branch divided by the total number of flowers counted, multiplied by one hundred.
4.5. Fruit and Vegetative Growth
Fruit growth was evaluated weekly during 2016 and 2017 preharvest as fruit unitary weight. Weekly, ten representative sweet cherries per block, forty per treatment, were picked and weighed on an electronic balance (AX623, Sartorius AG, Gottingen, Germany).
Vegetative growth was evaluated by measuring the evolution of current season shoot length, reproductive spur leaf area and total leaf area. Current season shoot growth was periodically measured during the growing seasons of 2016 and 2017 in the same four shoots per tree, two trees per block, with a tape measure (Tylon Pocket, Stanley, New Britain, CT, USA). Similarly, in 2016 and 2017, 25 spur leaves per block were periodically cut off in order to be later scanned in the laboratory using a leaf-area meter (LI-3100C, LI-COR Inc., Lincoln, NE, USA). In the last measurements, when mature leaves showed a constant area, the fresh and dry weights of the same samples were measured to obtain a relationship between leaf area and fresh leaf weight and leaf area and dry leaf weight. Fresh and dry leaves were weighed on an electronic balance (AX623, Sartorius AG, Gottingen, Germany). Dry leaf weight was measured once the leaves were dried to a constant weight in a ventilated oven (Digitheat, JP Selecta SA, Barcelona, Spain) at 60 °C.
In order to estimate the total leaf area of the trees, the shaded area of the trees was measured during the four years of the study in the same three trees per block on clear days at noon with a linear quantum sensor (Accupar Linear PAR, Decagon Devices Inc., Pullman, WA, USA), which measures the radiation that passes through the canopy. The photosynthetic photon flux rate (PPFR) intercepted by the canopy was calculated as the value measured when the sensor is exposed directly to sunlight (1500 μmol m−2 s−1) minus the mean value measured from 30 measurements in a grid pattern (0.25 m2 mesh) under the tree projection on the soil surface. In 2016, the same trees in which PPFR was measured were chosen to calculate their total leaf area. Thus, during the annual pruning, the leaves were separated from the pruning wood and weighed in the field in order to obtain the corresponding weight of the wood and the leaves. From the fresh weight of the leaves the leaf area was estimated. Moreover, during autumn and winter the trees were covered by a plastic bird net to ascertain the total number of fallen leaves of each tree. The fallen leaves were periodically collected and taken to the laboratory, where they were dried to a constant weight. Based on the dry weight of these leaves, the leaf area was estimated. The total leaf area of the tree was calculated as the sum of the areas of the leaves of the pruning wood and the fallen leaves. The value of total leaf area per tree was related to the PPFR measured in the same tree.
4.6. Yield
The total fruit yield was determined each year of the study on the basis of the weight of the total fruit harvested per tree, measured in the five central trees of each block. Fruit unitary weight at harvest was calculated by counting the number of fruits in 5 kg samples from the three central trees of each block. The number of double cherries in those sample was recorded to evaluate the effect of the irrigation strategy on double fruit occurrence. Fruit load, taken as the number of fruits per tree, was estimated by the ratio of total fruit yield per tree to average fruit unitary weight.
4.7. Starch and Soluble Carbohydrates Concentration
In January 2016, 2017 and 2018, active roots from two trees of three blocks per treatment were removed in order to analyze the tree's total carbohydrate content before bloom. Active roots with a mean diameter of 5 mm, located at 20 cm depth within the wet area of the closest emitter to the trunk, were excised. In the laboratory, they were washed and dried in a forced air oven at 65 °C until a constant mass was reached. Dried root samples were ground with a hand mill (M20, IKA-WERKE, Staufen, Germany). Root total carbohydrates were calculated as the sum of soluble carbohydrates and starch, which were determined according to the Somogyi–Nelson method [
50
].
4.8. Statistical Analysis
Analysis of variance (ANOVA) and post-hoc test (Duncan's multiple range) with a significance level of
p
< 0.05 were performed using the statistical software package IBM SPSS Statistic 24 (IBM Corp., Armonk, NY, USA) and linear relationships between variables were calculated with Sigma Plot 12.5 (Systat software Inc., San Jose, CA, USA).
5. Conclusions
'Prime Giant' sweet cherry trees could be recommended in semiarid areas which satisfy 94 chill portions. However, as this cultivar rapidly develops from the swollen bud to open flower stage, it cannot be proposed as a suitable cultivar in areas with late frost episodes that may coincide with blooming. Moreover, 'Prime Giant' sweet cherry trees need 780 GDD to complete fruit development, which is easily satisfied in warm climates.
The application of postharvest deficit irrigation with water savings of up to 40% over the control treatment had no significant effect on the carbohydrate content of roots, or on flowering and fruit set. However, it reduced vegetative growth, which decreases the LA:F ratio and could negatively affect fruit size. In order to avoid quality losses, such as small cherries, fruit thinning should be considered in high cropping years in order to achieve LA:F values higher than 180 cm2 fruit−1, which would ensure a cherry unitary mass above 10 g. High cropping years were the result of a high fruit setting, which was linked to a high concentration of starch and soluble carbohydrates in the roots of the tree. SSCC values of more than 20% in roots led to 33% higher fruit setting values than those measured in years with SSCC values lower than 20%. Double fruit occurrence was not influenced by the irrigation strategies assayed but by a maximum average air temperature, in excess of 30 °C, during the first 30 days after harvest.
Author Contributions
Conceptualization, V.B., P.J.B.-R., R.T.-S. and R.D.; methodology, V.B., P.J.B.-R., R.T.-S. and R.D.; software, R.T.-S.; validation, V.B., P.J.B.-R., R.T.-S. and R.D.; formal analysis, V.B., P.J.B.-R.; investigation, V.B., P.J.B.-R., R.T.-S. and R.D.; data curation, V.B. and P.J.B.-R.; writing—original draft preparation, V.B. and P.J.B.-R.; writing—review and editing, R.D. and R.T.-S.; supervision, R.D.; project administration, R.D. and R.T.-S.; funding acquisition, R.D. and R.T.-S. All authors have read and agreed to the published version of the manuscript.
Funding
This research was funded by the Spanish Economy and Competitiveness Ministry (MINECO) and the European Agricultural Funds for Rural Development. Reference: AGL2013-49047-C2-1-R, AGL2016-77282-C3-3-R and the "Fundación Séneca, Agencia de Ciencia y Tecnología" of the Region of Murcia under the Excelence Group Program 19895/GERM/15. Victor Blanco acknowledges the research initiation grant received from the Technical University of Cartagena (UPCT).
Acknowledgments
The authors are grateful to Pedro and Agustín Carrión-Guardiola, "Finca Toli" farm owners, for letting them use their facilities to carry out the tests. Authors thank José María Tarjuelo Martín-Benito, at the Universidad de Castilla La Mancha, for having provided the climatic data.
Conflicts of Interest
The authors declare no conflict of interest.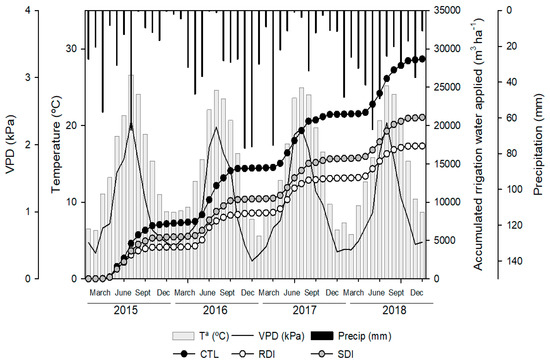 Figure 1. Seasonal evolution of monthly mean temperature (Ta), monthly mean air vapour pressure deficit (VPD) accumulated monthly rainfall (Precip) and accumulated irrigation water applied to each treatment during the experiment (2015–2018) at the 'Prime Giant'/SL64 sweet cherry orchard in Jumilla (Spain).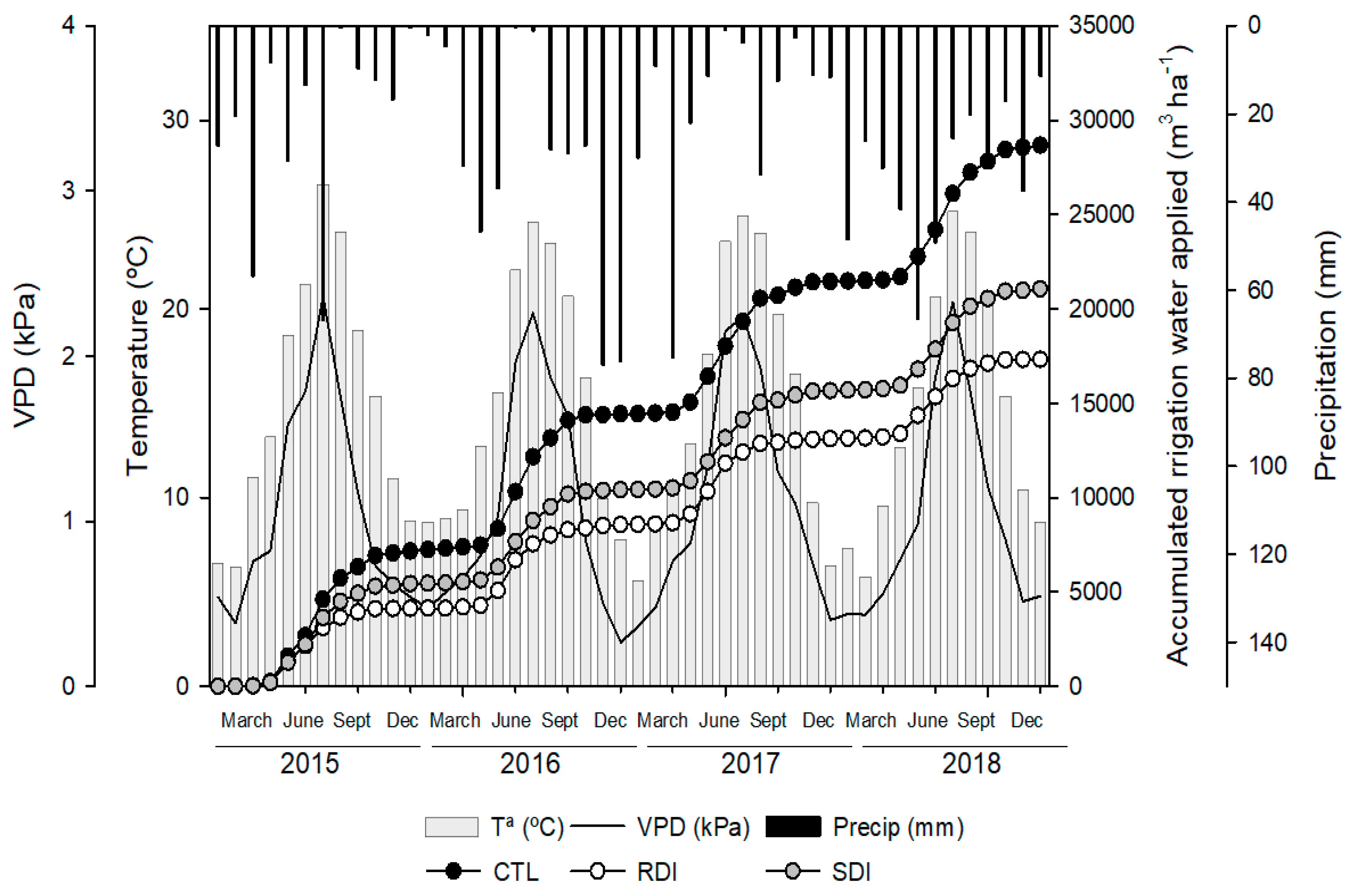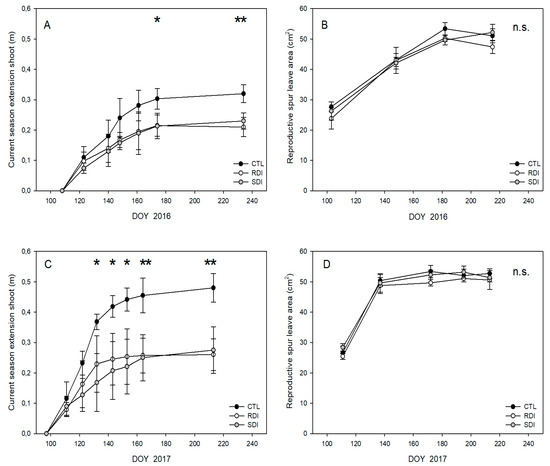 Figure 2.
Seasonal evolution of accumulated length of current season shoots (
A
,
C
) and reproductive spur leaf area (
B
,
D
) of 'Prime Giant'/SL64 sweet cherry combination for 2016 and 2017 seasons to CTL, RDI and SDI irrigation treatments. Each observation corresponds to an average value for each treatment (n = 4). * and ** refer to significant effects at each time according to ANOVA (
p
< 0.05 and 0.01, respectively). n.s. refers to not significant differences.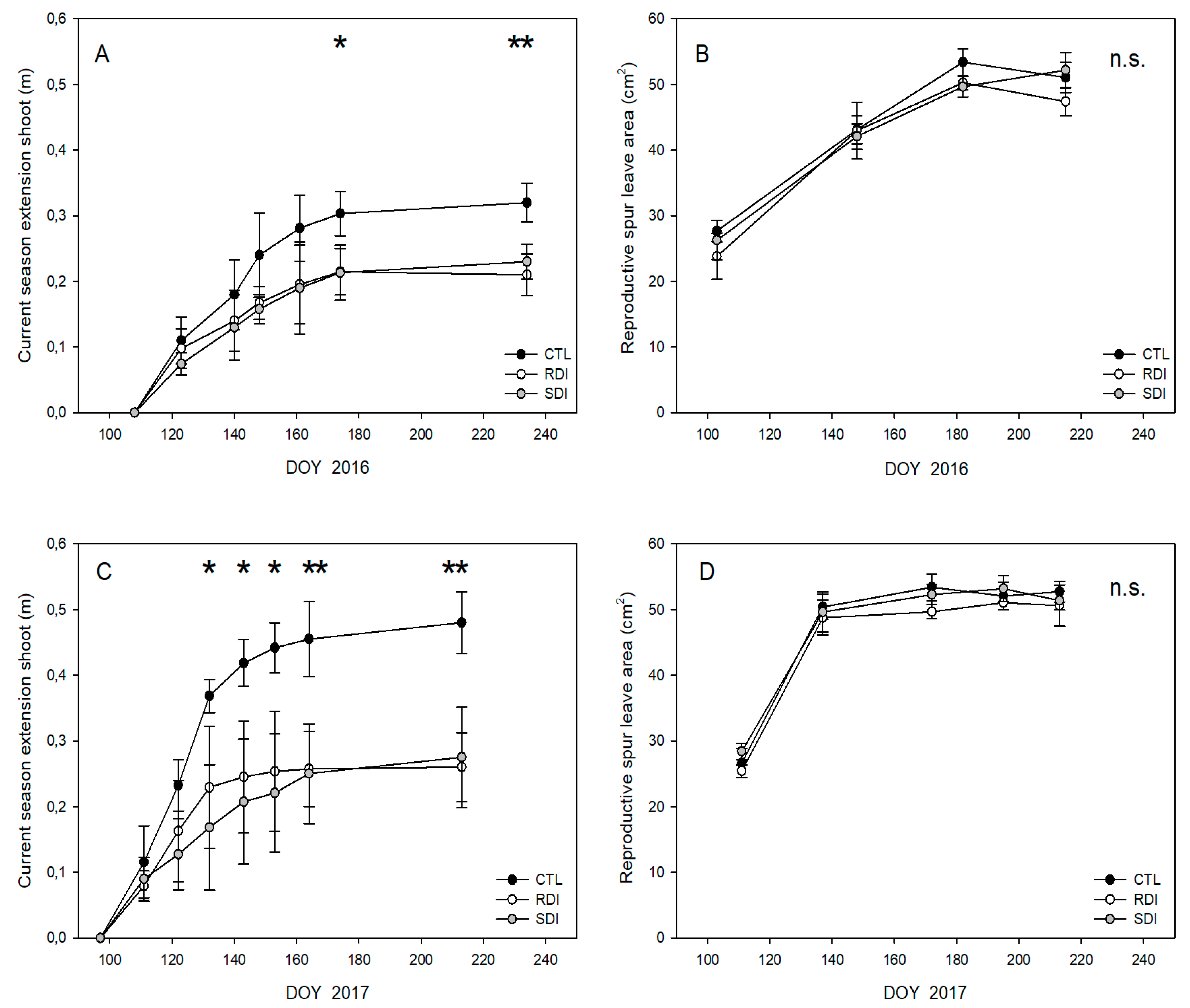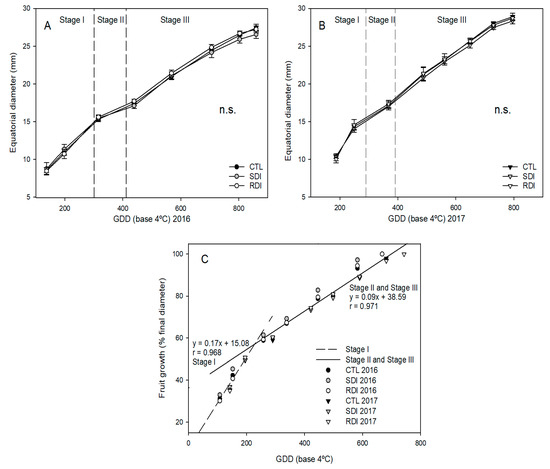 Figure 3.
Seasonal fruit growth of 'Prime Giant'/SL64 sweet cherry combination during 2016 (
A
) and 2017 (
B
) to CTL, SDI and RDI irrigation treatments and fruit growth pattern related to growing degree days (GDD) (
C
). Each observation corresponds to an average value for each treatment (n = 4). n.s. refers to not significant differences among irrigation treatments, according to ANOVA (
p
< 0.05).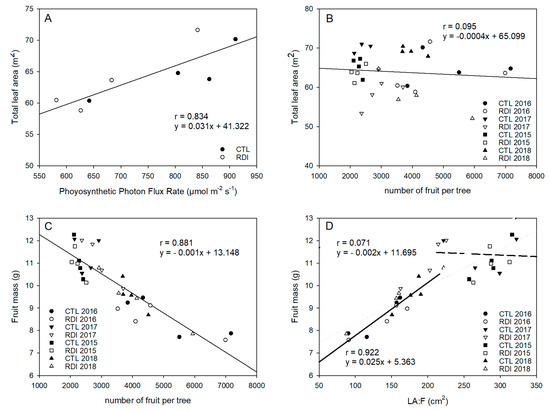 Figure 4. Relationships between photosynthetic photon flux rate and tree total leaf area (A), number of fruit per tree and total leaf area (B), number of fruit per tree and fruit unitary mass (C), leaf area:fruit ratio (LA:F) and fruit unitary mass (D). Each observation corresponds to an average value for each block (n = 3).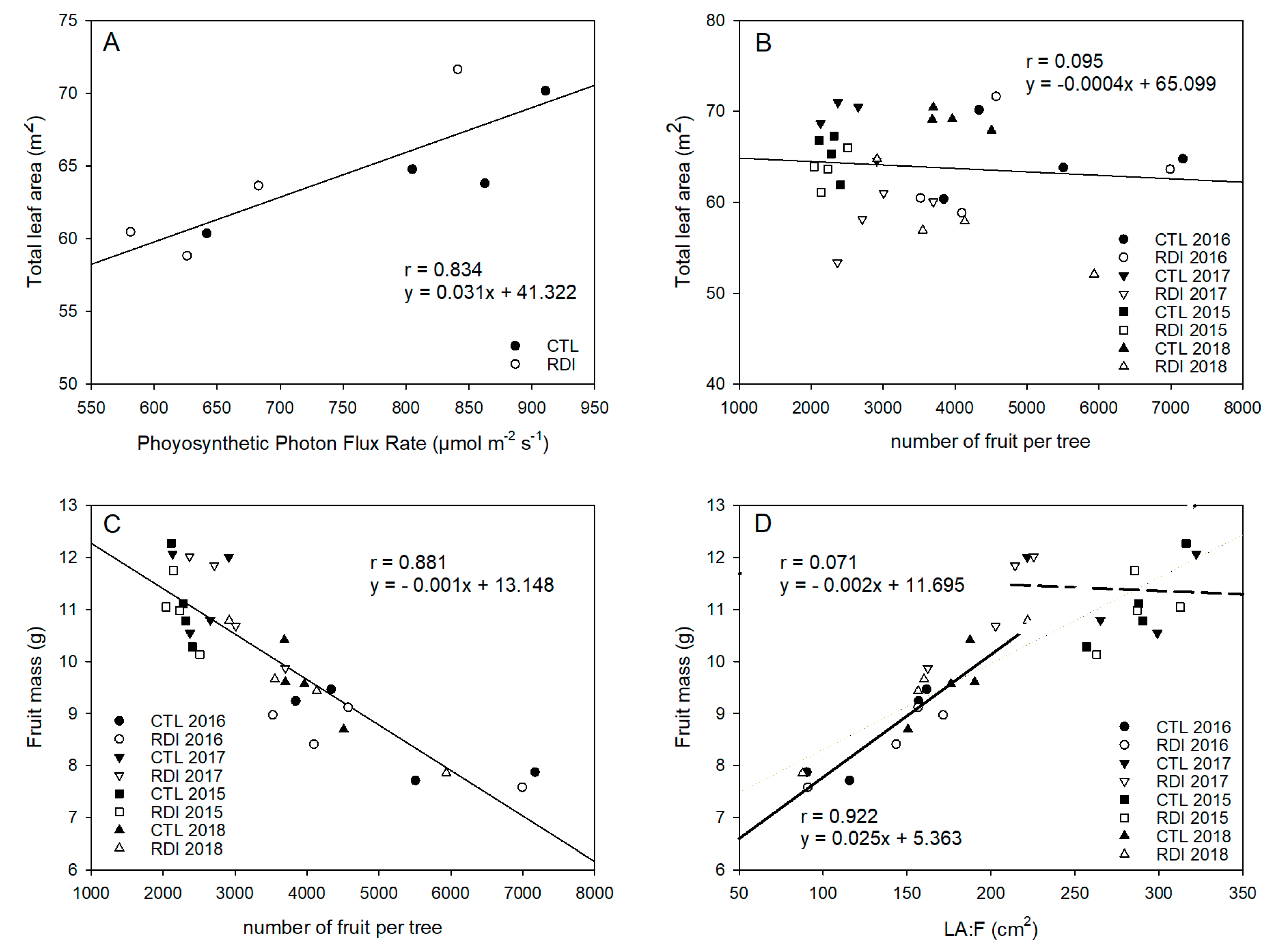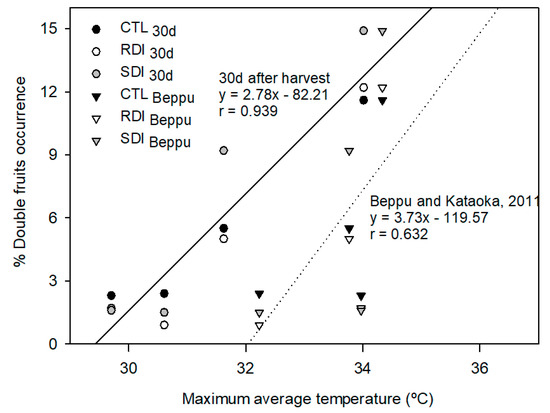 Figure 5.
Relationships between maximum average temperature during the 30 days after harvest or 30 days between mid-July and mid-August (period reported by Beppu and Kataoka [
19
] and the % of double fruits occurrence. Each observation corresponds to the average value for each treatment and year (n = 4).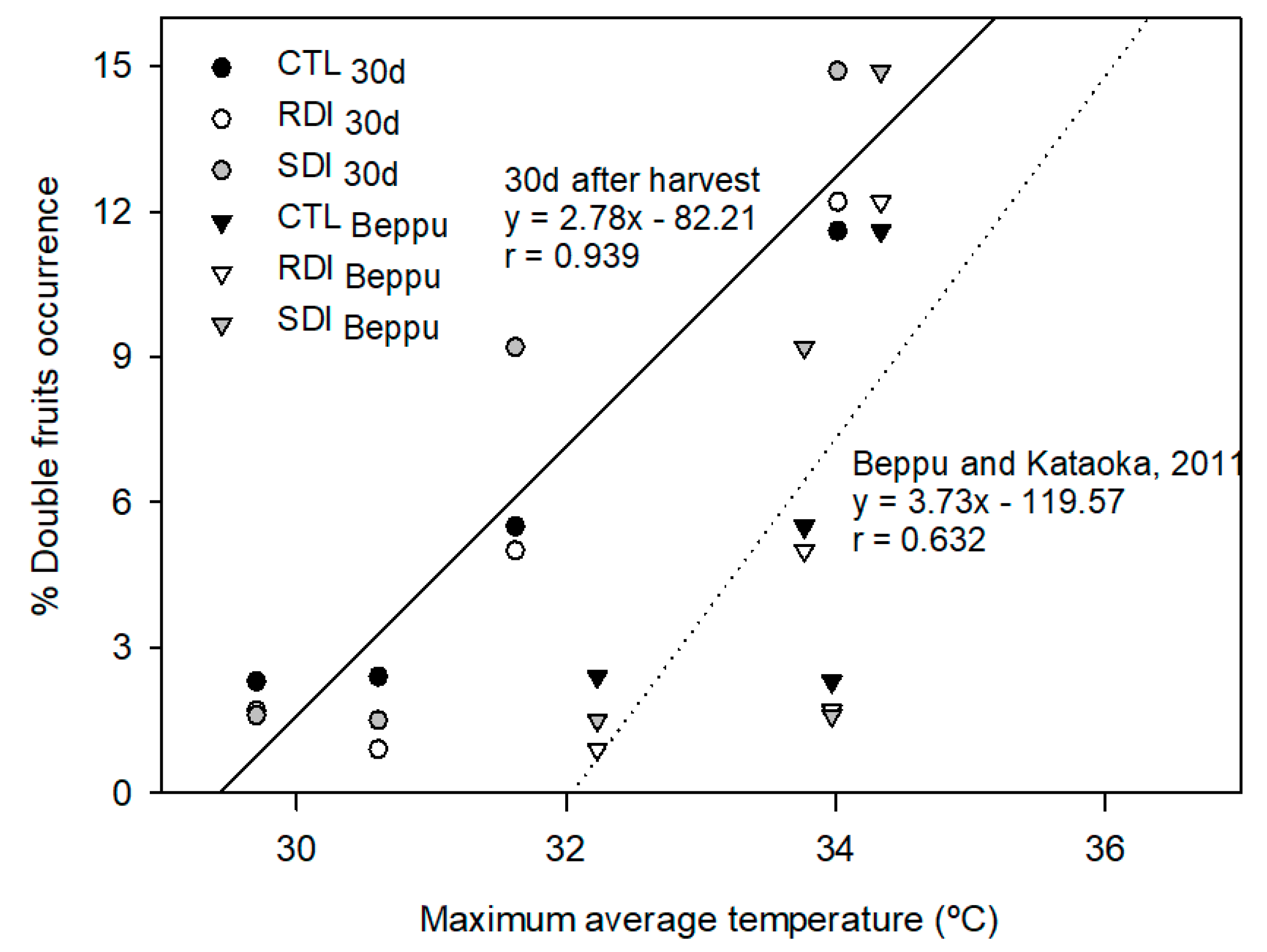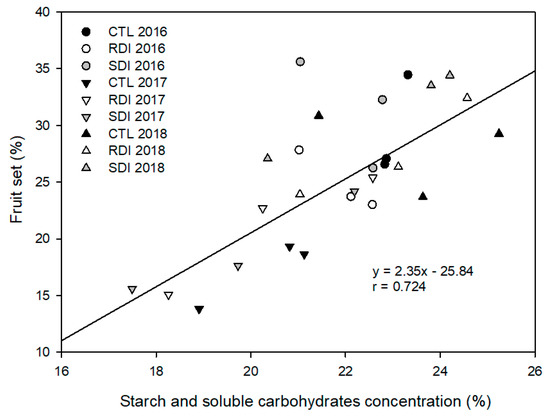 Figure 6. Relationship between starch and soluble carbohydrates concentration (%) in winter (January) and fruit setting in spring of the same year. Each observation corresponds to an average value for each block (n = 2).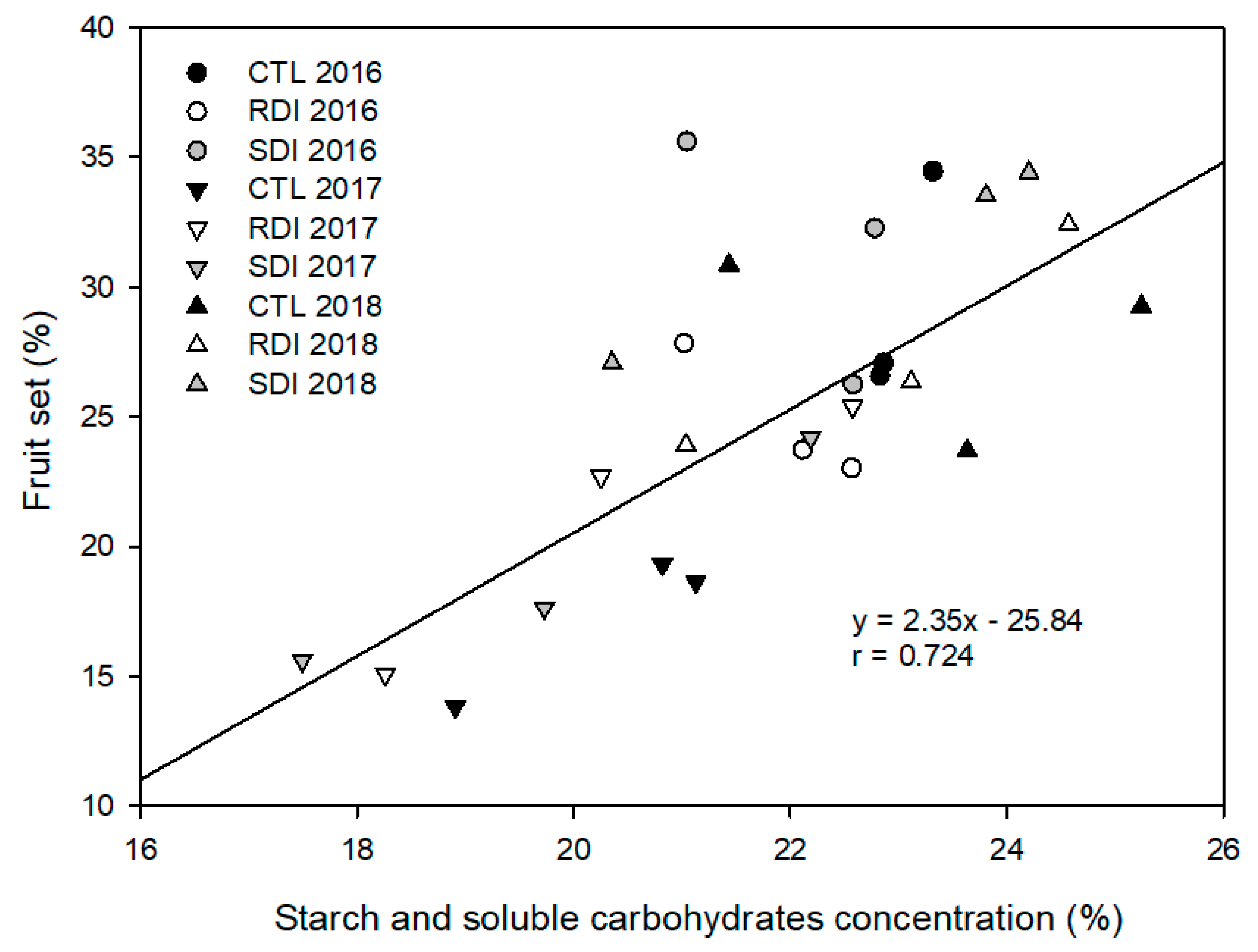 Table 1. Chilling requirements measured for the November–March period at Jumilla (Spain) and growing degree hours (GDH) between the end of dormancy and full bloom of 'Prime Giant' sweet cherry trees.
| | Chill Hours | Chill Units | Chill Portions | GDH | Blooming Date |
| --- | --- | --- | --- | --- | --- |
| 2015 | 1299 | 1123 | 94 | 6853 | April 6th |
| 2016 | 1181 | 1038 | 93 | 7014 | April 16th |
| 2017 | 1326 | 1269 | 96 | 6363 | April 3rd |
| 2018 | 1274 | 1087 | 92 | 6708 | April 12th |
| Mean | 1270 | 1129 | 94 | 6735 | |
| SE | 31.4 | 49.6 | 0.8 | 139 | |
| CV | 0.02 | 0.04 | 0.01 | 0.02 | |
Standard error (SE), Coefficient of variation (CV).

Table 2. Number of spurs per meter, flower buds per spur, flowers per bud and number of fruits per 100 flowers measured in 'Prime Giant'/SL64 sweet cherry combination at Jumilla (Spain).
Spurs per Meter
Flower Buds per Spur
Flowers per Bud
N0 Fruits per 100 Flowers
Treatment
CTL
15.77
5.17
3.04
21.93
RDI
17.43
5.18
3.10
22.06
SDI
18.33
5.39
3.19
24.87
Year
2015
-
4.79
2.92
15.08
2016
18.09
5.40
3.48
28.53
2017
14.93
5.16
3.04
19.16
2018
18.51
5.63
3.00
29.05
ANOVA
Treatment
n.s.
n.s.
n.s.
n.s.
Year
n.s.
n.s.
n.s.
***
T × Y
n.s.
n.s.
n.s.
n.s.
In the ANOVA section, *** refers to significant effect at

p

= 0.001 and n.s. to not significant.

Table 3. Lengths of sweet cherry development stages as day of the year (DOY), days after full bloom (DAFB), number of days elapsed between stages (Duration) and growing degree days base 4 °C (GDD).
DOY
DAFB
Duration
GDD
2015
Full Bloom
96
0
8
74
Fruit Set
104
8
9
98
Stage I
113
17
10
128
Stage II
123
27
7
107
Stage III
130
34
24
370
Harvest
154
58
58
777
2016
Full Bloom
107
0
7
72
Fruit Set
114
7
10
89
Stage I
124
17
13
140
Stage II
137
30
9
111
Stage III
146
39
23
392
Harvest
169
62
62
805
2017
Full Bloom
93
0
8
75
Fruit Set
95
8
7
94
Stage I
105
15
14
121
Stage II
116
29
8
101
Stage III
126
37
23
352
Harvest
153
60
60
743
2018
Full Bloom
102
0
8
76
Fruit Set
110
8
7
89
Stage I
117
15
12
128
Stage II
129
27
8
93
Stage III
137
35
28
405
Harvest
165
63
63
791
Total duration
Mean
160
61
779
SE
8.0
2.2
26.6
CV
0.050
0.036
0.034
Standard error (SE), Coefficient of variation (CV).

© 2020 by the authors. Licensee MDPI, Basel, Switzerland. This article is an open access article distributed under the terms and conditions of the Creative Commons Attribution (CC BY) license (http://creativecommons.org/licenses/by/4.0/).