The Copper Amine Oxidase AtCuAOδ Participates in Abscisic Acid-Induced Stomatal Closure in Arabidopsis
1
Department of Science, Università Roma Tre, 00146 Roma, Italy
2
Institute of Plant Sciences, The Volcani Center, ARO, Bet Dagan 50250, Israel
3
Istituto Nazionale Biostrutture e Biosistemi (INBB), 00136 Rome, Italy
4
Department of Life, Health, and Environmental Sciences, Università dell'Aquila, 67100 L'Aquila, Italy
*
Author to whom correspondence should be addressed.
Received: 10 May 2019 / Revised: 14 June 2019 / Accepted: 17 June 2019 / Published: 20 June 2019
Abstract
Plant copper amine oxidases (CuAOs) are involved in wound healing, defense against pathogens, methyl-jasmonate-induced protoxylem differentiation, and abscisic acid (ABA)-induced stomatal closure. In the present study, we investigated the role of the
Arabidopsis thaliana
CuAOδ (AtCuAOδ; At4g12290) in the ABA-mediated stomatal closure by genetic and pharmacological approaches. Obtained data show that
AtCuAOδ
is up-regulated by ABA and that two
Atcuaoδ
T-DNA insertional mutants are less responsive to this hormone, showing reduced ABA-mediated stomatal closure and H
2
O
2
accumulation in guard cells as compared to the wild-type (WT) plants. Furthermore, CuAO inhibitors, as well as the hydrogen peroxide (H
2
O
2
) scavenger
N,N1
-dimethylthiourea, reversed most of the ABA-induced stomatal closure in WT plants. Consistently,
AtCuAOδ
over-expressing transgenic plants display a constitutively increased stomatal closure and increased H
2
O
2
production compared to WT plants. Our data suggest that AtCuAOδ is involved in the H
2
O
2
production related to ABA-induced stomatal closure.
View Full-Text
►

▼

Figures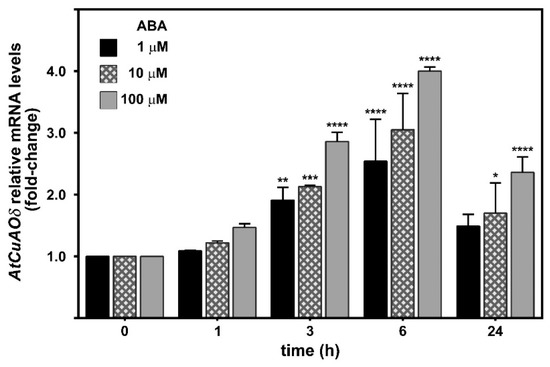 Figure 1
This is an open access article distributed under the
Creative Commons Attribution License
which permits unrestricted use, distribution, and reproduction in any medium, provided the original work is properly cited (CC BY 4.0).

Share & Cite This Article
MDPI and ACS Style
Fraudentali, I.; Ghuge, S.A.; Carucci, A.; Tavladoraki, P.; Angelini, R.; Cona, A.; Rodrigues-Pousada, R.A. The Copper Amine Oxidase AtCuAOδ Participates in Abscisic Acid-Induced Stomatal Closure in Arabidopsis. Plants 2019, 8, 183.
Note that from the first issue of 2016, MDPI journals use article numbers instead of page numbers. See further details here.
Related Articles
Comments
[Return to top]