Open Access This article is
freely available
re-usable
Review
Post-Translational Modification of Proteins Mediated by Nitro-Fatty Acids in Plants: Nitroalkylation
Group of Biochemistry and Cell Signaling in Nitric Oxide, Department of Experimental Biology, Center for Advanced Studies in Olive Grove and Olive Oils, Faculty of Experimental Sciences, University Campus Las Lagunillas, University of Jaén, E-23071 Jaén, Spain
*
Author to whom correspondence should be addressed.
Received: 26 February 2019 / Accepted: 26 March 2019 / Published: 29 March 2019
Abstract
:
Nitrate fatty acids (NO
2
-FAs) are considered reactive lipid species derived from the non-enzymatic oxidation of polyunsaturated fatty acids by nitric oxide (NO) and related species. Nitrate fatty acids are powerful biological electrophiles which can react with biological nucleophiles such as glutathione and certain protein–amino acid residues. The adduction of NO
2
-FAs to protein targets generates a reversible post-translational modification called nitroalkylation. In different animal and human systems, NO
2
-FAs, such as nitro-oleic acid (NO
2
-OA) and conjugated nitro-linoleic acid (NO
2
-cLA), have cytoprotective and anti-inflammatory influences in a broad spectrum of pathologies by modulating various intracellular pathways. However, little knowledge on these molecules in the plant kingdom exists. The presence of NO
2
-OA and NO
2
-cLA in olives and extra-virgin olive oil and nitro-linolenic acid (NO
2
-Ln) in
Arabidopsis thaliana
has recently been detected. Specifically, NO
2
-Ln acts as a signaling molecule during seed and plant progression and beneath abiotic stress events. It can also release NO and modulate the expression of genes associated with antioxidant responses. Nevertheless, the repercussions of nitroalkylation on plant proteins are still poorly known. In this review, we demonstrate the existence of endogenous nitroalkylation and its effect on the in vitro activity of the antioxidant protein ascorbate peroxidase.
Keywords:
nitro-fatty acids; nitroalkenes; nitroalkylation; electrophile; nucleophile; signaling mechanism; post-translational modification; reactive lipid species; nitro-lipid-protein adducts
1. Introduction
This review focuses on the study of reactive lipids species called nitroalkenes. Specifically, we will argue the biological properties of nitroalkenes both in animal and plant systems, as well as their signaling potential generated by a post-translational modification of proteins called nitroalkylation.
2. Nitro-Fatty Acids in Animals
3. Nitro-Fatty Acids in Plants
4. Nitroalkylation
Nitro-fatty acids, which are potent electrophiles owing to the presence of electron-withdrawing nitro (-NO
2
) substituents in the beta carbon, mainly act via post-translational modifications. For this reason, they are able to react with nucleophiles like glutathione or target amino acid residues, which affects their protein structure and eventually their function and subcellular localization [
67
,
88
]. The nitroalkylation PTM involves the establishment of a nitro-lipid-protein adduct with the cession of a couple of electrons from the nucleophile to the electrophile (NO
2
-FA) to form a covalent bond, via a Michael adduction. This process generates lipoxidation adducts (
Figure 4
). Nitroalkylation provokes a chain of signaling phenomena that concludes with anti-inflammatory, anti-hypersensitive, anti-tumorigenic, cytoprotective, and antioxidant effects arbitrated by NO
2
-FAs [
46
,
89
].
Diverse studies have displayed the reversible character of nitroalkylation which enables it to act as a selective signaling pathway in stressful environments. Under these conditions, the rise in the ROS and RNS levels could affect the stability of nitroalkylation. Reactive oxygen and nitrogen species (ROS and RNS) can cause the oxidation of the bond between the sulfur residues and the α-carbon of the NO
2
-FAs (Michael adduct) resulting both in the generation of sulfoxides and derived species and the scission of the Michael adduct. This process results in the releasing of the nitroalkene which enables the protein to recover its initial state [
22
,
66
,
81
,
88
,
90
,
91
]. The reversible possibilities of nitroalkylation in biological processes are of considerable importance, as irreversible PTMs usually lead to permanent loss of function, and thus protein degradation [
22
,
46
,
68
]. Although the main nucleophiles which react with NO
2
-FA are cysteine thiols (Cys-SH), and not all are able to react with electrophiles, in this sense, the deprotonated cysteine thiolate (Cys-S
−
) is specifically the most prone to react [
92
,
93
]. Other nucleophiles are the amino substituents of lysine and arginine residues and the imidazole moiety of histidine [
89
].
4.1. Nitroalkylation in Animals
4.2. Nitroalkylation in Plants
Although the effects of nitroalkylation have been extensively studied in animal organisms, the impact of NO
2
-FA action in plants, which has not been fully explored, constitutes an emerging area of interesting research work. Probably, the signaling function of NO
2
-Ln is due to nitroalkylation processes. In this context, the endogenous presence of 37 proteins adducted with NO
2
-Ln in Arabidopsis cell cultures has been identified. However, cell cultures treated with 100 µM NO
2
-Ln showed an increase in the number of nitroalkylated proteins (342), belonging to different areas of cell metabolism, which included APX2 (unpublished results), whose encoding gene expression, according to the transcriptomic studies mentioned above, was induced [
9
].
Ascorbate peroxidase (APX2) is one of the primary antioxidant systems in plants. This enzyme belongs to the ascorbate–glutathione cycle, which detoxifies hydrogen peroxide and contains non-enzymatic antioxidants (ascorbate and glutathione) and enzymatic antioxidants such as monodehydroascorbate reductase (MDAR), glutathione reductase (GR), and dehydroascorbate reductase (DHAR), as well as the reductive coenzyme NADPH [
127
,
128
].
In this study, the APX recombinant protein from
Arabidospsis thaliana
was incubated with increasing concentrations of NO
2
-Ln (1 µM and 10 µM). The enzymatic activity was spectrophotometrically monitored [
129
]. Furthermore, the nitroalkylation targeted residues of the treated recombinant protein were detected and characterized using LC-MS/MS. Thus, the protein was digested by trypsin and desalted by C18 columns to obtain the peptide fraction which was analyzed using an Exactive Q mass spectrometer attached to a nano-flow liquid chromatograph (nanoLC) (Thermo Fisher Scientific). The LC-MS/MS spectrum deconvolution was carried out employing Proteome Discoverer version 1.4. bioinformatics software (Thermo Fisher Scientific). The Percolator node was used to filter the peptides at a 1% false discovery rate (FDR) at the peptide-spectrum matches (PSMs).
In order to identify the position of the nitroalkylation-targeted nucleophilic residues, an in silico modeling was carried out using Raptor X bioinformatics software (
http://raptorx.uchicago.edu/
). The APX model was based on the structure of isoniazid (INH) bound to cytosolic soybean ascorbate peroxidase (PDB:2VCF) [
130
].
The treatment of recombinant APX with NO
2
-Ln modulates its enzymatic activity, showing a significant decrease in the presence of 10 µM NO
2
−
Ln (
Figure 5
). This decreased activity was associated with the post-translational modification caused by nitroalkylation, which was detected by mass spectrometry. Comparison of the spectra of control and NO
2
-Ln-treated samples displayed a rise in the mass of nucleophilic residues due to treatment with NO
2
-Ln. The electrophilic attack by NO
2
-Ln generated the nitroalkylation of the residues showed in
Figure 6
and
Figure 7
A. with histidine 43 and histidine 163 being preferentially nitroalkylated. This could have functional implications (
Figure 7
B), as histidine 43 and histidine 163 are located at the active and metal-binding site, respectively. This fact suggests that the nitroalkylation of these residues blocks APX enzymatic activity, modulating protein function.
Figure 8
explains the model of the nitro-lipid-protein adducts signaling mechanism in plants. Nitro-lipid-protein adducts stability can be affected by the accumulation of ROS and RNS, which could cause the oxidation of sulfhydryl substituents in proteins, and consequently the scission of the Michael adduct releasing NO
2
-Ln. As was previously mentioned, the nitroalkylation of APX by NO
2
-Ln generates function loss. Under nitro-oxidative conditions, the function of APX would be reactivated due to the reversibility of the nitroalkylation PTM. On the other hand, the levels of free NO
2
-FA increase, being able to stimulate the expression of heat shock proteins (HSPs) and certain antioxidant systems such as APX and methionine sulfoxide reductase B (MSRB). Another possibility is that NO
2
-FA could donate
·
NO in the cellular aqueous environment which could act in a broad set of plant activities such as plant development, (a)biotic disorders, antioxidant responses, and NO-PTMs.
The ability of NO2-Ln to trigger pleiotropic signaling actions mainly depends on the nitroalkylation of regulatory proteins involved in plant biology and numerous types of (a)biotic-stress. Being a reversible post-translational modification, which can affect a large number of target amino acid residues (Cys, His, Lys, and Arg), together with the features outlined above, render nitroalkylation an important cell signaling mechanism mediated by NO2-FAs.
5. Conclusions and Future Perspectives
The potent electrophilic molecules NO
2
-FAs, whose electrophilicity triggers potential signaling mechanisms via nitroalkylation, were recently discovered in both animal and plant systems. This NO
2
-FA-mediated PTM can be considered a NO-PTM similar to
S
-nitrosylation, because NO
2
-FAs are RLS formed as a result of the oxidation of PUFA by NO-derived species. The importance of nitroalkylation resides in its reversibility and in the presence of a considerable amount of target amino acids residues that generate the formation of nitro-lipid-protein adducts, which enables this NO-PTM to trigger pleiotropic signaling actions. In animal systems, nitroalkylation is associated with signaling mechanisms in anti-inflammatory processes. However, in plant systems, this little-known NO-PTM constitutes an emerging area of research which should be developed through advances in mass spectrometry techniques.
Funding
The study was supported by an ERDF grant co-financed by the Spanish Ministry of Economy and Competitiveness (Project BIO2015-66390-P) and the Junta de Andalucía (Group BIO-286).
Acknowledgments
L.A.-C. wishes to thank the University of Jaén for funding her PhD fellowship.
Conflicts of Interest
The authors declare no conflicts of interest.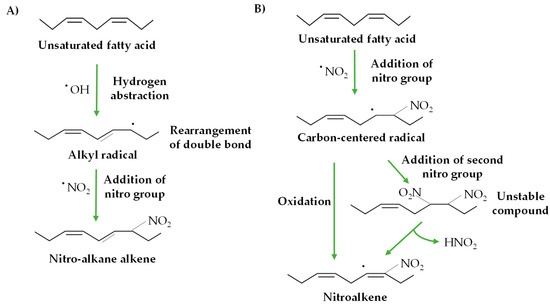 Figure 1.
Possible mechanisms of nitrate fatty acid (NO
2
-FA) formation. (
A
) Alkyl radical generation through a radical hydrogen abstraction from a bis-allylic carbon followed by the insertion of NO
2
. (
B
) NO
2
-FA formation by the direct addition of NO
2
and its oxidation (modified from Reference [
49
]).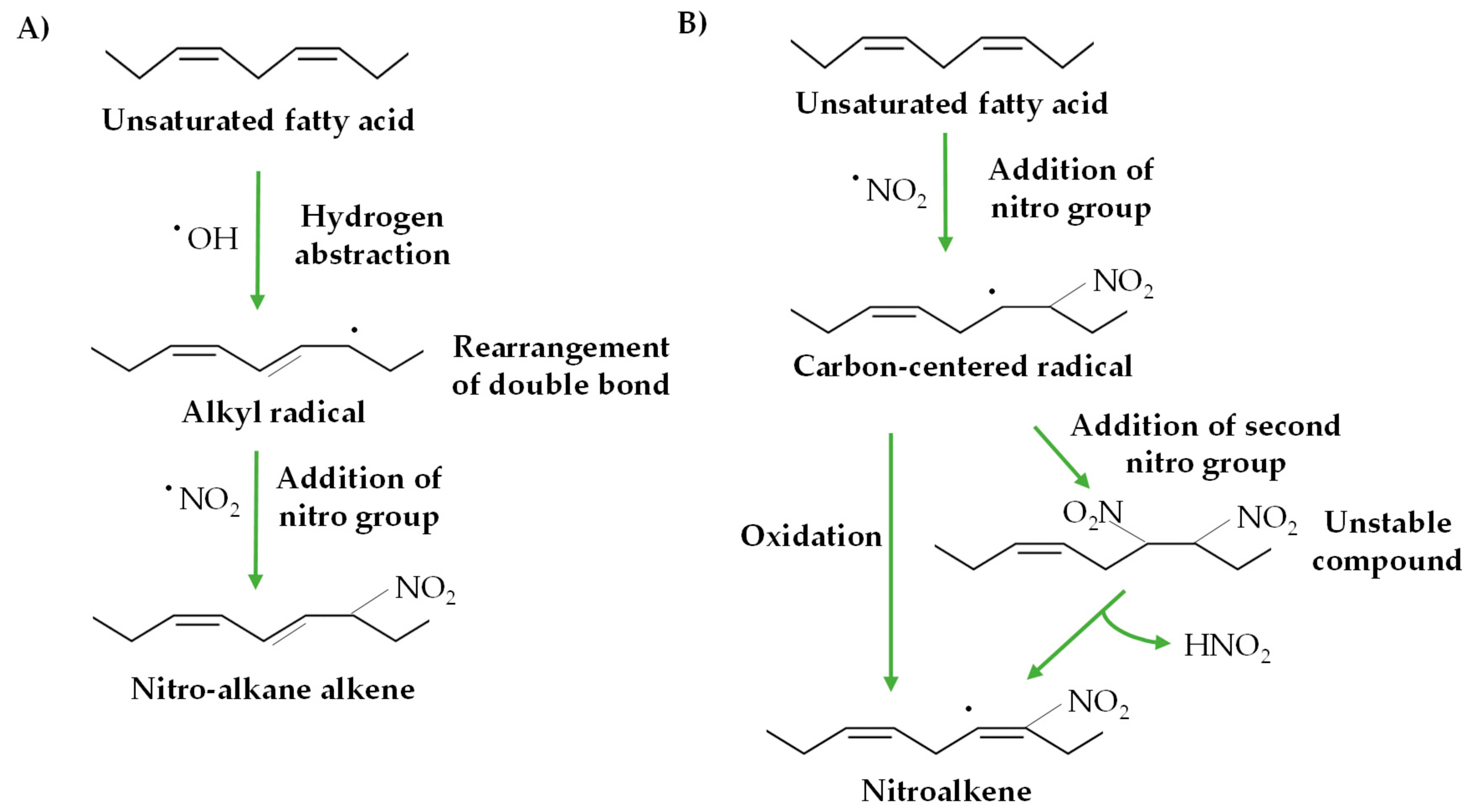 Figure 2.
Mechanism of NO release through the modified Nef reaction. This mechanism consists of the generation of a nitrous intermediate which can homolyze in the aqueous medium to yield a carbon radical and nitric oxide (modified from Reference [
62
]).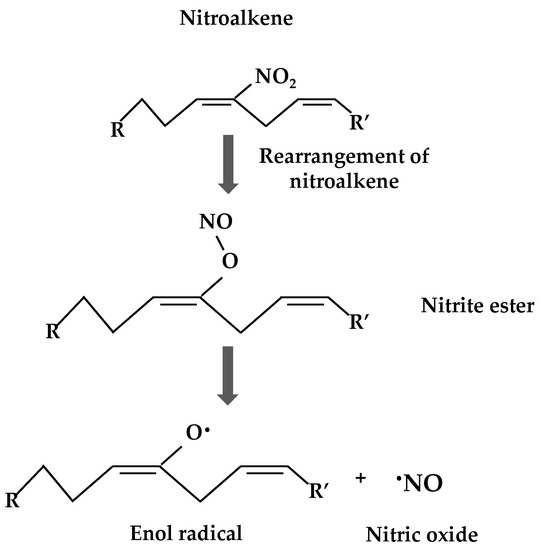 Figure 3.
Release of nitric oxide from nitroalkenes through a rearrangement process. A nitrite ester is formed and homolyzed to yield NO and an enol radical (modified from Reference [
15
]).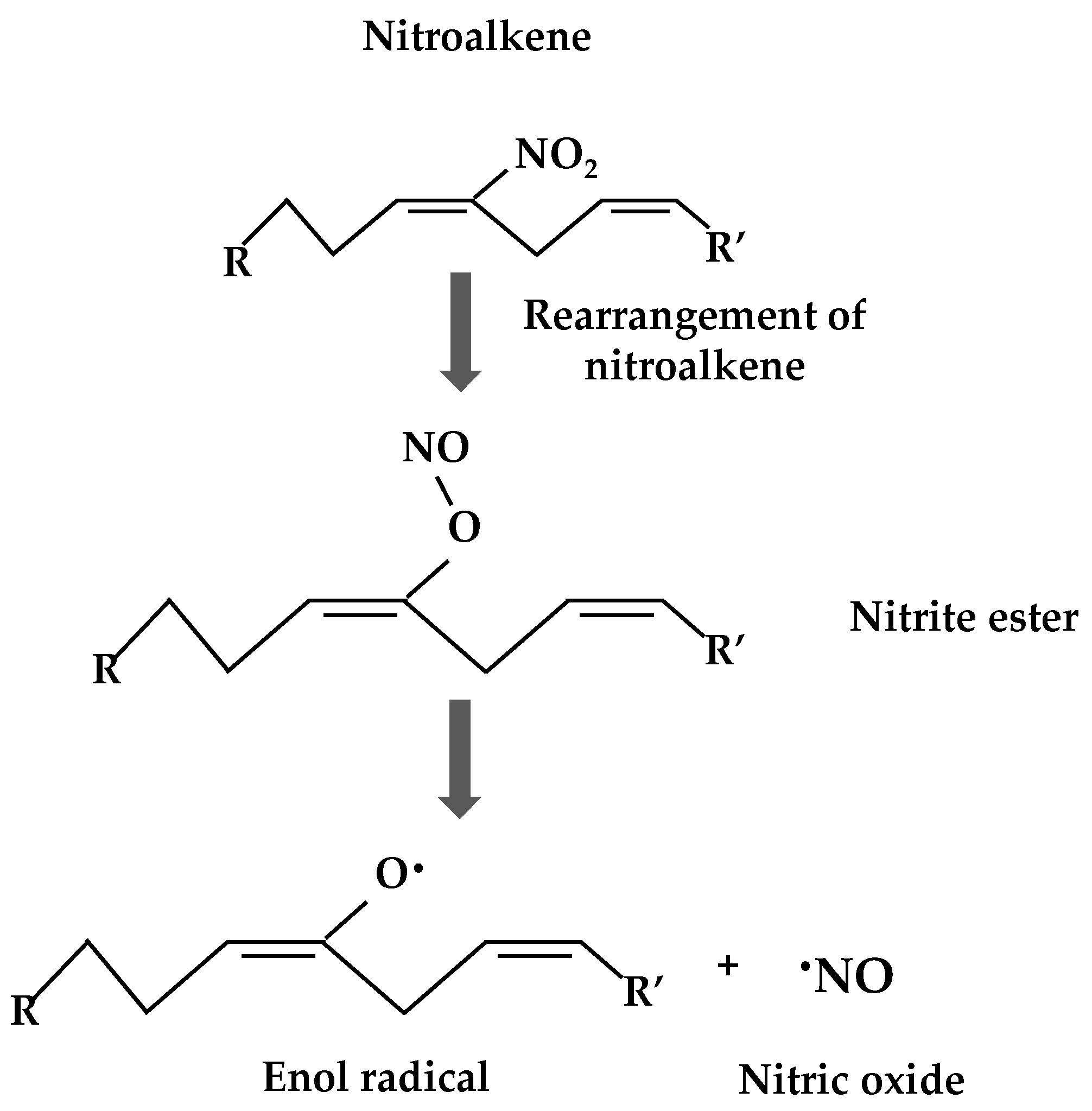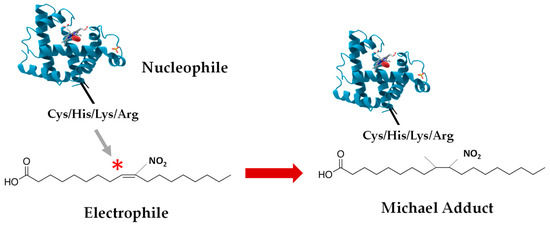 Figure 4. Nitroalkylation or formation of nitro-lipid-protein adducts. The attack of electrophilic nitro-fatty acids by nucleophilic protein residues leads to the establishment of a Michael adduct.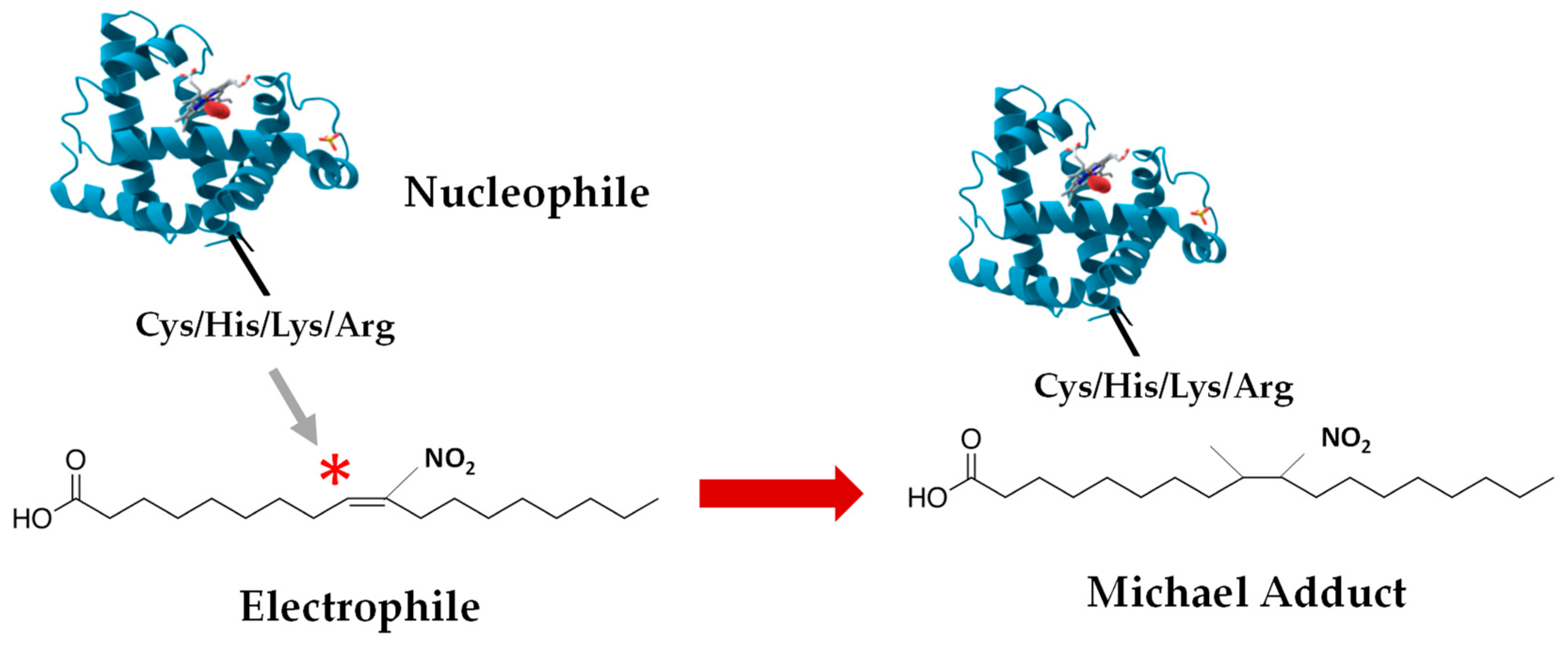 Figure 5.
Modulation of the enzymatic activity of cytosolic recombinant APX following the treatment with increasing concentrations of NO
2
-Ln. The negative controls methanol (NO
2
-FA vehicle) and linolenic acid (non-nitrated fatty acid) were used. Vertical bars represent the mean ± standard deviation of at least three replicates. Statistically significant differences
p
< 0.05 (*) and
p
< 0.01 (**). (Ascorbate peroxidase: APX).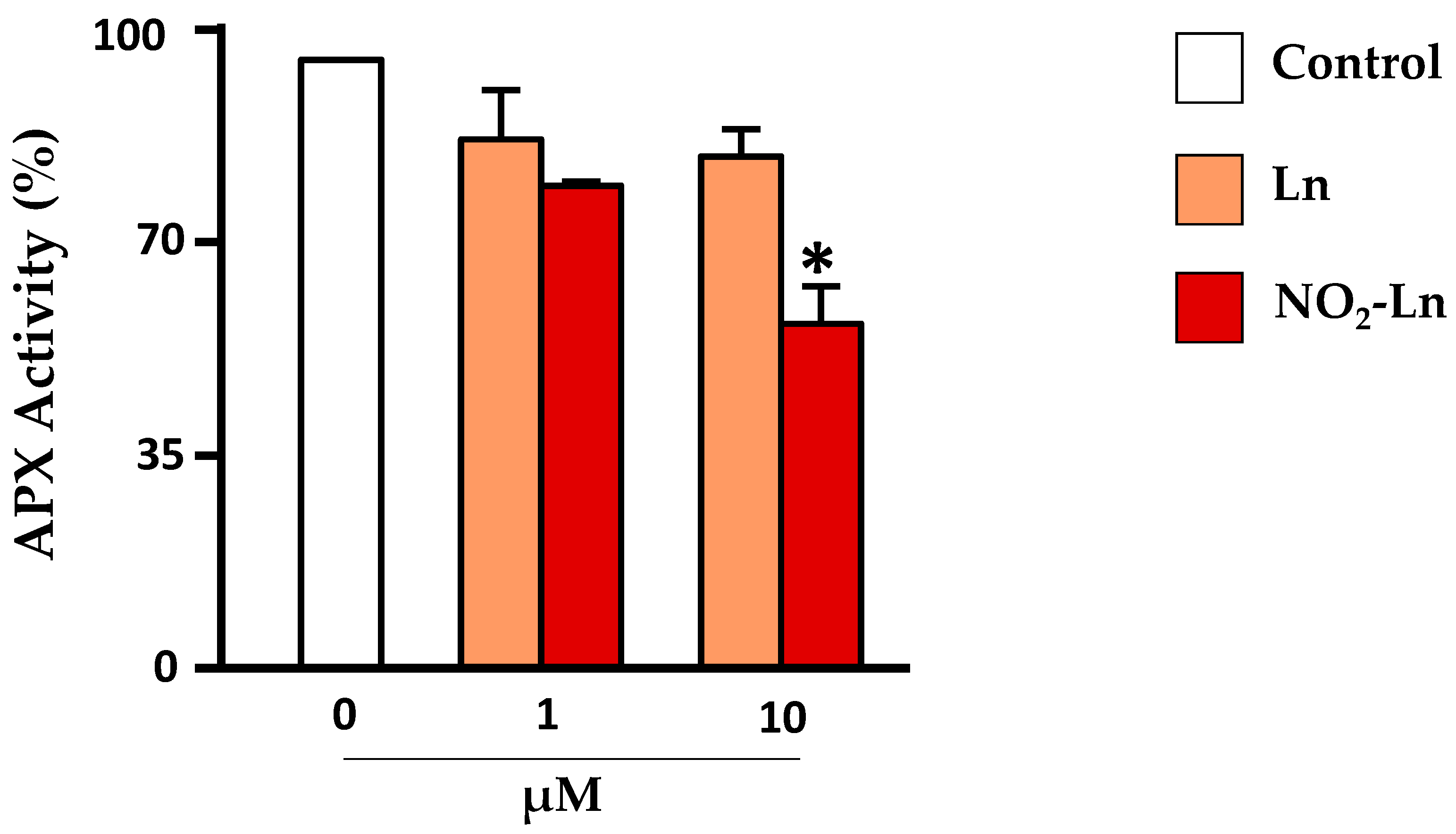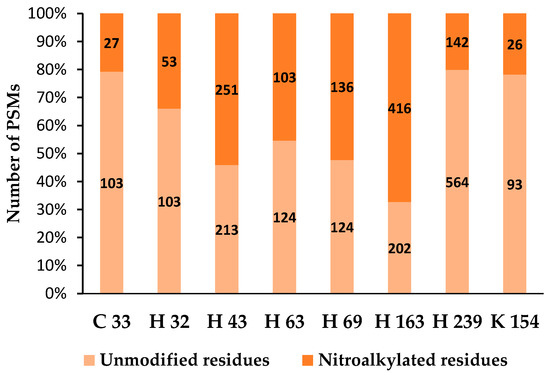 Figure 6. Detection of nitroalkylated residues in cytosolic recombinant APX by mass spectrometry (LC-MS/MS). The number on each column represents the number of PSMs of the unmodified residue related to the nitroalkylated residue. PSM: peptide-spectrum match.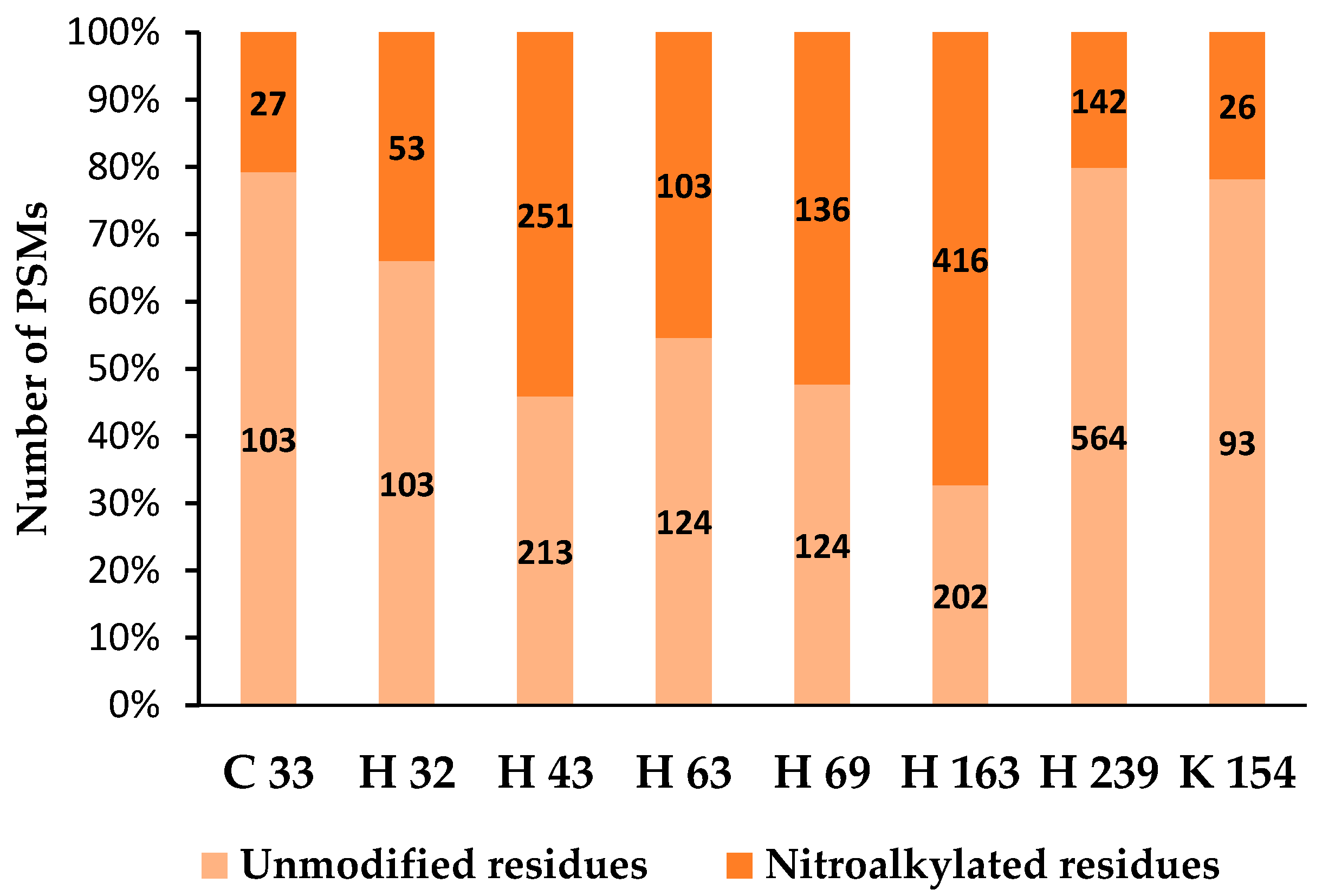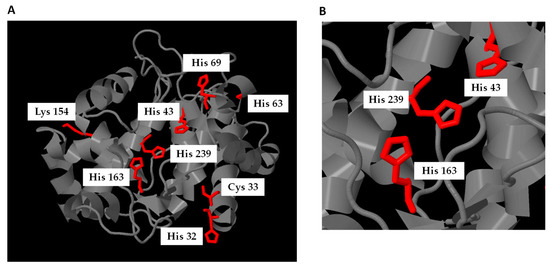 Figure 7. (A) In silico molecular model of cytosolic recombinant APX and localization of nitroalkylated residues. (B) Zoomed in illustration of the in silico molecular model where nitroalkylated histidines 43 and 163 located in the active site and in a metal-binding site, respectively, are highlighted.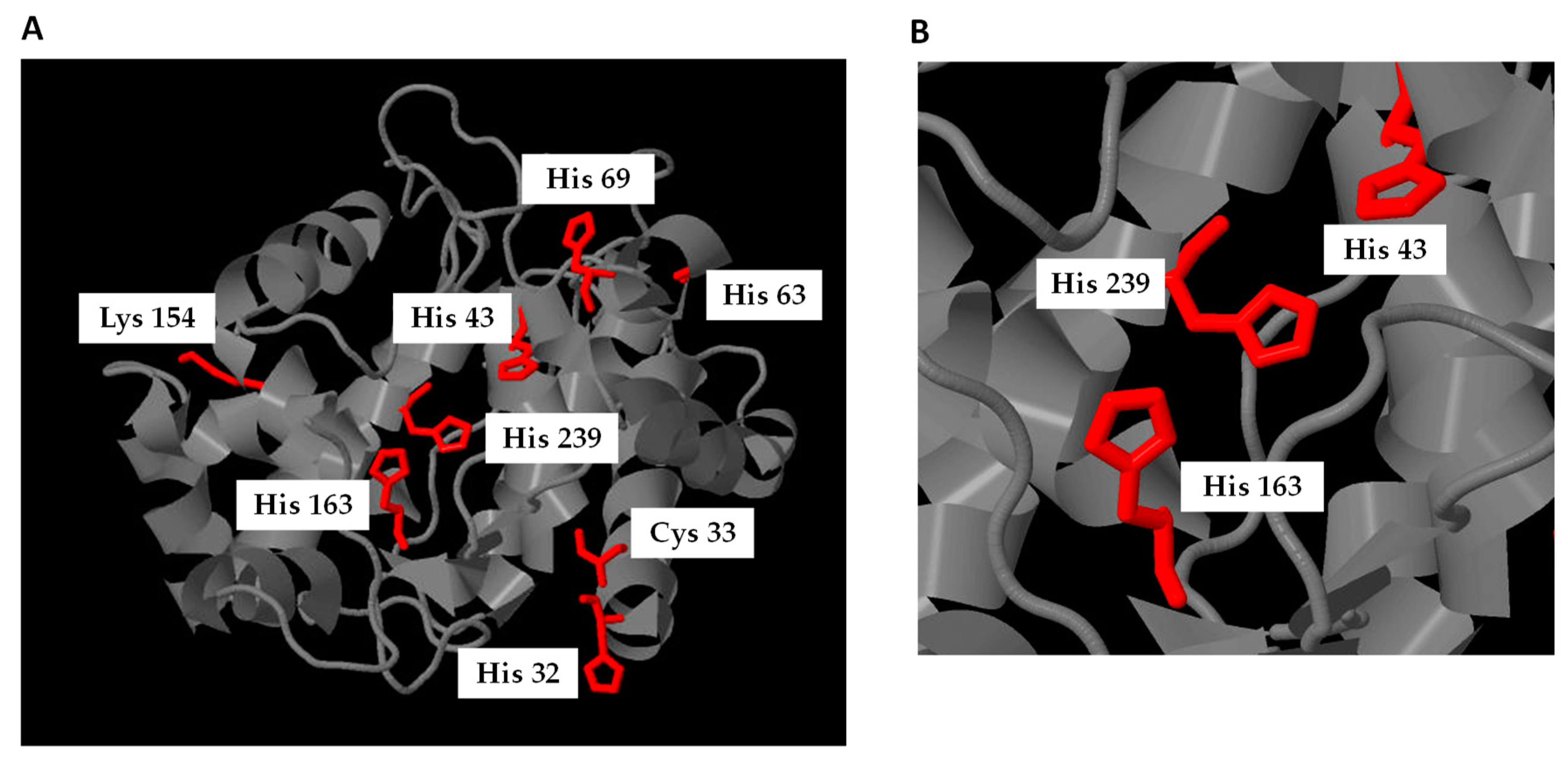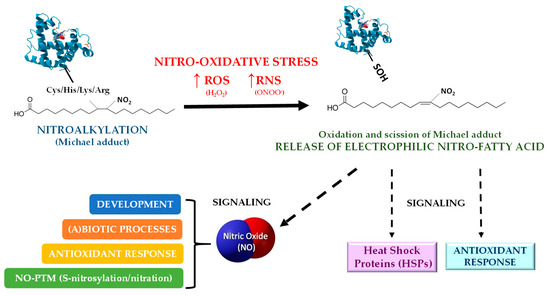 Figure 8. Model of the NO2-FA signaling mechanism by nitro-lipid-protein adduct in plants. Nitro oxidative conditions triggers the oxidation of the protein, the subsequent scission of the Michael adduct and the releasing of the NO2-FA. Free NO2-FAs display signaling actions by activating the chaperone network expression and several antioxidant systems. Moreover, NO2-FAs, which can also act as NO donors, are involved in NO signaling processes. ROS: reactive oxygen species; RNS: reactive nitrogen species; NO: nitric oxide.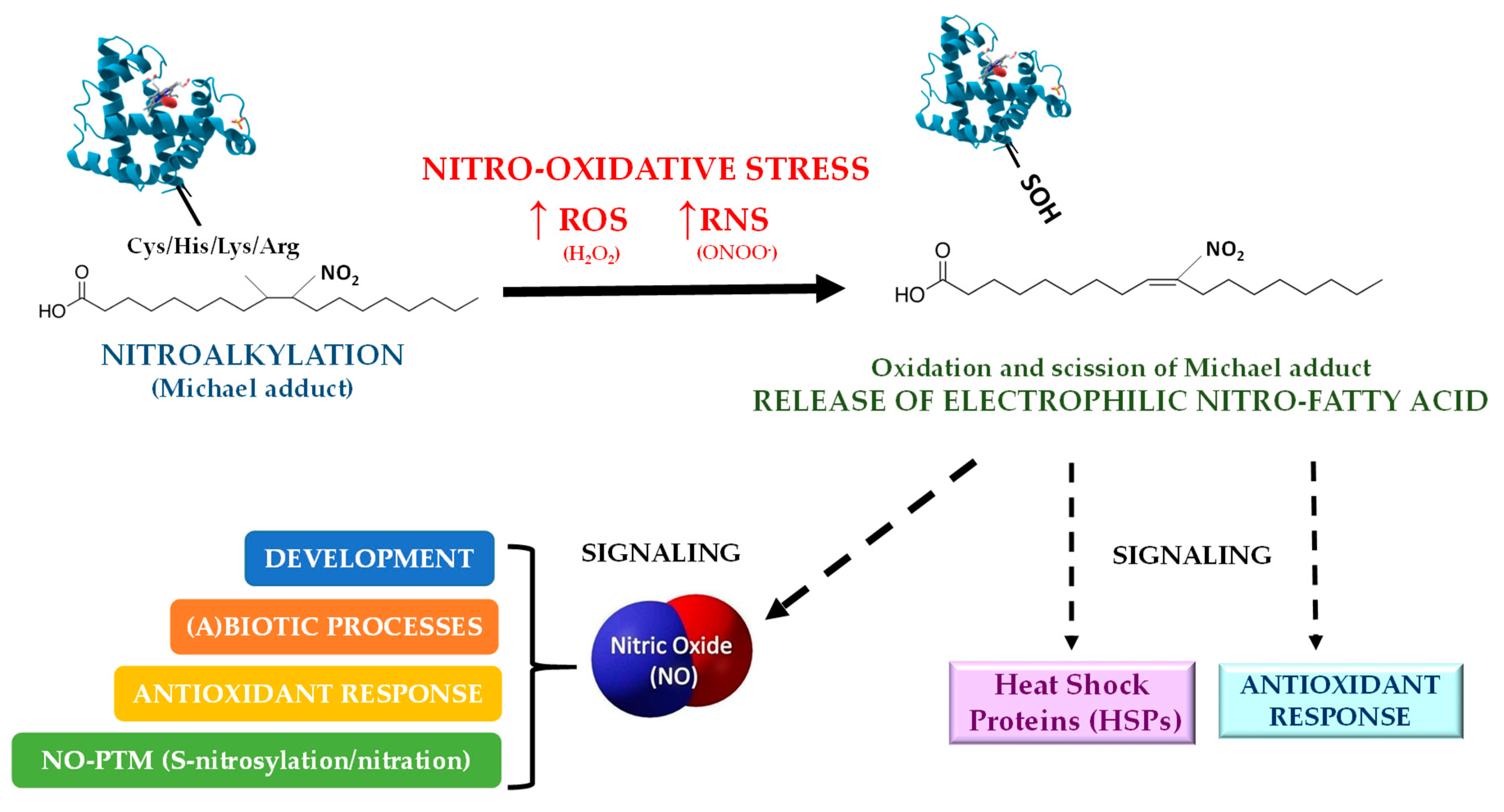 Table 1. Principal nitro-fatty acids detected in animal and plant systems. The lines on the middle of the double bond indicate that the nitro group could be bounded in any of the adjacent carbons. Although double bonds can generate the corresponding cis- and trans-isomers, only the cis forms are shown.
Name
Formula
Chemical Structure
Nitro-oleic acid
(9-, and 10-nitro-all-cis-octadecaenoic acid)
NO2-OA
(18:1)
Nitro-linoleic acid
(9-, 10-, 12-, and 13-nitro-all-cis octadecadienoic acid)
NO2-LA
(18:2)
Nitro-linolenic acid
(9-, 10-, 12-, 13-, 15- and 16-nitro-all-cis-octadecatrienoic acid)
NO2-Ln
(18:3)
Nitro-arachidonic acid
(5-, 6-, 8-, 9-, 11-, 12-, 14- and 15-nitro-all-cis-eicosatetraenoic acid)
NO2-AA
(20:4)

Table 2.
NO
2
-FA protein targets in animal systems and their effects on protein function (modified from Reference [
24
]).
Nitro-Fatty Acid
Protein
Nucleophile Site
Effect
References
NO2-OA
GAPDH
Catalytic Cys, other Cys and His
Inhibition, increase in hydrophobicity and change in subcellular distribution
[66]
Pro-MMP7 and Pro-MMP9
Zinc coordination Cys in the active site
Zinc release, autocatalytic cleavage of the pro-domain. MMP activation
[115]
TRPV1 and TRPA1
Not detected
Activation of TRP channels
[116,117]
AT1R
Not detected
Decrease in coupling with G-protein, inhibition of downstream signaling
[118]
PknG
Iron coordination Cys in non-catalytic domain and His
Inhibition of kinase activity
[119]
XOR
Pterindithiolene which coordinates molybdenum
Inhibition of electron transfer reactions at the molybdenum cofactor
[120]
HSF1
Not detected
Activation of HSFA1 and subsequent robust induction of heat shock genes
[82,107]
NO2-LA
ANT1
Cys
Cardio-protection
[121]
NO2-cLA
HSA
Cys and non-covalent binding
[122]
NO2-AA
PGHS
Disruption of heme binding to the protein
Inhibition of PGHS-1 cyclooxygenase activity and both PGHS-1 and -2 peroxidase activity
[123]
PKC
Probable covalent modification
Inhibitory effect on PKC activation
[124]
NOX2
Inhibition of assembly
Inhibition of superoxide production
[125]
PDI
Cys at active site
Inhibition of reductase and chaperone activities
[126]
NO2-OA and NO2-LA
NF-κB p65
DNA binding domain Cys
Inhibition of NF-κB DNA binding, abolition of pro-inflammatory responses
[98]
PPARγ
Cys in ligand-binding domain
Agonist activation of PPARγ
[110]
NO2-OA, NO2-LA and NO2-AA
Keap 1
Cys
Stabilization of the complex with Nrf2, newly synthesized Nrf2 translocated to the nucleus
[97,103,104,105]
Abbreviations: Glyceraldehyde-3-phosphate dehydrogenase (GAPDH); Pro-matrix metalloproteinases, (Pro-MMP7 and Pro-MMP9); Transient receptor potential (TRPV1, TRPA1); Angiotensin II receptor (AT1R); Protein kinase G (PknG); Xanthine oxidoreductase (XOR); Heat Shock Factor 1 (HSF1); Adenine nucleotide translocase 1 (ANT1); Human serum albumin (HSA); Prostaglandin endoperoxide H synthase (PGHS); Protein kinase C (PKC); NADPH oxidase 2 (NOX2); Protein disulfide isomerase (PDI); Nuclear factor κB subunit p65 (NF-κB p65); Peroxisome proliferator-activated receptor (PPARγ); Kelch-like ECH-associating protein 1 (Keap 1).

© 2019 by the authors. Licensee MDPI, Basel, Switzerland. This article is an open access article distributed under the terms and conditions of the Creative Commons Attribution (CC BY) license (http://creativecommons.org/licenses/by/4.0/).