Impact of Nitric Oxide (NO) on the ROS Metabolism of Peroxisomes
Group of Antioxidants, Free Radicals and Nitric Oxide in Biotechnology, Food and Agriculture, Department of Biochemistry and Cell and Molecular Biology of Plants, Estación Experimental del Zaidín, Consejo Superior de Investigaciones Científicas (CSIC), Profesor Albareda 1, 18008 Granada, Spain
*
Author to whom correspondence should be addressed.
Received: 24 January 2019 / Revised: 2 February 2019 / Accepted: 7 February 2019 / Published: 10 February 2019
Abstract
Nitric oxide (NO) is a gaseous free radical endogenously generated in plant cells. Peroxisomes are cell organelles characterized by an active metabolism of reactive oxygen species (ROS) and are also one of the main cellular sites of NO production in higher plants. In this mini-review, an updated and comprehensive overview is presented of the evidence available demonstrating that plant peroxisomes have the capacity to generate NO, and how this molecule and its derived products, peroxynitrite (ONOO
−
) and
S
-nitrosoglutathione (GSNO), can modulate the ROS metabolism of peroxisomes, mainly throughout protein posttranslational modifications (PTMs), including
S
-nitrosation and tyrosine nitration. Several peroxisomal antioxidant enzymes, such as catalase (CAT), copper-zinc superoxide dismutase (CuZnSOD), and monodehydroascorbate reductase (MDAR), have been demonstrated to be targets of NO-mediated PTMs. Accordingly, plant peroxisomes can be considered as a good example of the interconnection existing between ROS and reactive nitrogen species (RNS), where NO exerts a regulatory function of ROS metabolism acting upstream of H
2
O
2
.
View Full-Text
►

▼

Figures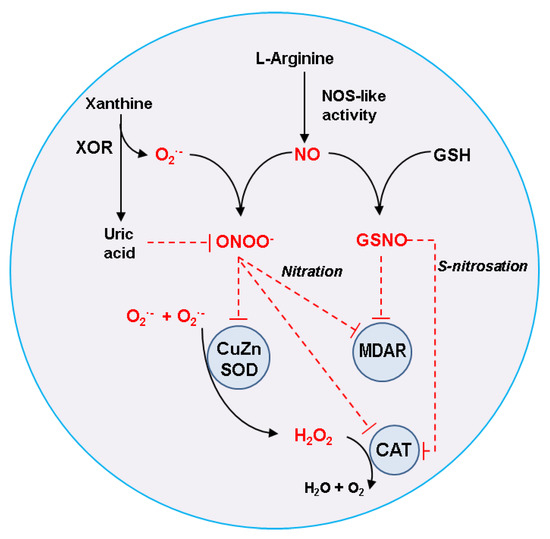 Figure 1
This is an open access article distributed under the
Creative Commons Attribution License
which permits unrestricted use, distribution, and reproduction in any medium, provided the original work is properly cited (CC BY 4.0).

Share & Cite This Article
MDPI and ACS Style
Corpas, F.J.; del Río, L.A.; Palma, J.M. Impact of Nitric Oxide (NO) on the ROS Metabolism of Peroxisomes. Plants 2019, 8, 37.
Note that from the first issue of 2016, MDPI journals use article numbers instead of page numbers. See further details here.
Related Articles
Comments
[Return to top]