Delineation of Cocoa Agroforests Using Multiseason Sentinel-1 SAR Images: A Low Grey Level Range Reduces Uncertainties in GLCM Texture-Based Mapping
1
Laboratory of Forest Management and Spatial Information Techniques, Department of Environment, Faculty of Bioscience Engineering, Ghent University, Coupure Links 653, 9000 Gent, Belgium
2
World Agroforestry Centre (ICRAF), West and Central Africa Regional Office, P. O. Box 16317, Yaoundé, Cameroon
*
Author to whom correspondence should be addressed.
Received: 3 January 2019 / Revised: 2 April 2019 / Accepted: 4 April 2019 / Published: 6 April 2019
Abstract
Delineating the cropping area of cocoa agroforests is a major challenge in quantifying the contribution of land use expansion to tropical deforestation. Discriminating cocoa agroforests from tropical transition forests using multispectral optical images is difficult due to the similarity of the spectral characteristics of their canopies. Moreover, the frequent cloud cover in the tropics greatly impedes optical sensors. This study evaluated the potential of multiseason Sentinel-1 C-band synthetic aperture radar (SAR) imagery to discriminate cocoa agroforests from transition forests in a heterogeneous landscape in central Cameroon. We used an ensemble classifier, Random Forest (RF), to average the SAR image texture features of a grey level co-occurrence matrix (GLCM) across seasons. We then compared the classification performance with results from RapidEye optical data. Moreover, we assessed the performance of GLCM texture feature extraction at four different grey levels of quantization: 32 bits, 8 bits, 6 bits, and 4 bits. The classification's overall accuracy (OA) from texture-based maps outperformed that from an optical image. The highest OA (88.8%) was recorded at the 6 bits grey level. This quantization level, in comparison to the initial 32 bits in the SAR images, reduced the class prediction error by 2.9%. The texture-based classification achieved an acceptable accuracy and revealed that cocoa agroforests have considerably fragmented the remnant transition forest patches. The Shannon entropy (
H
) or uncertainty provided a reliable validation of the class predictions and enabled inferences about discriminating inherently heterogeneous vegetation categories.
View Full-Text
►

▼

Figures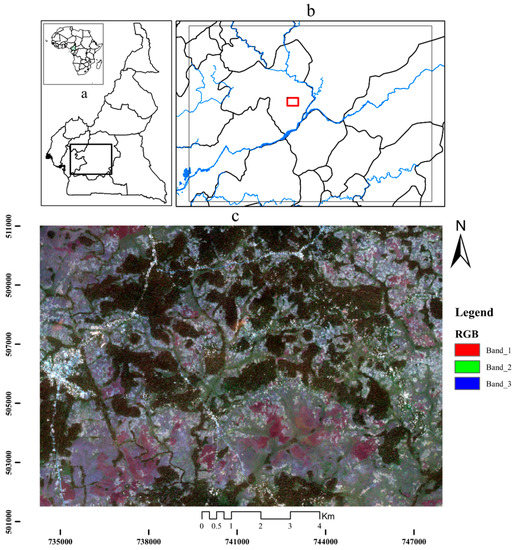 Figure 1
This is an open access article distributed under the
Creative Commons Attribution License
which permits unrestricted use, distribution, and reproduction in any medium, provided the original work is properly cited (CC BY 4.0).
Supplementary materials
Externally hosted supplementary file 1
Doi: doi:10.7910/DVN/2OXNYM
Link: https://doi.org/10.7910/DVN/2OXNYM
Description: Shapefiles of the mapped Land use and land covers; these were used to extract training and test pixels for the supervised image classification using random forest ensemble algorithm.
Externally hosted supplementary file 2
Doi: doi:10.7910/DVN/ICQNZT
Link: https://doi.org/10.7910/DVN/ICQNZT
Description: Multi-Spectral Optical image of RapidEye: Image stack of Top of Atmosphere (ToA) Reflectance for the five bands: Blue, Green, Red, RedEdge and Near-Infrared
Externally hosted supplementary file 3
Doi: doi:10.7910/DVN/TAXJAU
Link: https://doi.org/10.7910/DVN/TAXJAU
Description: The Sentinel-1A intensity images for the study landscape; the subset of ten multi-polarization (VV and VH) covering both the dry and wet season between 2015 and 2017.

Share & Cite This Article
MDPI and ACS Style
Numbisi, F.N.; Van Coillie, F.M.B.; De Wulf, R. Delineation of Cocoa Agroforests Using Multiseason Sentinel-1 SAR Images: A Low Grey Level Range Reduces Uncertainties in GLCM Texture-Based Mapping. ISPRS Int. J. Geo-Inf. 2019, 8, 179.
Note that from the first issue of 2016, MDPI journals use article numbers instead of page numbers. See further details here.
Related Articles
Comments
[Return to top]