Open Access This article is
freely available
re-usable
Article
Estimation of Origin-Destination Flows of Passenger Cars in 1925 in Old Tokyo City, Japan
Department of Geography, Tokyo Metropolitan University, Hachioji, Tokyo 192-0397, Japan
*
Author to whom correspondence should be addressed.
Received: 19 September 2019 / Accepted: 22 October 2019 / Published: 24 October 2019
Abstract
:
In recent years, surveys of personal travel behavior have been conducted around the world and these surveys have been used for understanding the characteristics of people flow. However, it is impossible to acquire people and traffic flows for the modern era (1868–1945). In modern era Japan, some traffic surveys were conducted, and that records still persist. The purpose of this study was to estimate origin-destination (OD) flows in old Tokyo in 1925 based on the historical traffic census record. In this study, OD flows were estimated using an absorbing Markov chain model, which is a simple model based on traffic generation and transition probabilities. Transition probabilities in unobserved nodes were estimated using genetic algorithms (GA). The result of OD distributions is clearly different in the eastern part of Tokyo City, the Shitamachi area, from the western part, the Yamanote area. The traffic was very busy in Shitamachi, an area which included terminal stations and a central business district. In Yamanote, major traffic generation and absorption points were distributed along the main streets to the Shinjuku or Shibuya areas. These results are affected by the distribution of main roads and the locations of residences or workplaces of car owners.
Keywords:
origin-destination flow; Markov chain; traffic flow; genetic algorithm; Tokyo; traffic visualization
1. Introduction
The goal of this study was to estimate OD flows in old Tokyo City in 1925 from historical traffic census records. We estimate OD flows using a Markov model based on the traffic generation and transition probabilities. Moreover, we add some unobserved points, and their probabilities are estimated by a genetic algorithm (GA) to solve the problem of insufficient observed points.
3. Results and Discussions
3.1. Evaluation of the GA Model by Comparison of Estimated and Observed Link Traffic
The GA calculation for passenger cars reached 3,000 iterations. This satisfied the third convergence condition, and the highest fitness had a value of 132 RMSE. The scatter diagram of estimated link traffic from the optimized solution by GA and the observed link traffic is shown in
Figure 7
. The slope of the regression line is approximately 0.77 and correlation coefficient is approximately 0.85. This implies the estimated link traffic agrees well with the observed link traffic, and it has relatively small errors. However, the estimated link traffic tends to be smaller than observed.
Figure 8
shows the distributions of the observed link traffic (
Figure 8
a) and the ratio of the estimated and observed link traffic (
Figure 8
b).
Figure 8
a indicates that passenger cars use the main road and heavy traffic links are linearly distributed along main roads. In
Figure 8
b, most of the links have a ratio between 0.8 and 1.2. However, the links with ratios greater than 2 are conspicuously located along main roads in the Nihonbashi and Kyobashi wards in the central part of the city.
Figure 8
indicates that large traffic differences are obvious between main roads and back roads, and the traffic in back roads are overestimated because the observed link traffic on back roads are small (
Figure 8
a). This result is caused by a large number of cycle paths due to a high road density in the central area, which overestimates the absorbing Markov chain model's infinite transition calculation. Additionally, the smaller link traffic on back roads can result in larger ratios. This indicates that higher-accuracy OD flows can be estimated when the traffic difference is small between main and back roads, and in the case of transport modes with many routes to destinations, like bicycles.
3.2. Estimated OD Flows
The traffic was very busy in the Shitamachi area, which includes Nihonbashi and Ueno districts. For example, Ueno (in 3G), Manseibashi (in 4G), and central Tokyo (in 5F) contained railway terminals, and Nihonbashi (in 5G) was the central business district of Tokyo City. These districts formed the city center or subcenter, and became a major origin point for the entire Tokyo City.
South-northerly traffic was also significant in the Shitamachi area. The Shitamachi area contains strongly interconnected traffic between the Tokyo and Ueno stations, as well as Nihonbashi, Asakusa, and Honjo wards. As mentioned above, in the Shitamachi area many facilities were widely distributed, causing busy traffic between these facilities, and forming interconnected generation and absorption points.
In the Yamanote area, major generation and absorption points were distributed along the main streets to Shinjuku (in 5A) or to Shibuya (in 7A) areas. In the west of column E, limited traffic flows to the commercial areas, such as Nihonbashi or Kyobashi wards, can be seen. Both the origin and destination of these traffic are within the Yamanote area only. Some significant frequent origins are located around the western Kojimachi ward (5D and 6D). This area was also a major destination connected by main roads, especially from Shinjuku (5A) and Shibuya (7A) areas. Shinjuku and Shibuya seem to be major traffic generation and absorption points; however, the traffic around these points mainly consist of both inflows from and outflows to Tokyo City.
4. Conclusions
In this study, we estimated the OD flows of passenger cars using data from the historical documents of the 1925 traffic census of Tokyo City from historical traffic counts. By estimating OD flows, we found macroscopic traffic patterns in historical Tokyo, which will help us to better understand human mobility and the relationship between urban traffic and structure. Urban structure and OD flows are strongly related, and the estimated OD flows from the view of the distribution of facilities and studies on urban structure in Tokyo were discussed. As a result, the passenger car flows have different trend patterns between the eastern and western parts of Tokyo City. This result is affected by a distribution of main roads and the location of residences or workplaces of car owners. On the other hand, the traffic, which used terminal stations like Tokyo and Ueno stations as the origin or destination, was distributed over the entire Tokyo City.
As the historical traffic survey has limited observation points and insufficient statistical data, estimation of historical OD flows from historical census data is difficult. This study is one of the studies which addresses this problem. However, some issues still remain. The validation of estimated OD flows has not been examined, because of the lack of the true OD flows. To address this problem, the estimated OD flows can be validated by the comparison between traffic generation and detail population at the day, under the assumption that the traffic generation and population have a proportional relationship. However, this study aimed to estimate OD flow using only traffic count data. Therefore, we validated only link traffic volume. Additionally, because pedestrians can choose other transportation means, not only the road network, but also a multimodal traffic network including trams and buses, should be taken into account in further studies.
Author Contributions
Conceptualization, K.I. and D.N.; Methodology, K.I. and D.N.; Software, K.I.; Validation, K.I.; Formal Analysis, K.I.; Investigation, K.I.; Data Curation, K.I.; Resources, K.I. and D.N.; Writing-Original Draft Preparation, K.I.; Writing-Review & Editing, D.N.; Visualization, K.I.; Supervision, D.N.; Project Administration, K.I.; Funding Acquisition, K.I. and D.N..
Funding
This work was supported by JSPS KAKENHI Grant Number 18J20910 and 19K01161.
Acknowledgments
We are grateful to Hiroshi Matsuyama from Tokyo Metropolitan University for helpful discussions.
Conflicts of Interest
The author declares no conflicts of interest.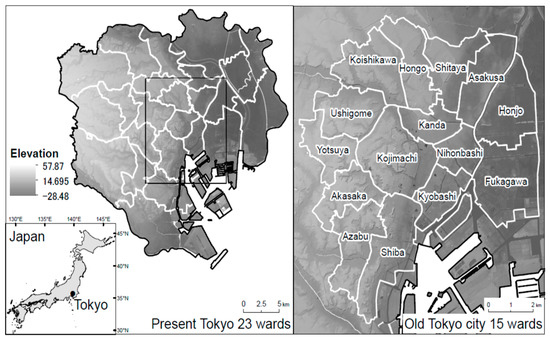 Figure 1. Study area. Old Tokyo city's 15 wards (1889–1932) located in center of present Tokyo's 23 wards (1947–present).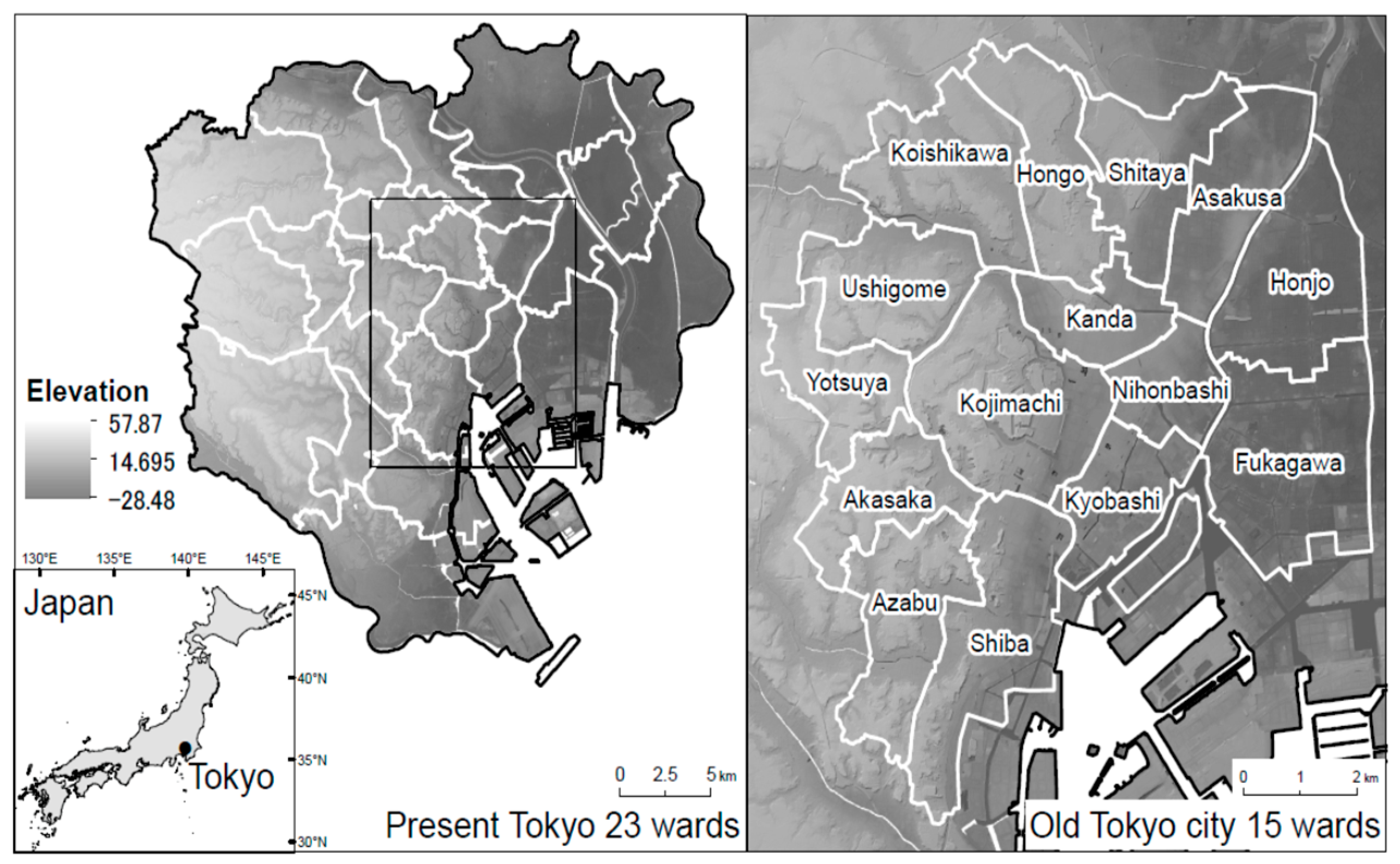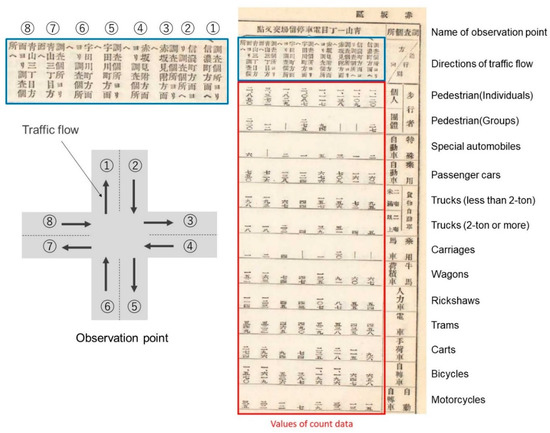 Figure 2. A part of traffic census table "Tokyo-shi Kotsu-chosa Tokei-hyo (Traffic census in Tokyo City)" and an example of an observation point.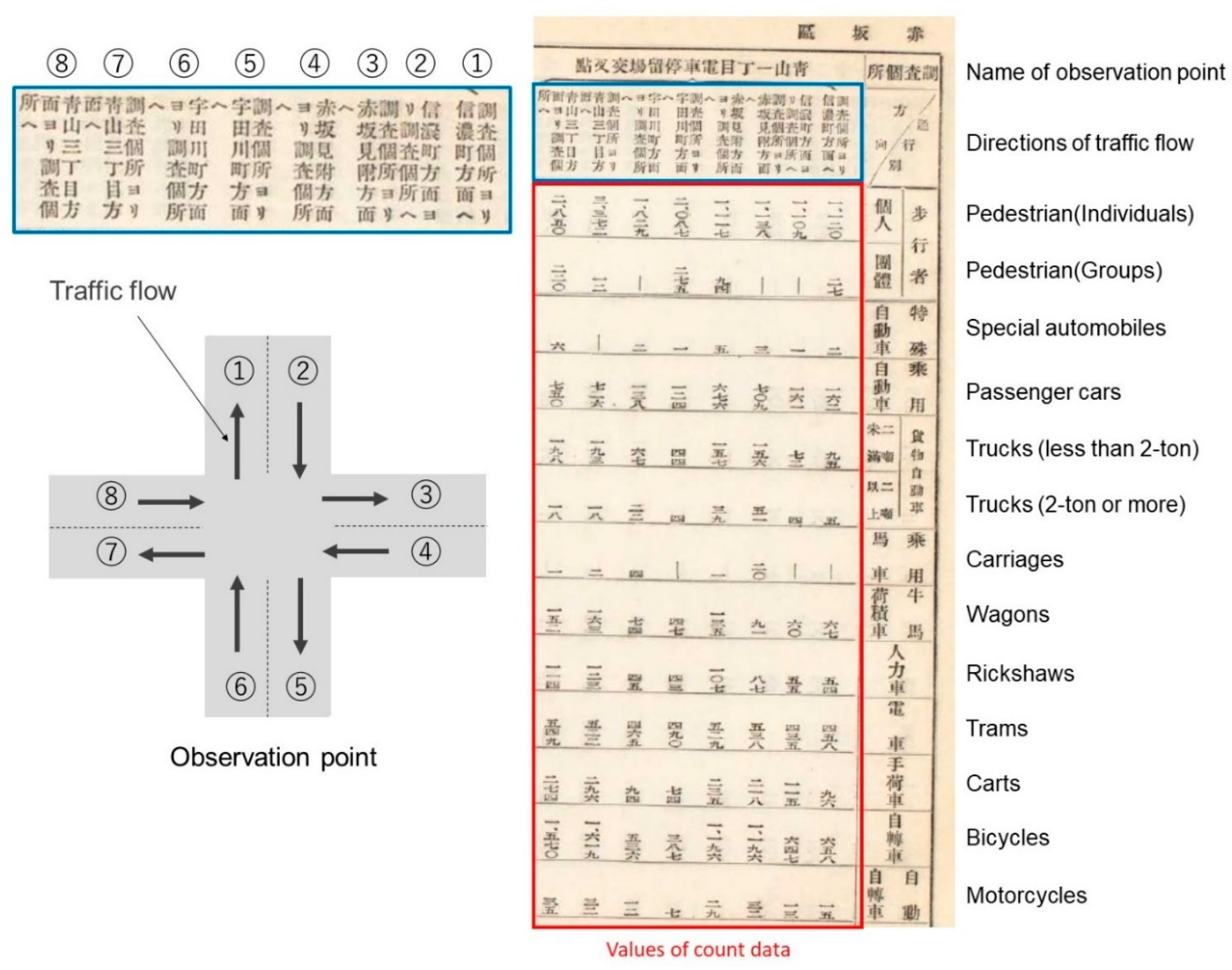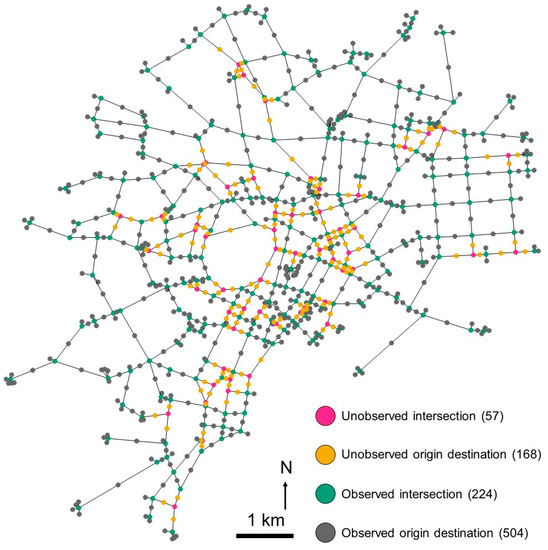 Figure 3. Road graph. A total of 57 unobserved intersections were added to create the whole road graph.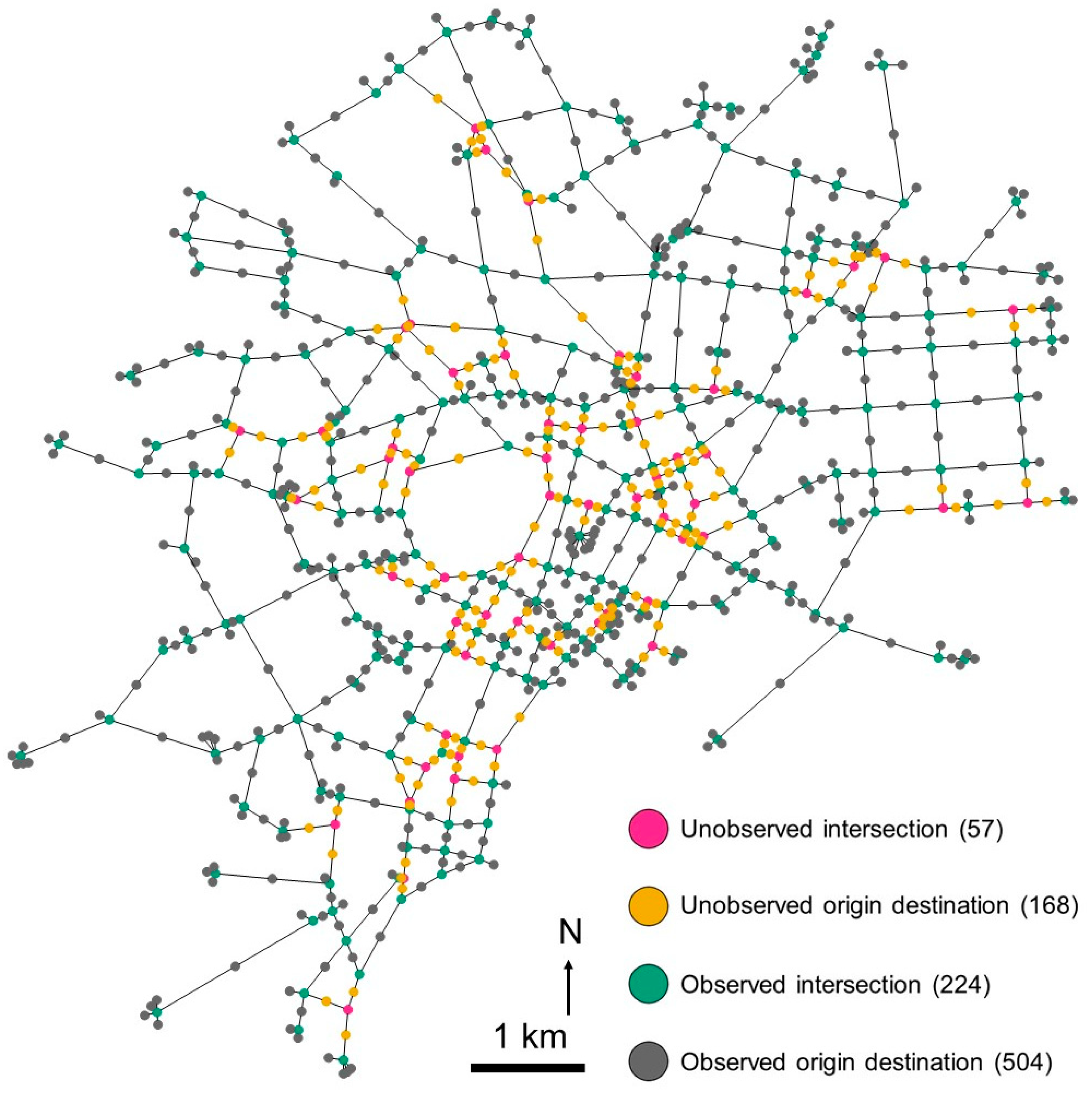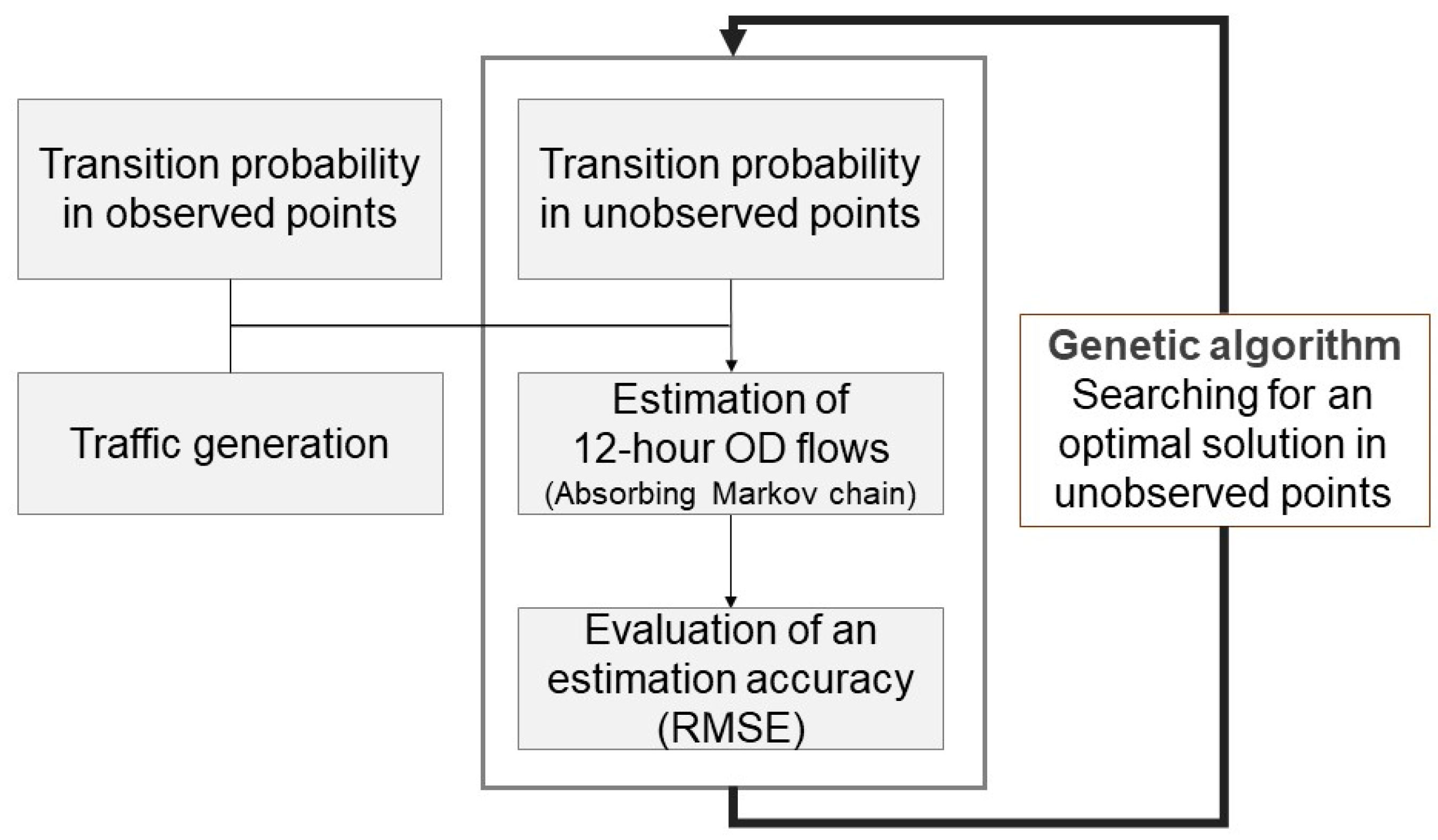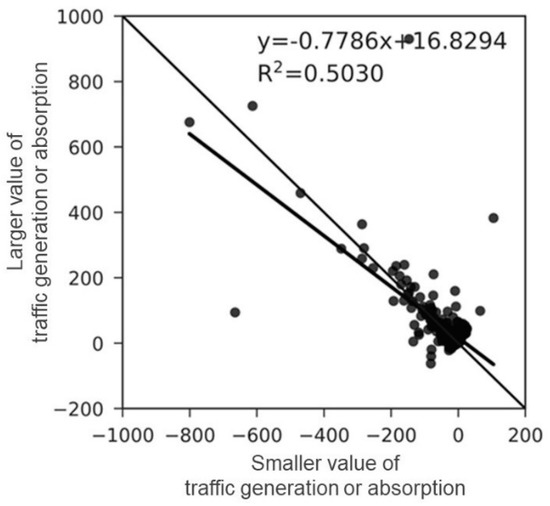 Figure 5. Comparison of the volume of traffic generation and absorption of both directions in the middle point. Diagonal line indicates y = −x.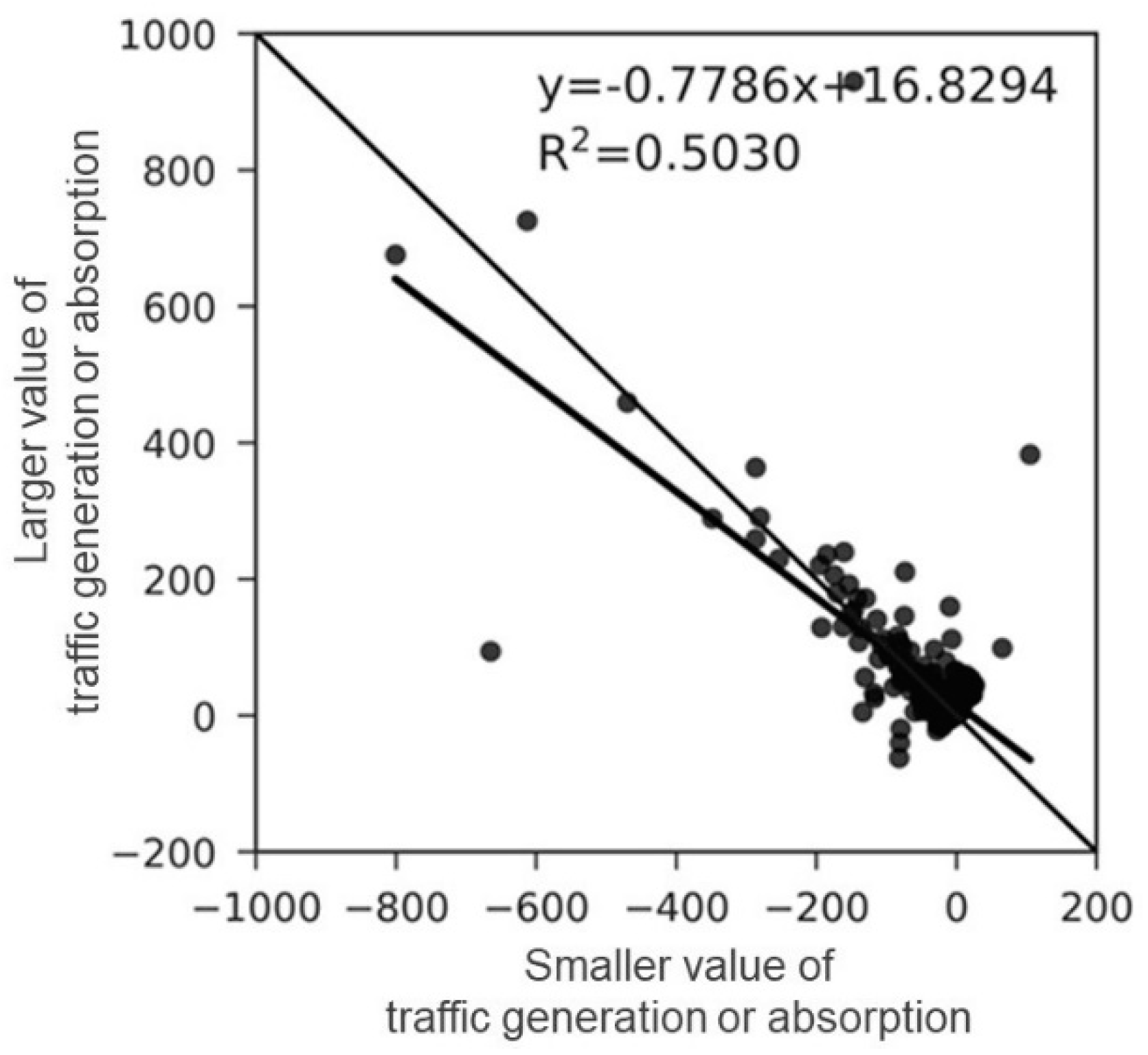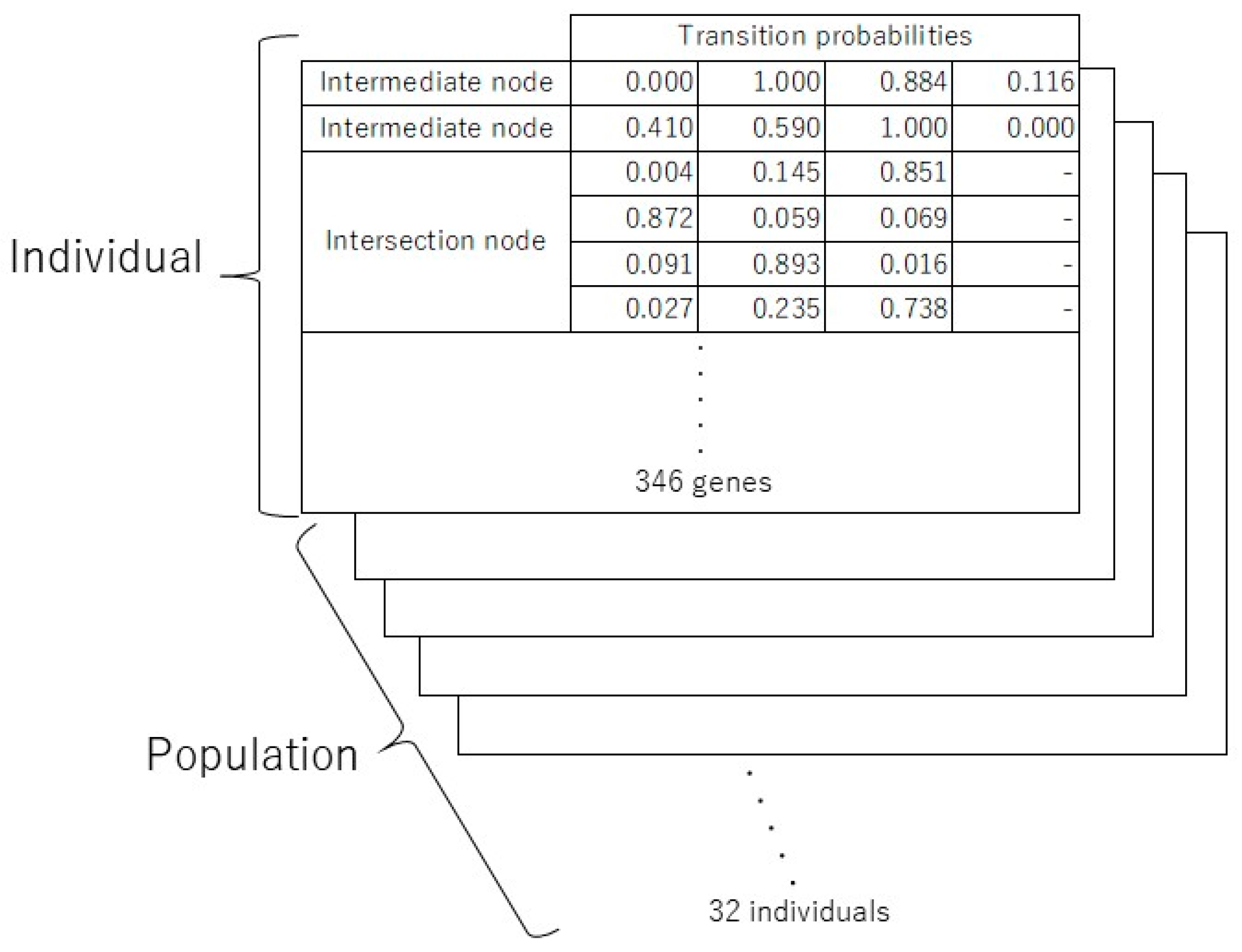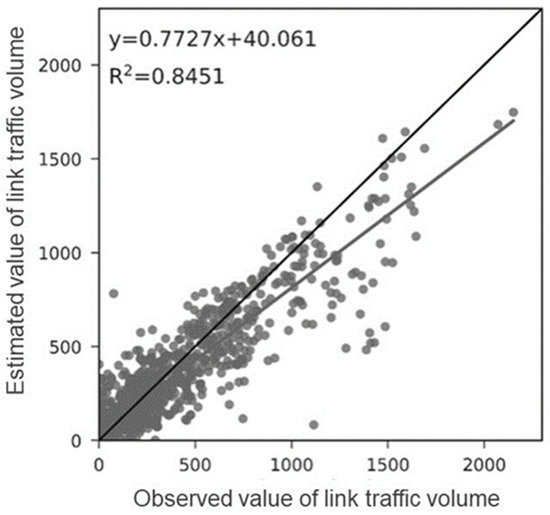 Figure 7. The scatter plots representing estimated volume of link traffic using the optimal solution. Diagonal line indicates y = x.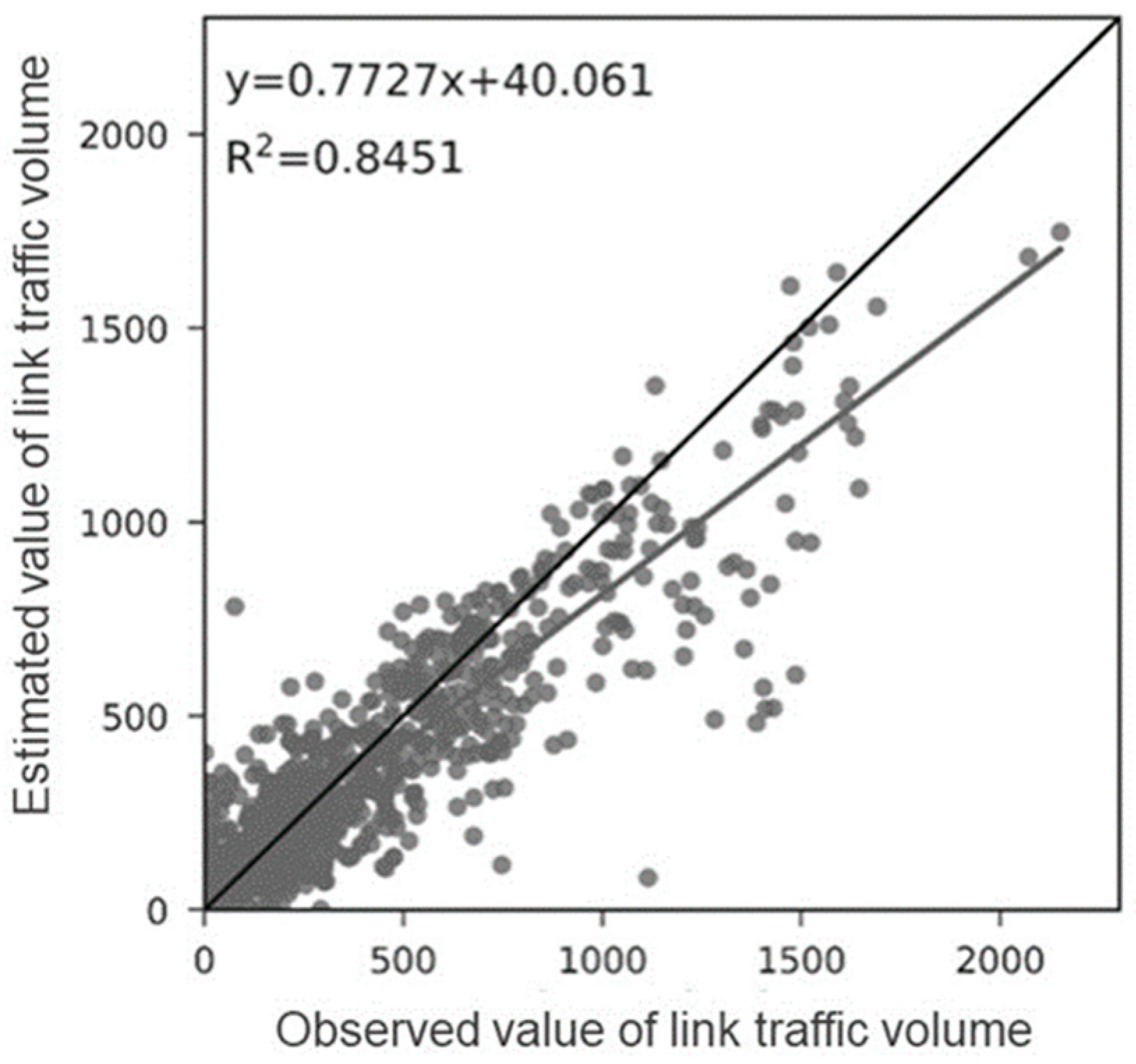 Figure 8. Distributions of the observed link traffic volume and the ratio of the estimated and observed link traffic volume of passenger cars.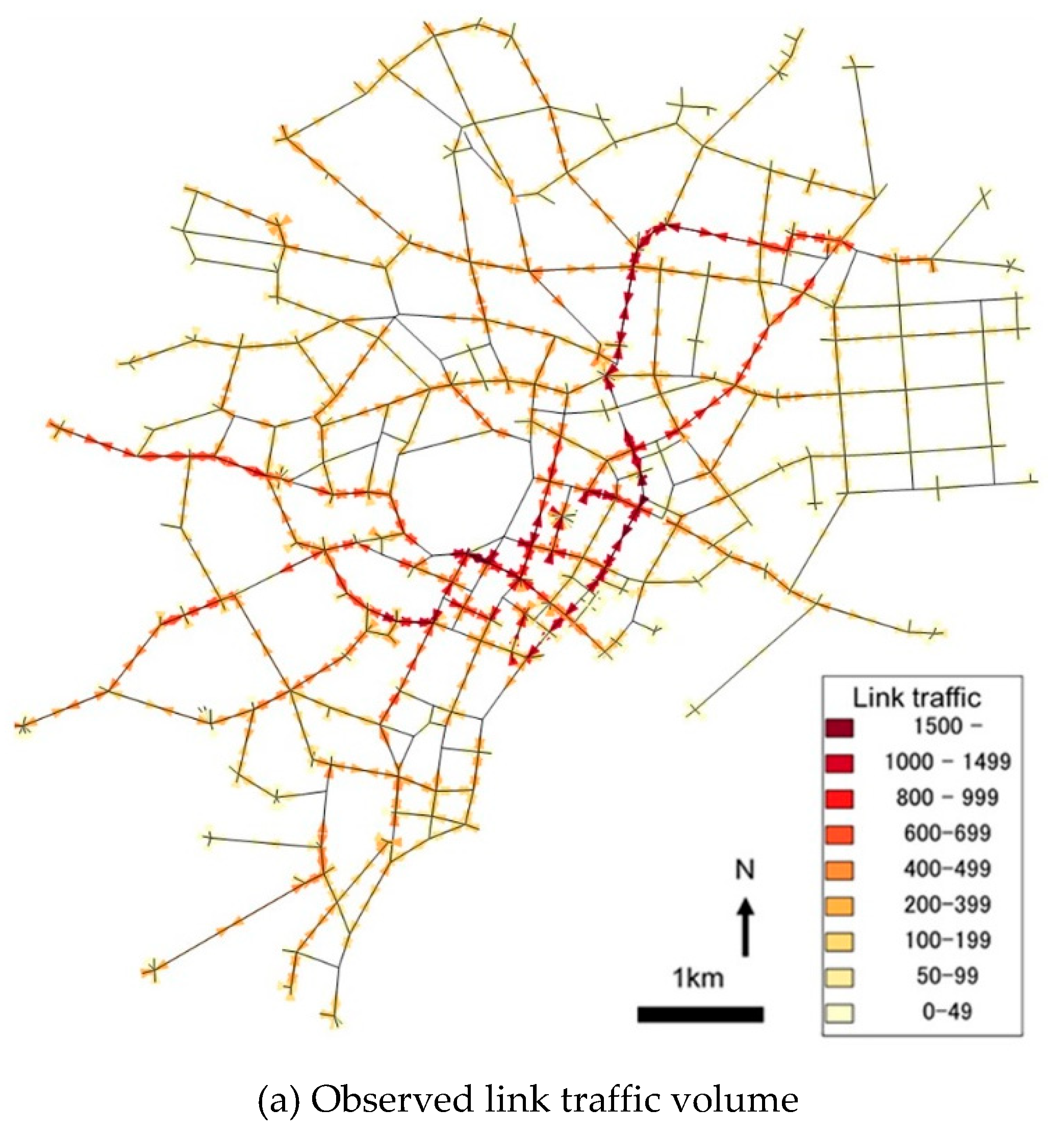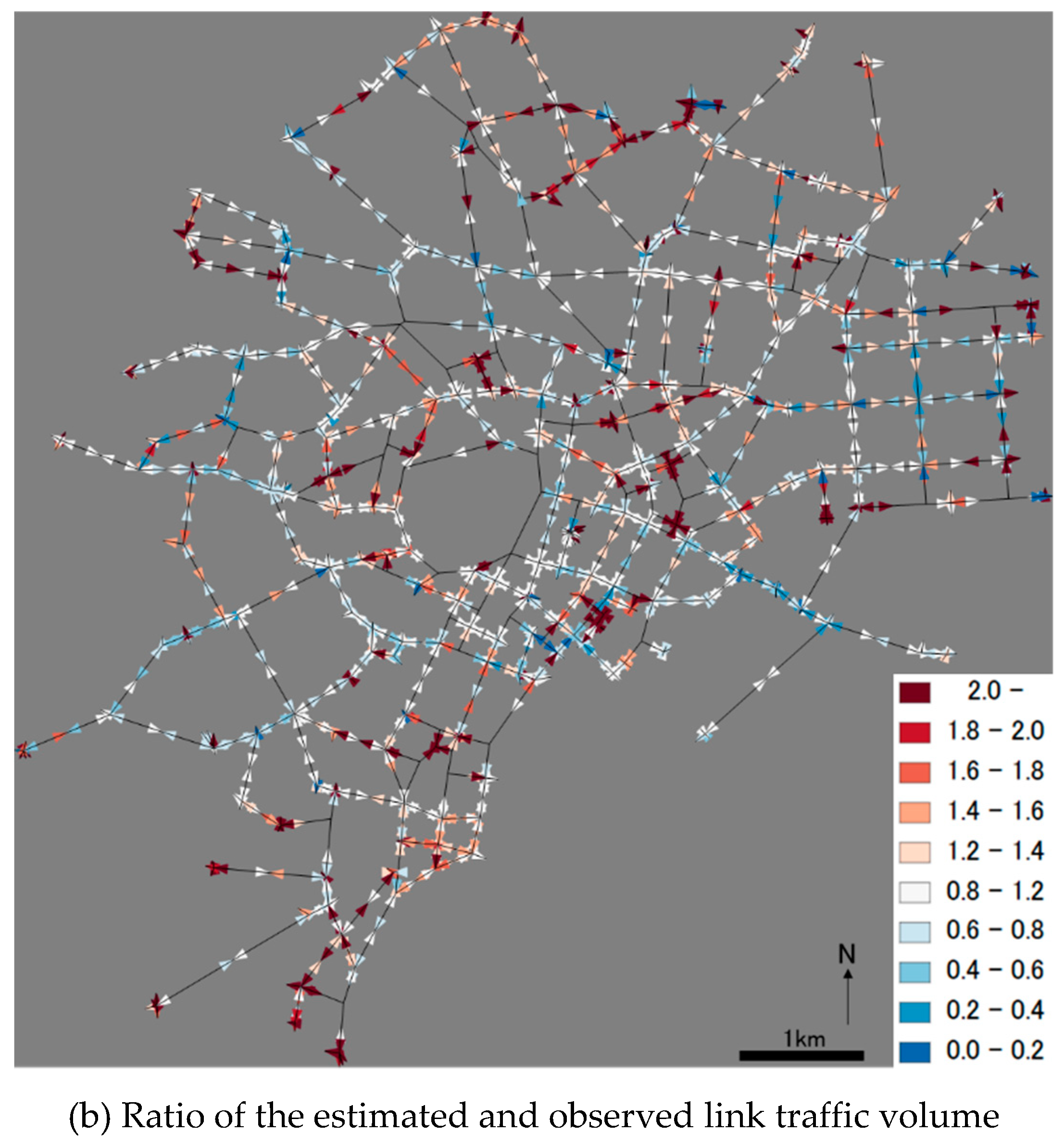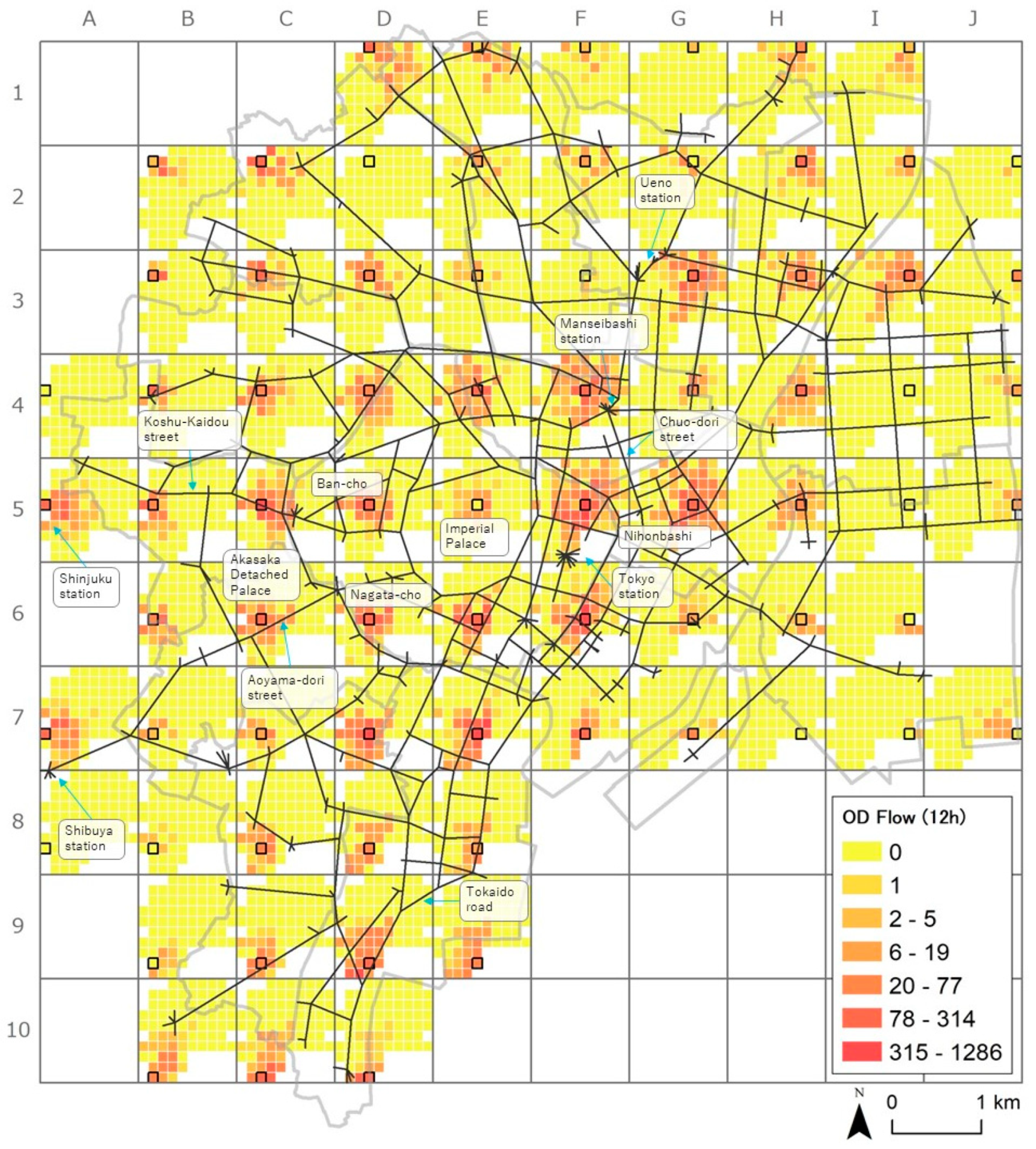 © 2019 by the authors. Licensee MDPI, Basel, Switzerland. This article is an open access article distributed under the terms and conditions of the Creative Commons Attribution (CC BY) license (http://creativecommons.org/licenses/by/4.0/).