Open Access This article is
freely available
re-usable
Article
Mobile Phone Indicators and Their Relation to the Socioeconomic Organisation of Cities
1
CNRS, Centre Maurice Halbwachs, UMR 8097, Paris 75014, France
2
Centre for Advanced Spatial Analysis, University College London, London W1T 4TJ, UK
3
Open Lab, University of Newcastle, Newcastle upon Tyne NE4 5TG, UK
4
Orange Labs France, SENSe, Châtillon 92320, France
†
These authors contributed equally to this work.

Received: 23 November 2018 / Accepted: 7 January 2019 / Published: 9 January 2019
Abstract
:
Thanks to the use of geolocated big data in computational social science research, the spatial and temporal heterogeneity of human activities is increasingly being revealed. Paired with smaller and more traditional data, this opens new ways of understanding how people act and move, and how these movements crystallise into the structural patterns observed by censuses. In this article we explore the convergence between mobile phone data and more traditional socioeconomic data from the national census in French cities. We extract mobile phone indicators from six months worth of Call Detail Records (CDR) data, while census and administrative data are used to characterize the socioeconomic organisation of French cities. We address various definitions of cities and investigate how they impact the statistical relationships between mobile phone indicators, such as the number of calls or the entropy of visited cell towers, and measures of economic organisation based on census data, such as the level of deprivation, inequality and segregation. Our findings show that some mobile phone indicators relate significantly with different socioeconomic organisation of cities. However, we show that relations are sensitive to the way cities are defined and delineated. In several cases, changing the city delineation rule can change the significance and even the sign of the correlation. In general, cities delineated in a restricted way (central cores only) exhibit traces of human activity which are less related to their socioeconomic organisation than cities delineated as metropolitan areas and dispersed urban regions.
Keywords:
cities; interaction; mobility; correlation; mobile phone; deprivation; segregation; inequality
2. Data
This section introduces the census and mobile phone indicators we will use in our investigation. We limit the analysis of census data to three socioeconomic urban indicators chosen for their social relevance and easy interpretation. They relate to three dimensions of the economic organisation of cities: their level of poverty (or deprivation), their level of inequality (distribution of wages) and their level of segregation (spatial distribution of wages) and are introduced in
Section 2.1
. Regarding mobile phone indicators we deploy 15 mobile phone indicators derived from a dataset in France covering aspects of human mobility and social interaction. Their definitions and properties are described in
Section 2.2
.
2.1. Census Data on Segregation, Inequality, and Deprivation
2.2. Constructing Indicators from the French Mobile Phone Data
3. Methods
In this section we'll explain the methods used to investigate the sensitivity to city definitions of the relations between mobile phone indicators and census data.
Section 3.1
explains how we align both types of indicators as they are gathered at a different spatial resolutions. The following sections explain how we simulate 4914 different city definitions (
Section 3.2
), how we compute correlations between indicators for each of these city definitions (
Section 3.3
) and how we represent the obtained results (
Section 3.4
). In a final section we propose a way to capture the 4914 different city delineations into a more interpretable set of 6 classes of city definitions. And we show how, for each of these classes, there exists a limited relation between the three census indicators we use to describe the socioeconomic situation of cities, pointing out their independence against one another.
5. Discussion & Conclusions
In this paper, we have tried to take advantage of small and big data to bridge a gap between what is known about 'night-time' residential socioeconomic characteristics of urban areas in France, their 'day-time' production of inequality and segregation through wages, and the average social and spatial networks of citizens sensed with passive mobile phone data. We did so using French municipalities as a common unit of aggregation. We then studied the effect of city definition on the distribution and correlations of indicators obtained, building on previous work on the impact of city delineation on urban scaling results. Indeed, even though there is evidence of geographic concentration of inequalities with city size [
41
], it was showed that this statistical relation varied with the city delineation chosen [
27
] and did not hold for other aspects of inequality such as spatial segregation. In the present paper, we add to this evidence by showing that the fixed socioeconomic characteristics of urban clusters also do not relate monotonically with sociospatial activities sensed by mobile phone data. For example, segregation can be positively or negatively correlated with the average diversity of places visited and the number of interactions per contact, depending on the urban delineation chosen among about 5000 possible ones based on variations of density, commuting and total population criteria. Moreover, we have found that the combination of our three socioeconomic indicators was more or less predictive of social and spatial activity levels. For example, high numbers and diversity of contacts are "explained" for a third of their variation by low levels of deprivation and segregation, and a higher inequality (economic diversity) in cities, especially when they are considered in their functional delineation of metropolitan areas (i.e., including commuters). However, social activities such as the duration of calls and their nocturnal aspect are left unexplained by the socioeconomic organisation of cities.
This study has enabled us to further assess the quality of mobile phone data for social science, to examine its relationship with traditional small data such as census and administrative data, as well as to look at their geographical variability. However, it is prone to some biases, such as the aggregation of data at the cell tower and resulting Modifiable Area Unit Problem (MAUP) effects (plus the fact that dense areas are better described, with more antennas, than rural areas). Furthermore, the use of CDR dataset in general, and this 2007 CDR dataset in particular, is debatable: the data we have used are rather old (2007) and hard to update at this scale (six months worth of sensing) given the new laws regarding individual data privacy. Mobile phone behaviours have changed with the widespread smartphones and mobile data usage, which makes this study hard to replicate nowadays. One outstanding question is to which degree changes in mobile phone usage over time can influence findings. As stated before, CDR data collect traces from calling and texting. Due to the absence of a continuous data record between 2007 and now, it is unknown how mobile phone usage amongst French Orange users has evolved over time and how this would influence research findings. For example, since calling and texting can nowadays also be performed by web applications (something that is not captured in CDR data), the intuition could be that CDR data are becoming less relevant. Another intuition could be that, because users use their phones more, the advent of web applications on the mobile phone has actually increased the amount of calling and texting hereby improving the information available in CDR data. Both intuitions could be true, but no scientific work has been published on this yet. The recent collection of Data Detailed Records (DDR) data, a data record similar to CDR data that captures data roaming connections at cell tower level, can potentially help in answering questions regarding web related mobile phone usage, but then again it falls short in some other ways. Since DDR data collects cell tower information every time a user connects to mobile internet, the intuition is that it offers locational data on individual users more frequently, improving for example the quality of mobile phone indicators related to mobility. On the other hand, most DDR data records do not show which web applications is deployed by users, nor do they provide any information on the intended receivers of communication. In contrast to CDR data, this property of DDR data makes it impossible to construct any indicators related to social activities. In addition to the unknown changes in mobile phone usage over time, there is the obvious but crucial element of heterogeneity in mobile phone usage between (sub)populations. Different subgroups of populations will use their mobile phones in different ways, leading towards a difference in the quality of indicators created from their CDR records. For all the efforts that have gone into mobile phone research yet, this heterogeneity and its influence on research findings remains poorly understood and continues to cast an ambiguity when it comes to reproducing findings based on datasets from other operators, countries, or time periods. The consequence is that all research based on mobile phone data, or other large-scale datasets for that matter, is irrevocably determined by the time period and mode of data collection, and is (currently) characterized by a merely superficial understanding of the heterogeneity between subpopulations. Caution is therefore highly advised when extrapolating insights and follow-up studies on other datasets are absolutely recommended.
However, our point is to emphasize that observed correlations of geographical data need to account for delineation sensitivity or to justify why a specific spatial delineation is preferred over others. In the absence of such justification, the exploration of delineations helps highlighting robust correlations (which work in all configurations), systematic variations (which respond to some characteristics of the urban space taken into account) and random variations (which prove the spuriousness of correlations reported on a single spatial delineations).
Author Contributions
The authors contributed equally to the design, analysis, interpretation and writing of the paper.
Funding
This research received no external funding beyond our employment contracts.
Acknowledgments
We are grateful for our funding institutions at the time of this project (UCL, CNRS, University of Newcastle and Orange Labs). We also want to thank Elsa Arcaute for inspiring discussions at the start of this collaboration, as well as Clement Lee and Thomas Louail for their valuable comments on the manuscript.
Conflicts of Interest
The authors declare no conflict of interest.

Figure 1. Maps of deprivation, inequality and segregation levels for metropolitan areas with more than 10,000 residents in 2011.

Figure 2.
Maps of several mobile phone indicators at cell tower level. Indicators are computed for September 2007, for all users in the French CDR dataset. Users are aggregated at cell tower level by the the Distinct Days Algorithm. Each dot on the map is a cell tower and displays the average indicator value of all users allocated to this cell tower. Cell towers with an average value that is higher, or lower, than 3 standard deviations from the nationwide average are omitted, hence the differing number of displayed cell towers (
n
) between maps.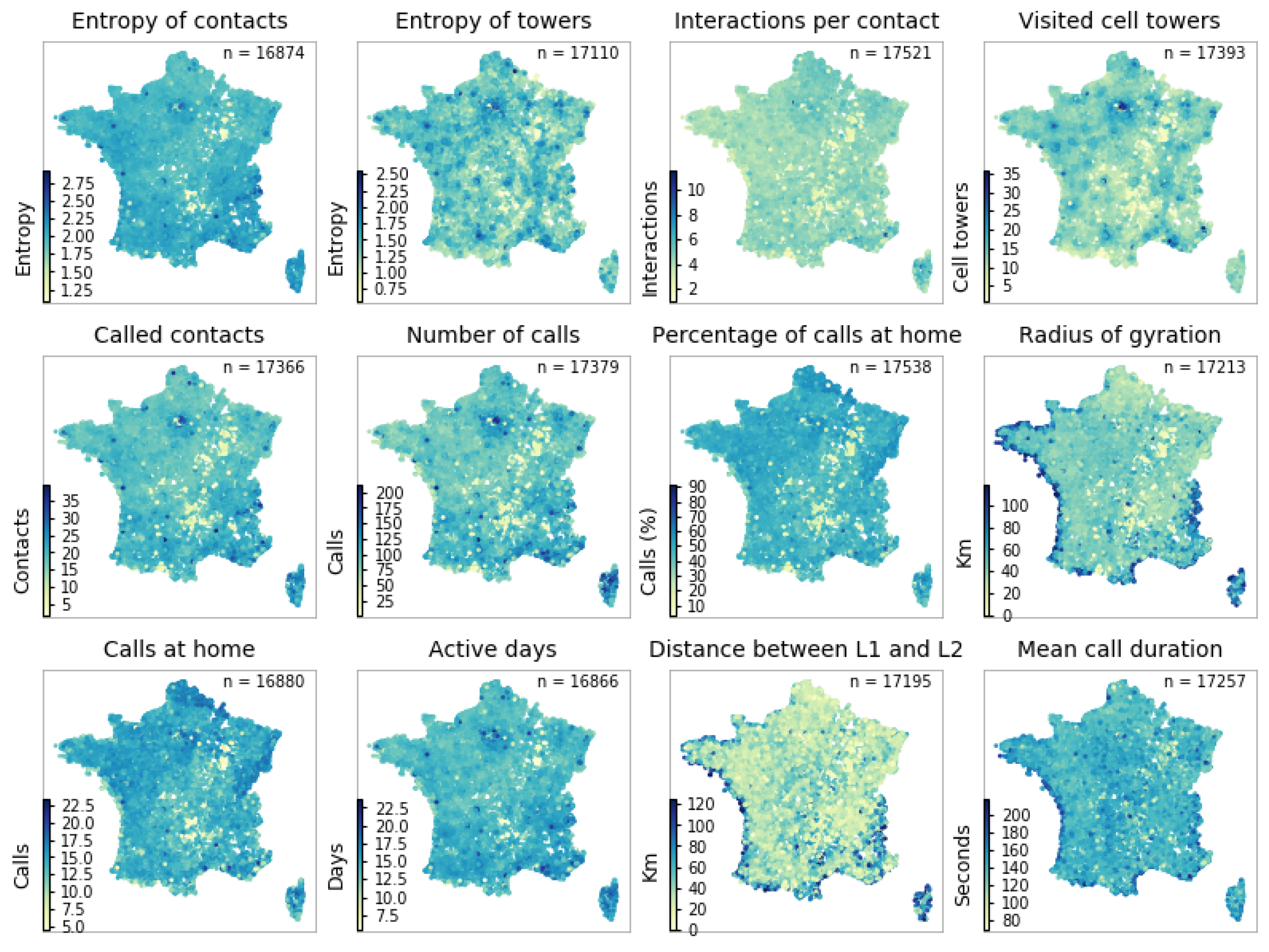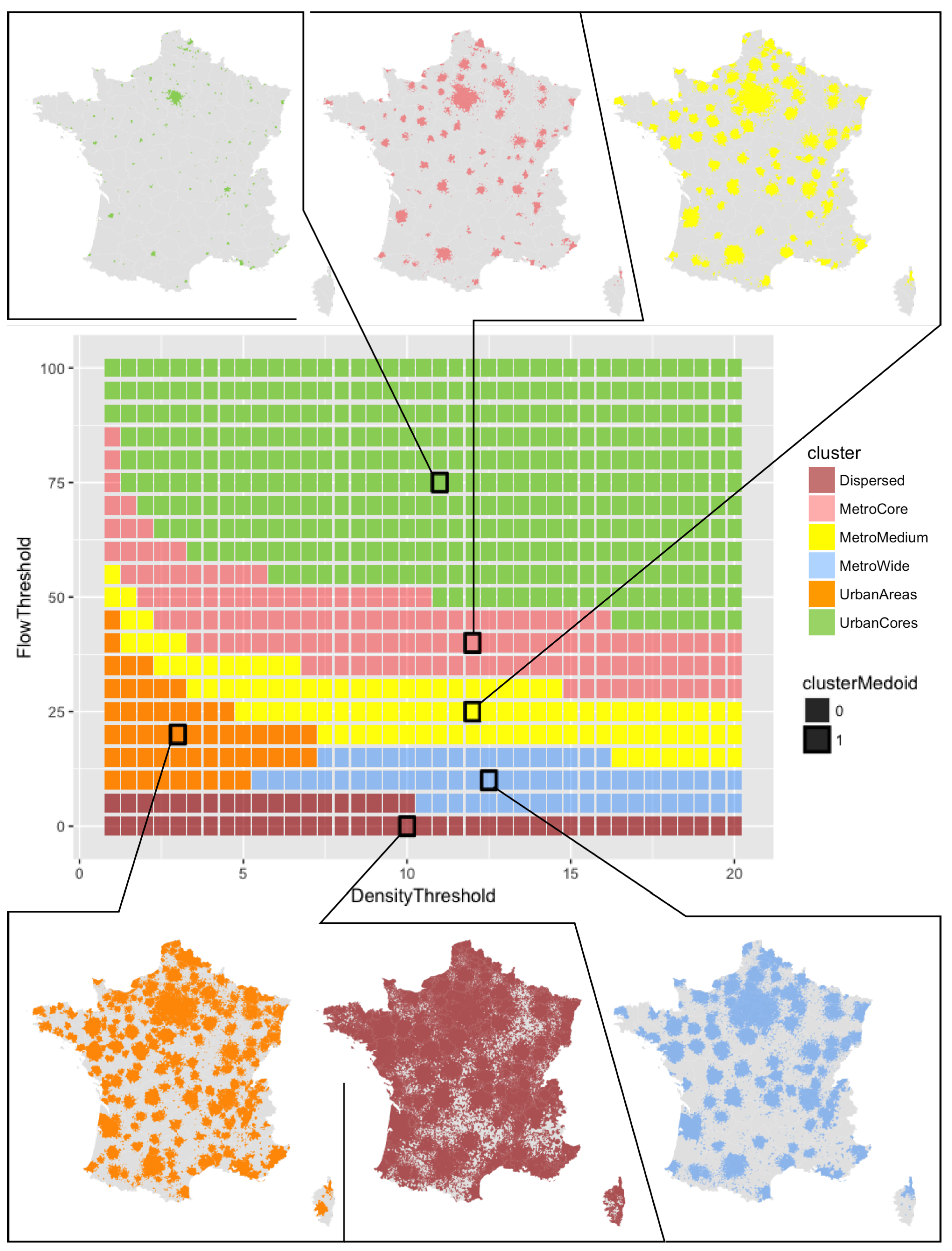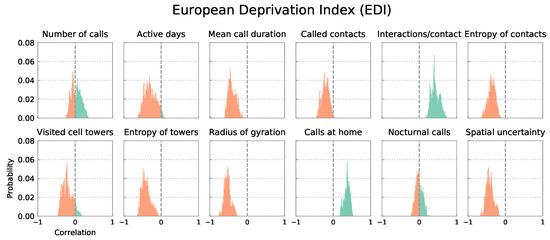 Figure 4. Distributions of the Spearman correlation coefficient for the relation between EDI and a selection of mobile phone indicators calculated for all 4914 city definitions. The histogram is colored green when correlation coefficients are positive and orange when negative.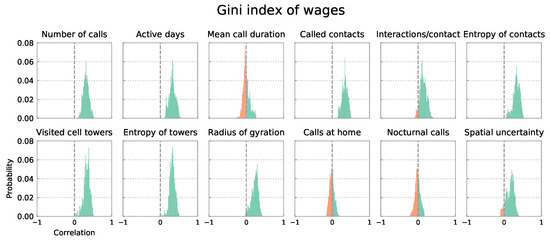 Figure 5. Distributions of the Spearman correlation coefficient for the relation between the Gini index and a selection of mobile phone indicators calculated for all 4914 city definitions. The histogram is coloured green when correlation coefficients are positive and orange when negative.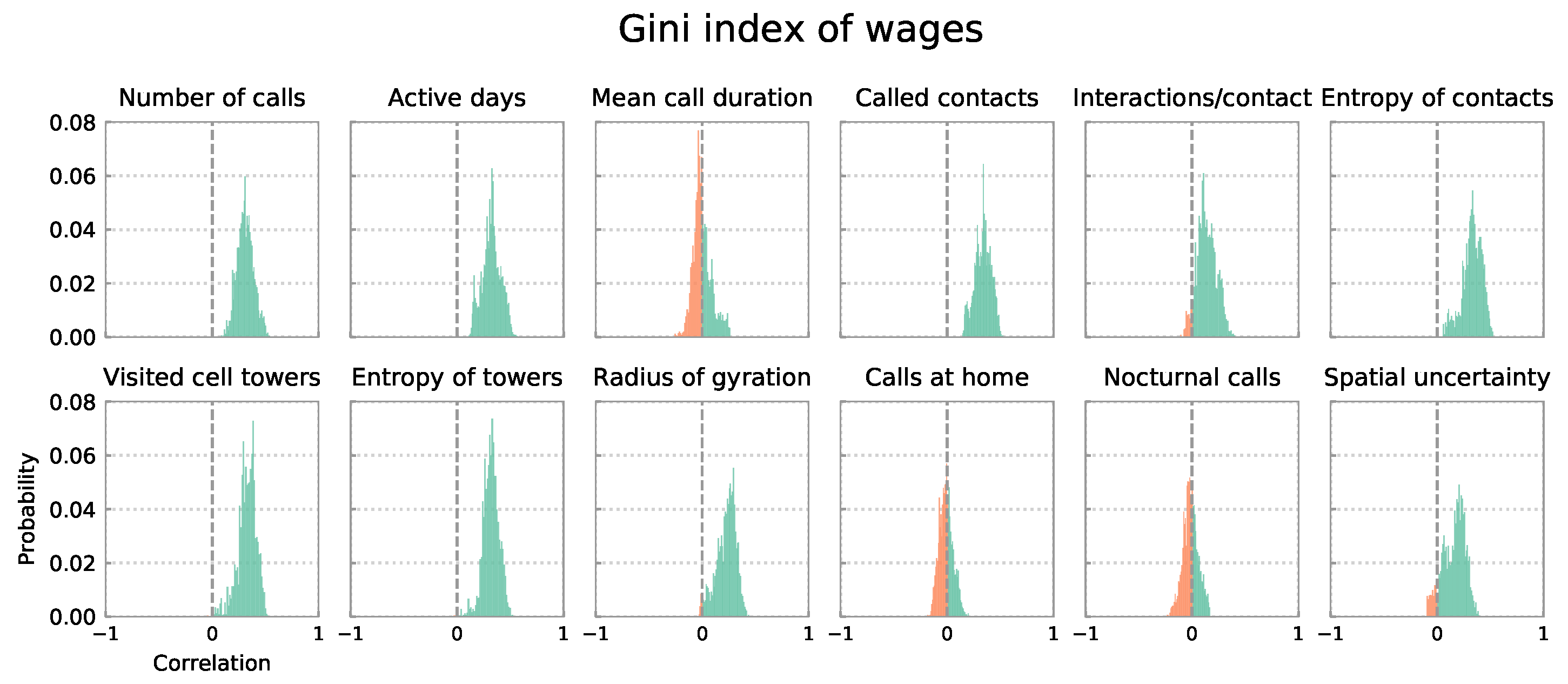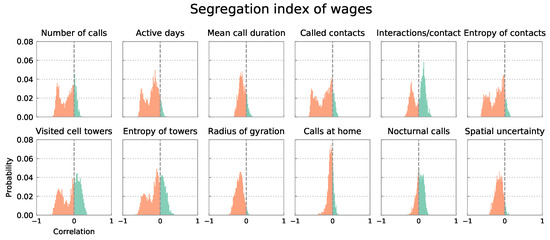 Figure 6. Distributions of the Spearman correlation coefficient for the relation between the Segregation index and a selection of mobile phone indicators calculated for all 4914 city definitions. The histogram is colored green when correlation coefficients are positive and orange when negative.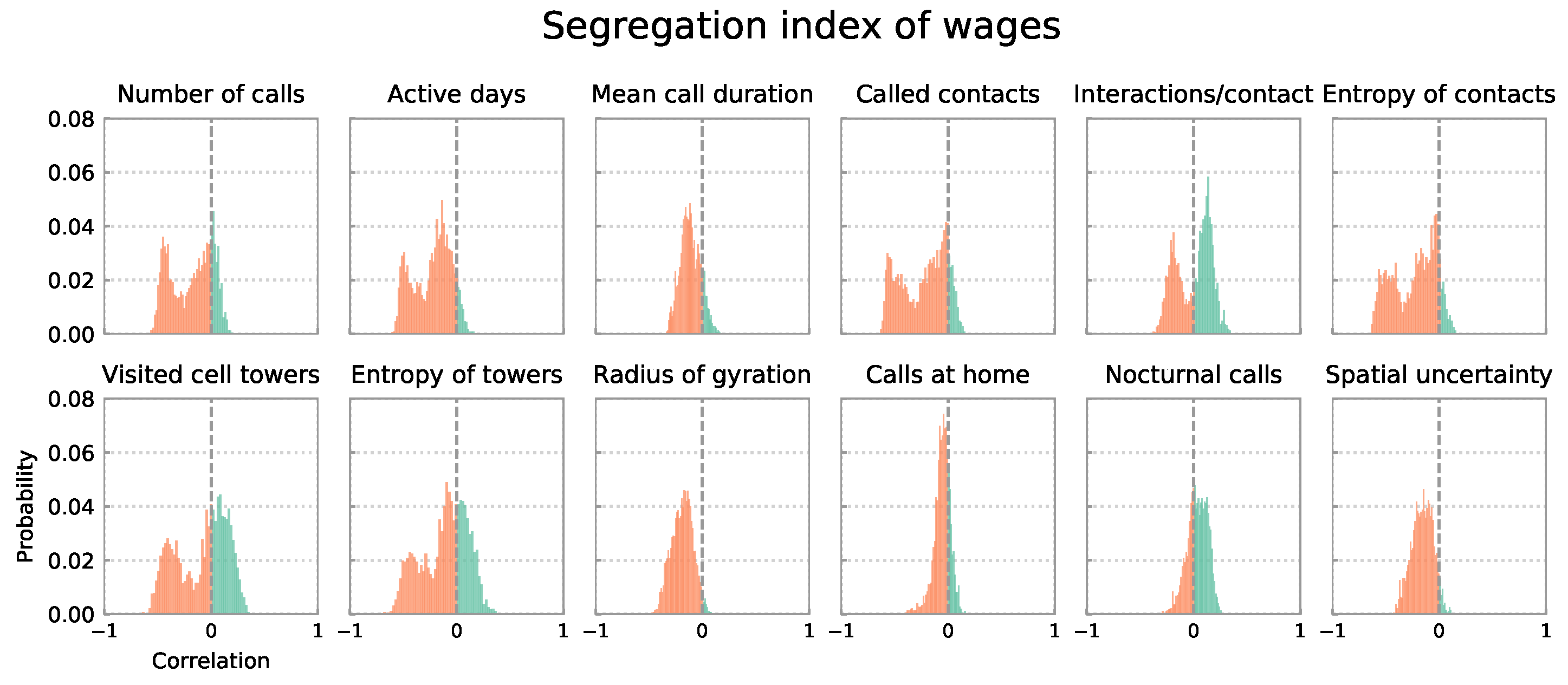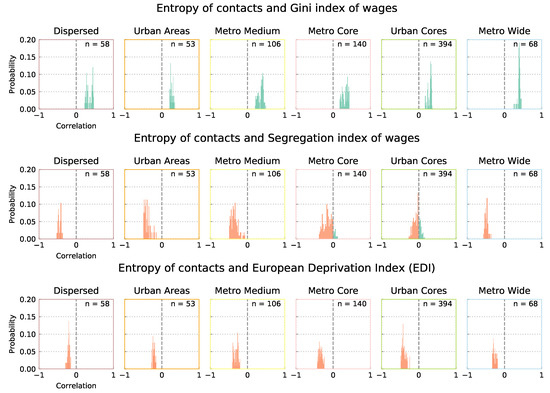 Figure 7.
Distributions of the Spearman correlation coefficient for the relation between the Entropy of contacts and the different socioeconomic indicators. Correlation coefficients are calculated for all 4914 city definitions but the histograms group results by the different classes of city definitions as defined in
Figure 3
. The bars in the histograms are coloured green when correlation coefficients are positive and orange when negative. The colours outlining the histograms accord to the different classes as defined in
Figure 3
.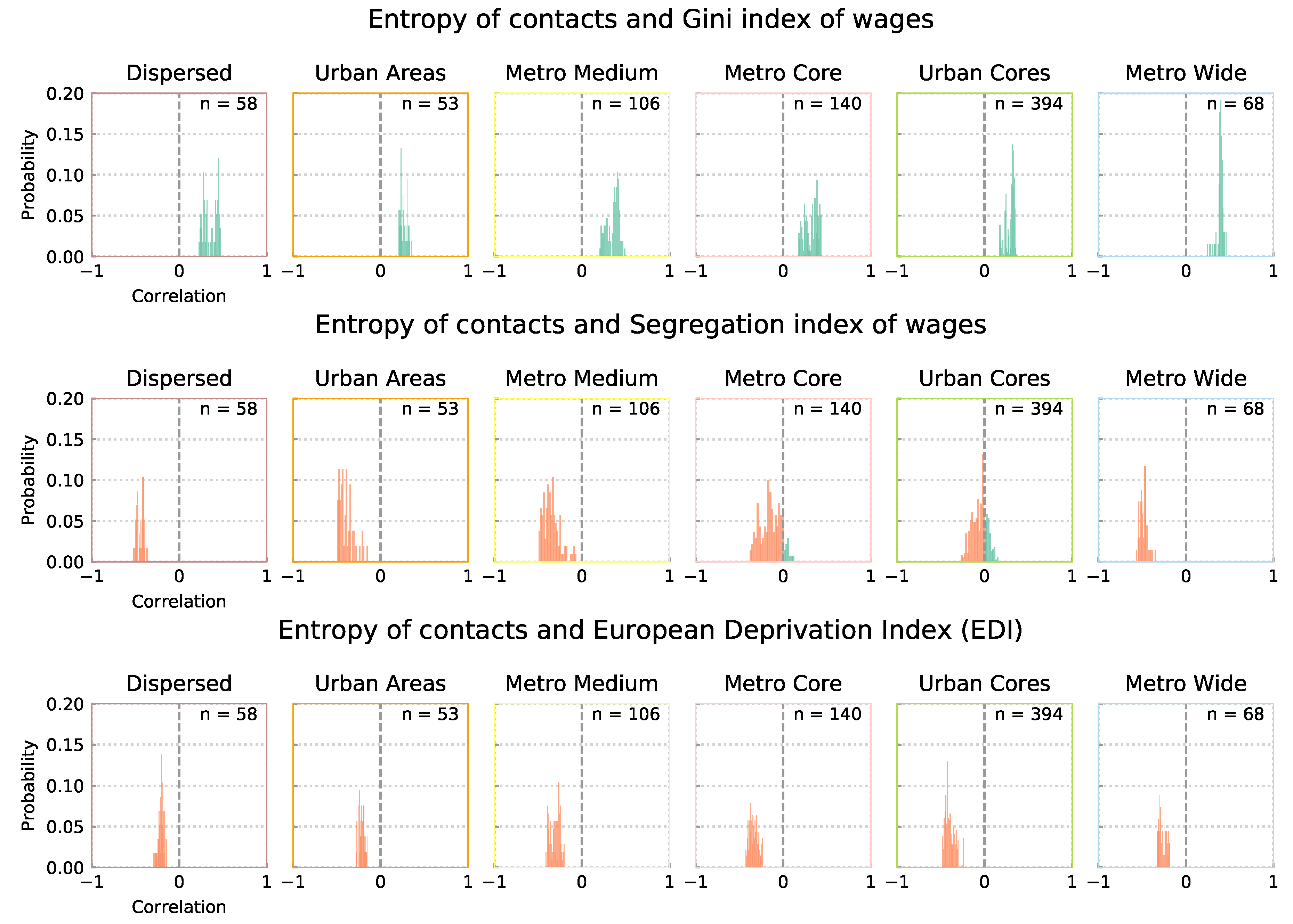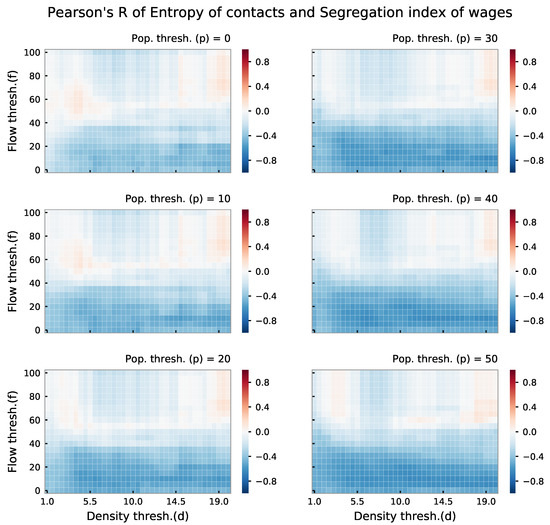 Figure 8.
Heatmap of the Pearsons's R for the relation between the entropy of contacts and the segregation index of wages for all city definitions represented in their according parameter-space. Each square on the heatmaps represents one of the 4914 city definitions projected in the space of definition criteria (x = density threshold, y = flow threshold, z = population threshold). It is coloured according to the value of the correlation index between the variable for the given definition. Density thresholds (
d
) are for the city centers and in thousands inhabitants/hectare, flow thresholds (f) are in percentage of population commuting to the city center, and population thresholds (p) are in thousands inhabitants in the wider city. As can be deduced, the top row plots have a population threshold (
p
) of 0.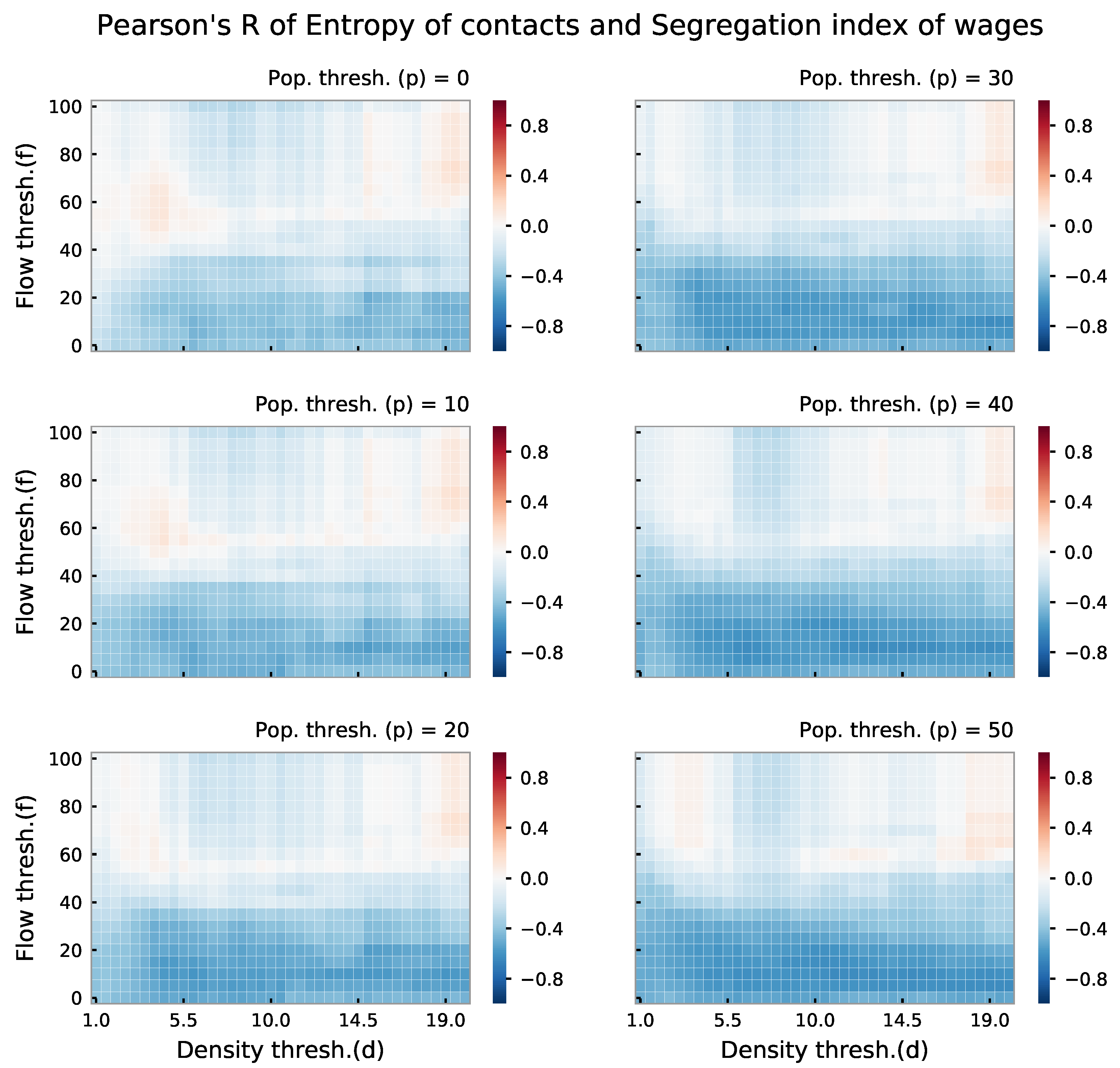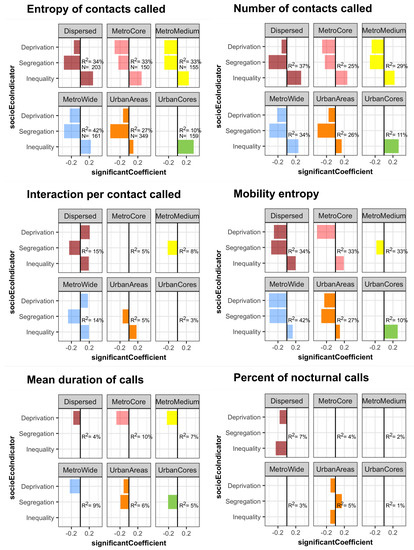 Figure 9. Significant coefficients in a multiple regression of mobile indicators by cluster medoid. NB: In this figure, the number of observation N refers to the number of clusters within the representative medoid definition. It is a number of cities which are included in the regression for a given definition.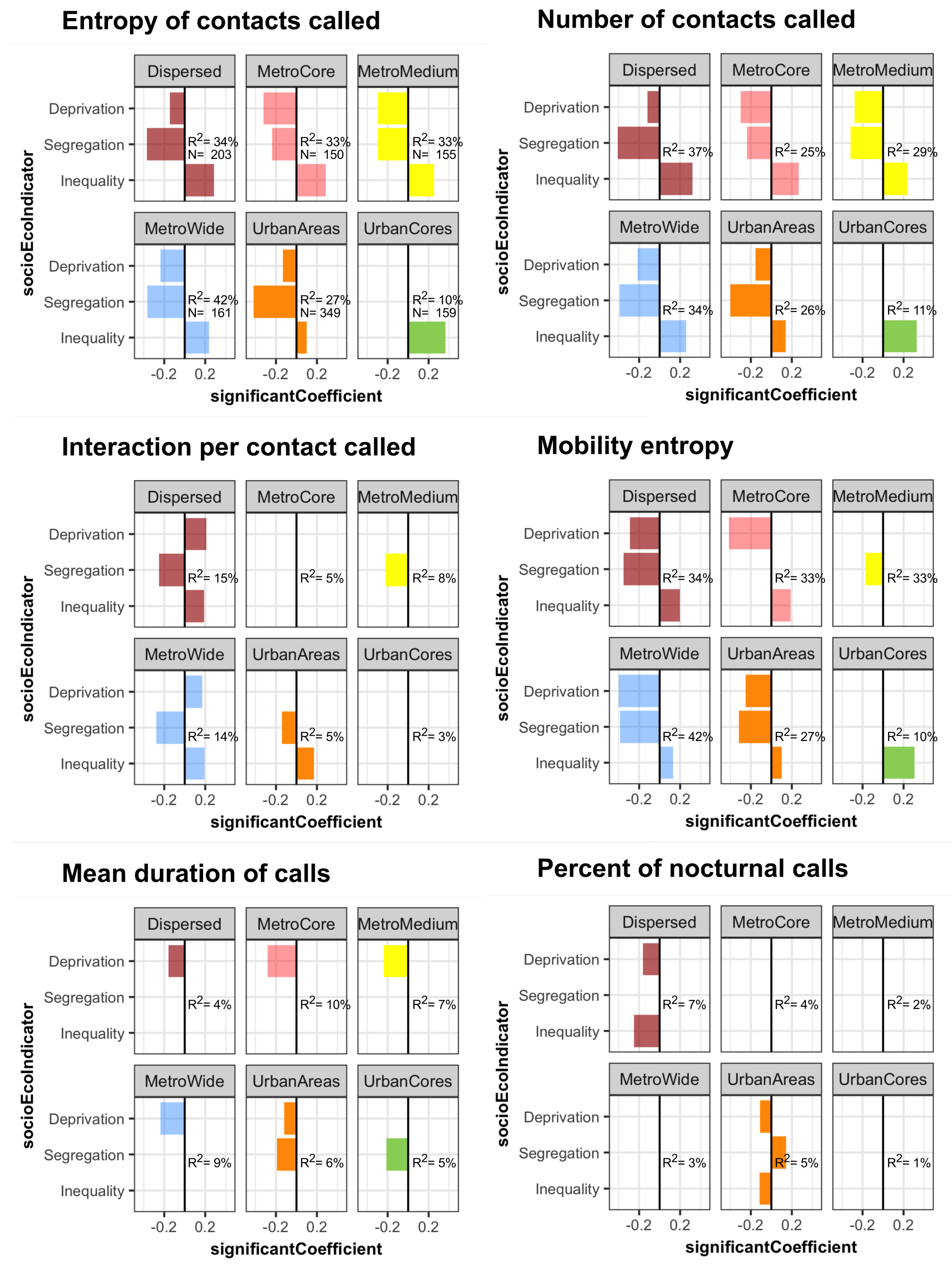 | Mobile Phone Indicator | Description |
| --- | --- |
| Number of calls | Number of calls made or received |
| Active days | Number of active distinct days |
| Percentage nocturnal calls | Percentage of calls made between 7 p.m. and 9 a.m. |
| Duration of calls | Mean duration of all calls |
| Inter-event time | Mean duration between consecutive calls |
| Number of contacts | Number of contacts interacted with |
| Interaction per contact | Mean amount of interactions per contact |
| Entropy of contacts * (Equation (3)) | Entropy measure of calls to contacts |
| Number of visited cell towers | Number of cell towers used to make calls |
| Radius of gyration * (Equation (1)) | Radius of gyration of movement patterns based on visited cell towers |
| Entropy of visited cell towers * (Equation (2)) | Entropy measure of visited cell towers |
| Distance between l1 and l2 | Distance between most plausible and second most plausible 'home' cell tower given a home detection algorithm |
| Spatial uncertainty | Uncertainty measure of the detection of the most plausible home location |
| Calls at home | Number of calls made at the presumed home cell tower |
| Percentage calls at home | Percentage of calls made at the presumed home cell tower |

Table 2. Spearman correlations between three census indicators for the centroid definition of all the six classes.
| | Deprivation–Inequality | Inequality–Segregation | Segregation–Deprivation |
| --- | --- | --- | --- |
| UrbanAreas | 0.060 | −0.082 | −0.028 |
| Dispersed | 0.062 | −0.252 | −0.144 |
| UrbanCores | −0.044 | 0.192 | 0.186 |
| MetroMedium | −0.059 | −0.047 | −0.156 |
| MetroCore | −0.072 | 0.119 | −0.131 |
| MetroWide | −0.041 | −0.156 | −0.069 |

© 2019 by the authors. Licensee MDPI, Basel, Switzerland. This article is an open access article distributed under the terms and conditions of the Creative Commons Attribution (CC BY) license (http://creativecommons.org/licenses/by/4.0/).