Redox Signaling from Mitochondria: Signal Propagation and Its Targets
Department of Mitochondrial Physiology, No. 75, Institute of Physiology of the Czech Academy of Sciences, Videnska 1083, 14220 Prague, Czech Republic
*
Author to whom correspondence should be addressed.
Received: 6 December 2019 / Revised: 2 January 2020 / Accepted: 2 January 2020 / Published: 6 January 2020
Progress in mass spectroscopy of posttranslational oxidative modifications has enabled researchers to experimentally verify the concept of redox signaling. We focus here on redox signaling originating from mitochondria under physiological situations, discussing mechanisms of transient redox burst in mitochondria, as well as the possible ways to transfer such redox signals to specific extramitochondrial targets. A role of peroxiredoxins is described which enables redox relay to other targets. Examples of mitochondrial redox signaling are discussed: initiation of hypoxia-inducible factor (HIF) responses; retrograde redox signaling to PGC1α during exercise in skeletal muscle; redox signaling in innate immune cells; redox stimulation of insulin secretion, and other physiological situations.
1. Preface
Recent findings documented the existence of redox signaling affecting numerous biological processes in the cell [
1
,
2
,
3
,
4
,
5
,
6
]. This statement is not trivial, since one may ask how it is possible that such a rather non-specific transient burst of reactive oxygen species (ROS) can specifically affect certain targets. The key to understanding lies in uncovering mechanisms of ROS production in various physiological situations and mechanisms of how the local "signal" given by the local appearance of particular ROS species is spread and transferred to the target. Of course, identification of a target under particular conditions is also not trivial. Moreover, one can accept a concept of passive targets, i.e., all proteins affected along the way of redox signal spreading. These passively targeted proteins can be distinguished from "final targets", i.e., one or several proteins that are affected so that particular cell function is significantly altered.
Focusing on mitochondrial ROS sources initiating redox signaling [
7
,
8
,
9
], one may distinguish (
i
) intramitochondrial redox signaling, when all targets are located within the structure of mitochondrial tubular network; and (
ii
) redox signaling from mitochondria to targets located in the cytosol, nucleus (retrograde redox signaling) or even targets existing within the extracellular matrix. Examples of the most studied physiological redox signaling from mitochondria are (1) initiation of hypoxia-inducible factor (HIF) and consequent transcriptome reprogramming; (2) retrograde redox signaling to PGC1α during exercise in skeletal muscle; (3) redox signaling in innate immune cells; (4) redox stimulation of insulin secretion due to metabolism of secretagogues such as branched-chain keto acids and fatty acids; and other situations, which we attempt to describe in this review. However, details are still unknown concerning the redox signal transfer from the sources of superoxide (as a prevalent initiator in these cases) in mitochondria to the identified targets. Moreover, under conditions when mitochondrial ROS sources are elevated even further, pathological oxidative stress is induced, which can be multiplied by the amplification of cytosolic ROS sources. Thus, redox signaling from mitochondria is essential, but when exaggerated it substantiates further oxidative stress, and thus amplification is induced, leading to pathology (
Table 1
).
That is why in this review we discuss the two major determinants of the redox signaling: (
i
) how the transient redox burst is possible at all; and (
ii
) what are mechanisms and ways of transfer of such redox signals to proper targets. Current knowledge, as well as hypotheses, are reviewed. One could also describe certain effects of ROS under conditions of mild to severe oxidative stress as pathological redox signaling. However, due to the vast area of this topic, we will mention this only scarcely.
2. Elevations of Mitochondrial Superoxide Formation
3. Redox Signal Spreading Out of Mitochondria
Recently, excellent studies revealed that redox signals can be traced as instantly oxidatively modified cysteine residues which are spread via different sets of proteins in different tissues [
86
,
87
,
88
,
89
,
90
]. In other words, one may consider most of them passive targets and conclude that these are different in varying cells and tissue types. However, it remains to be established how the redox signal is transferred, e.g., within the >500 nm distance from the surface of OMM of the mitochondrial network tubules to the plasma membrane target protein (
Figure 1
). The simplest mechanism would be represented by a simple H
2
O
2
diffusion over such a distance and subsequent direct oxidation of the target protein (in this example located at the plasma membrane) (
Figure 2
). Superoxide would unlikely diffuse to such a distance, and hence, if superoxide-mediated redox signaling exists, it could only affect proteins in the vicinity of OMM.
Alternatively, a mediated oxidation of target protein through the action of thiol-based proteins capable of redox relay to the target, such as peroxiredoxins (regenerated via thioredoxins and glutaredoxins), would provide a common signal transfer (
Figure 2
). However, it can be speculated whether a chain of peroxiredoxin oligomers itself could transfer the redox signal instead of the H
2
O
2
diffusion (
Figure 2
, rightmost scheme). This would be theoretically possible if the internal S-S bridges (two intermonomer S-S bridges within peroxiredoxin homodimer, see below) could be reduced not by thioredoxins or glutaredoxins, but by the other neighbor peroxiredoxin. Hence, it is yet to be established whether a redox relay exists via an array of peroxiredoxin oligomers.
In the case of redox signaling from mitochondria, we must inspect various methods by which the initially elevated superoxide reaches the cytosolic compartment before discussing how the redox signal is transferred within the cell cytosol; or subsequently from the cytosol to the nucleus, to the endoplasmic reticulum (ER) or the extracellular matrix (ECM). The other aspects include questions as to whether a net signaling by superoxide is possible at all or whether superoxide must always be converted to H2O2 by superoxide dismutases, MnSOD in the matrix and CuZnSOD localized within the intermembrane space, i.e., between the tubular surface of the mitochondrial network given by OMM and so-called inner boundary membrane (IBM, i.e., a portion of IMM forming a parallel inner cylinder with OMM). CuZnSOD is probably also located in ICS.
3.1. Hypothetical Redox Signaling by Superoxide Diffusion?
Neglecting still hypothetical superoxide anion penetration and oscillations of superoxide local concentrations with the participation of IMAC (see above), one can consider that the superoxide release to the mitochondrial matrix can provide a redox signal only when converted to the membrane-permeant H
2
O
2
. Nevertheless, at least a portion of superoxide formed at the site III
Qo
is released to the ICS lumen. Subsequent superoxide diffusion via crista outlets, if it exists, would be complicated. Thus, already superoxide diffusion is unlikely to the peripheral intermembrane space (forming a tubular sandwich with the OMM and IBM). This is because OPA1 heterotrimers, MICOS complexes, and other proteins guarding the crista outlets (crista junctions with OMM). Another barrier is represented by the OMM itself. Here, superoxide was suggested to penetrate via VDAC and similar pores or channels. In conclusion, it must still be established whether the simplest but physiological redox signaling mediated by superoxide diffusion from mitochondria exists. Note, however, that upon initiation of apoptosis the crista outlets are open, allow even cytochrome
c
migration out of ICS membranes and hence losses of cytochrome
c
, so then also superoxide can leak out (see [
13
] and references therein).
Two O
2
•−
molecules can spontaneously dismutate at a very slow rate, which is dependent on pH since protonation is a part of such dismutation [
91
]. Thus half-life of dismutation at 1 μM O
2
•−
is 2 s at pH 7 [
92
].
Note, that a portion of superoxide exists in the form of hydroperoxyl radical HO
2
•
(pKa 4.5). Hence, the ratio of O
2
•−
to HO
2
•
accounts for 1000:1 at pH 7.8 [
12
]. At lower concentrations such as existing in cells, but in a non-cellular environment a half-life of O
2
•−
might be in the order of hours. Moreover, thiol adduction to superoxide is as non-efficient as dismutation [
93
]. Consequently, the diffusion distance of O
2
•−
in the presence of SOD is 0.5 μm [
94
].
3.2. H2O2 Routes up to OMM
Thus, it is plausible that redox signaling from all mitochondrial sources is rather provided by the diffusion of H
2
O
2
either through IBM plus OMM when matrix-released superoxide is converted by MnSOD, or via crista outlets plus OMM, when ICS-released superoxide is converted by CuZnSOD. One may also consider mediation through mitochondrial peroxiredoxins (PRDX3 and PRDX5, see below) and glutathione peroxidase GPX1. Besides further reducing H
2
O
2
[
95
], they may speculatively help to spread mitochondrial redox signals at least towards the outer surface of OMM as an alternative to the diffusion of H
2
O
2
. Nevertheless, details of locations of PRDX3 and PRDX5 within ICS, peripheral intermembrane space between OMM, and IMB are not known.
4. Redox Signal Spreading within the Cytosol
4.1. Diffusion of H2O2
Theoretically, a direct diffusion of H
2
O
2
to the targets may be the simplest way of redox signaling from mitochondria. At the vicinity of the target protein, H
2
O
2
may either directly oxidize certain amino acid residues of the target protein or affect the target protein indirectly via peroxiredoxins. Interestingly, recent reports based on cytosolic H
2
O
2
-selective probes receiving matrix-originating artificially generated H
2
O
2
showed that these cytosolic fluorescent probes were affected only when some cytosolic thioredoxins were ablated [
96
]. If confirmed, this would suggest the participation of peroxiredoxins in the spreading of the redox signal beyond the OMM surface. However, since redox relay between a chain of peroxiredoxins has not yet been confirmed to exist, this problem has yet to be studied.
H
2
O
2
exerts a low reactivity and rather a long half-life. These properties lead to rather large diffusion-distances of ~0.5 μm in an aqueous environment [
94
]. The half-life of H
2
O
2
in cells was estimated to be 10 to 1000 μs, as controlled by enzyme-catalyzed pathways [
97
]. Thus, e.g., peroxiredoxin exhibits a second-order rate constant of 10
8
M
−1
s
−1
for reaction with H
2
O
2
[
98
].
4.2. Reactions of Thiol-Containing Proteins
Protein thiols can react with H
2
O
2
to form sulfenic acid (R-SOH) by two-electron oxidation. Resulting sulfenylation is reversible and typically changes the conformation and/or activity of proteins. If a nearby thiol exists, sulfenic acid further reacts with such a protein thiol or thiol of reduced glutathione (GSH), to form an inter-/intra-molecular disulfide bridge (S-S) or protein-S-GSH disulfide, respectively [
99
,
100
]. Thus, sulfenic form (-SOH) can create a disulfide (-S-S-) bond with other proteins containing oxidized thiols into the sulfenic form.
The one-electron oxidation of a thiol also exists, giving thiyl radicals, which are subsequently transformed into a plethora of downstream oxidation products, such as S-nitrosothiols (SNO) and persulfides (S-SH) [
101
]. Similarly, methionine can be converted to methionine sulfoxide or methionine sulfone by oxidation [
102
]. Note also that oxidative stress is established when lysine, arginine, threonine, and proline residues undergo carbonylation, which is irreversible.
4.3. Peroxiredoxin Family
4.4. Floodgate Model
Properties of PRDXs enable them to be in the first front of redox signaling, as well as antioxidant protection. Indeed, PRDXs exert a high affinity for H
2
O
2
determined by the Thr-Cys-Arg in their strictly conserved active site. This triad stabilizes the transition state by polarizing the O-O peroxyl bond [
110
]. As a result, the transfer of electrons from the catalytic cysteine toward peroxyl takes place, providing reaction rates of 10
5
–10
8
M
−1
∙s
−1
[
111
]. Indeed, this is several orders of magnitude higher than a general reaction of a protein thiol with H
2
O
2
[
112
].
The local increases in H
2
O
2
as an initiating event of redox signaling can be considered to act indirectly on target proteins through PRDXs according to the so-called floodgate model [
2
,
113
]. According to this model, scavenging PRDX enzymes are inactivated by H
2
O
2
(oxidized to sulfinic and sulfonic moieties, see above). Therefore, only the remaining PRDXs existing in a sulfenic form may subsequently oxidize the passive or terminal target. Thus, for example, local increases in H
2
O
2
may inhibit local peroxiredoxins and only a remote peroxiredoxin is capable to relay the redox signal to the target protein (
Figure 2
). Consequently, at higher H
2
O
2
concentration (local) levels, if instead of sulfenic acid (R-SOH), higher oxidized states, sulfinic (RSO
2
H) moieties are formed, they may be regenerated i.e., reversed to sulfenic moieties by sulfiredoxin (SRX) enzyme. However, the reduction by SRX is much slower than that by TRX [
114
]. Moreover, when sulfonic (RSO
3
H) residues are formed, this is irreversible. As a result, their formation can be regarded as oxidative stress and not physiological redox signaling [
115
].
Another complex role of PRDXs lies in their ability to form high molecular weight complexes, i.e., oligomers of decamers described above. They are formed mostly upon higher peroxidation states (containing sulfenic or sulfonic moieties) and thus they loose peroxidase activity and the only chaperone-like activity is restored [
116
].
4.5. Signaling via Redox Relay
Redox relay from PRDX1to4 towards certain targets has already been described in some pertinent cases [
117
,
118
,
119
]. For example, the redox sensing function is ensured by the thiol-disulfide exchange reaction of PRDX2 with the transcription factor STAT3 to repress transcriptional activation in the nucleus [
120
]. This redox relay possesses an advantage of lower H
2
O
2
concentrations being required for such redox signaling when compared to a simple H
2
O
2
diffusion to the target, which is the signal transducer and activator of transcription 3 (STAT3).
Cytosolic PRDX1 also acts within a redox relay [
121
]. This is evidenced upon its ablation (or PRDX2 ablation), where lower amounts of oxidated cytosolic protein thiols are globally found [
122
,
123
]. For example, oxidized PRDX1 blocks the activity of apoptosis signal-regulating kinase 1 (ASK1), a Ser/Thr kinase, inducing apoptosis [
121
,
124
]. Interestingly, TRX forms also complexes with ASK1 within the same site but increased H
2
O
2
dissociates TRX from ASK1 and thus activates it [
125
]. Similarly PRDX4 and GPX7 act within ER [
126
,
127
]. Note also that phosphorylation of PRDXs, which inhibits their function, is involved in the complex crosstalk between kinases, phosphatases, and PRDXs, which is beyond the scope of this review [
3
].
4.6. Mitochondrial Peroxiredoxins
After being imported to the mitochondrial matrix, a cleavage of 61-amino acids of the mitochondrial targeting N-terminal sequence in translated PRDX3 results in 21.5-kDa monomeric protein [
128
]. PRDX5 contains both, a 52-aminoacids long mitochondrial targeting N-terminal sequence and C-terminal SQL sequence addressing to peroxisomes [
129
,
130
]. Cleavage in the mitochondrial matrix results in a 17-kDa monomer.
4.7. Glutathione Peroxidases
GPX family consists of five enzymes with seleno-cysteine active sites (GPX1 to 4, GPX6) utilizing GSH as a cofactor [
131
,
132
]; and other three enzymes with a redox sensor role (GPX5, GPX7, GPX8) having only cysteine residues in their active sites and modest peroxidase activity [
133
]. The cytosolic and mitochondrial GPX1 and plasma membrane and cytosolic GPX4 are abundant in all tissues and cell types.
4.8. Amplification of Cytosolic ROS Production (Signaling) by Stimulation of NADPH Oxidases by Mitochondrial ROS
The potential cross-talk between mitochondrial ROS and NADPH oxidase (NOX) has long been known [
134
]. Mitochondrial ROS can be amplified by cytoplasmic NOX and vice versa, leading to feed-forward process that augments the pro-oxidative status required for pathological signaling; for example, during the development of pulmonary hypertension. Redox signaling from mitochondria also targets NADPH oxidases such as NOX1 and NOX2 to activate them. In endothelial cells, when such redox signaling is exaggerated the resulting oxidative stress contributes to hypertension. Similarly, in the development of pulmonary hypertension mitochondrial ROS activate NOXs and to collectively induce a pro-oxidative redox state, which is further favored by the impairment of antioxidant capacity (SOD, catalase and glutathione peroxidase) of pulmonary hypertensive cells [
135
].
The revealed mechanism for endothelial cells includes the proto-oncogene tyrosine-protein kinase c-Src redox dependent pathway [
26
]. Interestingly, mitochondrial K
ATP
channel opening was related to such elevated mitochondrial superoxide formation, which subsequently potentiated elevation of cytosolic ROS via activation of NADPH oxidases [
136
]. Also, RET-dependent redox signaling activated NOX2 in human aortic endothelial cells [
72
]. Specifically, AngII, a peptide hormone being a key effector of the renin angiotensin system was shown to induce mitochondrial dysfunction by inhibiting the activity of PGC-1α [
137
]. Its downregulation reduces catalase expression through FoxO1 transcription factor, thus weakening antioxidant system [
138
]. Moreover, dysfunctional mitochondria produce mitochondrial ROS via inhibited electron transport chain and ROS together with accumulated Zinc then activates NF-κB-dependent upregulation of NOX1, causing telomere attrition and replicative senescence especially in vascular wall [
139
]. Mitochondria derived superoxide was also shown to activate NOX2, subsequently causing oxidative stress leading to hypertension [
72
]. Activation of the mitoK
ATP
and subsequent matrix alkalization induced superoxide production by reverse electron transport of respiratory chain as malate supplementation reduced blood pressure [
26
]. A critical role of mitochondrial ROS for activation of NOX1 in various hypertension models was nicely summarized by Daiber et al. [
140
,
141
].
5. Mitochondrial Redox Signaling at Hypoxia
In the next sections, we describe the best known examples of mitochondrial signaling. The representative list and possible pathological consequences of the exaggeration and/or impairment of such a signaling are summarized in
Table 1
.
6. Mitochondrial Redox Signaling in Skeletal Muscle
7. Mitochondrial Signaling in Pancreatic β-Cells
7.1. Mitochondrial Signaling during Fatty Acid Stimulated Insulin Secretion in Pancreatic β-Cells
Fatty acids were recognized as so-called insulin secretagogues [
29
,
203
,
204
]. The latter term is used for species stimulating secretion of insulin in pancreatic β-cells. Originally, it has been considered that rather low doses of fatty acids merely amplify the glucose-stimulated insulin secretion (GSIS) [
205
,
206
,
207
]. However, fatty acid-stimulated insulin secretion (FASIS) takes place at low glucose levels that alone do not stimulate insulin release (net GSIS) [
203
,
208
]. One can postulate the independence of FASIS as related to high glucose doses (those stimulating insulin release) due to the existence of fatty acid stimulation of metabotropic GPR40 receptor [
209
,
210
,
211
]. The GPR40 pathway acts downstream via the Gq protein or Gs protein, plus arresting routes [
212
,
213
,
214
], and it is predominantly independent off closing of the ATP-sensitive K
+
channel (K
ATP
) [
215
]. In contrast, closure of K
ATP
is the key mechanism involved in GSIS, despite a high amplification ability of incretins, such as GLP1 and GIP, augmenting GSIS. Note also that physiologically fatty acids are delivered to pancreatic β-cells in lipid form within chylomicrons and 2-monoacyl glycerol acts also via a metabotropic receptor GPR119, being a part of so-called glycerol/fatty acid cycle. The latter stimulates insulin secretion partly by OXPSHOS and partly via the exocytosis-promoting protein Munc13-1 activated by the released 2-monoacyl glycerol [
204
].
Besides the GPR40 pathway of FASIS, a portion of fatty acids enters β-oxidation in mitochondria and is metabolized to increase OXPHOS and hence ATP levels [
216
]. Nevertheless, as predicted and experimentally verified, β-oxidation of fatty acids generates superoxide which after conversion to H
2
O
2
serves as a redox signal [
45
]. This redox signal has been associated with stimulation of insulin secretion in frame of FASIS.
7.2. Intramitochondrial Signaling to iPLA2γ Amplifies GPR40 Response
Nevertheless, besides a hypothetical direct redox-sensitive insulin secretion, amplification of GPR40 pathway is provided by the intramitochondrial redox signaling. This is mediated by H
2
O
2
resulting from ETFQOR-formed superoxide. H
2
O
2
directly activates mitochondrial Ca
2+
independent phospholipase A2 isoform γ (iPLA2γ). Subsequently, activated iPLA2γ cleaves fatty acids from phospholipids constituting mitochondrial membranes. The cleaved fatty acids migrate to the plasma membrane, where they additionally stimulate the GPR40 pathway of FASIS [
45
]. Note that such amplification accounts for ~60% of FASIS-generated insulin.
7.3. Mitochondrial Signaling Insulin Secretion Stimulated by Branched Chain Keto-Acids in Pancreatic β-Cells
Also, branched chain (BC) keto-acids are well known insulin secretagogues. They are metabolites of leucine, isoleucine, and valine imported to the mitochondrion. These BC amino acids are converted to 2-keto-isocaproate, 2-keto-3-methyl valerate, and 2-keto-isovalerate, respectively, by mitochondrial BC-amino acid transferase (BCAT) [
217
]. Next, BC-ketoacid dehydrogenase (BCKDH) converts them to isovaleryl-CoA, 2-methylbutyryl-CoA, and isobutyryl-CoA, respectively. In the subsequent reaction series resembling β-oxidation, final products are made as acetyl-CoA (acetoacetate), propionyl-CoA (or again acetyl-CoA), and succinyl-CoA, respectively, entering the Krebs cycle and being oxidized by the ETFQOR. Subsequently, the elevated OXPHOS results in the K
ATP
-dependent insulin secretion (
Figure 5
). Mitochondrial requirement for BC-ketoacids as insulin secreatagogues is also supported by the finding that ablation of mitochondrial transcription factor B2 abolishes BC-ketoacid-stimulated secretion of insulin [
218
].
However, recently we found that insulin secretion stimulated by BC-keto-acids is completely abolished with mitochondrial matrix-targeted antioxidant SkQ1 in insulinoma INS-1E cells [
28
]. This means that resulting elevation of ATP due to β-like oxidation of BC-keto-acids is unable to close K
ATP
and hence that parallel redox signaling from mitochondria is essentially required (
Figure 5
). Similarly as for fatty acids, such redox signaling stems from the elevated superoxide formation with participation of ETFQOR. This conclusion is supported by the finding that silencing of BCKDH largely prevents mitochondrial superoxide formation after 2-keto-isocaproate addition to INS-1E cells and blocks nearly completely resulting secretion of insulin in parallel.
8. Mitochondrial Signaling in Immune Cells
9. Mitochondria and Kinase Signaling
Mitochondrial proteins are often targets of physiological cell signaling [
259
], including cardioprotective signaling and prevention of programmed cell death [
260
]. H
2
O
2
either directly or in conjunction with peroxiredoxins acts as a predominant intracellular redox-signaling molecule, being able to oxidize catalytic cysteine thiol groups of protein tyrosine phosphatases and numerous protein kinases [
2
,
261
]. As discussed above, Janus kinase/JAK plus STAT3 pathway and ASK1 pathway were recognized to be affected by redox signaling (see
Section 4.5
) (
Figure 6
). Increasing evidence is also being gathered that indicates the role of the protein kinase C (PKC) family of isoenzymes in transducing H
2
O
2
-induced signaling in a wide variety of physiological and pathophysiological processes [
262
,
263
,
264
,
265
,
266
,
267
].
Moreover, mitochondrial ROS (H
2
O
2
) enhances phosphoinositide3-kinase (PI3K) signaling by deactivating the phosphatase PTEN via cysteine oxidation [
268
]. Deactivation of PTEN subsequently enables activation of protein kinase B/Akt, serving as a positive regulator of the PI3Kpathway and driving cell proliferation. Mitochondrial ROS (H
2
O
2
), and hence redox signaling, evidently participates in angiotensin II signaling, which is required for downstream signaling cascades (
Figure 6
). For example, in vascular smooth muscle cells, stimulation with angiotensin II is parallel to the increased H
2
O
2
release from mitochondria, which further induces MAPK signaling [
269
].
10. Future Perspectives
Further research is required to definitively unravel mechanism(s) on how redox signaling from mitochondria is transferred to the distant target proteins such as those located at the plasma membrane or nucleus. Direct diffusion of particular species such as superoxide and, namely, H2O2 should be either confirmed or excluded, as well as the mutual transfer of redox state among an array of peroxiredoxins. One should study, whether before a peroxiredoxin "redox kiss" to a target protein, decamers of peroxiredoxin diffuse so as to gain the H2O2 redox signal further away from the target. If this is not possible, details should be revealed to answer the question of how far H2O2 (or superoxide) can diffuse to encounter the first peroxiredoxin decamer.
Also, since a vast majority of proteins are an oxidatively modified concept of passive targets and those terminal ones, mediating the subsequent biological response should be verified. Of course, this is expected to be yielded from the genome-wide studies at exemplar situations, together with further detailed identification of new targets. As a result, new redox-regulated biological phenomena should be yielded from all such efforts. A prominent place could be represented by redox regulations of kinase signaling. A threshold between physiological redox signaling vs. redox burst leading to the pathological outcome should be distinguished in detail, as well as both events from permanent oxidative stress.
Concerning mitochondria as a major source of superoxide, the interplay between ion channels or uncoupling proteins and sources of superoxide under distinct conditions should be unraveled, along with mutual relationships between morphology of mitochondrial network or ultramorphology of mitochondrial cristae, both in relation to superoxide formation, as well as to apoptosis initiation, mitophagy, machinery of mitochondrial DNA, etc. Finally, feedback of redox changes initiating in mitochondria should be recognized.
Conflicts of Interest
The authors declare no conflict of interest.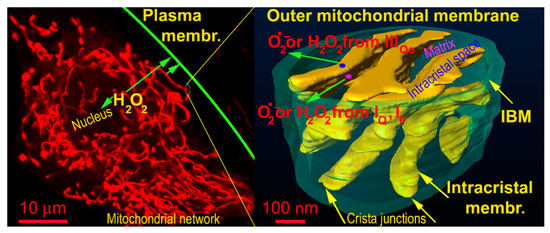 Figure 1. Representation of distances for hypothetic H2O2 diffusion to plasma membrane — demonstrated on a confocal image of the mitochondrial network (left) and FIB/SEM 3D image of cristae within a segment of the mitochondrial network (oriented vertically). The arrows show diffusion distances from the most proximal and most distant tubule of the mitochondrial network to the plasma membrane (left) and diffusion from the matrix (translucent space inside the IBM cylinder) or from then intracristal space (yellow topology, which also comprises ATP synthase oligomers and respiratory chain supercomplexes).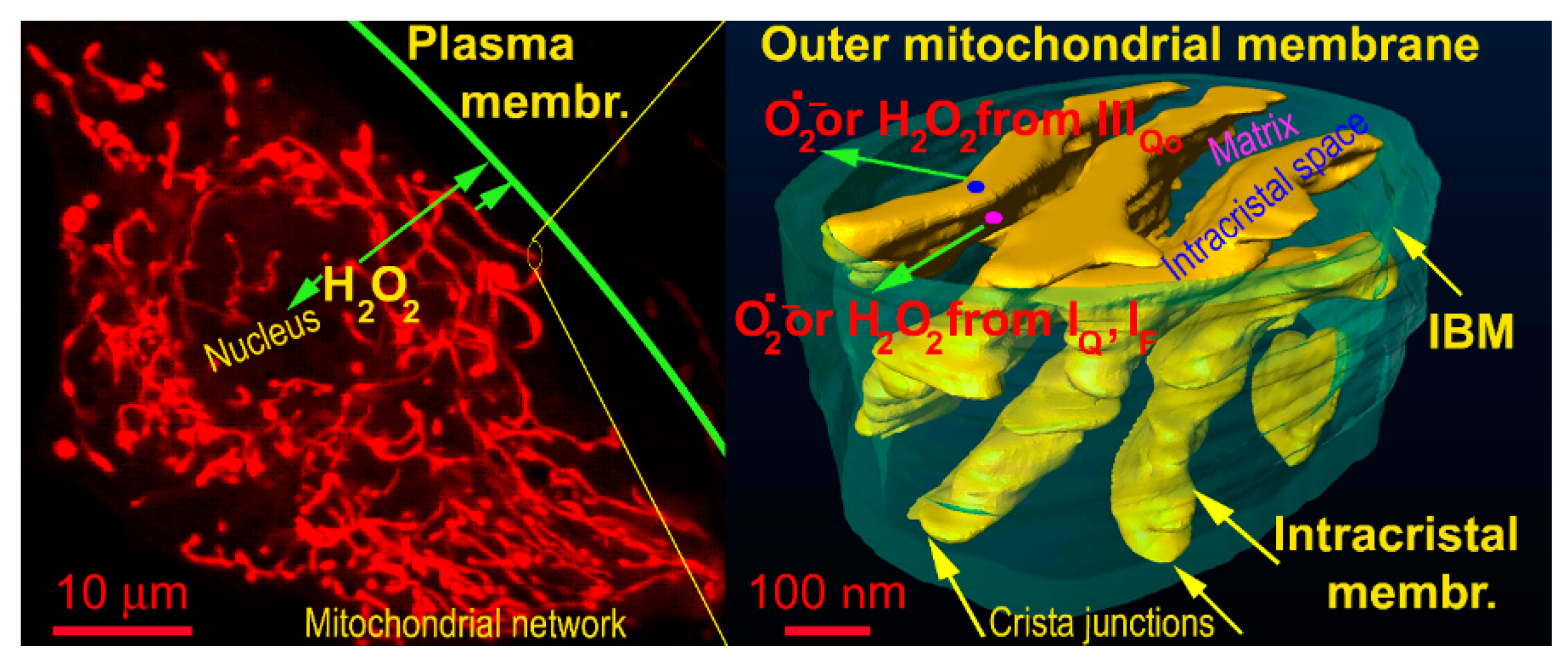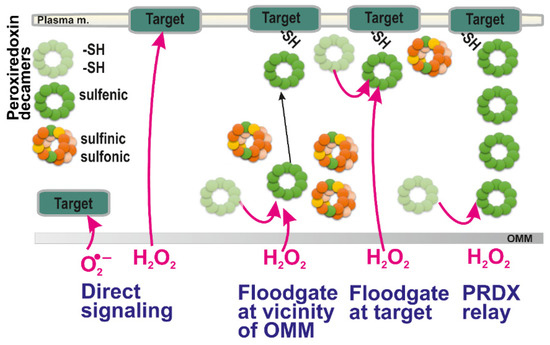 Figure 2.
Possible ways of redox signal spreading — from left to right: (
i
) direct superoxide diffusion; (
ii
) direct H
2
O
2
diffusion; (
iii
) peroxiredoxin-mediated redox signal transfer including diffusion of peroxiredoxin decamers; (
iv
) combination of (
ii
) and (
iii
), i.e., H
2
O
2
diffusion followed by the peroxiredoxin relay (peroxiredoxin "redox kiss"); and (
v
) hypothetical redox relay via an array of peroxiredoxins. Note, that according to a flood-gate model, H
2
O
2
oxidizes PRDX to higher states than a sulfenic state (
green
; basic reduced state
light green
), such as sulfinic (
yellow
) and irreversible sulfonic state (
orange
). This allows only distant decamers in a sulfenic state either to migrate to the target (
iii
) or to oxidize target at its vicinity (
iv
). The hypothetical mechanism (
v
) should still be verified experimentally.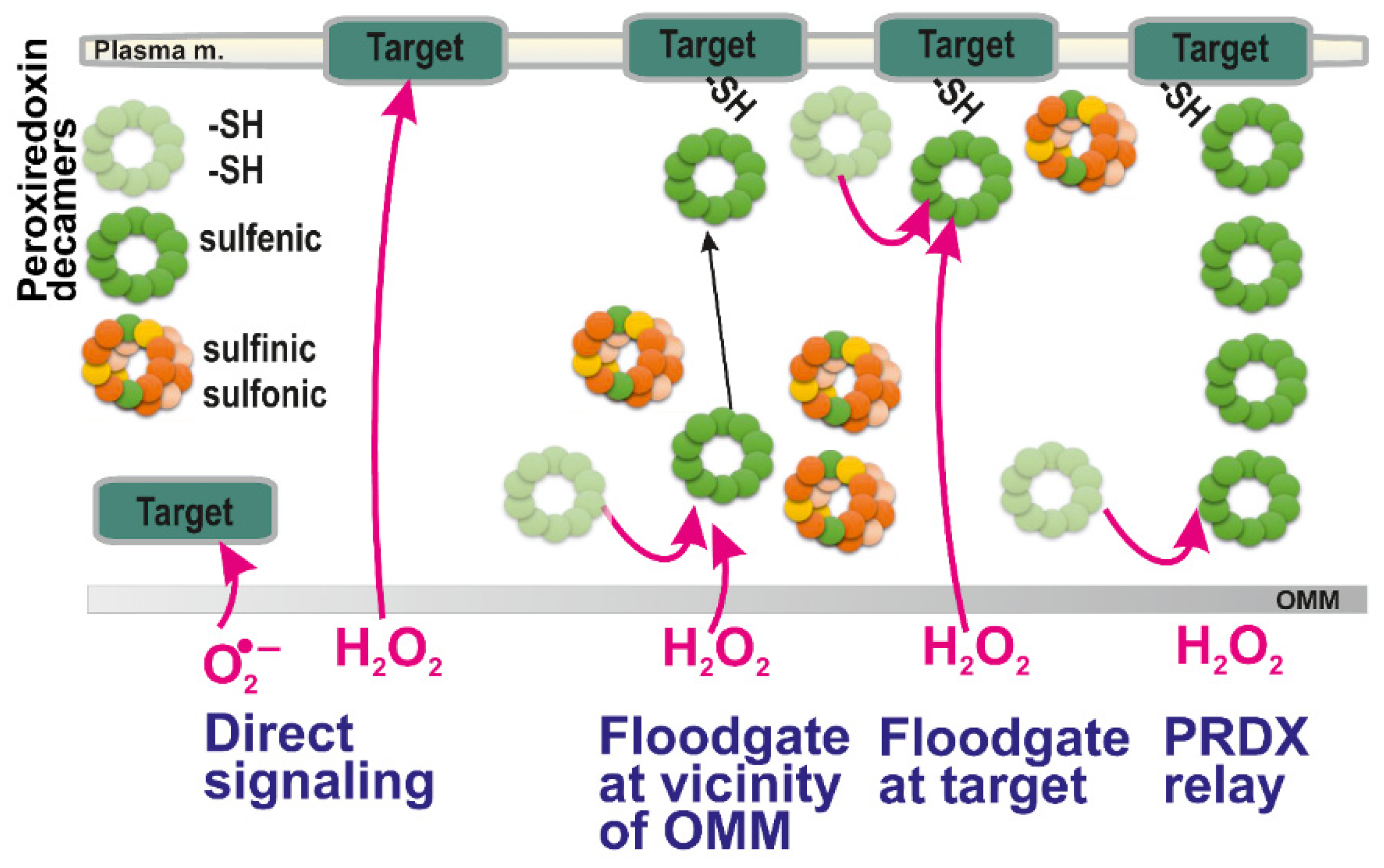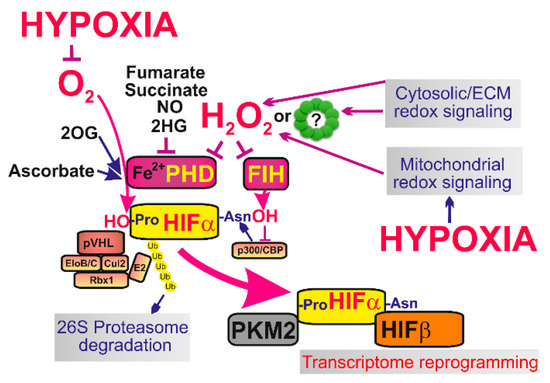 Figure 3. The major mechanisms of initiation of HIF-mediated transcriptome reprogramming—At normoxia isofoms of hypoxia-inducible factor α (HIF-α), such as HIF-1α are constantly degraded which is ensured by ubiquitin ligase Von Hippel-Lindau tumor suppressor protein (pVHL) and the components of the proteasome complex e.g., elongin B/C (EloB/C), cullin 2 (Cul2), ring-H2 finger protein (Rbx1) or ubiquitin ligase E2. During hypoxic adaptation the lack of oxygen and mitochondrial redox signaling (or in some situations also elevation of cytosolic ROS) lead to stabilization of HIF-α and it's binding to HIF-β. As a result stabilized HIF with the help of transcription factor p300/CBP causes transcriptome reprogramming (up to 400 genes are affected) and a typical metabolic switch to Warburg phenotype, when OXPHOS is suppressed while glycolysis and lactate production is upregulated. The link between low oxygen levels and mitochondrial redox signaling is provided and in fact integrated by the resulting inactivation of prolyl hydroxylases (PHDs) and factor inhibiting HIF (FIH), which no longer are able to hydroxylate HIFα and cause it's degradation. Pyruvate kinase isozyme M2 (PKM2) migrates to nucleus to specifically enhance transcription.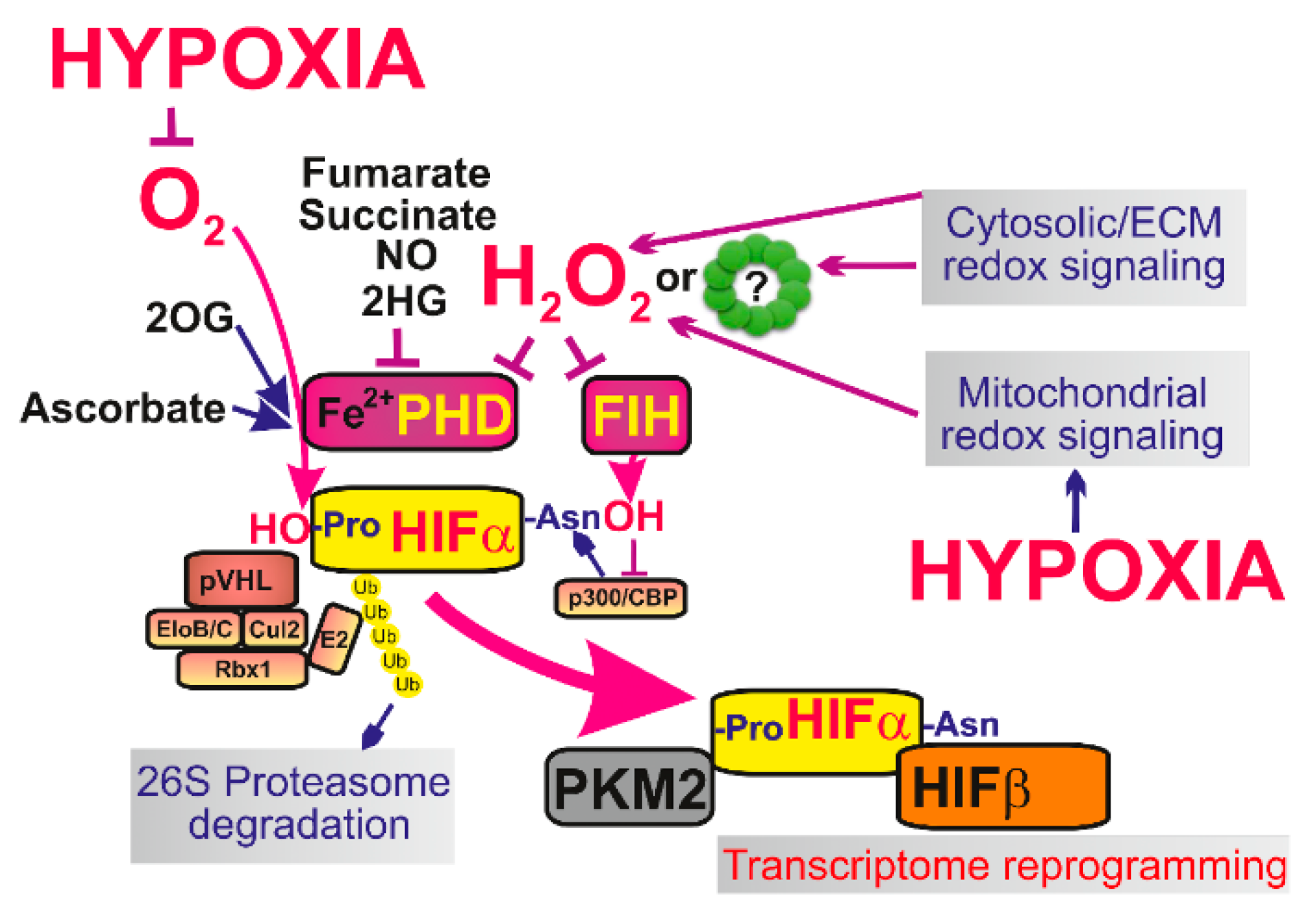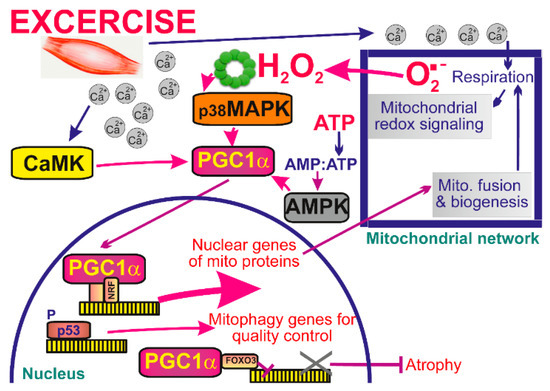 Figure 4. Mitochondrial signaling in skeletal muscle during exercise. During exercise cytoplasmic Ca2+ concentration rises leading to activation of calcium-calmodulin-dependent kinase (CaMK) and increase in mitochondrial respiration, and subsequent increase in ATP and ROS production. While Ca2+ acts via CaMK, the AMP/ATP ratio stimulates the AMP-activated protein kinase (AMPK) pathway and mitochondrial ROS target the p38 mitogen-activated protein kinase pathway (MAPK). All signals are then integrated in the increase of transcriptional activity of the master regulator of mitochondrial biogenesis, peroxisome proliferator-activated receptor-gamma coactivator-1α (PGC1α).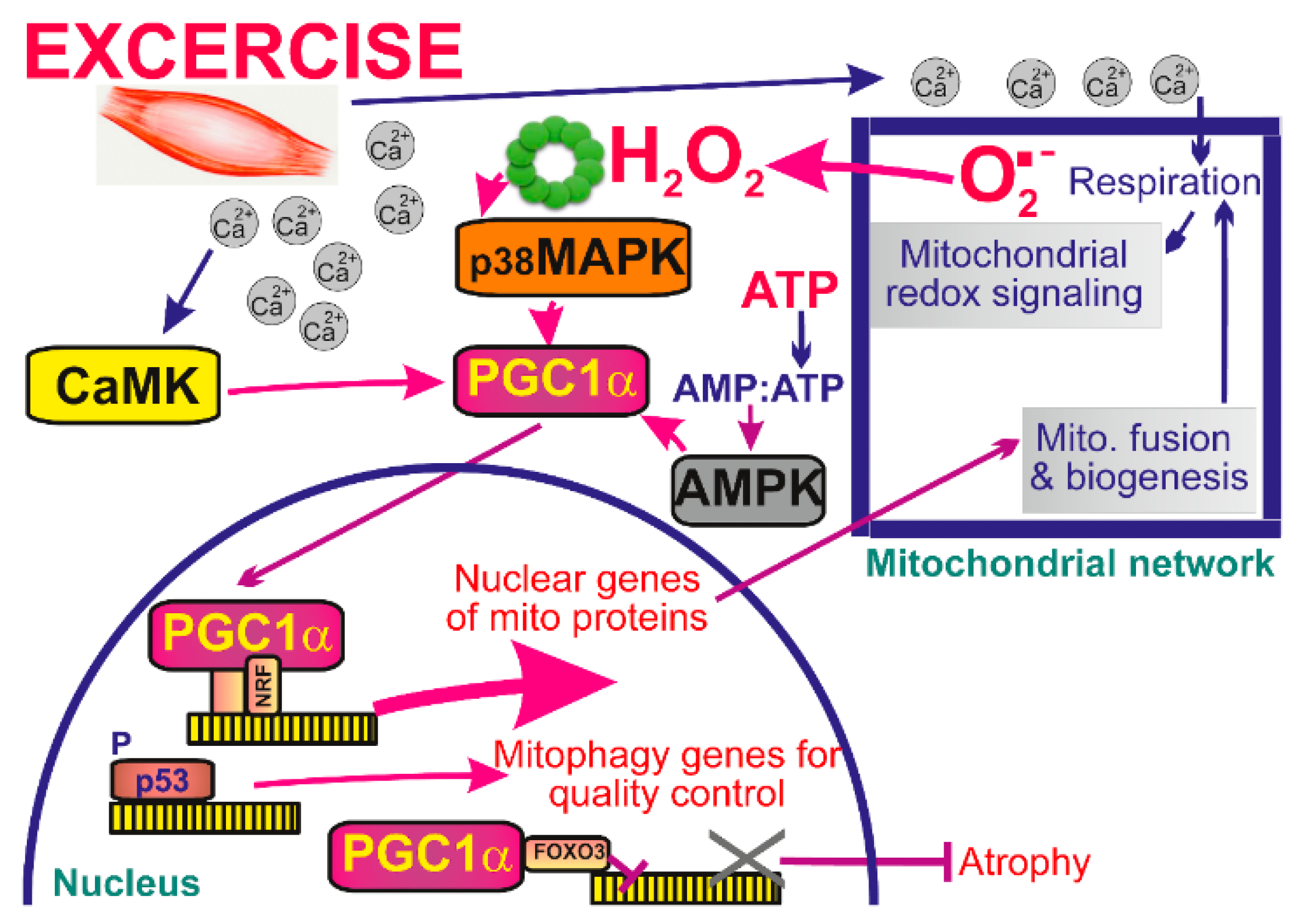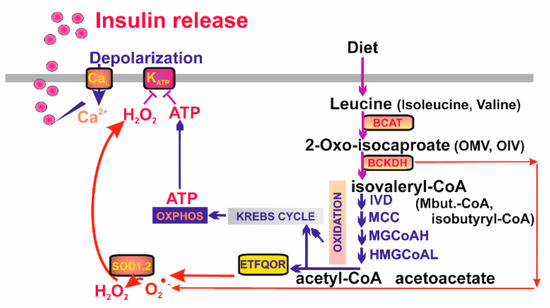 Figure 5. Mitochondrial redox signaling as essential part of branched-chain keto-acid- stimulated secretion of insulin. Branched-chain keto-acids are metabolized by a series of catabolic reactions leading to production of substrates fueling Kreb's cycle and the mitochondrial respiratory chain. ATP and H2O2 then cause closure of the ATP-dependent K+ channels (KATP) on the plasmatic membrane, membrane depolarization and activation of the voltage-gated Ca2+ channels (CaL) setting off the canonical pathway of insulin release. BCAT—branched-chain α-ketoacid amino transferase; BCKDH—branched-chain α-ketoacid dehydrogenase; IVD—isovaleryl-CoA dehydrogenase; MCC—methylcrotonyl-CoA carboxylase; MGCoAH—methyl-glutoconyl-CoA hydratase; HMGCoAL—3-hydroxy-3-methylglutaryl-CoA lyase.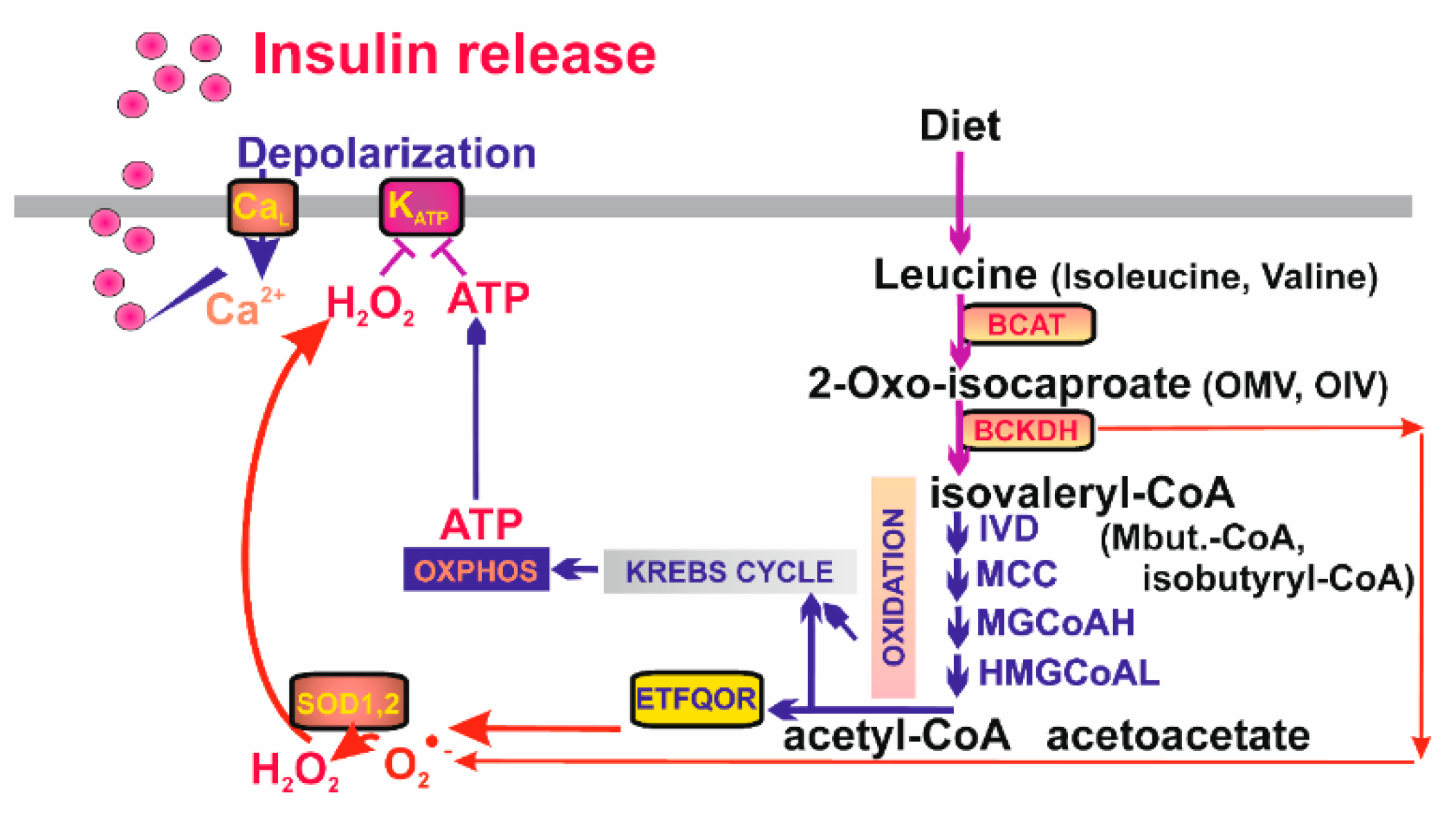 Figure 6.
Examples of mitochondrial signaling upon activation of different kinases—schematic overview examples of established participation of mitochondria-generated H
2
O
2
in signaling cascades. Also, a role of inhibition of UCP2 is outlined, resulting in elevation of mitochondrial superoxide generation and hence elevated H
2
O
2
release. For a detailed explanation see
Section 8
and
Section 9
.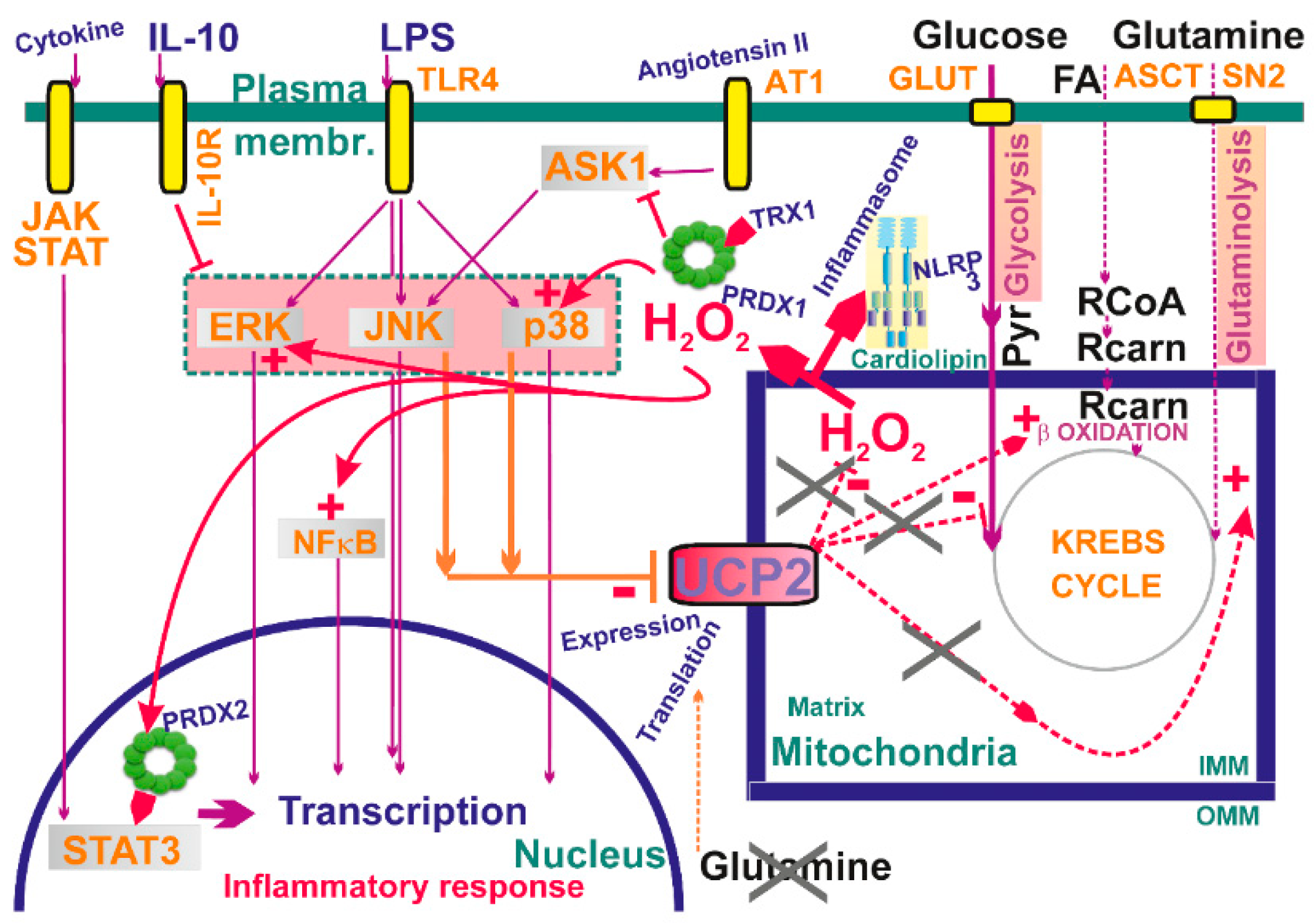 Table 1. Exemplar physiological situations with mitochondrial redox signaling and possible pathological consequences of its exaggeration and/or impairment.
Source/Event
Physiological Target/Function
Ref.
Source/Event
Pathology
Ref.
MitoROS = redox signaling/hypoxia
PHD/HIF-mediated transcriptome reprogramming
[19]
[20]
[21]
MitoROS - PHD-HIF - Warburg phenotype
Oncogenes
2hydroxyglutarate- altered epigenetics
Cancer
[2,8,22]
[23,24]
[25]
RET, KATP opening => mito ROS
NOX2 in endothelial cells
[26]
RET, frequent KATP opening => mito ROS
Endothelial cell OX.STRESS Hypertension
[26]
MitoROS
NOX4 in pulmonary endothelial and recruited immune cells, fibroblasts
[6]
[27]
MitoROS - PHD-HIF - Warburg phenotype
Pulmonary arthery remodelling
Pulmonary hypertension
[6]
[27]
MitoROS = redox signaling
Plasma membrane KATP closure
=> insulin release
[28]
Impaired Mito redox signaling
OX.STRESS in pancreatic β-cells
Type 2 diabetes
[29]
MitoROS= redox signaling, skeletal muscle at excercise
PGC1α, skeletal muscle rejuvenation
[30]
[31]
Impaired Mito redox signaling
OX.STRESS, sedentary life-style
skeletal muscle senescence, weakness, athrophy
[32]
[33,34]
Succinate accumulation => RET
Hypoxia/reperfusion Indry (heart)
[35]
Succinate accumulation => RET => intramitochondrial redox signaling
UCP1 in brown adipose tissue/thermogenesis
[14,36]
MitoROS = redox signaling in T cells
NFAT, NFκB/
Proximal T cell receptor signaling
[37]
[38]
MitoROS = redox signaling, immune cells
NLRP3 inflammasome/IL-1β secretion
[39]

© 2020 by the authors. Licensee MDPI, Basel, Switzerland. This article is an open access article distributed under the terms and conditions of the Creative Commons Attribution (CC BY) license (http://creativecommons.org/licenses/by/4.0/).