Plasma Free Fatty Acids Metabolic Profile with LC-MS and Appetite-Related Hormones in South Asian and White European Men in Relation to Adiposity, Physical Activity and Cardiorespiratory Fitness: A Cross-Sectional Study
1
Applied & Human Sciences, School of Life Sciences, Pharmacy & Chemistry, Kingston University London, Kingston upon Thames KT1 2EE, UK
2
Department of Pharmaceutical Chemistry, Faculty of Pharmacy, Kuwait University, P.O. Box 23924, Safat, Kuwait City 13110, Kuwait
3
Strathclyde Institute of Pharmacy and Biomedical Sciences, University of Strathclyde, The John Arbuthnott Building, 161 Cathedral Street, Glasgow G4 0RE, UK
4
National Centre for Sport and Exercise Medicine, School of Sport, Exercise and Health Sciences, Loughborough University, Loughborough LE11 3TU, UK
5
University Hospitals of Leicester NHS Trust, Infirmary Square, Leicester LE1 5WW, UK
*
Authors to whom correspondence should be addressed.
Received: 21 March 2019 / Revised: 10 April 2019 / Accepted: 11 April 2019 / Published: 13 April 2019
Abstract
South Asians have a greater cardiovascular disease (CVD) and type 2 diabetes (T2D) risk than white Europeans, but the mechanisms are poorly understood. This study examined ethnic differences in free fatty acids (FFAs) metabolic profile (assessed using liquid chromatography-mass spectrometry), appetite-related hormones and traditional CVD and T2D risk markers in blood samples collected from 16 South Asian and 16 white European men and explored associations with body composition, objectively-measured physical activity and cardiorespiratory fitness. South Asians exhibited higher concentrations of five FFAs (laurate, myristate, palmitate, linolenic, linoleate;
p
≤ 0.040), lower acylated ghrelin (ES = 1.00,
p
= 0.008) and higher leptin (ES = 1.11,
p
= 0.004) than white Europeans; total peptide YY was similar between groups (
p
= 0.381). South Asians exhibited elevated fasting insulin, C-reactive protein, interleukin-6, triacylglycerol and ratio of total cholesterol to high-density lipoprotein cholesterol (HDL-C) and lower fasting HDL-C (all ES ≥ 0.74,
p
≤ 0.053). Controlling for body fat percentage (assessed using air displacement plethysmography) attenuated these differences. Despite similar habitual moderate-to-vigorous physical activity (ES = 0.18,
p
= 0.675),
O
2max
was lower in South Asians (ES = 1.36,
p
= 0.001). Circulating FFAs in South Asians were positively correlated with body fat percentage (
r
2
= 0.92), body mass (
r
2
= 0.86) and AUC glucose (
r
2
= 0.89) whereas in white Europeans FFAs were negatively correlated with total step counts (
r
2
= 0.96). In conclusion, South Asians exhibited a different FFA profile, lower ghrelin, higher leptin, impaired CVD and T2D risk markers and lower cardiorespiratory fitness than white Europeans.
View Full-Text
►

▼

Figures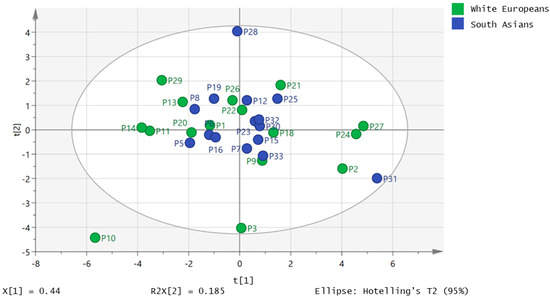 Figure 1
This is an open access article distributed under the
Creative Commons Attribution License
which permits unrestricted use, distribution, and reproduction in any medium, provided the original work is properly cited (CC BY 4.0).

Share & Cite This Article
MDPI and ACS Style
Benedetti, S.; Al-Tannak, N.F.; Alzharani, M.; Moir, H.J.; Stensel, D.J.; Thackray, A.E.; Naughton, D.P.; Dorak, M.T.; Spendiff, O.; Hill, N.; Watson, D.G.; Allgrove, J. Plasma Free Fatty Acids Metabolic Profile with LC-MS and Appetite-Related Hormones in South Asian and White European Men in Relation to Adiposity, Physical Activity and Cardiorespiratory Fitness: A Cross-Sectional Study. Metabolites 2019, 9, 71.
Note that from the first issue of 2016, MDPI journals use article numbers instead of page numbers. See further details here.
Related Articles
Comments
[Return to top]