Comparison of the Serum Metabolic Fingerprint of Different Exercise Modes in Men with and without Metabolic Syndrome
1
School of Physical Education and Sport Science, Aristotle University of Thessaloniki, 54124 Thessaloniki, Greece
2
School of Chemistry, Aristotle University of Thessaloniki, 54124 Thessaloniki, Greece
3
Center for Interdisciplinary Research and Innovation, BIOMIC_AUTh (CIRI-AUTH), Aristotle University of Thessaloniki, 57001 Thessaloniki, Greece
4
FoodOmicsGR RI, Center for Interdisciplinary Research and Innovation, AUTh node (CIRI-AUTH), Aristotle University of Thessaloniki, 57001 Thessaloniki, Greece
5
Department of Nutrition and Dietetics, Alexander Technological Educational Institute of Thessaloniki, 57400 Sindos, Greece
6
Laboratory of Forensic Medicine and Toxicology, School of Medicine, Aristotle University of Thessaloniki, 54124 Thessaloniki, Greece
*
Author to whom correspondence should be addressed.
Received: 16 May 2019 / Revised: 12 June 2019 / Accepted: 13 June 2019 / Published: 15 June 2019
Abstract
Exercise plays a beneficial role in the treatment of metabolic syndrome (MetS). Metabolomics can provide new insights and facilitate the optimization of exercise prescription. This study aimed to investigate whether the response of the human serum metabolic fingerprint to exercise depends on exercise mode or the presence of MetS. Twenty-three sedentary men (nine with MetS and fourteen healthy) completed four trials: Resting, high-intensity interval exercise (HIIE), continuous moderate-intensity exercise (CME), and resistance exercise (RE). Blood samples were collected pre-exercise, immediately after exercise, and 1 h post-exercise for targeted metabolomic analysis in serum by liquid chromatography–mass spectrometry. Time exerted the strongest differentiating effect, followed by exercise mode. The largest changes from baseline were found in the immediate post-exercise samples. RE caused the strongest responses overall, followed by HIIE, while CME had minimal effect. Unlike previous results in urine, no valid model could separate the two groups in serum. Exercise exerted a beneficial effect on prominent serum biomarkers of metabolic risks, such as branched-chain amino acids, alanine, acetylcarnitine, choline, and betaine. These findings contribute to the ongoing research efforts to map the molecular responses to exercise and to optimize exercise guidelines for individuals at cardiometabolic risk.
View Full-Text
►

▼

Figures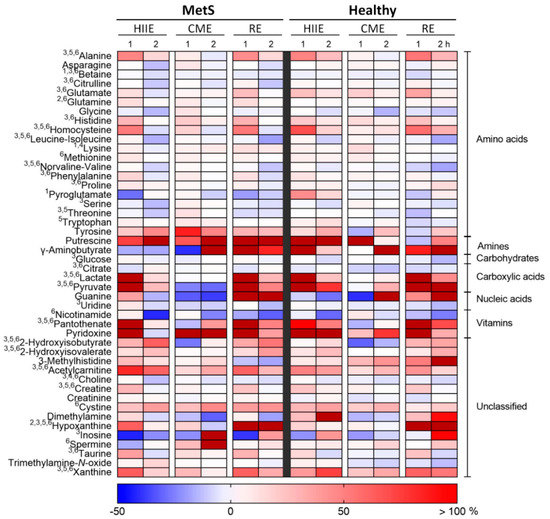 Figure 1
This is an open access article distributed under the
Creative Commons Attribution License
which permits unrestricted use, distribution, and reproduction in any medium, provided the original work is properly cited (CC BY 4.0).

Share & Cite This Article
MDPI and ACS Style
Siopi, A.; Deda, O.; Manou, V.; Kosmidis, I.; Komninou, D.; Raikos, N.; Theodoridis, G.A.; Mougios, V. Comparison of the Serum Metabolic Fingerprint of Different Exercise Modes in Men with and without Metabolic Syndrome. Metabolites 2019, 9, 116.
Note that from the first issue of 2016, MDPI journals use article numbers instead of page numbers. See further details here.
Related Articles
Comments
[Return to top]