A Noninvasive Comparison Study between Human Gliomas with IDH1 and IDH2 Mutations by MR Spectroscopy
1
Weldon School of Biomedical Engineering, Purdue University, West Lafayette, IN 47907, USA
2
Wellcome Centre for Integrative Neuroimaging, FMRIB Division, Nuffield Department of Clinical Neurosciences, University of Oxford, Oxford OX3 9DU, UK
3
Nuffield Department of Clinical Neurosciences, University of Oxford, Oxford OX3 9DU, UK
4
Department of Neurosurgery, John Radcliffe Hospital, Oxford University Hospitals NHS Trust, Oxford OX3 9DU, UK
5
Chemistry Research Laboratory, Department of Chemistry, University of Oxford, Oxford OX1 3TA, UK
6
School of Health Sciences, Purdue University, West Lafayette, IN 47907, USA
*
Author to whom correspondence should be addressed.
†
These authors contributed equally to this work.
Received: 11 December 2018 / Revised: 5 February 2019 / Accepted: 15 February 2019 / Published: 20 February 2019
Abstract
The oncogenes that are expressed in gliomas reprogram particular pathways of glucose, amino acids, and fatty acid metabolism. Mutations in isocitrate dehydrogenase genes (IDH1/2) in diffuse gliomas are associated with abnormally high levels of 2-hydroxyglutarate (2-HG) levels. The aim of this study was to determine whether metabolic reprogramming associated with IDH mutant gliomas leads to additional
1
H MRS-detectable differences between IDH1 and IDH2 mutations, and to identify metabolites correlated with 2-HG. A total of 21 glioma patients (age= 37 ± 11, 13 males) were recruited for magnetic resonance spectroscopy (MRS) using semi-localization by adiabatic selective refocusing pulse sequence at an ultra-high-field (7T). For 20 patients, the tumor mutation subtype was confirmed by immunohistochemistry and DNA sequencing. LCModel analysis was applied for metabolite quantification. A two-sample t-test was used for metabolite comparisons between IDH1 (
n
= 15) and IDH2 (
n
= 5) mutant gliomas. The Pearson correlation coefficients between 2-HG and associated metabolites were calculated. A Bonferroni correction was applied for multiple comparison. IDH2 mutant gliomas have a higher level of 2-HG/tCho (total choline=phosphocholine+glycerylphosphorylcholine) (2.48 ± 1.01vs.0.72 ± 0.38,
Pc
< 0.001) and myo-Inositol/tCho (2.70 ± 0.90 vs. 1.46 ± 0.51,
Pc
= 0.011) compared to IDH1 mutation gliomas. Associated metabolites, myo-Inositol and glucose+taurine were correlated with 2-HG levels. These results show the improved characterization of the metabolic pathways in IDH1 and IDH2 gliomas for precision medicine.
View Full-Text
►

▼

Figures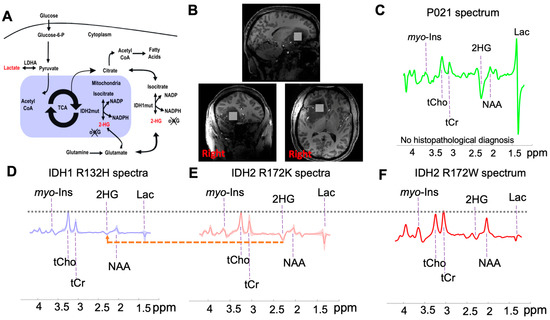 Figure 1
This is an open access article distributed under the
Creative Commons Attribution License
which permits unrestricted use, distribution, and reproduction in any medium, provided the original work is properly cited (CC BY 4.0).

Share & Cite This Article
MDPI and ACS Style
Shen, X.; Voets, N.L.; Larkin, S.J.; de Pennington, N.; Plaha, P.; Stacey, R.; McCullagh, J.S.O.; Schofield, C.J.; Clare, S.; Jezzard, P.; Cadoux-Hudson, T.; Ansorge, O.; Emir, U.E. A Noninvasive Comparison Study between Human Gliomas with IDH1 and IDH2 Mutations by MR Spectroscopy. Metabolites 2019, 9, 35.
Note that from the first issue of 2016, MDPI journals use article numbers instead of page numbers. See further details here.
Related Articles
Comments
[Return to top]