The Role of Sarcosine, Uracil, and Kynurenic Acid Metabolism in Urine for Diagnosis and Progression Monitoring of Prostate Cancer
1
Department of Urology, School of Medicine, Faculty of Health Sciences, Aristotle University of Thessaloniki, 54124 Thessaloniki, Greece
2
Department of Chemistry, Aristotle University of Thessaloniki, 54124 Thessaloniki, Greece
3
Department of Pharmacology & Clinical Pharmacology, School of Medicine, Faculty of Health Sciences, Aristotle University of Thessaloniki, 54124 Thessaloniki, Greece
4
Department of Forensic Medicine & Toxicology, School of Medicine, Faculty of Health Sciences, Aristotle University of Thessaloniki, 54124 Thessaloniki, Greece
*
Authors to whom correspondence should be addressed.
Academic Editor: Per Bruheim
Received: 29 December 2016 / Revised: 14 February 2017 / Accepted: 18 February 2017 / Published: 23 February 2017
Abstract
The aim of this pilot study is to evaluate sarcosine, uracil, and kynurenic acid in urine as potential biomarkers in prostate cancer detection and progression monitoring. Sarcosine, uracil, and kynurenic acid were measured in urine samples of 32 prostate cancer patients prior to radical prostatectomy, 101 patients with increased prostate-specific antigen prior to ultrasonographically-guided prostatic biopsy collected before and after prostatic massage, and 15 healthy volunteers (controls). The results were related to histopathologic data, Gleason score, and PSA (Prostate Specific Antigen). Metabolites were measured after analysis of urine samples with Ultra-High Performance Liquid Chromatography coupled to tandem mass spectrometry (UPLC-MS/MS) instrumentation. Multivariate, nonparametric statistical tests including receiver operating characteristics analyses, one-way analysis of variance (Kruskal–Wallis test), parametric statistical analysis, and Pearson correlation, were performed to evaluate diagnostic performance. Decreased median sarcosine and kynurenic acid and increased uracil concentrations were observed for patients with prostate cancer compared to participants without malignancy. Results showed that there was no correlation between the concentration of the studied metabolites and the cancer grade (Gleason score <7 vs. ≥7) and the age of the patients. Evaluation of biomarkers by ROC (Receiving Operating Characteristics) curve analysis showed that differentiation of prostate cancer patients from participants without malignancy was not enhanced by sarcosine or uracil levels in urine. In contrast to total PSA values, kynurenic acid was found a promising biomarker for the detection of prostate cancer particularly in cases where collection of urine samples was performed after prostatic massage. Sarcosine and uracil in urine samples of patients with prostate cancer were not found as significant biomarkers for the diagnosis of prostate cancer. None of the three metabolites can be used reliably for monitoring the progress of the disease.
View Full-Text
►

▼

Figures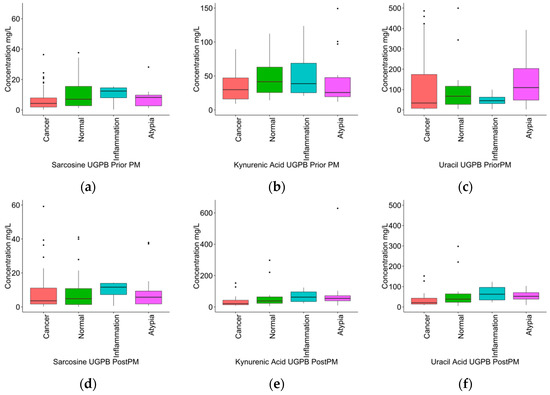 Figure 1
This is an open access article distributed under the
Creative Commons Attribution License
which permits unrestricted use, distribution, and reproduction in any medium, provided the original work is properly cited (CC BY 4.0).

Share & Cite This Article
MDPI and ACS Style
Gkotsos, G.; Virgiliou, C.; Lagoudaki, I.; Sardeli, C.; Raikos, N.; Theodoridis, G.; Dimitriadis, G. The Role of Sarcosine, Uracil, and Kynurenic Acid Metabolism in Urine for Diagnosis and Progression Monitoring of Prostate Cancer. Metabolites 2017, 7, 9.
Note that from the first issue of 2016, MDPI journals use article numbers instead of page numbers. See further details here.
Related Articles
Comments
[Return to top]