Open Access This article is
freely available
re-usable
Review
From Powerhouse to Perpetrator—Mitochondria in Health and Disease
1
Laboratory of Molecular Gerontology, National Institute on Aging, National Institutes of Health, Baltimore, MD 21224, USA
2
Center for Healthy Aging, Department of Cellular and Molecular Medicine, University of Copenhagen, 2200 Copenhagen, Denmark
*
Author to whom correspondence should be addressed.
Received: 2 January 2019 / Accepted: 5 March 2019 / Published: 11 May 2019
Abstract
:
In this review we discuss the interaction between metabolic stress, mitochondrial dysfunction, and genomic instability. Unrepaired DNA damage in the nucleus resulting from excess accumulation of DNA damages and stalled replication can initiate cellular signaling responses that negatively affect metabolism and mitochondrial function. On the other hand, mitochondrial pathologies can also lead to stress in the nucleus, and cause sensitivity to DNA-damaging agents. These are examples of how hallmarks of cancer and aging are connected and influenced by each other to protect humans from disease.
Keywords:
mitochondria; cancer; nucleotide metabolism; DNA damage; NAD
+
1. Introduction
First, we explain how the accumulation of DNA damages and the activation of the DDR leads to mitochondrial dysfunction. Next, we explain how the dysregulation of mitochondrial function and metabolism contributes to the epigenetic changes, imbalanced dNTP pools, and genomic instability.
2. From DNA Damage to Mitochondrial Dysfunction
Activation of the main components of the DDR, including poly (ADP-ribose) polymerase (PARP) enzymes (mainly PARP1 and PARP2) as well as ataxia telangiectasia mutated (ATM) [
21
], DNA-dependent protein kinase (DNA-PK) [
22
,
23
] and P53 [
24
,
25
,
26
,
27
], is able to influence mitochondrial function and cellular metabolism. Chronic activation of PARP1 negatively affects cellular physiology and mitochondrial function [
28
]. Activation of ATM, DNA-PK, and P53 can influence mitochondrial and cellular metabolism to promote either cell survival or death (
Figure 2
). Here, we briefly describe how each of these enzymes are able to influence mitochondrial function.
3. PARP Modulates Mitochondrial Function and Cellular Metabolism
PARPs are a group of enzymes (16 in mice and 17 in humans) that are the main constituent of the cellular stress response [
29
]. PARPs cleave NAD
+
to nicotinamide (NAM) and ADP-ribose (ADPR), and the ADPR is subsequently transferred to certain amino acids within the target protein. The attachment of poly ADP-ribose (PAR) to the target proteins is referred to as PARylation, and it can affect protein–protein and protein–DNA interaction as well as protein localization [
30
]. PAR has a short half-life and is degraded almost directly after its formation by the activity of the PAR-degrading enzyme, poly(ADP-ribose) glycohydrolase (PARG) [
31
]. PARylation modulates several key cellular processes such as chromatin structure, transcription, translation, cell cycle, DNA repair, mitochondrial homeostasis, apoptosis, and metabolism [
29
,
32
]. PARP1 is activated by several mechanisms, including mono(ADP-ribosyl)ation, phosphorylation, and acetylation [
29
]. PARP1 possesses a DNA-binding domain that recognizes abnormal DNA structures such as gapped DNA, single- and double strand breaks, cruciform structures, and nucleosome linker DNA [
33
,
34
]. In the initial steps of the repair, PARP1 PARylates histones and facilitates the chromatin relaxation that provides more space for the recruitment of DNA repair proteins. Subsequent PAR generation recruits the DNA repair proteins via their PAR-binding domains [
35
,
36
]. Under mild genotoxic stress, PARP activation results in repair and survival. However, in response to DNA damage, PARP hyper-activation results in decrease in NAD
+
and ATP levels, mitochondrial dysfunction, and eventually cell death [
32
,
35
,
37
].
4. DNA Damage can Activate Both Pro-Survival and Pro-Death Pathways That Involve the Mitochondria
DNA damage and DDR can activate pathways that promote cell survival or death depending on the extent and type of DNA damages [
38
]. In addition to PARP1, other immediate sensors of DDR are enzymes belonging to the superfamily of phosphatidylinositol 3-kinase-related kinases (PIKKs), including ATM, ataxia telangiectasia and Rad3-related (ATR), and DNA-PK. Activated ATR and ATM, in turn, activate P53 through CHK1 and CHK2, respectively. Apart from preventing cell cycle progression and the recruitment of DNA repair proteins, these enzymes can modulate mitochondrial function and survival [
23
,
39
]. ATM, ATR, and DNA-PK are able to promote survival via the direct phosphorylation of AKT (also known as protein kinase B, PKB) independently of growth factor signaling [
22
,
40
,
41
,
42
,
43
]. However, the mechanism of this interaction is not fully understood [
44
]. This is particularly interesting, as in many cancer cells, the AKT is activated independently of growth factors [
45
]. Activated AKT stimulates glucose uptake and ATP production through glycolysis, one of the main hallmarks of cancer, also known as the Warburg effect [
46
]. In addition, activated AKT inhibits Forkhead box (FOXO) transcription factors [
47
,
48
]. FOXO proteins regulate the expression of key genes that are involved in mitochondrial biogenesis and homeostasis, such as peroxisome proliferator-activated receptor gamma co-activator 1alpha (PGC1a) and PTEN-induced kinase 1 (PINK1). Decrease in FOXO activity results in the decrease of mitochondrial biogenesis, mitophagy, autophagy, and lipolysis [
49
].
5. Mito-Nuclear Signaling in Aging and Cancer
For a long time, it was believed that mitochondria are regulated from the nucleus by the nuclear genome, and changes in mitochondria follow changes in the nucleus [
50
,
51
]. However, during recent years, accumulative evidence suggest that mitochondria and mitochondrial metabolites can influence nuclear processes and gene expression in response to various stimuli and environmental cues [
52
,
53
,
54
]. Mitochondrially generated ROS and intermediate metabolites are essential for several processes, including proliferation, epigenetic modifications, and post-translational modifications [
54
,
55
]. In addition, mitochondria contribute to genomic stability by replenishing dNTP pools for replication and repair of the genome (
Figure 3
) [
56
,
57
]. In this section we will discuss nuclear processes that are dependent on mitochondrial function and intermediate metabolites.
6. Mitochondrial ROS Are Involved in Signaling and Determine Cell Fate
7. Mitochondria Influence Post-Translational Modifications (PTMs) and Epigenetic Marks
8. Regulation of dNTP Pools
In humans, nucleotide levels are maintained by the nucleotide salvage and/or de novo synthesis of ribo- and deoxyribonucleotide triphosphates (rNTPs and dNTPs).
The de novo synthesis of nucleotides is split up into purine and pyrimidine synthesis, which go through two distinct pathways.
9. Conclusions
According to recent advancements, hallmarks of cancer include genomic instability, dysregulation of cellular energetics, and mitochondrial dysfunction, which also are common pathways important for cellular aging. Mitochondrial dysfunction is associated with a poor prognosis of many types of cancer, which could very well be linked to an imbalance of the cytosolic dNTP pools, as both of these conditions are related to one of the hallmarks of cancer—chromosomal instability. A better understanding of these pathological cellular processes would advance the development of therapeutic modalities in the prevention of cancer and at the same time help the understanding of biological aging.
Author Contributions
N.B.F., T.L.H., C.D., S.A., L.J.R. wrote the review.
Funding
This research was funded by Nordea-fonden and Olav Thon Foundation.
Conflicts of Interest
The authors declare no conflict of interest.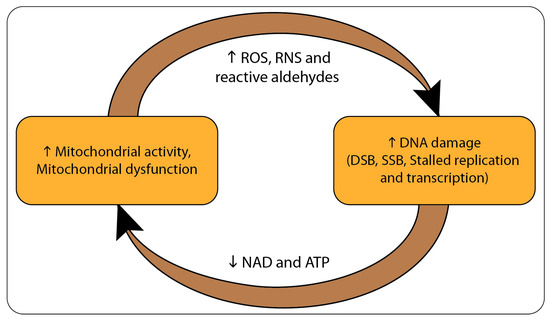 Figure 1. Illustration of the mitochondrial-nuclear interactions in aging or cancer. Abnormal metabolism and/or metabolic defects lead to metabolic stress and mitochondrial dysfunction. This is followed by the increased generation of reactive oxygen and nitrogen species (ROS and RNS) as well as reactive aldehydes. These reactive species can react and damage macromolecules such as proteins and DNA. Damage to DNA causes genomic instability via stalled replication and transcription, and the generation of double- and single-strand breaks (DSBs and SSBs, respectively) within the genome. Increased activities of the DNA damage response (DDR) deplete cells of key cellular substrates and cofactors, mainly ATP and NAD+. This generates a positive feedback that enhances metabolic stress and mitochondrial dysfunction.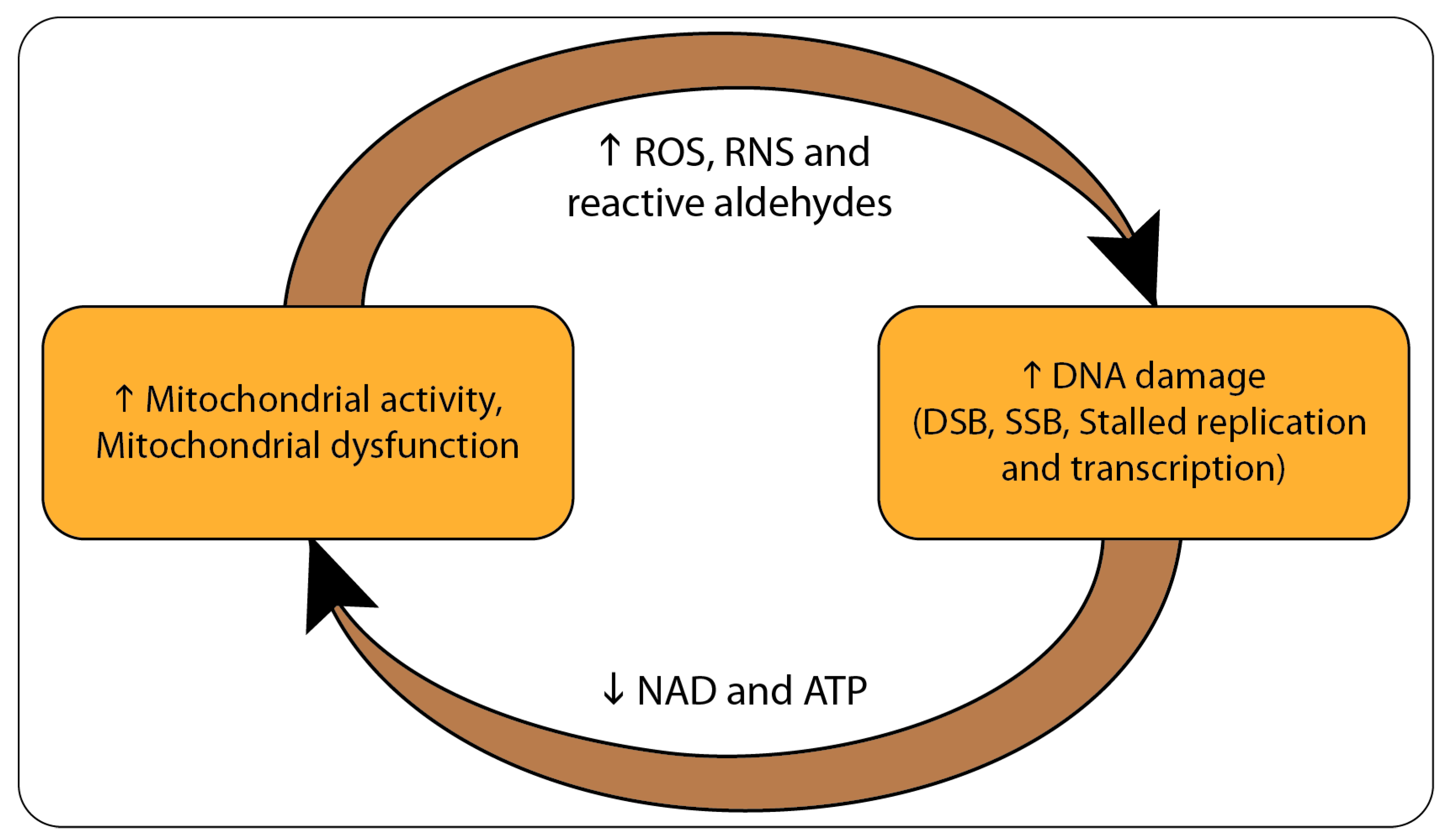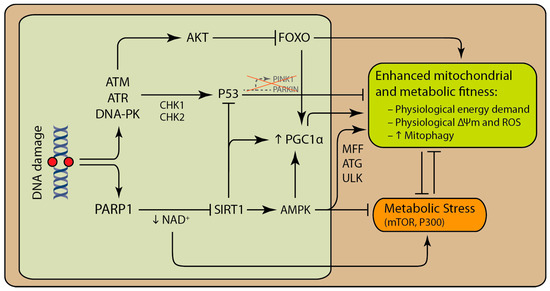 Figure 2. Core DNA damage response proteins are able to influence mitochondrial activity and quality control via multiple pathways. Abnormal DNA structure and certain genomic lesions, such as strand breaks, activate poly (ADP-ribose) polymerase (PARP) enzymes, mainly PARP1. Chronic activation of PARP1 can deplete the cell of NAD+, which is a rate-limiting substrate for SIRT1. SIRT1 together with AMP-activated kinase (AMPK) can enhance metabolism and mitochondrial function by enhancing mitochondrial biogenesis and mitophagy. Activation of ataxia telangiectasia mutated (ATM), Rad3-related (ATR) and DNA-dependent protein kinase (DNA-PK) following DNA damage can promote the activation AKT and P53. Activation of AKT rewires cellular metabolism by inhibiting Forkhead box (FOXO) enzymes. Deacetylation of P53 by SIRT1 targets P53 for degradation. Decrease in SIRT1 activity stabilizes P53. P53 decreases mitophagy via inhibition of PTEN-induced kinase 1 (PINK1) and PARKIN transcription. SIRT1 promotes AMPK activity indirectly. Decrease in SIRT1 activity is followed by the decrease in activated AMPK.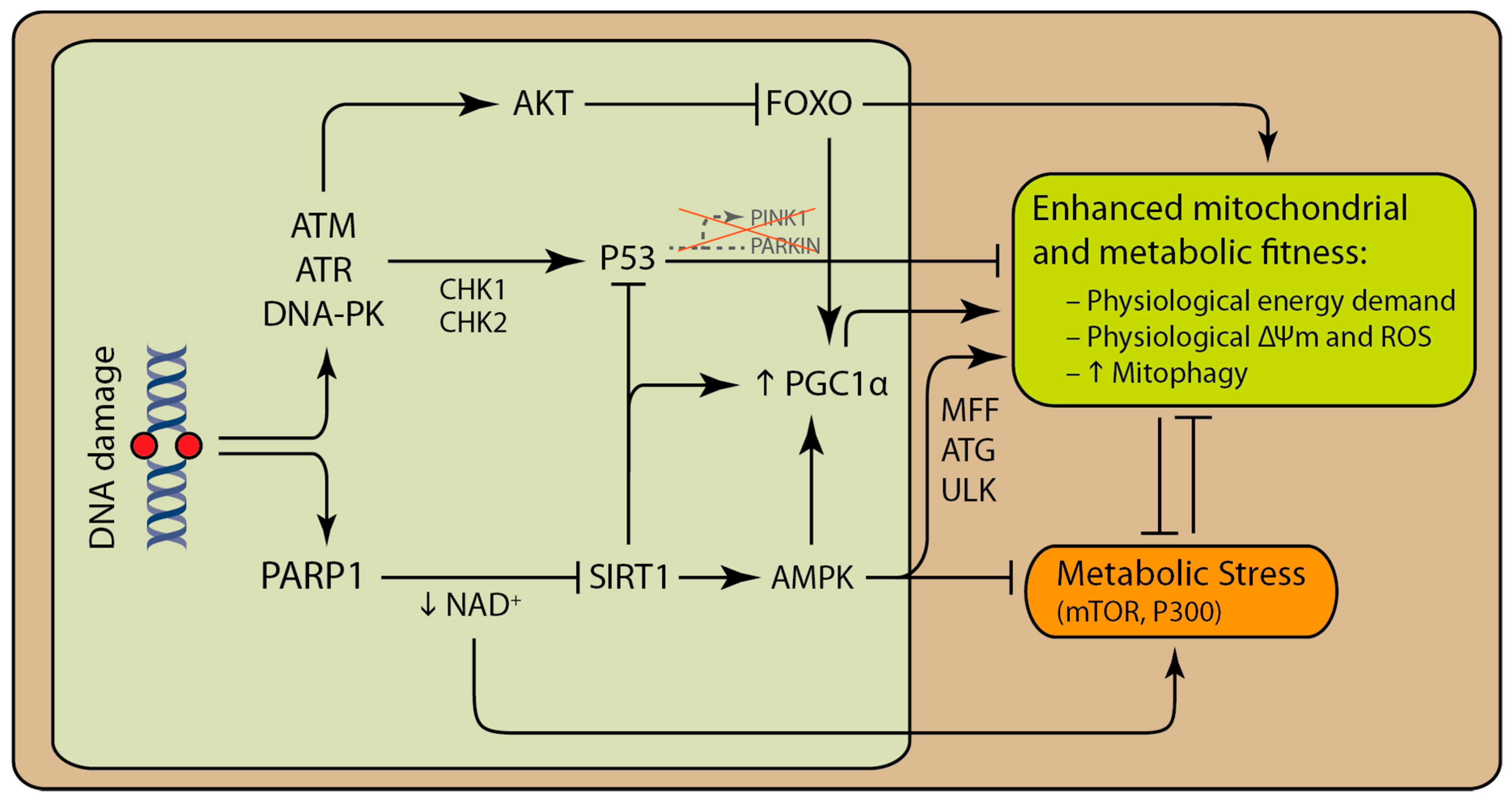 Figure 3. Mitochondrial function and metabolites influence nuclear processes. Mitochondrial ROS and secondary metabolites act as signaling molecules and cofactors that regulate fundamental nuclear processes. Mitochondrial ROS that are released into the cytosol stabilize hypoxia-inducible factor 1- α (HIF1α) and activate the transcription of genes that are involved in proliferation. Citrate generated through the TCA cycle is released into the cytosol and in the nucleus. It is further converted into acetyl-coenzyme A (acetyl CoA) that is used for the acetylation of target proteins. Through a reverse reaction, SIRT1 uses NAD+ to deacetylate the target proteins. S-adenosylmethionine (SAM) is a methyl donor that is generated from methionine and ATP in the cytosol. Demethylases such as Jumonji C (JMJC) family members and the ten-eleven translocation (TET) methylcytosine hydroxylases use α-ketoglutarate (α-KG) as cofactor to remove methyl groups from proteins and DNA. AMPK stimulates the activity of TET enzymes, and thus the inhibition of AMPK by glucose impairs the function TET enzymes. The accumulation of fumarate and succinate due to impaired fumarate hydratase (FH) and succinate dehydrogenase (SDH) can inhibit α-KG-dependent demethylases and even cause defects in homologous recombination (HR) DNA repair.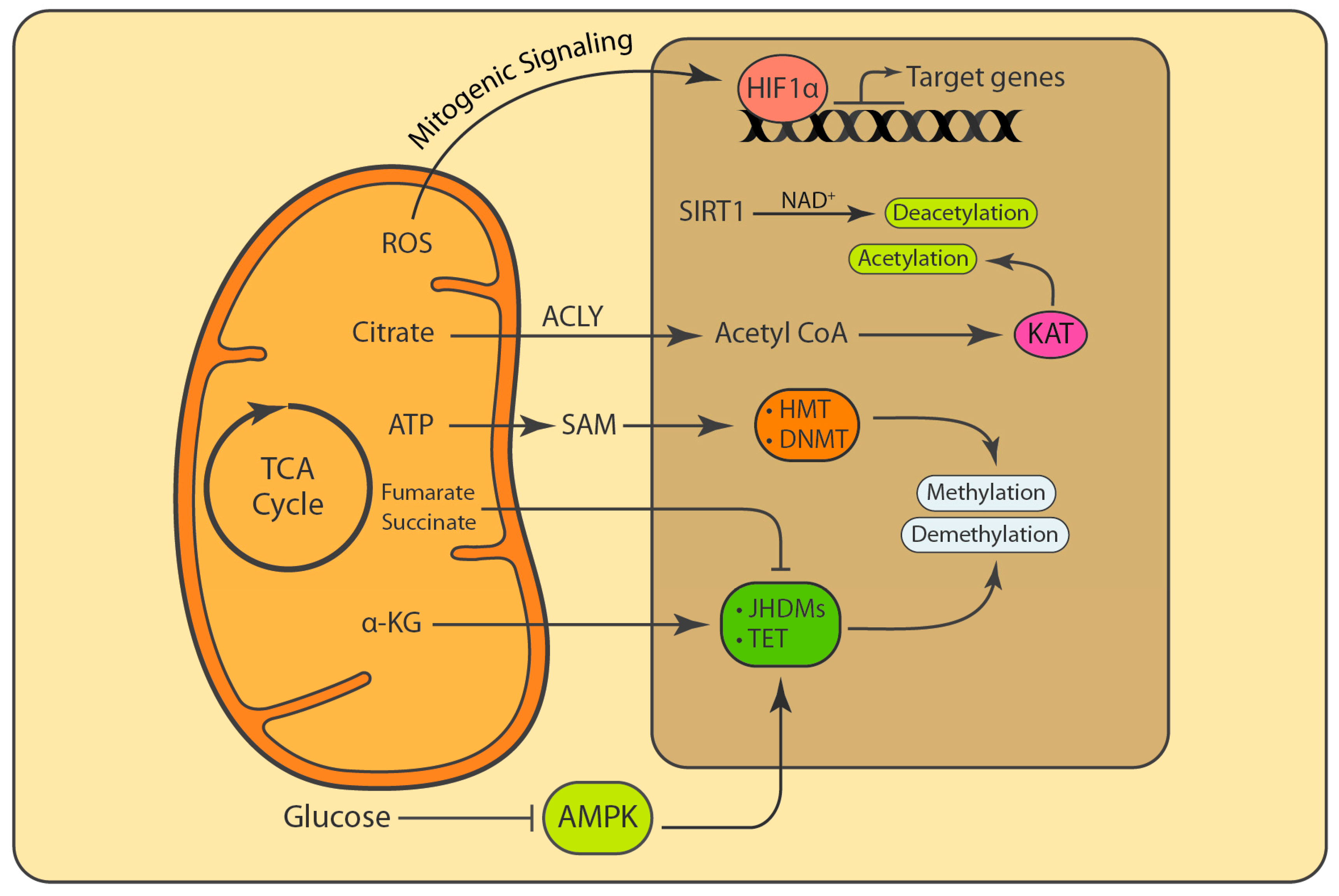 © 2019 by the authors. Licensee MDPI, Basel, Switzerland. This article is an open access article distributed under the terms and conditions of the Creative Commons Attribution (CC BY) license (http://creativecommons.org/licenses/by/4.0/).