Open Access This article is
freely available
re-usable
Article
A Novel Approach to Realizing Low-Cost Plasmonic Optical Fiber Sensors: Light-Diffusing Fibers Covered by Thin Metal Films
Department of Engineering, University of Campania "L. Vanvitelli", via Roma n.29, 81031 Aversa, Italy
*
Author to whom correspondence should be addressed.
Received: 15 March 2019 / Accepted: 17 April 2019 / Published: 17 April 2019
Abstract
:
We have investigated, in a numerical and experimental way, a refractive index (RI) sensor based on surface plasmon resonance (SPR) in a silver-coated light-diffusing fiber (LDF). The experimental tests were conducted using water-glycerine mixtures with refractive indices ranging from 1.332 to 1.388. In the considered refractive index range, the experimental results show a sensitivity of the SPR wavelength to the outer medium's RI ranging from ~2600 to ~4700 nm/RIU, which is larger than the sensitivity recently reported for a gold-coated LDF sensor (~1200 to ~4000 nm/RIU). The silver-coated sensor is also shown to ensure a higher signal-to-noise ratio (SNR) compared to the gold-coated sensor.
Keywords:
light-diffusing fibers (LDF); optical sensors; thin metal films; silver film; surface plasmon resonance (SPR)
2. SPR Sensor Based on a Light-Diffusing Fiber
Figure 1
shows the host platform, based on a light-diffusing fiber (Fibrance® by Corning®, New York, NY, USA) formed by low-index polymeric cladding with a diameter of 230 µm, and a core of silica with a diameter of 170 µm [
16
] . This fiber has a nominal numerical aperture (NA) of >0.5, and the guided light is scattered radially outward, as reported in
Figure 1
b, through helical voids in random manner distributed along the core and wrapped around the axis of the fiber. In addition, the amount of scattered light is controlled by the pitch of the helical voids, with smaller pitches scattering more light than larger pitches. In our sample, the pitch is such that 90% of incoming light is scattered outside the fiber within the first 10 meters. The void diameter varies from 50 to 500 nm, scattering the light almost independently of its wavelength [
16
].
The SPR sensor was fabricated by the use of a Miller stripping tool to remove the cladding along a 2-cm length of the fiber. Then, the unclad portion of the LDF was coated with a thin silver film, through sputter-coating (Bal-Tec SCD 500, Bal-tec AG, Balzers, Liechtenstein). Compared to gold, silver has lower ohmic losses, resulting in a narrower SPR line width [
17
]. In order to metalize the whole fiber circumference, the sputtering process was repeated twice, upon rotating the fiber by 180°. The deposited silver film had a nominal thickness of 50 nm. The silver film thickness was controlled by setting, on the sputter coater, the sputtering time and deposition rate. Furthermore, it was verified by comparing the experimental SPR spectra with numerical computations. In fact, the metal thickness has a strong influence on the minimum of the transmission spectrum, i.e., the transmissivity at the SPR wavelength. Therefore, the minimum of the transmission spectrum is indicative of the thickness of the deposited film.
Silver metal presented good adhesion to the core, as proved by its resistance to rinsing in de-ionized water.
Figure 2
shows that the SPR-LDF sensor system comprises a tungsten halogen light source (HL2000, Ocean Optics, Dunedin, FL, USA), and a spectrometer with a detection range from 350 to 1000 nm (FLAME-S-VIS-NIR-ES, Ocean Optics, Dunedin, FL, USA). The light emitted by the tungsten lamp is coupled to the light diffusing fiber, while the transmitted light is analyzed through the spectrometer. The transmission spectrum of the fabricated sensor has been recorded while varying the surrounding refractive index (SRI) using water-glycerol mixtures at different concentrations. An Abbe refractometer (model RMI by Exacta Optech, Germany) with a precision of 0.001 was used to measure the RI of each prepared mixture.
3. Results and Discussion
As regards sensitivity, the quadratic fitting curve permits us to extrapolate a sensitivity ranging from 2600 nm/RIU (at ) to 4700 nm/RIU (at ).
4. Conclusions
We have shown that efficient SPR refractive index sensors can be realized by deposing a thin silver film over a short length of an uncoated light-diffusing fiber. Compared to the gold-coated SPR sensor described in Ref. [
15
], the silver-coated sensor provides a higher sensitivity ( 2640 nm/RIU vs 1180 nm/RIU at ) and better SNR (0.21 vs 0.12 at ). Besides providing a high sensitivity, the tested plasmonic sensor does not require complex and expensive manufacturing of the fiber. Only the metallization of the sensing area is required. The developed sensor is repeatable and is suitable for real-time detection. Therefore, it could be used with different kinds of receptors for biochemical sensing applications.
While this paper represents the first comparative analysis between silver and gold SPR sensors based on an LDF platform, several previous analyses have led to the conclusion that silver-based SPR sensors exhibit enhanced sensitivity and narrower SPR resonance, compared to SPR sensors based on a gold film [
20
,
21
,
22
,
23
,
24
]. However, it is also true that silver is less chemically stable than gold, which makes it less appealing for biosensing applications. A possible solution may consist of using a multilayered film such as a bimetallic Au/Ag thin film [
17
], or a tri-layered metallic structure [
21
], which combines the enhanced SPR features of silver with the chemical stability of gold.
Author Contributions
Conceptualization, N.C., L.Z. and A.M.; methodology, N.C., L.Z. and A.M.; validation, N.C., F.A., E.C., L.Z. and A.M.; formal analysis, N.C., F.A., E.C., L.Z. and A.M.; investigation, N.C., F.A., E.C., L.Z. and A.M.; resources, L.Z. and A.M.; data curation, N.C., F.A., E.C., L.Z. and A.M.; writing—original draft preparation, N.C., F.A., E.C., L.Z. and A.M.; writing—review and editing, N.C., L.Z. and A.M.; visualization, N.C., F.A., E.C., L.Z. and A.M.; supervision, L.Z. and A.M.
Funding
This research received no external funding.
Conflicts of Interest
The authors declare no conflict of interest.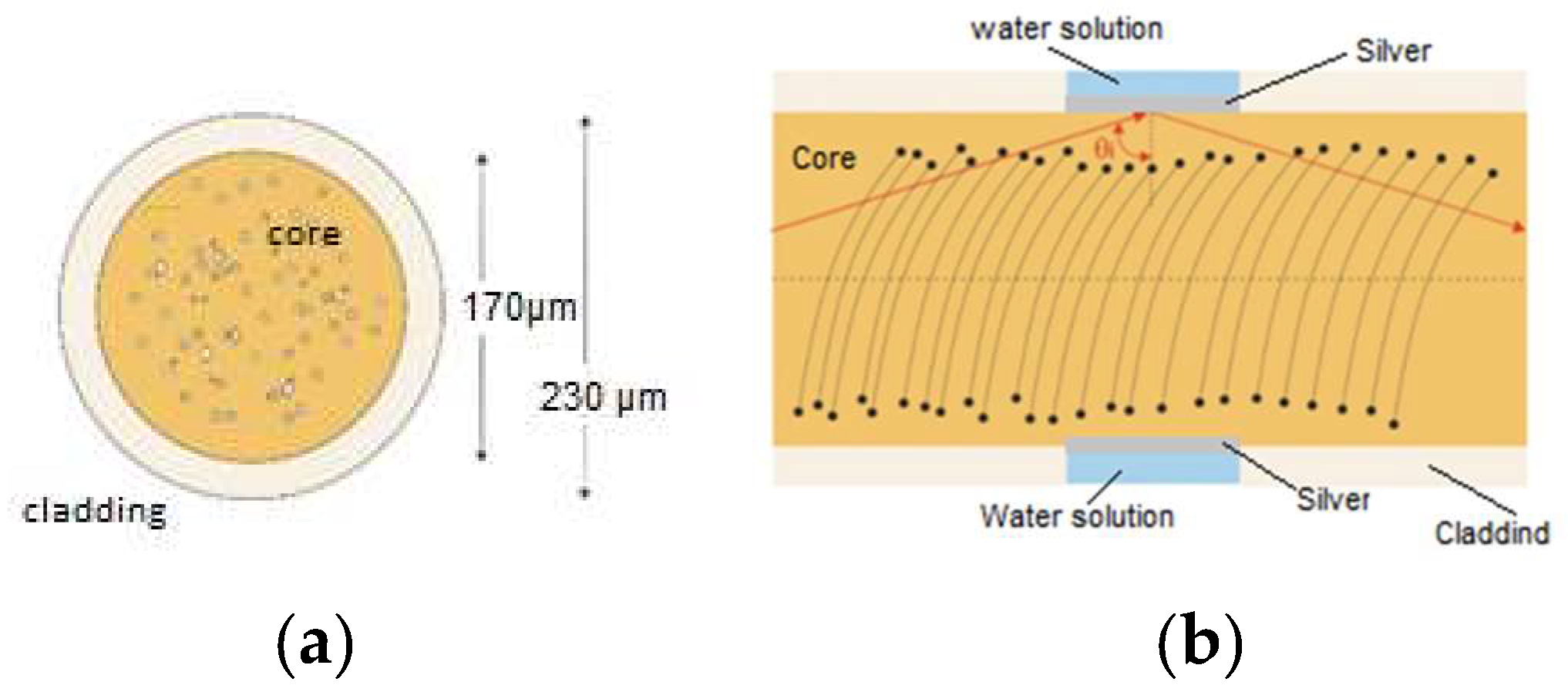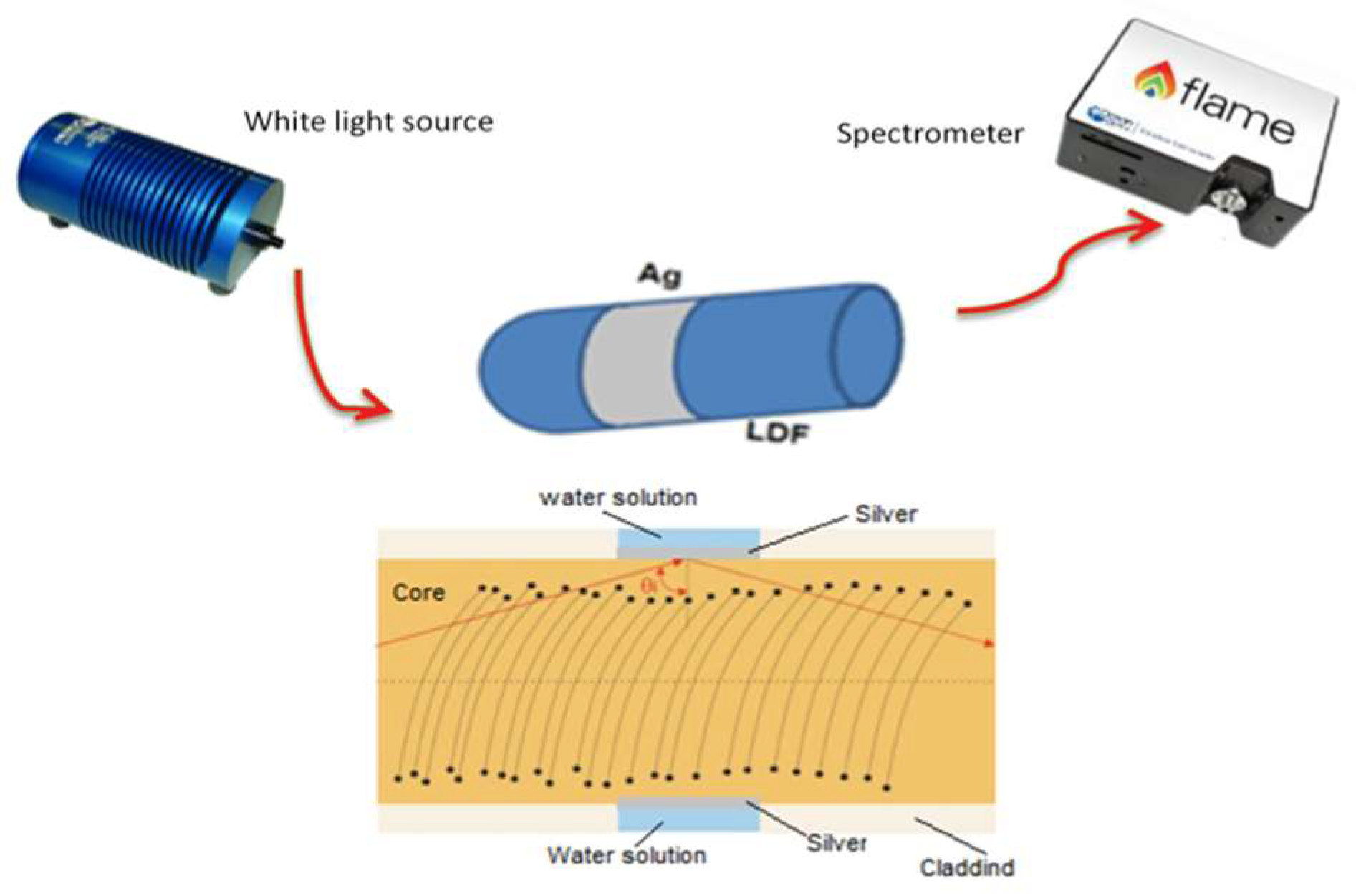 Figure 3. SPR spectra of the silver-coated sensor, after normalization to the transmission spectrum in air: (a) Experimental results; (b) numerical results.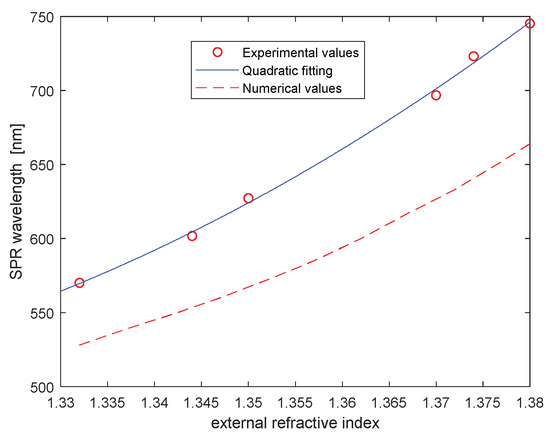 Figure 4. Resonance wavelength as a function of the surrounding refractive index: the circles are obtained from experimental data, and the dashed line is the result of numerical computations, while the quadratic fitting curve of the experimental values is reported by the continuous blue line.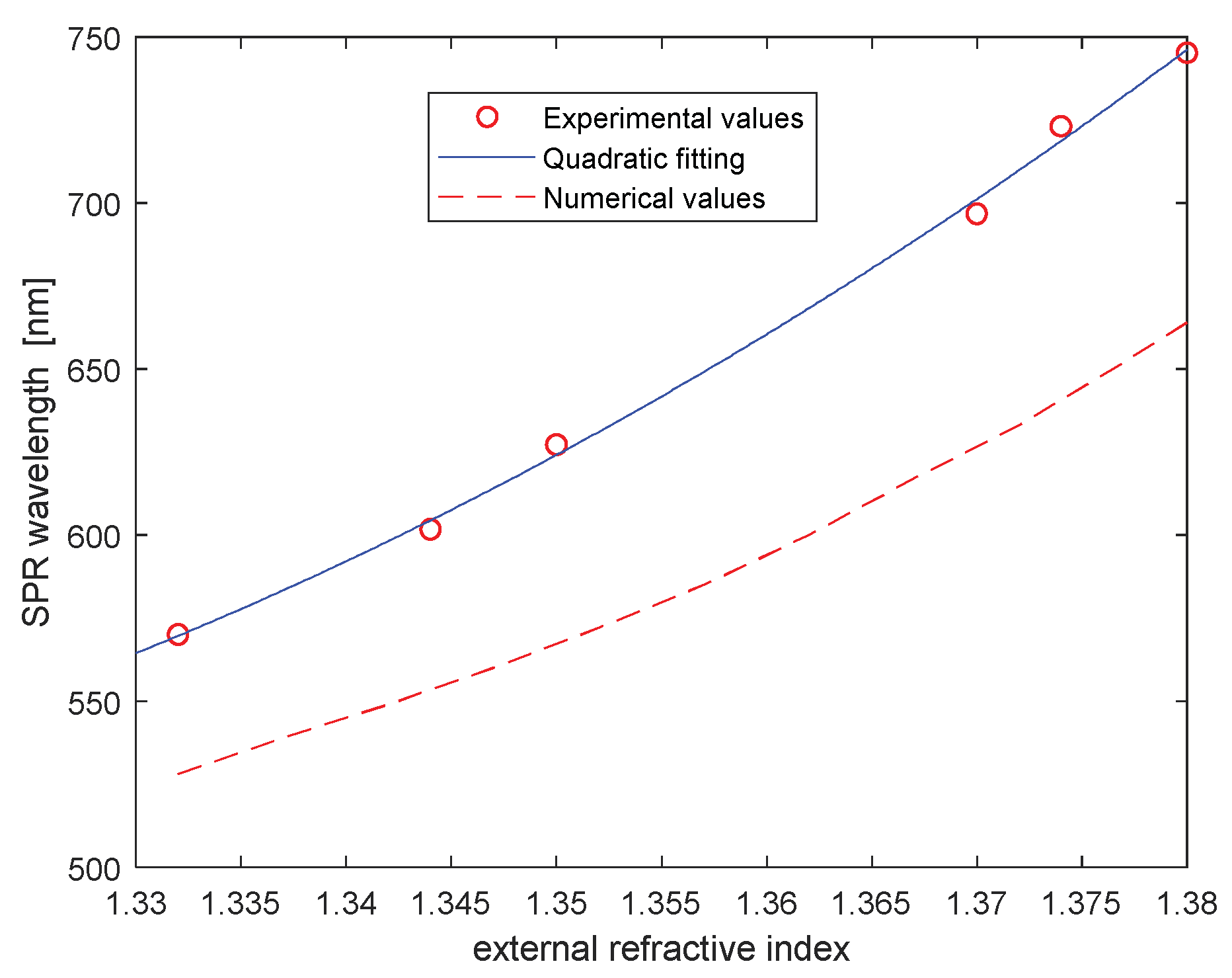 Table 1. Comparison of performances, for two refractive indices (1.332 and 1.350), of silver-coated and gold-coated SPR LDF sensors.

© 2019 by the authors. Licensee MDPI, Basel, Switzerland. This article is an open access article distributed under the terms and conditions of the Creative Commons Attribution (CC BY) license (http://creativecommons.org/licenses/by/4.0/).