Shape-Memory Nanofiber Meshes with Programmable Cell Orientation
1
International Center for Materials Nanoarchitectonics (WPI-MANA), National Institute for Materials Science (NIMS), Tsukuba, Ibaraki 305-0044, Japan
2
Graduate School of Pure and Applied Sciences, University of Tsukuba, Tsukuba, Ibaraki 305-8577, Japan
3
Graduate School of Industrial Science and Technology, Tokyo University of Science, Katsushika, Tokyo 125-8585, Japan
4
International Center for Young Scientists (ICYS), National Institute for Materials Science (NIMS), Tsukuba, Ibaraki 305-0044, Japan
5
Department of Materials Science and Technology, Tokyo University of Science, Katsushika, Tokyo 125-8585, Japan
*
Author to whom correspondence should be addressed.
Received: 14 February 2019 / Revised: 25 February 2019 / Accepted: 25 February 2019 / Published: 1 March 2019
Abstract
In this work we report the rational design of temperature-responsive nanofiber meshes with shape-memory properties. Meshes were fabricated by electrospinning poly(ε-caprolactone) (PCL)-based polyurethane with varying ratios of soft (PCL diol) and hard [hexamethylene diisocyanate (HDI)/1,4-butanediol (BD)] segments. By altering the PCL diol:HDI:BD molar ratio both shape-memory properties and mechanical properties could be readily turned and modulated. Though mechanical properties improved by increasing the hard to soft segment ratio, optimal shape-memory properties were obtained using a PCL/HDI/BD molar ratio of 1:4:3. Microscopically, the original nanofibrous structure could be deformed into and maintained in a temporary shape and later recover its original structure upon reheating. Even when deformed by 400%, a recovery rate of >89% was observed. Implementation of these shape memory nanofiber meshes as cell culture platforms revealed the unique ability to alter human mesenchymal stem cell alignment and orientation. Due to their biocompatible nature, temperature-responsivity, and ability to control cell alignment, we believe that these meshes may demonstrate great promise as biomedical applications.
View Full-Text
►

▼

Figures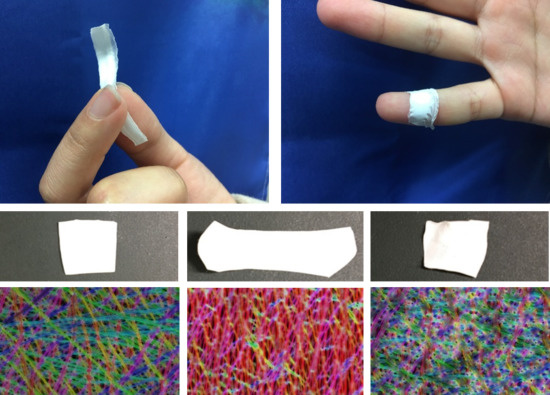 Graphical abstract
This is an open access article distributed under the
Creative Commons Attribution License
which permits unrestricted use, distribution, and reproduction in any medium, provided the original work is properly cited (CC BY 4.0).

Share & Cite This Article
MDPI and ACS Style
Niiyama, E.; Tanabe, K.; Uto, K.; Kikuchi, A.; Ebara, M. Shape-Memory Nanofiber Meshes with Programmable Cell Orientation. Fibers 2019, 7, 20.
Note that from the first issue of 2016, MDPI journals use article numbers instead of page numbers. See further details here.
Related Articles
Comments
[Return to top]