Surface Modified Polysulfone Hollow Fiber Membranes for Ethane/Ethylene Separation Using Gas-Liquid Membrane Contactors with Ionic Liquid-Based Absorbent
1
A.V. Topchiev Institute of Petrochemical Synthesis, Russian Academy of Sciences, 119991 Moscow, Russia
2
Institute of Physical Organic Chemistry, National Academy of Sciences of Belarus, 220072 Minsk, Belarus
*
Author to whom correspondence should be addressed.
Received: 7 December 2018 / Revised: 21 December 2018 / Accepted: 25 December 2018 / Published: 4 January 2019
Abstract
Olefin/paraffin separation is an important technological process. A promising alternative to conventional energy-consuming methods is employment of gas-liquid membrane contactors. In the present work, the membranes used were polysulfone (PSf) asymmetrical porous hollow fibers fabricated via the NIPS (non-solvent induced phase separation) technique in the free spinning mode. The surface of the fine-pored selective layer from the lumen side of the fibers was modified by layer-by-layer deposition of perfluorinated acrylic copolymer Protect Guard
®
in order to hydrophobized the surface and to avoid penetration of the liquid absorbent in the porous structure of the membranes. The absorbents studied were silver salts (AgNO
3
and AgBF
4
) solutions in five ionic liquids (ILs) based on imidazolium and phosphonium cations. The membranes were analyzed through gas permeance measurement, SEM and dispersive X-ray (EDXS). Contact angle values of both unmodified and modified membranes were determined for water, ethylene glycol, ILs and silver salts solutions in ILs. It was shown that the preferable properties for employment in membrane contactor refer to the PSf hollow fiber membranes modified by two layers of Protect Guard
®
, and to the absorbent based on 1 M AgNO
3
solution in 1-ethyl-3-methylimidazolium dicyanamide. Using the membrane contactor designed, ethylene/ethane mixture (80/20) separation was carried out. The fluxes of both components as well as their overall mass transport coefficients (MTC) were calculated. It was shown that the membrane absorption system developed provides absorption of approx. 37% of the initial ethylene volume in the mixture. The overall MTC value for ethylene was 4.7 GPU (gas permeance unit).
View Full-Text
►

▼

Figures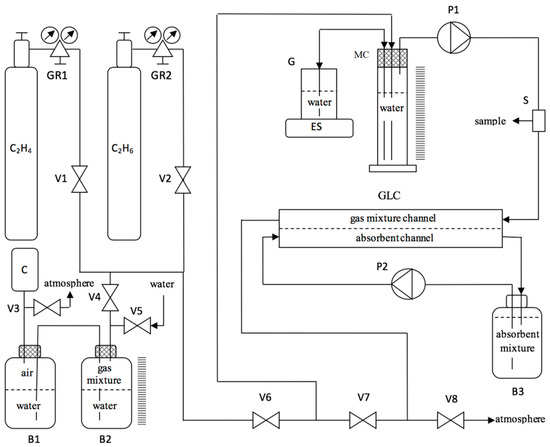 Figure 1
This is an open access article distributed under the
Creative Commons Attribution License
which permits unrestricted use, distribution, and reproduction in any medium, provided the original work is properly cited (CC BY 4.0).

Share & Cite This Article
MDPI and ACS Style
Kostyanaya, M.; Bazhenov, S.; Borisov, I.; Plisko, T.; Vasilevsky, V. Surface Modified Polysulfone Hollow Fiber Membranes for Ethane/Ethylene Separation Using Gas-Liquid Membrane Contactors with Ionic Liquid-Based Absorbent. Fibers 2019, 7, 4.
Note that from the first issue of 2016, MDPI journals use article numbers instead of page numbers. See further details here.
Related Articles
Comments
[Return to top]