Open Access This article is
freely available
re-usable
Article
One-Step Preparation of Nickel Nanoparticle-Based Magnetic Poly(Vinyl Alcohol) Gels
1
School of Pharmaceutical Sciences, Capital Medical University, Beijing 100069, China
2
Department of Chemistry Graduate School, Kyungpook National University, Daegu 41566, Korea
3
Department of Chemistry, Kyungpook National University, Daegu 41566, Korea
*
Author to whom correspondence should be addressed.
Received: 3 September 2019 / Accepted: 29 October 2019 / Published: 9 November 2019
Abstract
:
Magnetic nanoparticles (MNPs) are of great interest due to their unique properties, especially in biomedical applications. MNPs can be incorporated into other matrixes to prepare new functional nanomaterials. In this work, we described a facile, one-step strategy for the synthesis of magnetic poly(vinyl alcohol) (mPVA) gels. In the synthesis, nickel nanoparticles and cross-linked mPVA gels were simultaneously formed. Ni nanoparticles (NPs) were also incorporated into a stimuli-responsive polymer to result in multiresponsive gels. The size of and distribution of the Ni particles within the mPVA gels were controlled by experimental conditions. The mPVA gels were characterized by field emission scanning electron microscope, X-ray diffraction, magnetic measurements, and thermogravimetric analysis. The new mPVA gels are expected to have applications in drug delivery and biotechnology.
Keywords:
one-step preparation; nickel nanoparticles; magnetic poly(vinyl alcohol) gels
2. Experimental
2.1. Materials
PVA was purchased from Aldrich (Saint Louis, MO, USA) with a hydrolysis degree of 98%–99% and a molecular average weight of 85,000–124,000 g/mol. Nickel(II) chloride hexahydrated was from Junsei Chemical Co. (Tokyo, Japan). Sodium borohydride was from Kanto Chemical Co. (Tokyo, Japan). Doxorubicin hydrochloride (DOX) was obtained from Korea United Pharm. Inc. (Chungnam, Korea).
2.2. Synthesis of Ni-NP PVA Gel
Ni-NP PVA gel was prepared by reducing nickel chloride in PVA solution with sodium borohydride as the reducing agent. The aqueous solution of 10 wt.% PVA was first prepared by dissolving PVA in deionized water at 80 °C for 3 h. An aqueous solution of nickel chloride was then added to the PVA solution in a beaker. NaBH4 solution was added drop wise, using a separation funnel, to the nickel chloride solution, while the temperature was maintained between 80 °C with continuous stirring. The reaction mixture was allowed to stir for about 1 h at 80 °C, by which time black-colored solution was obtained, and at the same time a large amount of gas bubbles of H2 were generated. The water in this solution was evaporated at 70 °C. After evaporation of most solvent, the hot residue was poured into a Petri dish. The black mixture was dried overnight at room temperature. After that, the residue was dried in an oven at 70 °C, and thus a gel was generated. The resulting gel was washed with distilled water, and further dried in an oven at 70 °C for 24 h. The resulting product was but to small pieces for various tests with scissors.
2.3. Characterization
The morphology and elemental composition of the structure, and microstructural characterization of the samples, were characterized using field-emission scanning electron microscopy (FE-SEM) (S-4200, Hitachi, Tokyo, Japan), operated at 3–10 kV electron potential difference and equipped with a semiconductor detector that allowed for the detection of energy dispersive X-rays (EDX). X-ray diffraction analysis (XRD) patterns on samples were measured on a model D8-Advanced AXS diffractometer (Bruker, Billerica, MA, USA) using Cu Kα radiation. Samples were supported on glass slides. Measurements were taken using a glancing angle of incidence detector at an angle of 2°, for 2θ values over 10°–80° in steps of 0.02°. Magnetic properties of the samples were measured by using a super-conducting quantum interface device (SQUID) magnetometer (MPMS-X 1, Quantum Design, San Diego, CA, USA) under an applied magnetic field, at room temperature. Thermogravimetric analysis (TGA) of the sample was performed on a TGA 7/DX Thermal Analyzer (Perkin-Elmer, Waltham, MA, USA) with a scan rate of 10 °C/min by pursuing N2 gas as a carrier at a flow rate of 100 mL/min. The differential scanning calorimetric (DSC) experiment was carried out using a DSC2010 Differential Scanning Calorimeter (TA Instruments, New Castle, DE, USA) over a temperature range 20 to 1200 °C at a scan rate of 10 °C/min.
2.4. Swelling Studies
For the swelling kinetics' measurement, the gel (about 0.5 mm thick) was cut to 1 cm × 0.5 cm. The gel was then immersed in distilled water. The rate of gel expansion was determined by measuring the change in gel length at various time intervals. The dimensional change was estimated from the length ratio of the swollen hydrogel sample after 24 h (at the equilibrium) compared to its original length. The change in dimensions of the swollen samples (
L
s
) was calculated according to equation:
where
L
0
is the original gel length, and
L
t
is the equilibrium gel length at a given time.
The water uptake of a gel sample was measured at room temperature. A swollen sample was removed from the solvent. After the water on the surface was absorbed gently with filter paper, the sample was immediately weighed. Then, the sample was returned to the medium. The mass swelling ratios (
M
s
) was calculated as follows:
where
m
t
,
m
0
, and (
m
t
−
m
0
) are the masses of a swollen sample at a given time, dry gel, and absorbed water, respectively.
The equilibrium water content
W
e
in swollen samples was calculated as:
where
m
∞
is the weight of the swollen hydrogel at equilibrium [
16
].
2.5. Drug Loading and Release
The drug release kinetics is important for the application of the gel to drug delivery. Doxorubicin hydrochloride (DOX) was chosen as an anti-cancer model drug. The DOX loading was carried out by dispersing 10 mg of PVA gel in 3 mL DOX solution at a concentration of 0.02 mg/mL at room temperature in the dark. The mixture of PVA gel in DOX was shaken (80 rpm) at room temperature for 48 h to facilitate DOX uptake. The optical density of residual DOX in the supernatant was measured at 479 nm by UV-vis spectrophotometer (Cary 50, VARIAN, Palo Alto, CA, USA). The drug loading was determined as the difference between the initial DOX concentration and the DOX concentration in the supernatant. After the supernatant was removed, the release profile was obtained by reimmersing the gel loaded with DOX in 3 mL of water under gentle stirring. The concentration of DOX in the particle-free solution was determined at fixed time intervals by UV-vis spectrophotometry.
3. Results and Discussion
4. Conclusions
The magnetic hydrogels have sparked particular interest in the anti-cancer drug delivery applications. PVA is a type of biocompatible material used for biomedicine. In this work, a new kind of nickel nanoparticle-based magnetic PVA gel was synthesized by a one-step procedure. The nickel nanoparticles and cross-linked mPVA gels were formed simultaneously. The structural and morphological properties of Ni-NP PVA gel were measured by FE-SEM and X-ray diffraction. The surface of Ni-NP PVA gel was rougher than that of the neat PVA gel. The amount of Ni-NPs detected was consistent with the theoretical value. The peak of PVA in the XRD spectra was weaker than that of Ni-NP PVA gel. The magnetic and thermal properties were also measured. With a higher amount of Ni-NPs, Ni-NP PVA gel had higher magnetic moments. There are noteworthy features for the Ni-NP PVA gel in terms of ferromagnetism and thermally stability. All measurements confirmed the good formation of the Ni-NP PVA gel. The release of DOX showed diffusion control in vitro. With a higher temperature, the release rate of DOX was higher. The Ni-NP PVA gels are expected to be applied for controlled drug delivery. The novel, simple synthetic method can be used to form other magnetic gels for biotechnology.
Author Contributions
Conceptualization, K.-P.L.; methodology, A.I.G.; data curation, J.L.; writing—original draft preparation, J.L.; visualization, J.L.; supervision, K.-P.L.; project administration, K.-P.L. and A.I.G.; funding acquisition, K.-P.L.
Funding
This research received no external funding.
Conflicts of Interest
The authors declare no conflict of interest.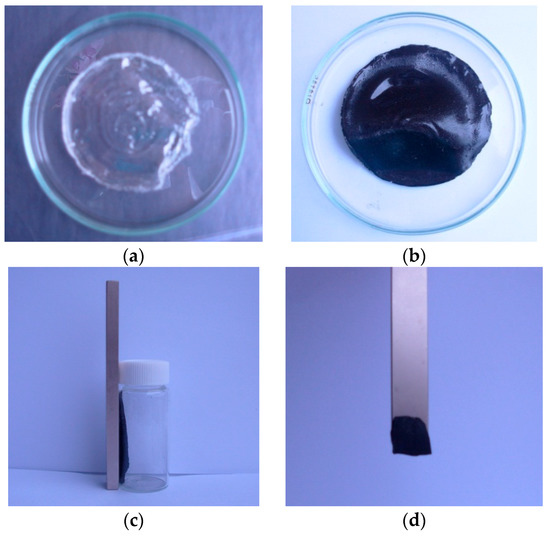 Figure 1. Photographs of (a) PVA gel; (b) PVA/Ni magnetic gel; (c) Ni-nanoparticle (NPs) in the magnet field; (d) PVA/Ni magnetic gel in the magnet field.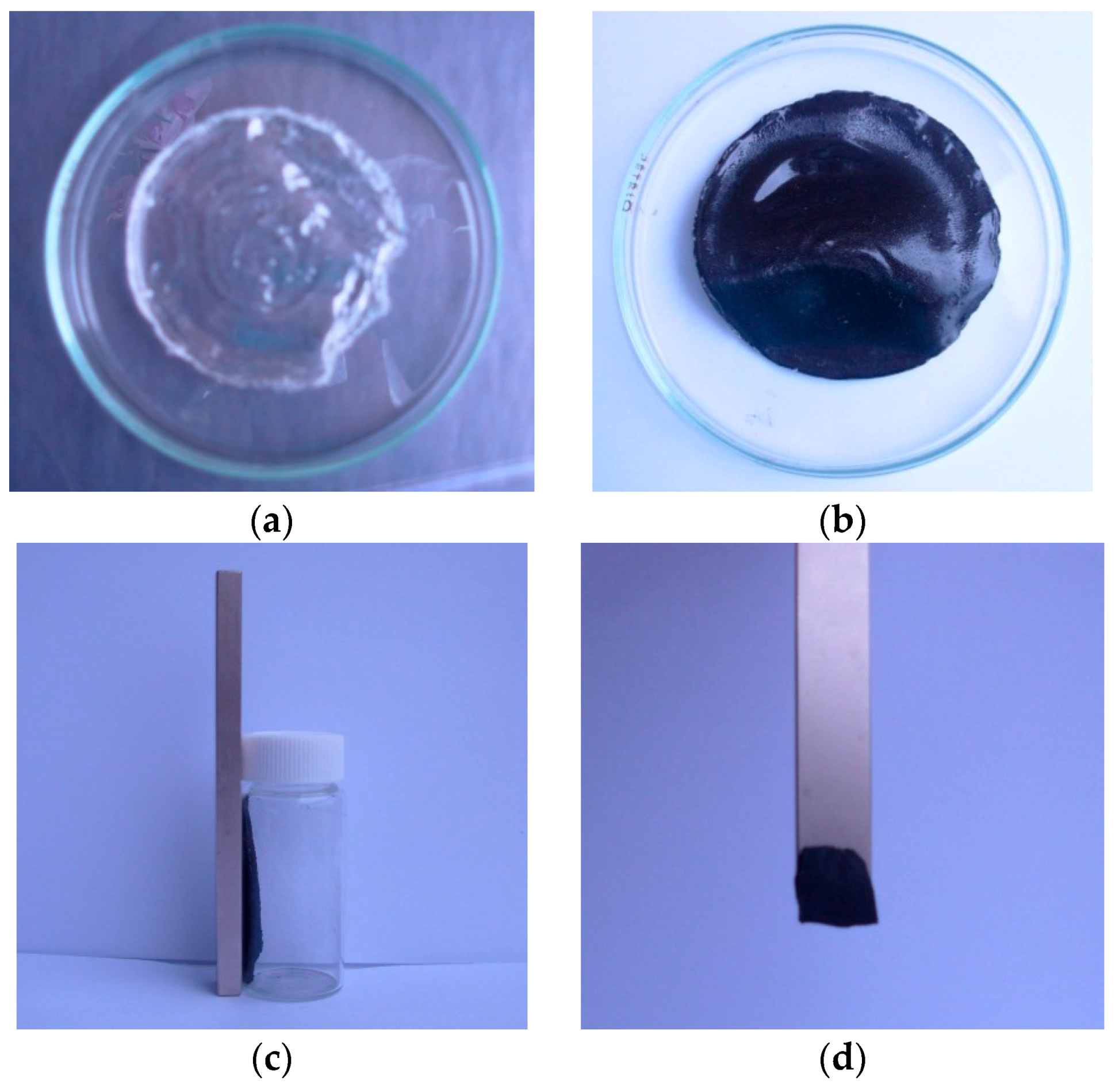 Figure 2. FESEM micrograph of (a) Ni-NPs; (b) PVA gel; (c) PVA gel containing 2.3% Ni; (d) EDX spectrum of PVA gel containing 2.3% Ni; (e) PVA gel containing 4.5% Ni; and (f) EDX spectrum of PVA gel containing 4.5% Ni.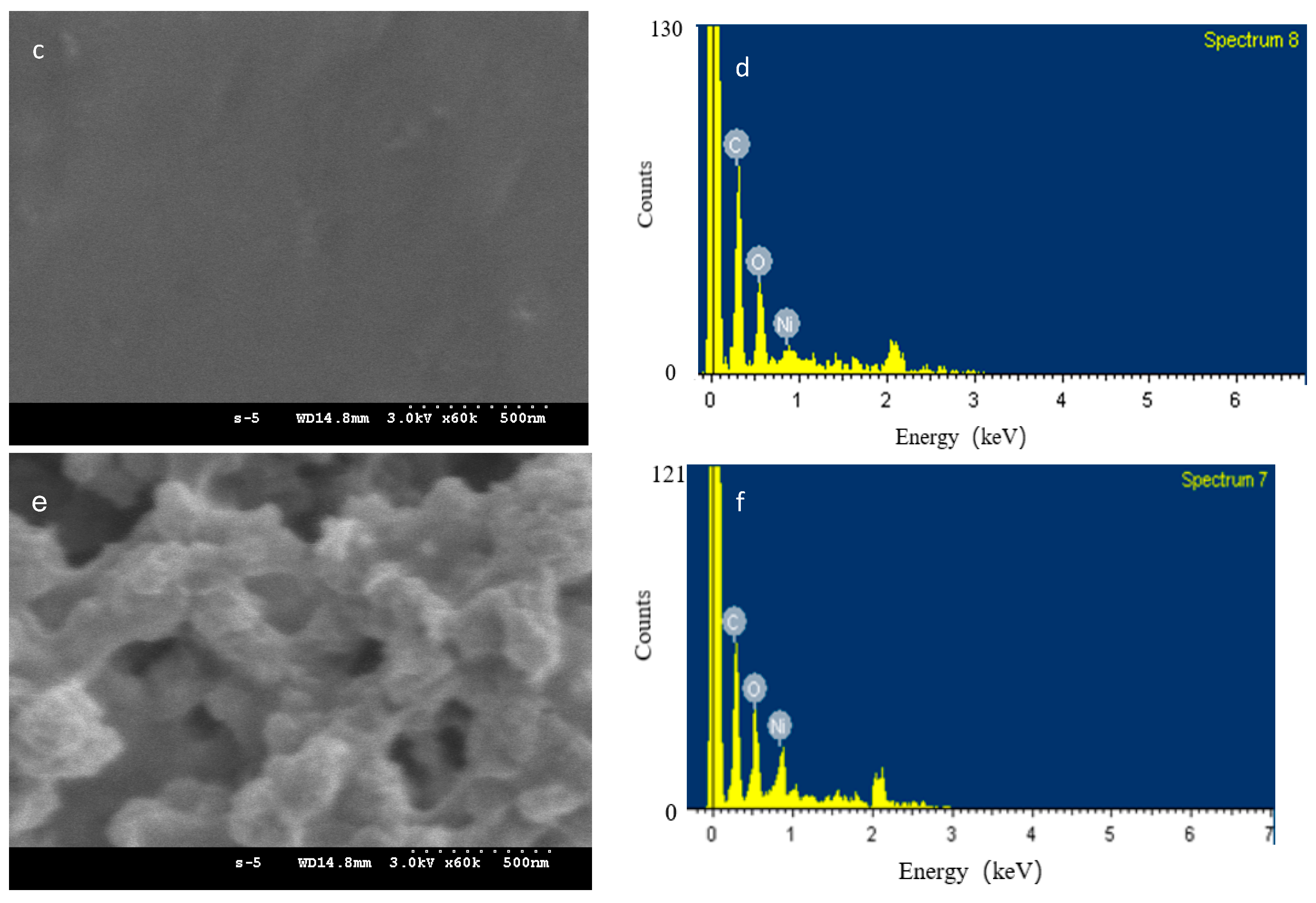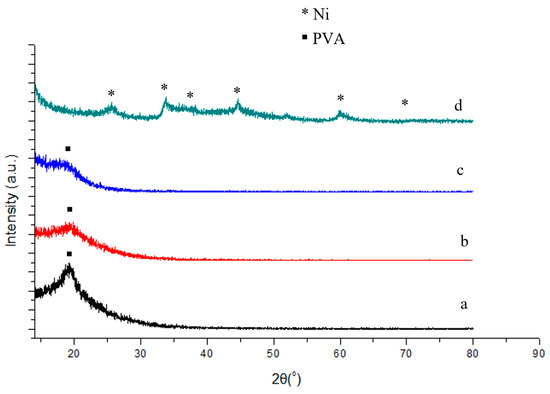 Figure 3. XRD patterns for PVA gel containing (a) 0% Ni; (b) 1.5% Ni; (c) 2.3% Ni; and (d) pure Ni nanoparticles.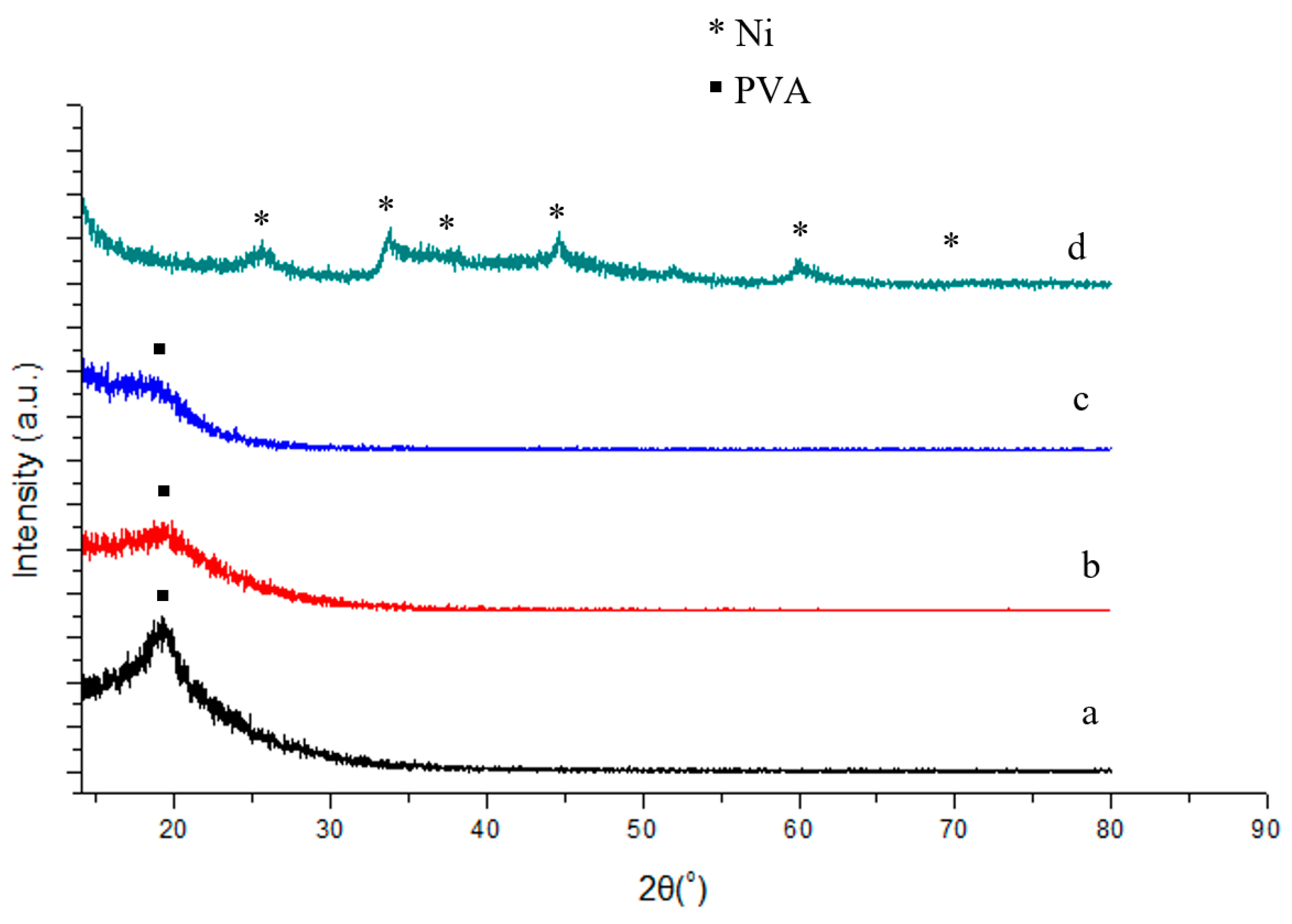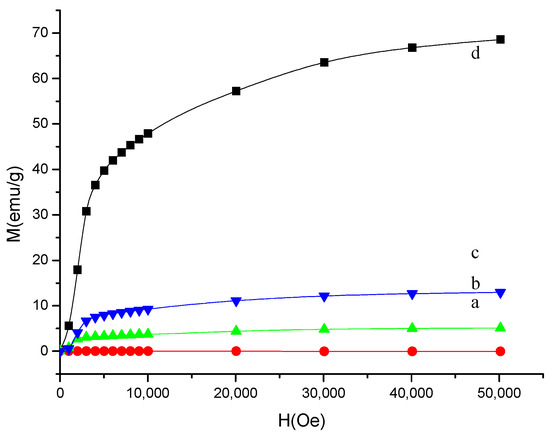 Figure 4. Magnetization curves of the PVA gel containing (a) 0% Ni; (b) 2.3% Ni; (c) 4.5% Ni; and (d) pure Ni nanoparticles.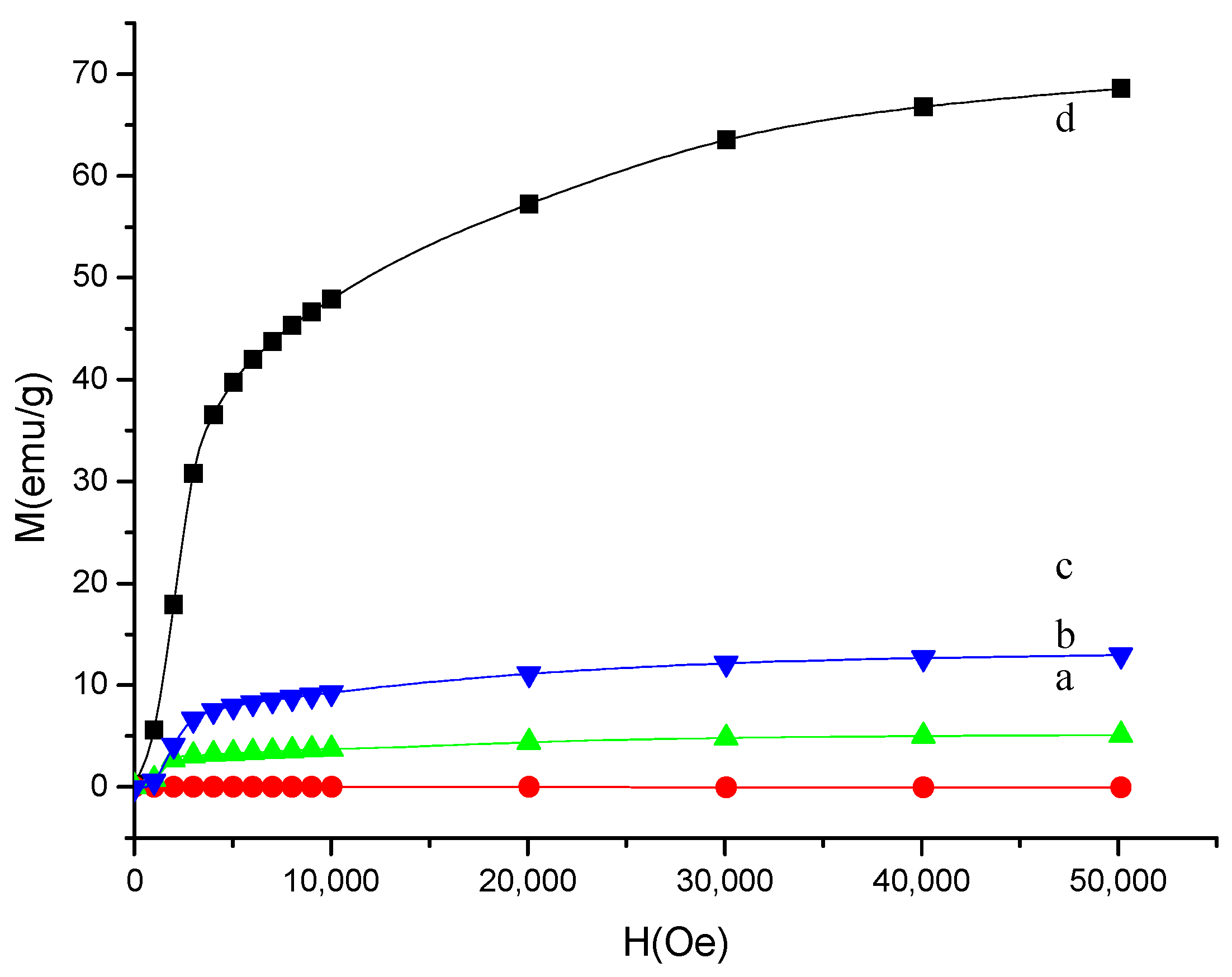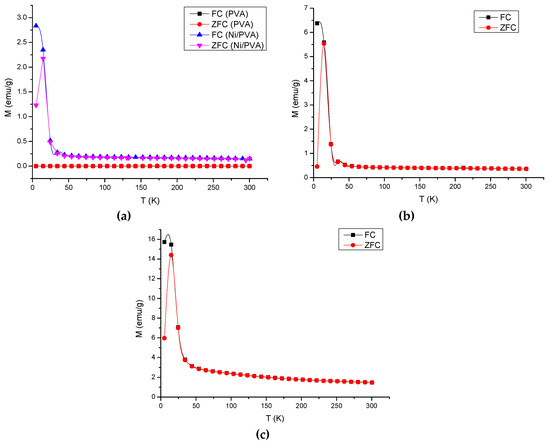 Figure 5. Field-cooling (FC) and zero-field-cooling (ZFC) magnetic moment curves measured for samples: (a) PVA gels containing 2.3% Ni; (b) 4.5% Ni; and (c) pure Ni nanoparticles. The lower curve of each sample represents the ZFC measurement and the upper one represents the FC measurement.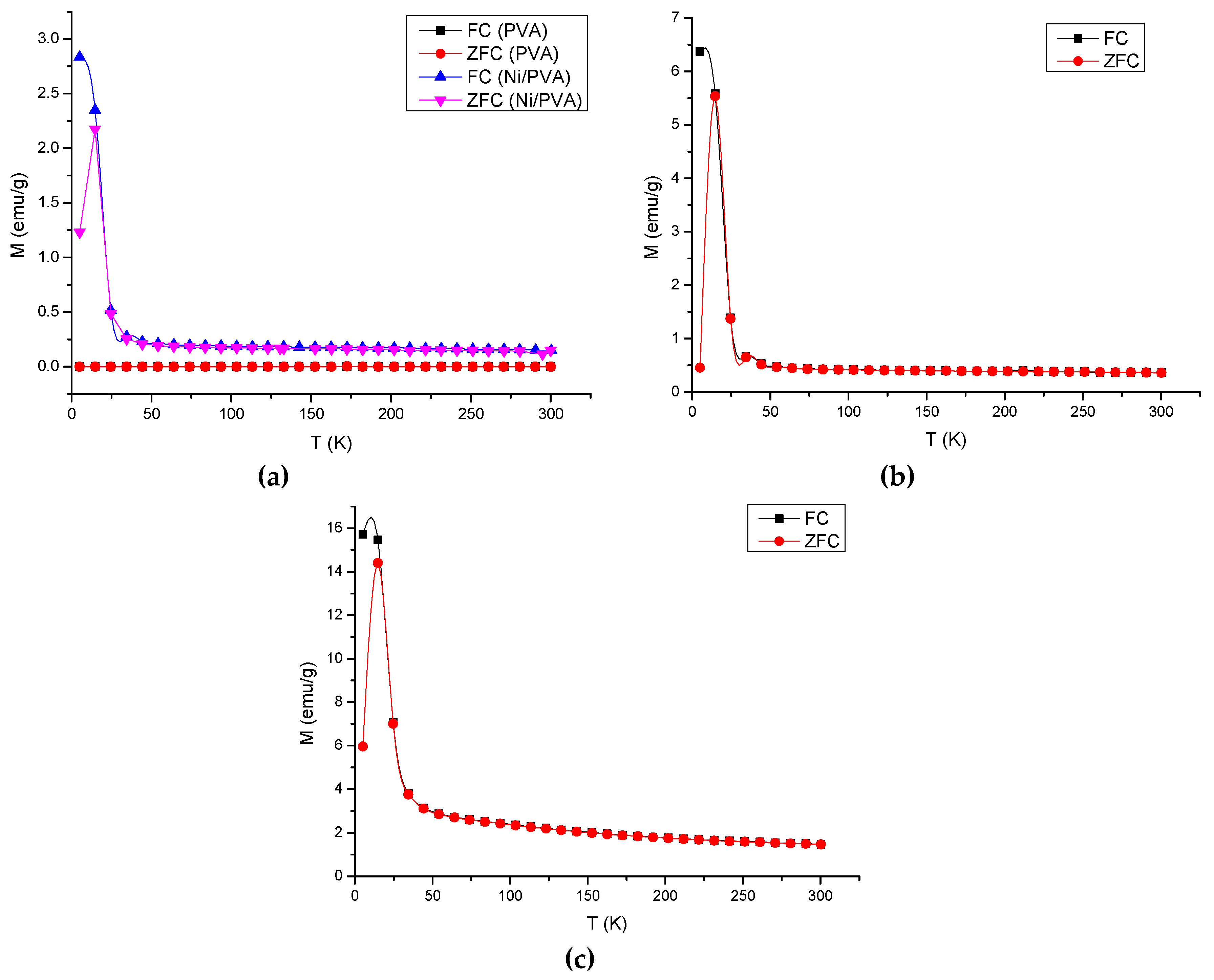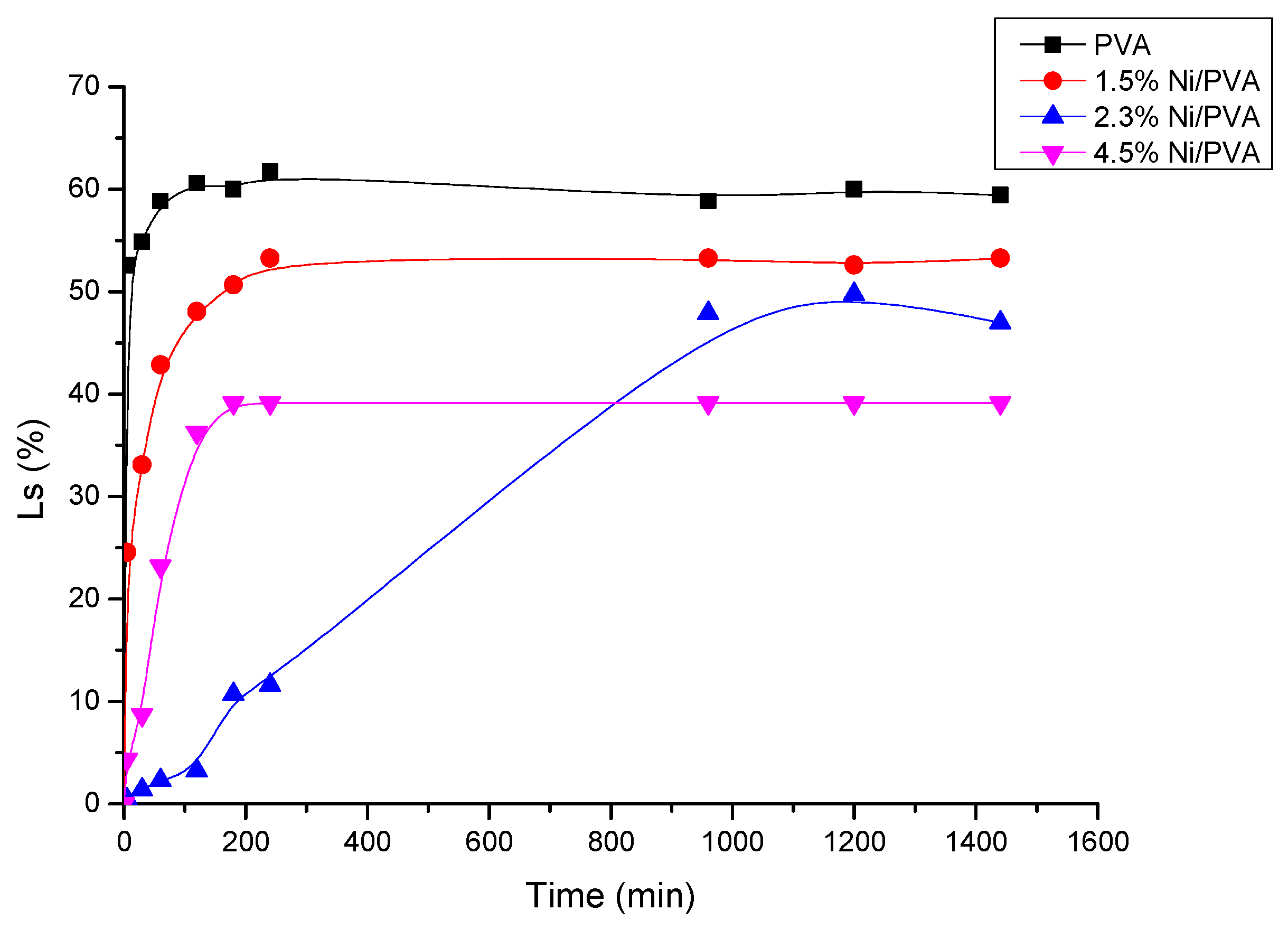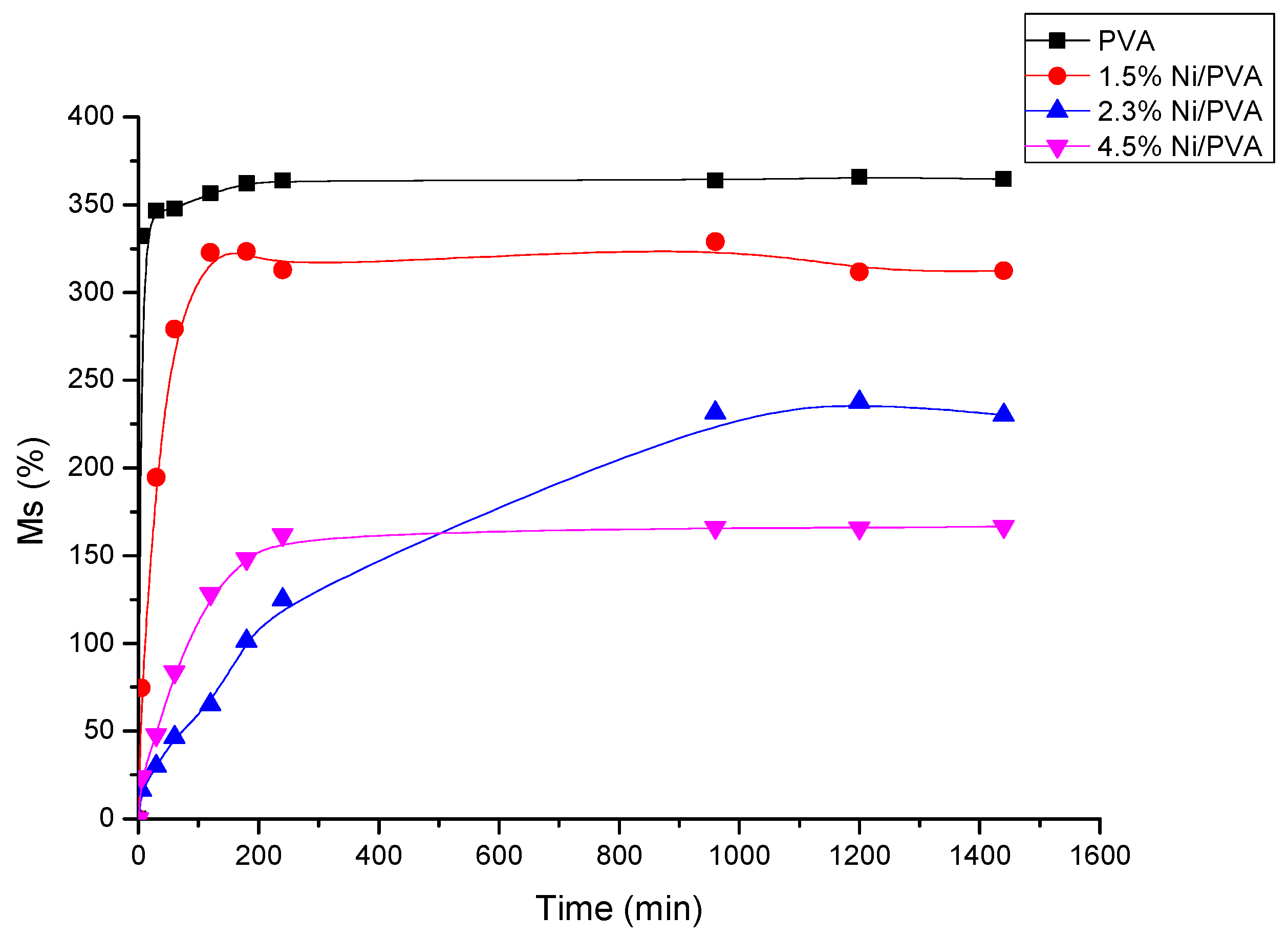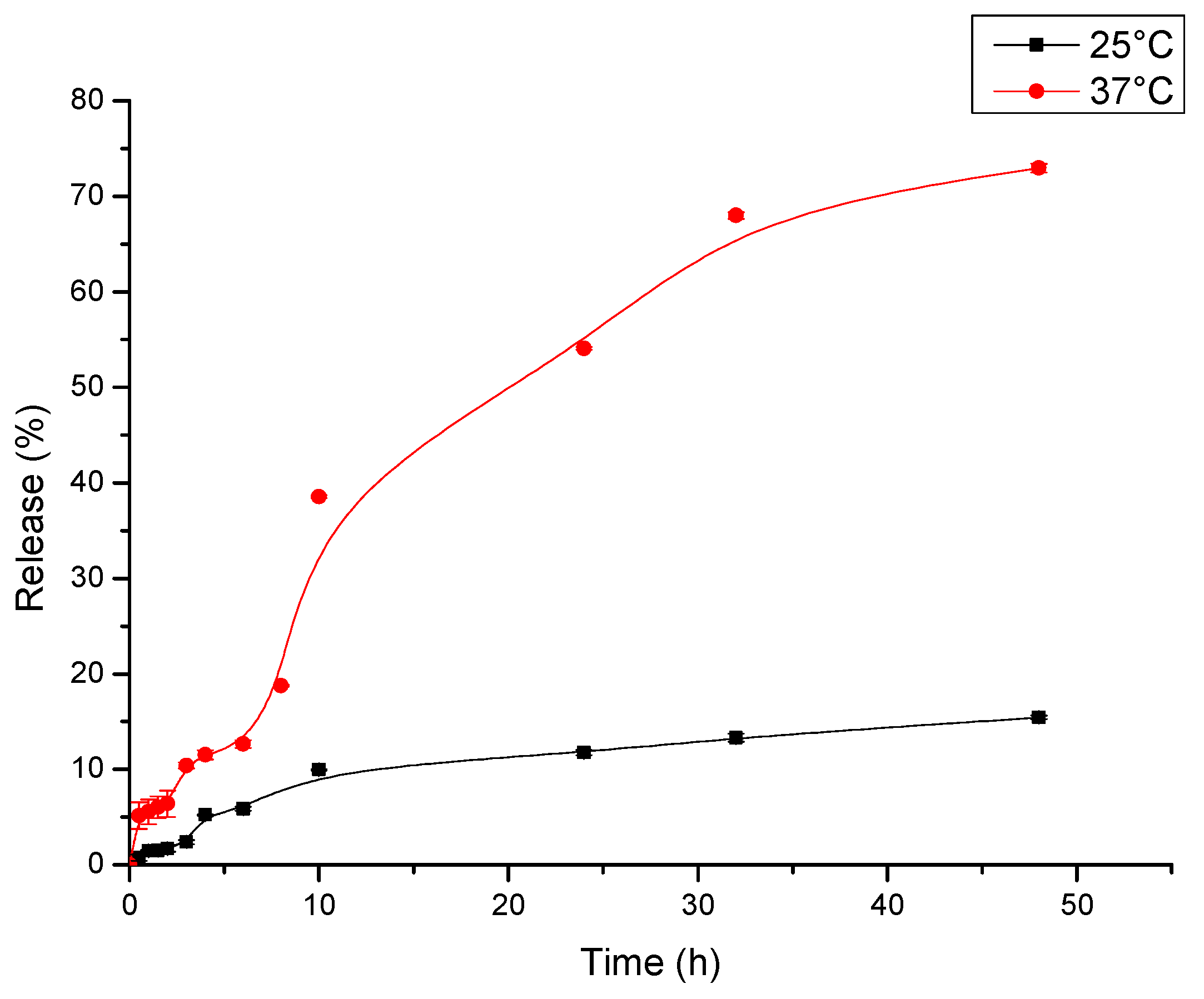 © 2019 by the authors. Licensee MDPI, Basel, Switzerland. This article is an open access article distributed under the terms and conditions of the Creative Commons Attribution (CC BY) license (http://creativecommons.org/licenses/by/4.0/).