Modified Starch-Chitosan Edible Films: Physicochemical and Mechanical Characterization
1
Facultad de Química, Departamento de Investigación y Posgrado en Alimentos, Universidad Autónoma de Querétaro, C.U., Cerro de las Campanas S/N, Col. Las Campanas, Querétaro 76010, Mexico
2
Departamento de Ingeniería Bioquímica, Instituto Politécnico Nacional, Av. Wilfrido Massieu Esq. Cda. Miguel Stampa S/N, Gustavo A. Madero, Ciudad de Mexico 07738, Mexico
3
Instituto Tecnológico "José Mario Molina Pasquel Henríquez", Unidad Académica Lagos de Moreno, Libramiento Tecnológico No. 5000, Col. Potugalejo de los Romanes, Lagos de Moreno C.P. 47480, Mexico
*
Author to whom correspondence should be addressed.
Academic Editor: Isabel Coelhoso
Received: 27 October 2017 / Revised: 28 November 2017 / Accepted: 2 December 2017 / Published: 7 December 2017
Abstract
Starch and chitosan are widely used for preparation of edible films that are of great interest in food preservation. This work was aimed to analyze the relationship between structural and physical properties of edible films based on a mixture of chitosan and modified starches. In addition, films were tested for antimicrobial activity against
Listeria innocua.
Films were prepared by the casting method using chitosan (CT), waxy (WS), oxidized (OS) and acetylated (AS) corn starches and their mixtures. The CT-starches films showed improved barrier and mechanical properties as compared with those made from individual components, CT-OS film presented the lowest thickness (74 ± 7 µm), water content (11.53% ± 0.85%,
w
/
w
), solubility (26.77% ± 1.40%,
w
/
v
) and water vapor permeability ((1.18 ± 0.48) × 10
−9
g·s
−1
·m
−1
·Pa
−1
). This film showed low hardness (2.30 ± 0.19 MPa), low surface roughness (
R
q
= 3.20 ± 0.41 nm) and was the most elastic (Young's modulus = 0.11 ± 0.06 GPa). In addition, films made from CT-starches mixtures reduced CT antimicrobial activity against
L. innocua
, depending on the type of modified starch. This was attributed to interactions between acetyl groups of AS with the carbonyl and amino groups of CT, leaving CT with less positive charge. Interaction of the pyranose ring of OS with CT led to increased OH groups that upon interaction with amino groups, decreased the positive charge of CT, and this effect is responsible for the reduced antimicrobial activity. It was found that the type of starch modification influenced interactions with chitosan, leading to different films properties.
View Full-Text
►

▼

Figures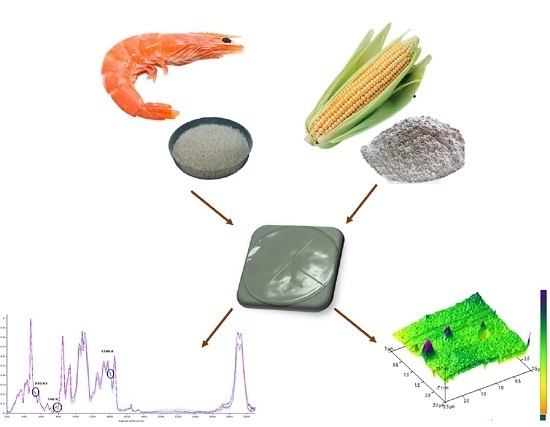 Graphical abstract
This is an open access article distributed under the
Creative Commons Attribution License
which permits unrestricted use, distribution, and reproduction in any medium, provided the original work is properly cited (CC BY 4.0).

Share & Cite This Article
MDPI and ACS Style
Escamilla-García, M.; Reyes-Basurto, A.; García-Almendárez, B.E.; Hernández-Hernández, E.; Calderón-Domínguez, G.; Rossi-Márquez, G.; Regalado-González, C. Modified Starch-Chitosan Edible Films: Physicochemical and Mechanical Characterization. Coatings 2017, 7, 224.
Note that from the first issue of 2016, MDPI journals use article numbers instead of page numbers. See further details here.
Related Articles
Comments
[Return to top]