Open Access This article is
freely available
re-usable
Article
Delayed Formation of Thermally Grown Oxide in Environmental Barrier Coatings for Non-Oxide Ceramic Matrix Composites
Fraunhofer Institute for Ceramic Technologies and Systems IKTS, Dresden 01277, Germany
*
Author to whom correspondence should be addressed.
Received: 22 November 2019 / Accepted: 17 December 2019 / Published: 19 December 2019
Abstract
:
The oxidation and corrosion behavior at elevated temperatures of a SiCF/SiC(N) composite with two plasma-sprayed environmental barrier coating (EBC) systems were studied. After both processes, the formation of a silica-based thermally grown oxide (TGO) layer was observed. The formation of this TGO caused two principal failure mechanisms of the EBC. Firstly, spallation of the EBC induced by stresses from volume expansion and phase transformation to crystalline SiO2 was observed. Water vapor corrosion of the TGO with gap formation in the top region of the TGO was found to be a second failure mechanism. After a burner rig test of the Al2O3-YAG EBC system, this corrosion process was observed at the TGO surface and in the volume of the Al2O3 bond coat. In the case of the second system, Si-Yb2Si2O7/SiC-Yb2SiO5, the formation of the TGO could be delayed by introducing an additional intermediate layer based on Yb2Si2O7 filled with SiC particles. The SiC particles in the intermediate layer were oxidized and served as getter to reduce the permeation of oxidants (O2, H2O) into the material. In this way, the formation of the TGO and the failure mechanisms caused by their formation and growth could be delayed.
Keywords:
environmental barrier coatings; non-oxide ceramic matrix composites; oxidation; water vapor corrosion; thermally grown oxide; damage mechanisms
Author Contributions
H.K. conceptualized the idea; H.K., K.S. and W.K. developed the coating; K.S. and W.K. performed the experiments and analyzed data; H.K. supervised the project and acquired funding; H.K. prepared the manuscript; K.S. and W.K. contributed in editing and submission. All authors have read and agreed to the published version of the manuscript.
Funding
This research was funded by the German Federal Ministry for Education and Research, grant number 03EK3544C and Fraunhofer Funding MAVO CMC engine.
Acknowledgments
The authors gratefully thank B. Gronde and F.L. Toma for support in plasma spraying technology.
Conflicts of Interest
The authors declare no conflict of interest.

Figure 1. Polished cross-section of TGO in Si-Y2SiO5 EBC system after (A) 100 h oxidation at 1200 °C in air and (B) 100 h hot gas corrosion at 1200 °C.


Figure 2. Microstructure of polished cross-sections of the base CMC after thermal treatment. (A) 100 h oxidation at 1200 °C; (B) 100 h burner rig test at 1200 °C.


Figure 4. Comparison of microstructure in polished cross-sections of SiCF/SiC(N) composite coated with Al2O3-YAG. (A) TGO formation and Al2O3-SiO2 glass in and under the alumina layer after 100 h oxidation at 1200 °C. (B) Corrosion of TGO and grain boundary in the volume of Al2O3 layer after burner rig test 100 h and 1200 °C.


Figure 5. Polished cross-section of EBC layer system with Si bond coat, Yb2Si2O7/SiC, and Yb2SiO5 layer fabricated by atmospheric plasma spaying (Si) and suspension plasma spraying (Yb2Si2O7/SiC, Yb2SiO5).


Figure 6. Polished cross-section of Si–Yb2Si2O7/SiC–Yb2SiO5 EBC coating system. SiC particle in Yb2Si2O7 layer at interfaces (A) Yb2SiO5–Yb2Si2O7/SiC and (B) Yb2Si2O7/SiC–Si after oxidation for 100 h and 1200 °C.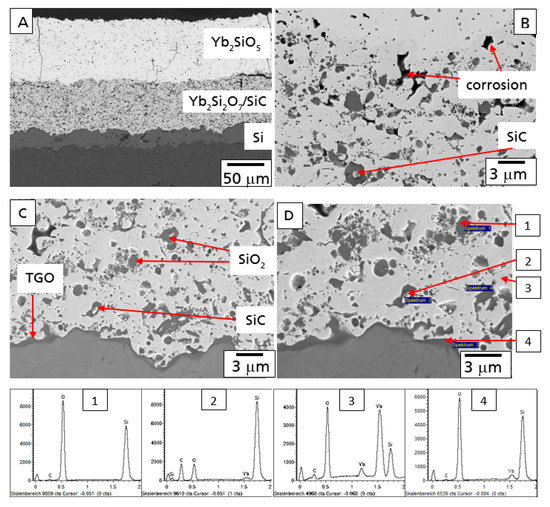 Figure 7. Polished cross-section of SiCF/SiC(N) composite with three-layer EBC (Si–Yb2Si2O2/SiC–Yb2SiO5) after 100 h hot gas test (A) at 1200 °C, overview; (B) at the interface to the Yb2SiO5 top coat and the Yb2Si2O7/SiC interlayer, and (C) at the interface between the Yb2Si2O7/SiC interlayer and the Si bond coat; energy-dispersive X-ray spectroscopy (EDX) analysis of different phases in the microstructure, analysis locations demonstrated in (D).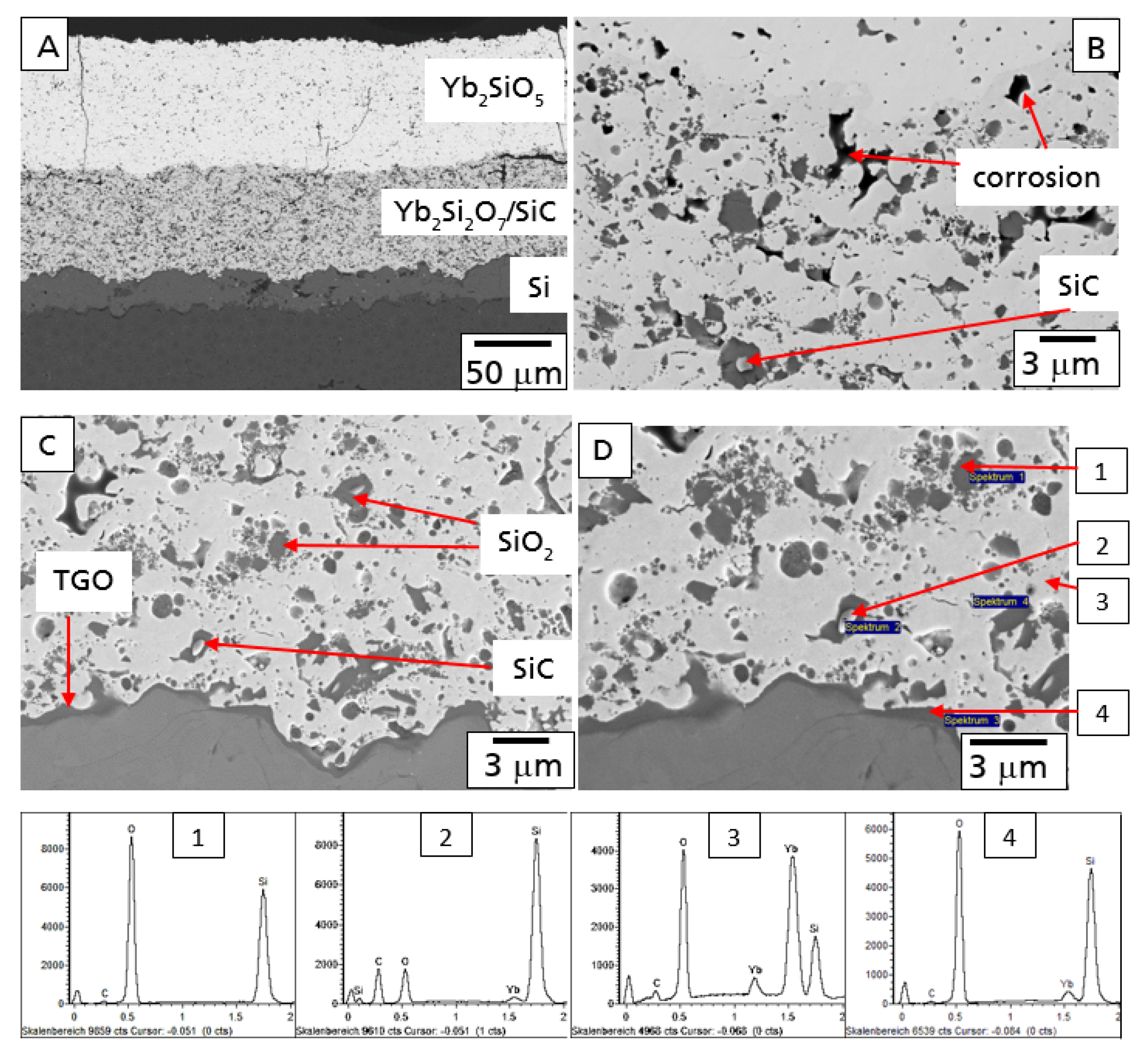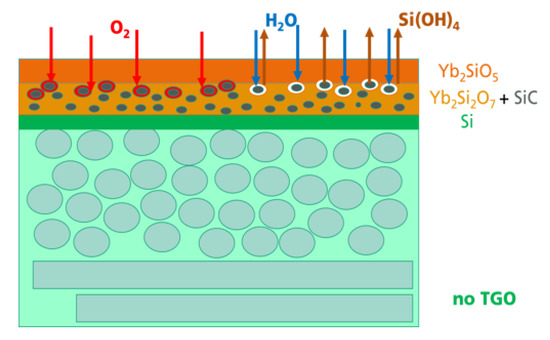 Figure 8. Schematic diagram of the oxidation and corrosion mechanism of SiCF/SiC(N) composite with three-layer EBC system.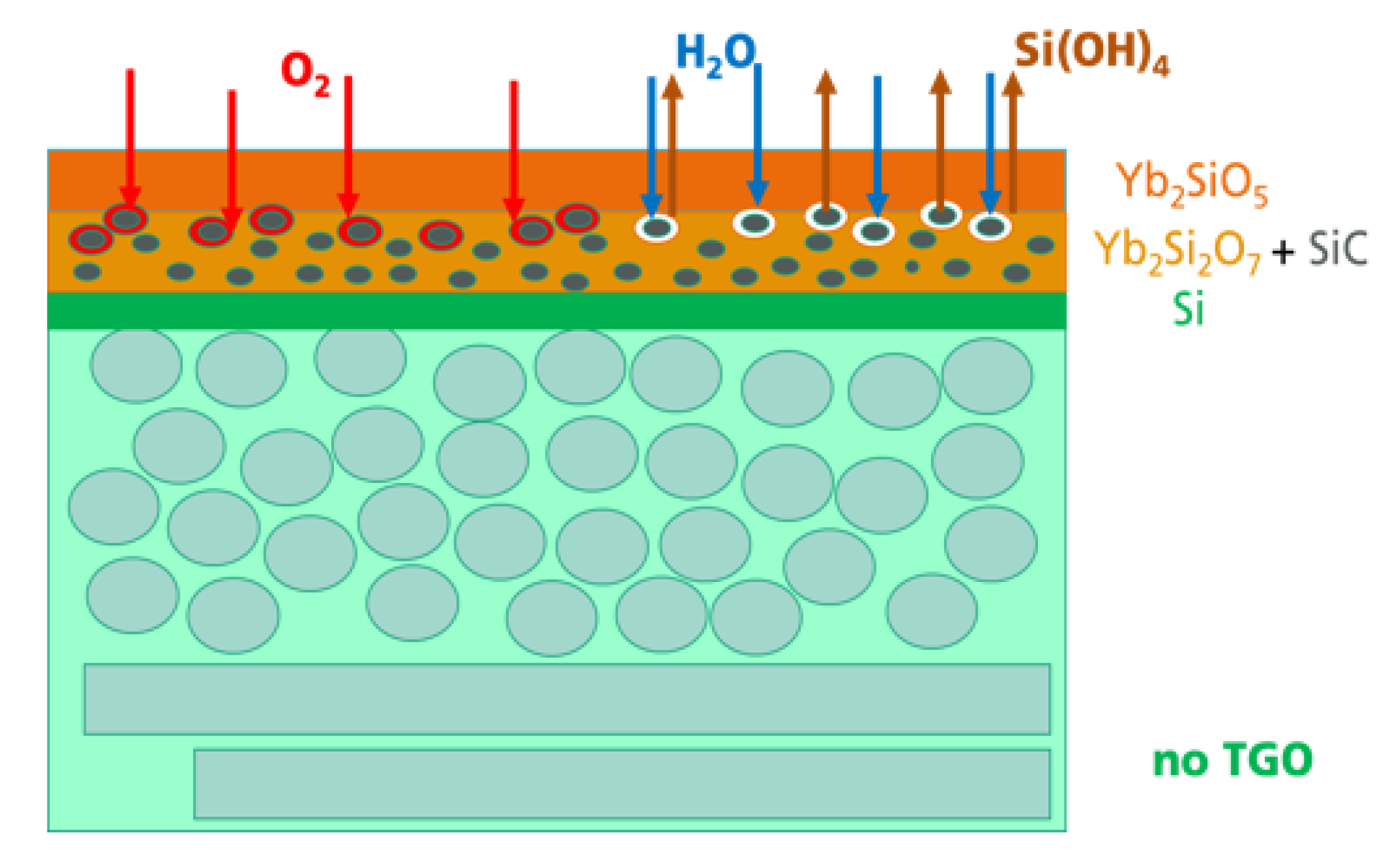 | | Thickness/μm | Fabrication |
| --- | --- | --- |
| Al2O3-YAG | | |
| Al2O3 | 50 to 70 | APS |
| YAG | 80 to 120 | APS |
| Si-Yb2Si2O7/SiC-Yb2SiO5 | | |
| Si | 30 to 50 | APS |
| Yb2Si2O7/SiC | 100 to 150 | SPPS |
| Yb2SiO5 | 100 to 150 | SPPS |
| Temperature/°C | Flow Speed/m/s | Water Vapor Pressure/bar | Testing Time/h |
| --- | --- | --- | --- |
| 1200 | 100 | 0.2 | 100 |

Table 3. Weight change after oxidation and burner rig test, 1200 °C, 100 h. Comparison of EBC-coated systems with base ceramic matrix composites (CMC) material without EBC coating.
Material/EBC
Oxidation
Burner Rig Test
m/g
m/m/g/g
m/g
m/m/g/g
CMC
0.027
0.009
0.094
0.046
Al2O3-YAG
0.048
0.016
0.19
0.064
Si-Yb2Si2O7/SiC-Yb2SiO5
0.009
0.003
0.045
0.016

© 2019 by the authors. Licensee MDPI, Basel, Switzerland. This article is an open access article distributed under the terms and conditions of the Creative Commons Attribution (CC BY) license (http://creativecommons.org/licenses/by/4.0/).