Open Access This article is
freely available
re-usable
Review
The Use of Tethered Bilayer Lipid Membranes to Identify the Mechanisms of Antimicrobial Peptide Interactions with Lipid Bilayers
School of Life Science, University of Technology Sydney, Ultimo, NSW 2007, Australia
*
Author to whom correspondence should be addressed.
Received: 8 January 2019 / Accepted: 29 January 2019 / Published: 30 January 2019
Abstract
:
This review identifies the ways in which tethered bilayer lipid membranes (tBLMs) can be used for the identification of the actions of antimicrobials against lipid bilayers. Much of the new research in this area has originated, or included researchers from, the southern hemisphere, Australia and New Zealand in particular. More and more, tBLMs are replacing liposome release assays, black lipid membranes and patch-clamp electrophysiological techniques because they use fewer reagents, are able to obtain results far more quickly and can provide a uniformity of responses with fewer artefacts. In this work, we describe how tBLM technology can and has been used to identify the actions of numerous antimicrobial agents.
Keywords:
antimicrobial peptides; tethered bilayer lipid membranes; electrical impedance spectroscopy
1. Introduction
The variety of novel approaches to the design of tethering systems to maintain stable and dynamic bilayer systems provides a large toolkit to create explicit solutions for particular biological problems such as identifying how antimicrobials interact with lipid bilayers. This review does not seek to identify all the research into AMPs using tBLMs, rather, it seeks to detail what tBLM technology can do to identify the actions of AMPs.
2. Models of AMP–Lipid Membrane Interactions
In studying the interactions between lipid bilayers and antimicrobial peptides, a variety of models have been proposed to identify the exact mechanism of action associated with these interactions. Each family of peptides appears to interact with lipid bilayers in a unique manner and most current interactions have been identified as either pore forming, intrinsic pore modulating or having surfactant-like properties that induce membrane rupture or lysis [
33
,
34
,
35
,
36
,
37
,
38
,
39
,
40
,
41
,
42
,
43
]. Individual types of peptides may not conform to a particular mode of action or have the qualities of each model, with some peptides not fitting within any of these models [
35
,
44
,
45
,
46
]. The proposed mechanisms of action of AMPs are briefly summarized here, along with a subsequent explanation of how tBLMs can be used in conjunction with swept frequency electrical impedance spectroscopy (EIS) to distinguish between these mechanisms.
3. Antimicrobial–Lipid Membrane Interactions Investigated Using tBLMs
3.1. Testing the Lipid Specificity of AMPs
These results demonstrate the capacity of tBLMs in conjunction with electrical impedance spectroscopy to elucidate the membrane disruptive properties of novel peptidomimetics and provides valuable information regarding affinities for particular lipid compositions. Further, tBLM technology used in this way permits a rapid characterization of peptide/membrane interactions and provides a basis for implementing an iterative development of synthetic peptides.
3.2. Voltametric Techniques to Explore Antimicrobial Interations
As well as electrical impedance spectroscopy, other electrical techniques, such as ramped or pulsed amperometry can be employed to identify the actions of various antimicrobial agents. The amphipathic antimicrobial peptide trichogin GA IV (TCG) was investigated using applied potential steps at 50 mV increments [
80
]. Using this technique, the researchers determined the required membrane potentials for incorporation of the peptide. The researchers also employed cyclic voltammetry and identified that TCG has a voltage-gated behavior similar to the fungal peptaibol peptide alamethicin.
The use of potential steps and ramped amperometry has also been employed to identify how peptides can make use of membrane defects to incorporate into membranes. Led by Australian researchers, Cranfield et al. (2014) showed that by rapidly increasing the potential across the tBLM, they could induce a detectable electroporation effect. They were then able to show that defects caused by electroporation induced an increase in the activity of the African clawed frog antimicrobial peptide PGLa [
64
].
3.3. Bacterial Surface tBLM Mimics
Significant effort has gone into creating tBLMs that better mimic the actual surface of bacteria. There have been efforts to incorporate commercially supplied lipids from
E. coli
sources in tBLMs with some success [
37
], but these membranes do not have the lipopolysaccharide (LPS) layer that is associated with bacterial membranes. Recently, however, Andersson et al. (2018) from the Köper group at Flinders University in South Australia in collaboration with researchers from the Australian Nuclear Science and Technology Organisation (ANSTO) were able to fuse liposomes of a lipopolysaccharide purified from
E. coli
onto a monolayer of tethering lipids [
81
]. They were then able to test their LPS–tBLM using the antimicrobial colistin sulfate and were able to elicit a change in the membrane structure as evidenced by neutron scattering and EIS measures.
Spencelayh et al., (2006) were able to form tBLMs that incorporated Lipid I and Lipid II, which are precursors to the peptidoglycan layer of bacterial cell walls. They were then able to test the glycopeptide antibiotics vancomycin and ramoplanin against these tBLM architectures. These types of antibiotics interfere with the formation of the peptidoglycan coatings that protect Gram-positive bacteria from lysis. Surface plasmon resonance and EIS were employed to measure changes in membrane thickness as a result of adding these antibiotics. Significantly, purified inner
E. coli
membranes were used to form these tBLMs [
82
].
Outer membrane protein F (OmpF) is one of the porin transmembrane proteins found in
E. coli
outer membranes and is a target for antibiotics such as colicin N [
83
]. Stora et al. (1999) were able to incorporate OmpF into tBLMs and demonstrate that colicin N was able to reduce overall membrane conduction as a result [
84
]. The same group were later able to self-assemble tBLMs containing cysteine mutants of the OmpF protein which itself anchors onto the gold substrate via coordination of the cysteine thiol group [
85
].
4. Conclusions
Australia and New Zealand, in particular, are home to some of the world's leading researchers into the use of tethered bilayer lipid membranes for antimicrobial research. Australia is also the home of the world's only commercial supplier of tethered bilayer lipid membranes. In this work, we have reviewed how this technology has been used to assist in identifying how antimicrobial agents interact with lipid bilayers and, where appropriate, highlighted the works of the southern hemisphere research groups who are the leaders in this field of research.
Author Contributions
Writing—original draft preparation, A.A, A.G., T.B., and C.C.; Writing—review and editing, A.G., and C.C.
Funding
This research was funded by Australian Research Council (ARC) Discovery Program (DP160101664), the ARC Research Hub for Integrated Device for End-user Analysis at Low-levels (IDEAL) (IH150100028) and the UTS Chancellor's Postdoctoral Research Fellowship Scheme.
Acknowledgements
We wish to acknowledge the contribution of Bruce Cornell (SDX Tethered Membranes Pty. Ltd.) for helpful comments concerning the manuscript.
Conflicts of Interest
The authors declare no conflict of interest.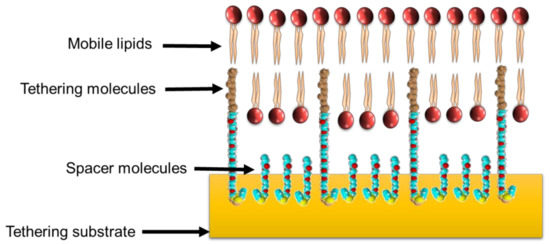 Figure 1. A basic tethered bilayer lipid membrane architecture. The use of membrane-tethering molecules and spacer molecules creates a reservoir between the membrane and the substrate to provide space for the transport of ions and the insertion of extended membrane-bound peptides or proteins.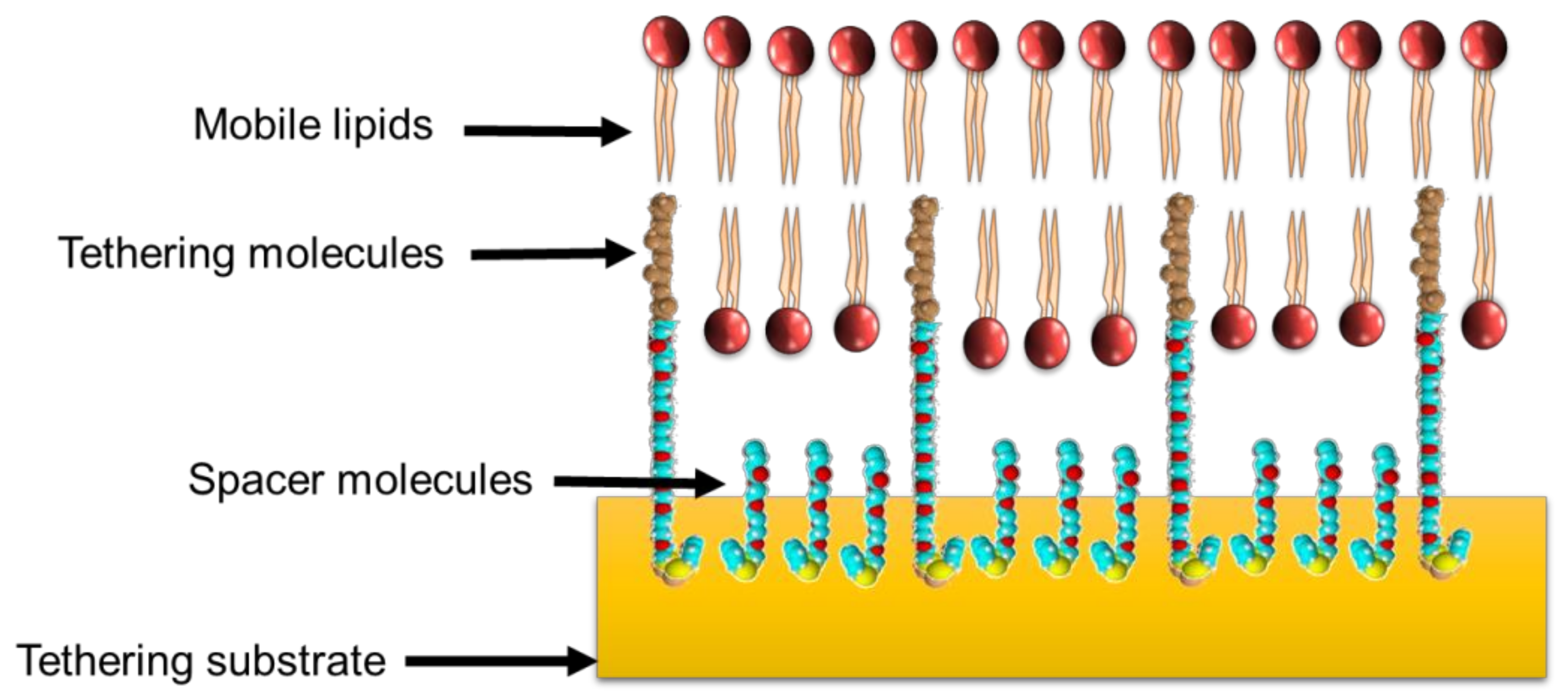 Figure 2. Schematic of how individual peptides might form the barrel-stave pore configuration in a cell membrane.


Figure 3. The toroidal pore model has the antimicrobial peptides (AMPs) interdigitated between lipid head groups as part of a pore within the membrane.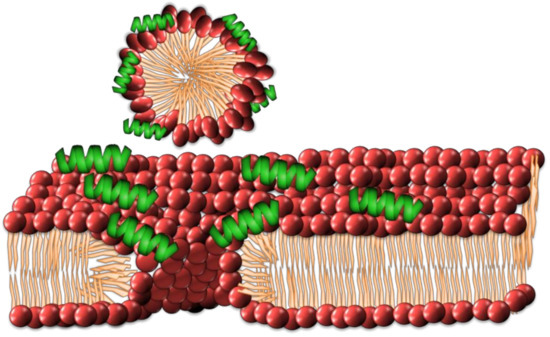 Figure 4. The carpet model of cell membrane disruption has the accumulation of amphipathic AMPs as a 'carpet' across the membrane, eventually promoting to the micellization of individual lipids creating membrane defects.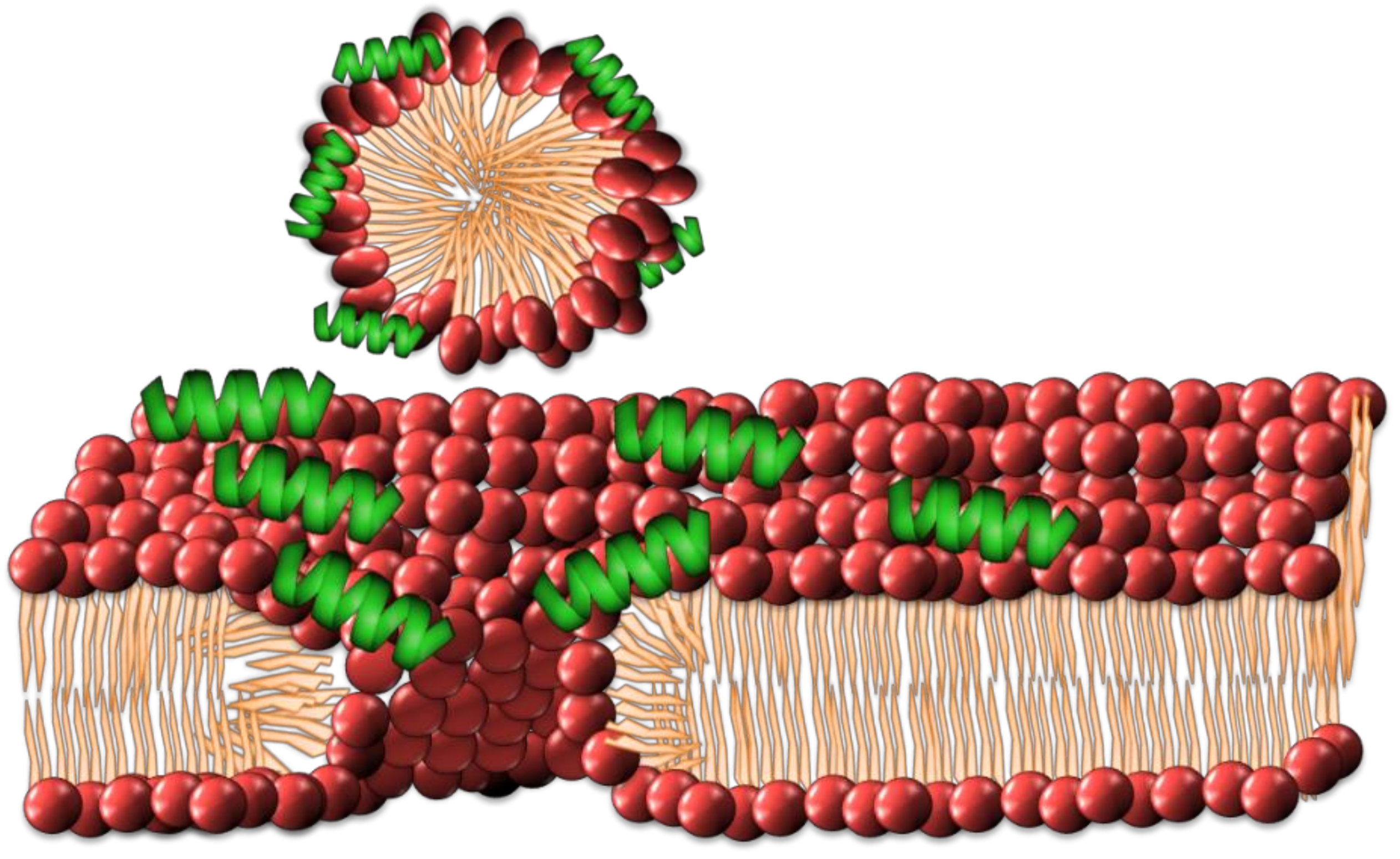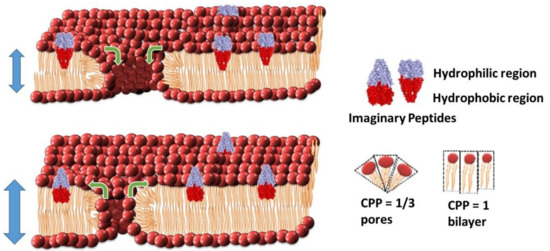 Figure 5. The Critical Packing Parameter (CPP) model of toroidal pore modulation by antimicrobial agents. This model predicts that the shape of peptides influences the lipid packing arrangement leading to either an increase in intrinsic membrane pore radius and an overall slight thinning of the membrane, as more lipids diffuse into pore regions, or a decrease in the intrinsic membrane pore radius with a thickening of the membrane as more lipids diffuse out of the pore regions.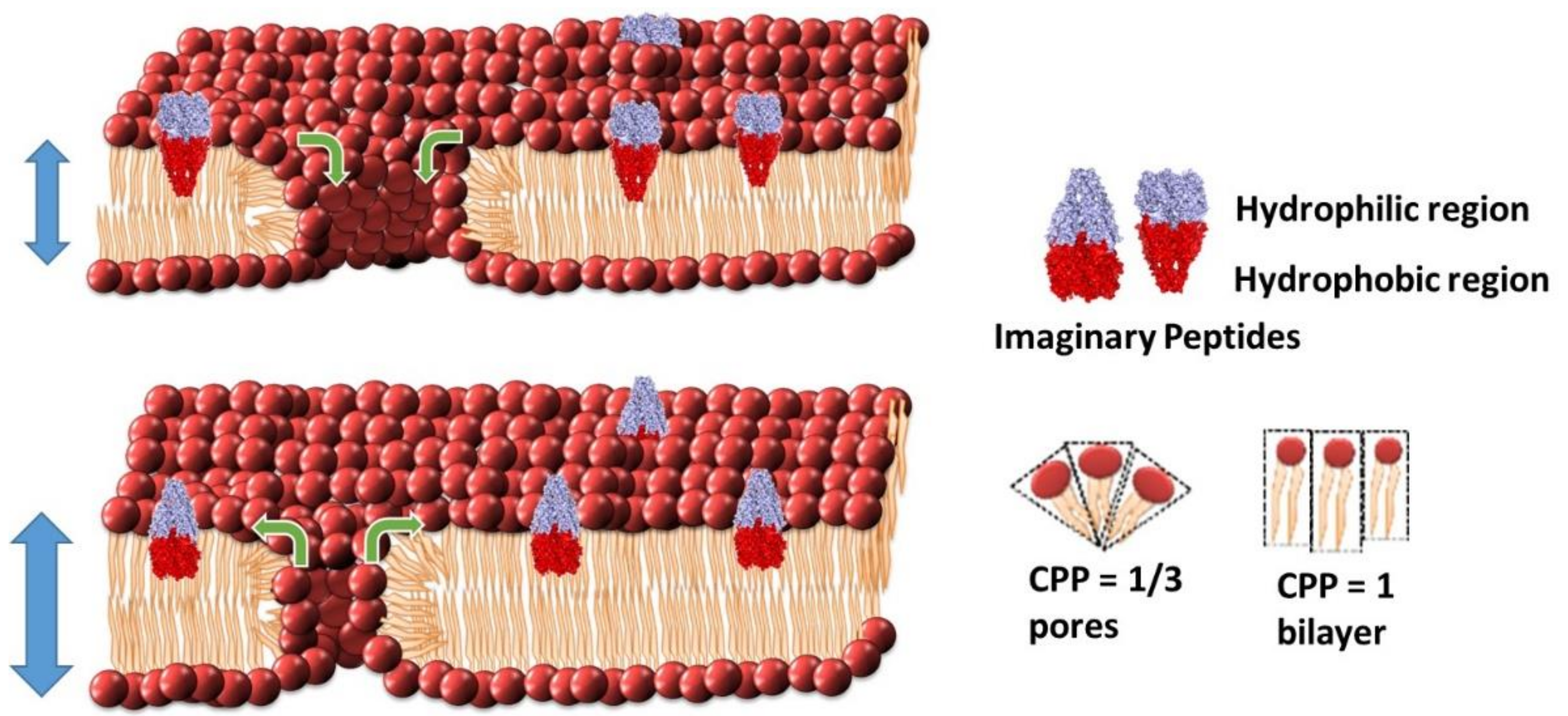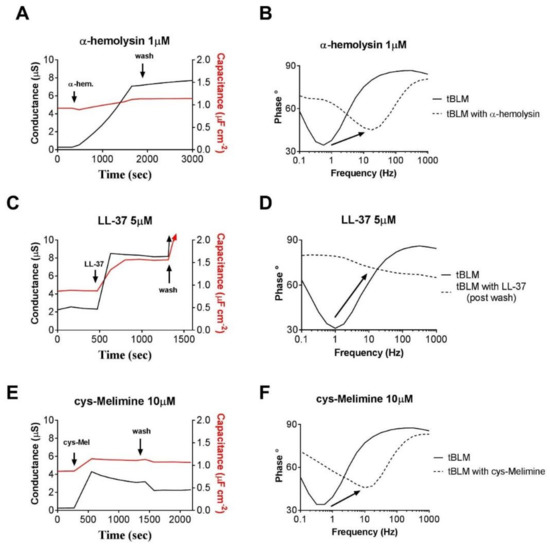 Figure 6.
The tethered bilayer lipid membrane (tBLM) responses presented here are actual data obtained in the laboratory of the authors. (
A
) Membrane conduction and capacitance responses to the membrane ion channel forming antibiotic α-hemolysin. (
B
) Phase versus frequency (Bode Plot) before and after addition of the antibiotic α-hemolysin. The phase minima typically shift to higher frequencies with little increase in the phase angle. (
C
) Membrane conduction and capacitance responses to the human defensin peptide, LL-37, that causes membrane lysis. The responses are particularly evident after the membrane undergoes a wash step which induces mild sheer stress at the membrane. (
D
) Phase versus frequency (Bode Plot) response of LL-37. The phase minima typically shift to higher frequencies with very large increase in the phase angle. This phase signature is evidence of the tBLM undergoing irrevocable disruption. (
E
) Membrane conduction and capacitance responses to the AMP cys-Melimine [
37
]. A mild increase in membrane conduction is evident at relatively high concentrations of the AMP with a small change in membrane capacitance. The responses are partially reversed after washing. Note that the concentration of the AMP is 10 times larger than that for the ion channel α-hemolysin (
Figure 6
A). (
F
) Phase versus frequency (Bode Plot) response of the AMP cys-Melimine. The phase minima typically shift to higher frequencies with only a small increase in the phase angle.

© 2019 by the authors. Licensee MDPI, Basel, Switzerland. This article is an open access article distributed under the terms and conditions of the Creative Commons Attribution (CC BY) license (http://creativecommons.org/licenses/by/4.0/).