Pulsed Laser Fabrication of TiO2 Buffer Layers for Dye Sensitized Solar Cells
1
Department of Physics, Ovidius University of Constanța, Constanța 900527, Romania
2
National Institute for Lasers, Plasma and Radiation Physics, P.O. Box MG-36, Măgurele 077125, Romania
3
National Institute of Materials Physics, P.O. Box MG-7, Măgurele 077125, Romania
*
Authors to whom correspondence should be addressed.
Received: 25 April 2019 / Revised: 3 May 2019 / Accepted: 6 May 2019 / Published: 15 May 2019
Abstract
We report on the fabrication of dye-sensitized solar cells with a TiO
2
buffer layer between the transparent conductive oxide substrate and the mesoporous TiO
2
film, in order to improve the photovoltaic conversion efficiency of the device. The buffer layer was fabricated by pulsed laser deposition whereas the mesoporous film by the doctor blade method, using TiO
2
paste obtained by the sol–gel technique. The buffer layer was deposited in either oxygen (10 Pa and 50 Pa) or argon (10 Pa and 50 Pa) onto transparent conducting oxide glass kept at room temperature. The cross-section scanning electron microscopy image showed differences in layer morphology and thickness, depending on the deposition conditions. Transmission electron microscopy studies of the TiO
2
buffer layers indicated that films consisted of grains with typical diameters of 10 nm to 30 nm. We found that the photovoltaic conversion efficiencies, determined under standard air mass 1.5 global (AM 1.5G) conditions, of the solar cells with a buffer layer are more than two times larger than those of the standard cells. The best performance was reached for buffer layers deposited at 10 Pa O
2
. We discuss the processes that take place in the device and emphasize the role of the brush-like buffer layer in the performance increase.
View Full-Text
►

▼

Figures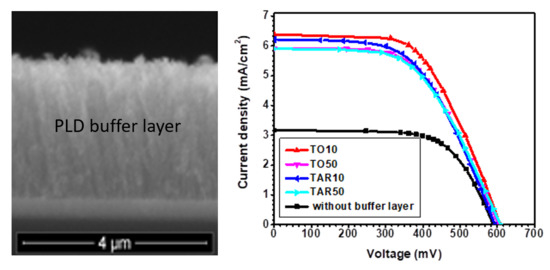 Graphical abstract
This is an open access article distributed under the
Creative Commons Attribution License
which permits unrestricted use, distribution, and reproduction in any medium, provided the original work is properly cited (CC BY 4.0).

Share & Cite This Article
MDPI and ACS Style
Lungu, J.; Socol, G.; Stan, G.E.; Ştefan, N.; Luculescu, C.; Georgescu, A.; Popescu-Pelin, G.; Prodan, G.; Gîrţu, M.A.; Mihăilescu, I.N. Pulsed Laser Fabrication of TiO2 Buffer Layers for Dye Sensitized Solar Cells. Nanomaterials 2019, 9, 746.
Note that from the first issue of 2016, MDPI journals use article numbers instead of page numbers. See further details here.
Related Articles
Comments
[Return to top]