Risk Analysis of Cellulose Nanomaterials by Inhalation: Current State of Science
1
Vireo Advisors, LLC, Boston, MA 02130-4323, USA
2
P3Nano, U.S. Endowment for Forestry and Communities, Greenville, SC 29601, USA
3
Forest Products Laboratory, USDA Forest Service, Madison, WI 53726-2398, USA
*
Author to whom correspondence should be addressed.
Received: 27 December 2018 / Revised: 31 January 2019 / Accepted: 23 February 2019 / Published: 2 March 2019
Abstract
Cellulose nanomaterials (CNs) are emerging advanced materials with many unique properties and growing commercial significance. A life-cycle risk assessment and environmental health and safety roadmap identified potential risks from inhalation of powdered CNs in the workplace as a key gap in our understanding of safety and recommended addressing this data gap to advance the safe and successful commercialization of these materials. Here, we (i) summarize the currently available published literature for its contribution to our current understanding of CN inhalation hazard and (ii) evaluate the quality of the studies for risk assessment purposes using published study evaluation tools for nanomaterials to assess the weight of evidence provided. Our analysis found that the quality of the available studies is generally inadequate for risk assessment purposes but is improving over time. There have been some advances in knowledge about the effects of short-term inhalation exposures of CN. The most recent in vivo studies suggest that short-term exposure to CNs results in transient inflammation, similarly to other poorly soluble, low toxicity dusts such as conventional cellulose, but is markedly different from fibers with known toxicity such as certain types of multiwalled carbon nanotubes or asbestos. However, several data gaps remain, and there is still a lack of understanding of the effects from long-term, low-dose exposures that represent realistic workplace conditions, essential for a quantitative assessment of potential health risk. Therefore, taking precautions when handling dry forms of CNs to avoid dust inhalation exposure is warranted.
View Full-Text
►

▼

Figures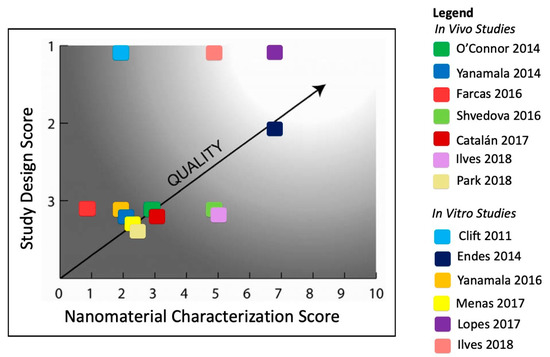 Figure 1
This is an open access article distributed under the
Creative Commons Attribution License
which permits unrestricted use, distribution, and reproduction in any medium, provided the original work is properly cited (CC BY 4.0).

Share & Cite This Article
MDPI and ACS Style
Ede, J.D.; Ong, K.J.; Goergen, M.; Rudie, A.; Pomeroy-Carter, C.A.; Shatkin, J.A. Risk Analysis of Cellulose Nanomaterials by Inhalation: Current State of Science. Nanomaterials 2019, 9, 337.
Note that from the first issue of 2016, MDPI journals use article numbers instead of page numbers. See further details here.
Related Articles
Comments
[Return to top]