Enhanced and Tunable Electrorheological Capability using Surface Initiated Atom Transfer Radical Polymerization Modification with Simultaneous Reduction of the Graphene Oxide by Silyl-Based Polymer Grafting
1
Centre of Polymer Systems, University Institute, Tomas Bata University in Zlin, Trida T. Bati 5678, 760 01 Zlin, Czech Republic
2
Polymer Institute, Slovak Academy of Sciences, Dubravska cesta 9, 845 41 Bratislava 45, Slovakia
3
Department of Chemistry, Lodz University of Technology, Institute of Polymer and Dye Technology, 90 924, Lodz, Poland
4
Department of Polymer Engneering, Faculty of Technology, Tomas Bata University in Zlin, Vavreckova 275, 762 72 Zlin, Czech Republic
*
Author to whom correspondence should be addressed.
Received: 25 January 2019 / Revised: 11 February 2019 / Accepted: 13 February 2019 / Published: 24 February 2019
Abstract
In this study, a verified process of the "grafting from" approach using surface initiated atom transfer radical polymerization was applied for the modification of a graphene oxide (GO) surface. This approach provides simultaneous grafting of poly(2-(trimethylsilyloxy)ethyl methacrylate) (PHEMATMS) chains and a controllable reduction of the GO surface. This allows the fine tuning of its electrical conductivity, which is a crucial parameter for applications of such hybrid composite particles in electrorheological (ER) suspensions. The successful coating was confirmed by transmission electron microscopy and Fourier-transform infrared spectroscopy. The molecular characteristics of PHEMATMS were characterized by gel permeation chromatography. ER performance was elucidated using a rotational rheometer under various electric field strengths and a dielectric spectroscopy to demonstrate the direct impact of both the relaxation time and dielectric relaxation strength on the ER effectivity. Enhanced compatibility between the silicone oil and polymer-modified GO particles was investigated using contact angle measurements and visual sedimentation stability determination. It was clearly proven that the modification of the GO surface improved the ER capability of the system due to the tunable conductivity during the surface-initiated atom transfer radical polymerization (SI-ATRP) process and the enhanced compatibility of the GO particles, modified by polymer containing silyl structures, with silicone oil. These unique ER properties of this system appear very promising for future applications in the design of ER suspensions.
View Full-Text
►

▼

Figures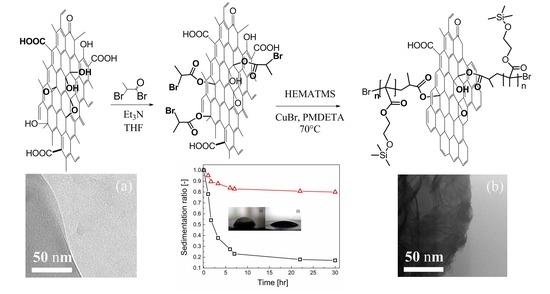 Graphical abstract
This is an open access article distributed under the
Creative Commons Attribution License
which permits unrestricted use, distribution, and reproduction in any medium, provided the original work is properly cited (CC BY 4.0).

Share & Cite This Article
MDPI and ACS Style
Kutalkova, E.; Mrlik, M.; Ilcikova, M.; Osicka, J.; Sedlacik, M.; Mosnacek, J. Enhanced and Tunable Electrorheological Capability using Surface Initiated Atom Transfer Radical Polymerization Modification with Simultaneous Reduction of the Graphene Oxide by Silyl-Based Polymer Grafting. Nanomaterials 2019, 9, 308.
Note that from the first issue of 2016, MDPI journals use article numbers instead of page numbers. See further details here.
Related Articles
Comments
[Return to top]