Label-Free Electrochemical Aptasensor for Sensitive Detection of Malachite Green Based on Au Nanoparticle/Graphene Quantum Dots/Tungsten Disulfide Nanocomposites
Key Laboratory of Molecular and Nano Probes, Ministry of Education, Shandong Provincial Key Laboratory of Clean Production of Fine Chemicals, Collaborative Innovation Center of Functionalized Probes for Chemical Imaging in Universities of Shandong, College of Chemistry, Chemical Engineering and Materials Science, Shandong Normal University, Jinan 250014, China
*
Author to whom correspondence should be addressed.
Received: 6 January 2019 / Revised: 1 February 2019 / Accepted: 4 February 2019 / Published: 8 February 2019
Abstract
A label-free electrochemical aptasensor was fabricated to sensitively determine malachite green (MG) based on Au nanoparticles/graphene quantum dots-tungsten disulfide nanosheet composite film modified glassy carbon electrode (AuNPs/GQDs-WS
2
/GCE). A facial strategy for the self-assembly of graphene quantum dots (GQDs) on tungsten disulfide nanosheets (WS
2
) was developed to fabricate 0D/2D nanocomposites. As-prepared GQDs-WS
2
hybrids exhibited significantly enhanced electrocatalytic properties, and were first used as electroactive materials to construct electrochemical aptasensor. The AuNPs/GQDs-WS
2
/GCE was prepared through depositing Au nanoparticles on the surface of the GQDs-WS
2
film, which acted as the electrochemical sensing matrix to covalently immobilize the aptamers of MG via the Au–S bond. In this label-free proposal, the aptasensor was applied to detect MG by monitoring voltammetric signal resulted from electrochemical oxidation of the MG captured by the aptamer. Under the optimized conditions, the aptasensor showed a wide linear range from 0.01 to 10 μM for MG detection with a low detection limit of 3.38 nM (S/N = 3). The method was applied to determination of MG in spiked fish samples and gave satisfactory results.
View Full-Text
►

▼

Figures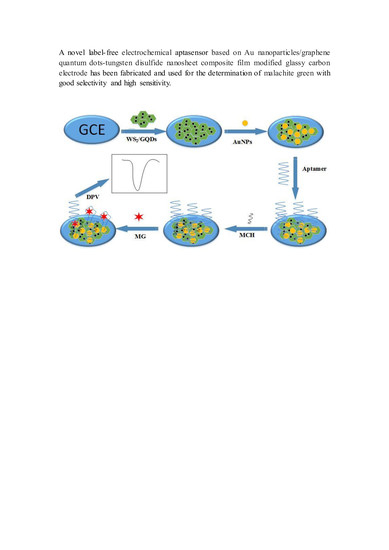 Graphical abstract
This is an open access article distributed under the
Creative Commons Attribution License
which permits unrestricted use, distribution, and reproduction in any medium, provided the original work is properly cited (CC BY 4.0).

Share & Cite This Article
MDPI and ACS Style
Wang, Q.; Qin, X.; Geng, L.; Wang, Y. Label-Free Electrochemical Aptasensor for Sensitive Detection of Malachite Green Based on Au Nanoparticle/Graphene Quantum Dots/Tungsten Disulfide Nanocomposites. Nanomaterials 2019, 9, 229.
Note that from the first issue of 2016, MDPI journals use article numbers instead of page numbers. See further details here.
Related Articles
Comments
[Return to top]