Biocompatibility and Bioimaging Potential of Fruit-Based Carbon Dots
1
INL—International Iberian Nanotechnology Laboratory, 4715-330 Braga, Portugal
2
CEB—Centre of Biological Engineering, University of Minho, 4720-057 Braga, Portugal
3
Department of Chemistry, B.S. Abdur Rahman Crescent Institute of Science and Technology, Vandalur, Chennai-600048, India
4
UCIBIO-REQUIMTE, Laboratory of Toxicology, Biological Sciences Department, Faculty of Pharmacy, University of Porto, Rua de Jorge Viterbo Ferreira, 228, 4050–313 Porto, Portugal
*
Authors to whom correspondence should be addressed.
†
These authors contributed equally to this work.
Received: 13 December 2018 / Revised: 31 January 2019 / Accepted: 31 January 2019 / Published: 3 February 2019
Abstract
Photo-luminescent carbon dots (CD) have become promising nanomaterials and their synthesis from natural products has attracted attention by the possibility of making the most of affordable, sustainable and, readily-available carbon sources. Here, we report on the synthesis, characterization and bioimaging potential of CDs produced from diverse extensively produced fruits: kiwi, avocado and pear. The in vitro cytotoxicity and anticancer potential of those CDs were assessed by comparing human epithelial cells from normal adult kidney and colorectal adenocarcinoma cells. In vivo toxicity was evaluated using zebrafish embryos given their peculiar embryogenesis, with transparent embryos developing ex-utero, allowing a real-time analysis. In vitro and in vivo experiments revealed that the synthesized CD presented toxicity only at concentrations of ≥1.5 mg mL
−1
. Kiwi CD exhibited the highest toxicity to both cells lines and zebrafish embryos, presenting lower LD
50
values. Interestingly, despite inducing lower cytotoxicity in normal cells than the other CDs, black pepper CDs resulted in higher toxicity in vivo. The bio-distribution of CD in zebrafish embryos upon uptake was investigated using fluorescence microscopy. We observed a higher accumulation of CD in the eye and yolk sac, avocado CD being the ones more retained, indicating their potential usefulness in bio-imaging applications. This study shows the action of fruit-based CDs from kiwi, avocado and pear. However the compounds present in these fruit-based CDs and their mechanism of action as a bioimaging agent need to be further explored.
View Full-Text
►

▼

Figures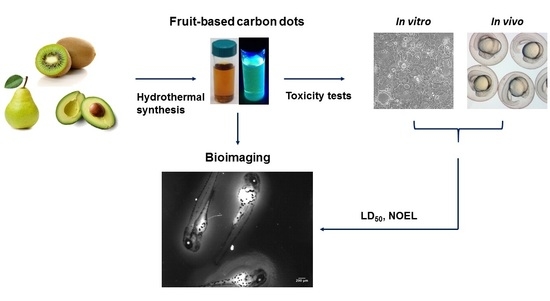 Graphical abstract
This is an open access article distributed under the
Creative Commons Attribution License
which permits unrestricted use, distribution, and reproduction in any medium, provided the original work is properly cited (CC BY 4.0).

Share & Cite This Article
MDPI and ACS Style
Dias, C.; Vasimalai, N.; P. Sárria, M.; Pinheiro, I.; Vilas-Boas, V.; Peixoto, J.; Espiña, B. Biocompatibility and Bioimaging Potential of Fruit-Based Carbon Dots. Nanomaterials 2019, 9, 199.
Note that from the first issue of 2016, MDPI journals use article numbers instead of page numbers. See further details here.
Related Articles
Comments
[Return to top]