Green Synthesis of High Temperature Stable Anatase Titanium Dioxide Nanoparticles Using Gum Kondagogu: Characterization and Solar Driven Photocatalytic Degradation of Organic Dye
1
Department of Chemistry, School of Physical Sciences, Central University of Kerala, Kerala 671316, India
2
Institute for Nanomaterials, Advanced Technologies and Innovation (CXI), Technical University of Liberec (TUL), Studentská 1402/2, 46117 Liberec 1, Czech Republic
3
Centre for Water Soluble Polymers, Applied Science, Faculty of Arts, Science and Technology, Wrexham Glyndwr University, Wrexham LL11 2AW, Wales, UK
4
Department of Biochemistry and Molecular Biology, School of Biological Sciences, Central, University of Kerala, Kerala 671316, India
*
Authors to whom correspondence should be addressed.
Received: 28 October 2018 / Revised: 29 November 2018 / Accepted: 1 December 2018 / Published: 4 December 2018
Abstract
The present study reports a green and sustainable method for the synthesis of titanium dioxide (TiO
2
) nanoparticles (NPs) from titanium oxysulfate solution using Kondagogu gum (
Cochlospermum gossypium
), a carbohydrate polymer, as the NPs formation agent. The synthesized TiO
2
NPs were categorized by techniques such as X-Ray Diffraction (XRD), Fourier transform infrared (FTIR) spectroscopy analysis, Raman spectroscopy, scanning electron microscope- Energy-dispersive X-ray spectroscopy (SEM-EDX), Transmission electron microscopy (TEM), High-resolution transmission electron microscopy (HR-TEM), UV-visible spectroscopy, Brunauer-Emmett-Teller (BET) surface area and particle size analysis. Additionally, the photocatalytic actions of TiO
2
NPs were assessed with regard to their ability to degrade an organic dye (methylene blue) from aqueous solution in the presence of solar light. Various parameters affecting the photocatalytic activity of the TiO
2
NPs were examined, including catalyst loading, reaction time, pH value and calcination temperature of the aforementioned particles. This green synthesis method involving TiO
2
NPs explores the advantages of inexpensive and non-toxic precursors, the TiO
2
NPs themselves exhibiting excellent photocatalytic activity against dye molecules.
View Full-Text
►

▼

Figures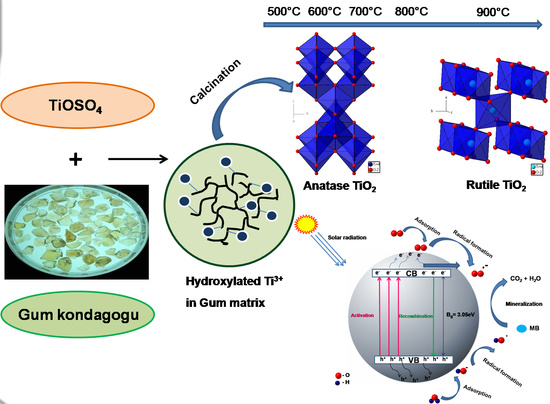 Graphical abstract
This is an open access article distributed under the
Creative Commons Attribution License
which permits unrestricted use, distribution, and reproduction in any medium, provided the original work is properly cited (CC BY 4.0).

Share & Cite This Article
MDPI and ACS Style
Saranya, K.S.; Vellora Thekkae Padil, V.; Senan, C.; Pilankatta, R.; Saranya, K.; George, B.; Wacławek, S.; Černík, M. Green Synthesis of High Temperature Stable Anatase Titanium Dioxide Nanoparticles Using Gum Kondagogu: Characterization and Solar Driven Photocatalytic Degradation of Organic Dye. Nanomaterials 2018, 8, 1002.
Note that from the first issue of 2016, MDPI journals use article numbers instead of page numbers. See further details here.
Related Articles
Comments
[Return to top]