Open Access This article is
freely available
re-usable
Article
Characterisation of the PS-PMMA Interfaces in Microphase Separated Block Copolymer Thin Films by Analytical (S)TEM
1
'Nanostructuring, Nanoanalysis and Photonic Materials' Group, Department of Physics, Paderborn University, 33098 Paderborn, Germany
2
Institute of Lightweight Design with Hybrid Materials (ILH), 33098 Paderborn, Germany
3
Center for Optoelectronics and Photonics Paderborn (CeOPP), 33098 Paderborn, Germany
*
Author to whom correspondence should be addressed.
Received: 18 December 2019 / Accepted: 9 January 2020 / Published: 13 January 2020
Abstract
:
Block copolymer (BCP) self-assembly is a promising tool for next generation lithography as microphase separated polymer domains in thin films can act as templates for surface nanopatterning with sub-20 nm features. The replicated patterns can, however, only be as precise as their templates. Thus, the investigation of the morphology of polymer domains is of great importance. Commonly used analytical techniques (neutron scattering, scanning force microscopy) either lack spatial information or nanoscale resolution. Using advanced analytical (scanning) transmission electron microscopy ((S)TEM), we provide real space information on polymer domain morphology and interfaces between polystyrene (PS) and polymethylmethacrylate (PMMA) in cylinder- and lamellae-forming BCPs at highest resolution. This allows us to correlate the internal structure of polymer domains with line edge roughnesses, interface widths and domain sizes. STEM is employed for high-resolution imaging, electron energy loss spectroscopy and energy filtered TEM (EFTEM) spectroscopic imaging for material identification and EFTEM thickness mapping for visualisation of material densities at defects. The volume fraction of non-phase separated polymer species can be analysed by EFTEM. These methods give new insights into the morphology of polymer domains the exact knowledge of which will allow to improve pattern quality for nanolithography.
Keywords:
block copolymers; self-assembly; polymer interface; nanostructure metrology; line edge roughness LER; (S)TEM; STEM-EELS of PS and PMMA
Supplementary Materials
The following are available online at
https://www.mdpi.com/2079-4991/10/1/141/s1
, Figure S1: Comparison of bright-field TEM at 200 kV and 60 kV acceleration voltage, Video S1: EFTEM-SI of PS-PMMA 50:50, Figure S2: EFTEM-SI image series of 70:30 PS:PMMA BCP., Figure S3: EFTEM-SI image series of 30:70 PS:PMMA BCP.
Author Contributions
Conceptualization, K.B.; methodology, J.B., J.K.N.L.; investigation, J.B., V.S.K., D.K., K.B., J.K.N.L.; writing—original draft preparation, K.B.; writing—review and editing, K.B., J.K.N.L.; visualization, J.B.; supervision, K.B. and J.K.N.L. All authors have read and agreed to the published version of the manuscript.
Funding
This research was partially funded by the state of Northrhine Westfalia via the Forschungskolleg 'Leicht-Effizient-Mobil' (LEM).
Acknowledgments
The authors thank Mirko Schaper, Dept. of Mechanical Engineering at Paderborn University, for providing access to the SEM.
Conflicts of Interest
The authors declare no conflict of interest. The funders had no role in the design of the study; in the collection, analyses, or interpretation of data; in the writing of the manuscript, or in the decision to publish the results.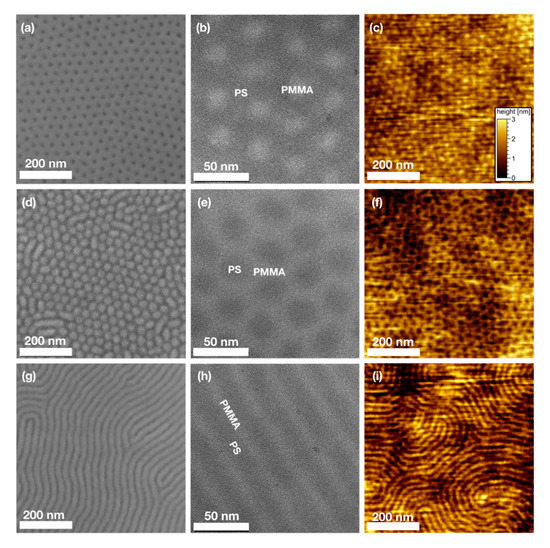 Figure 1. SEM, AFM and TEM images of the three polystyrene (PS)-b-PMMA block copolymers (BCPs) with block length ratios of (a–c) PS:PMMA 70:30, (d–f) PS:PMMA 30:70 and (g–i) PS:PMMA 50:50, respectively. (a,d,g) show SEM images, (b,e,h) display bright field TEM images and (c,f,i) are AFM height images with same height scales as in (c). In all images, both polymer species are apparent and no staining or other sample treatment was used.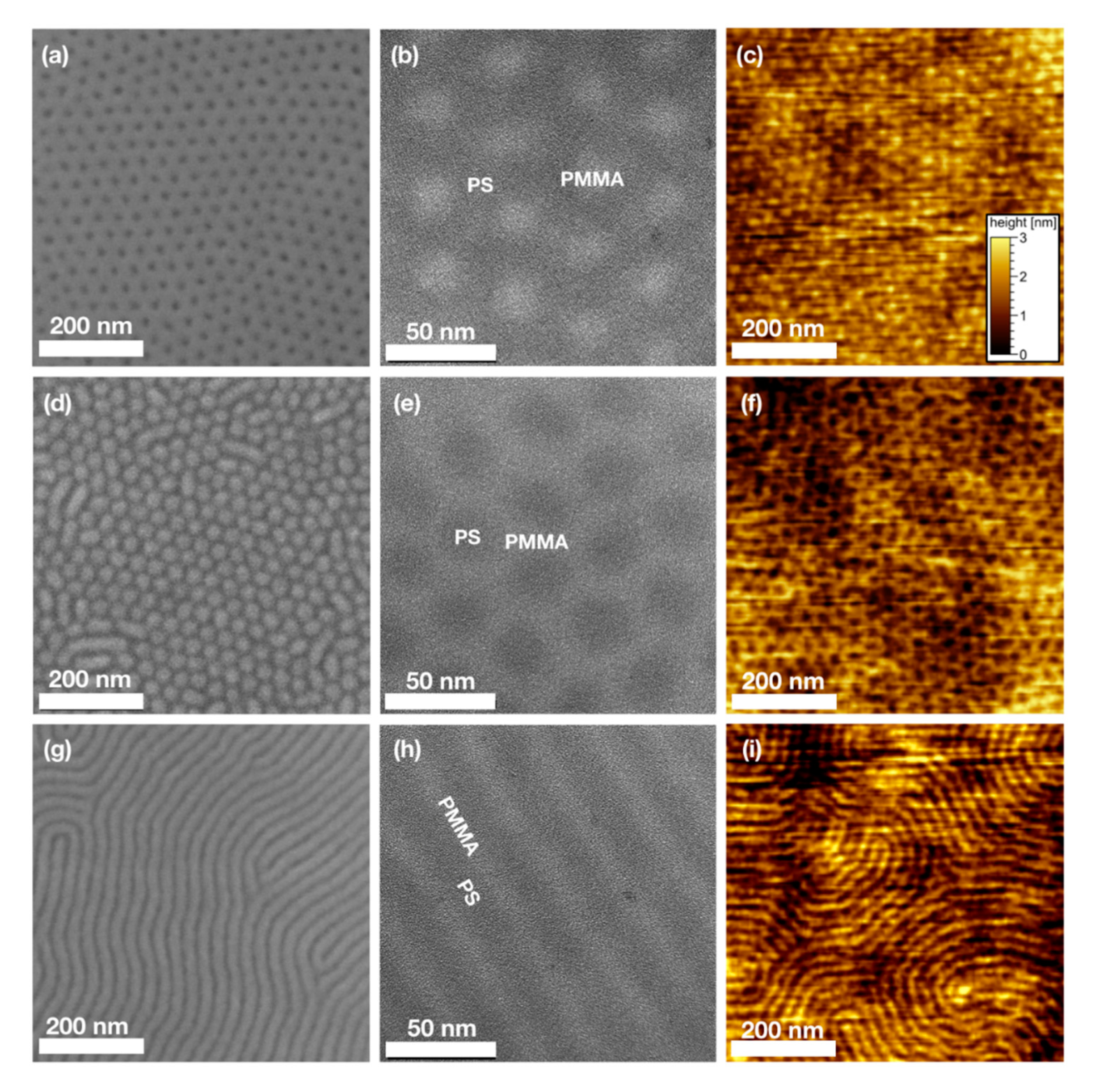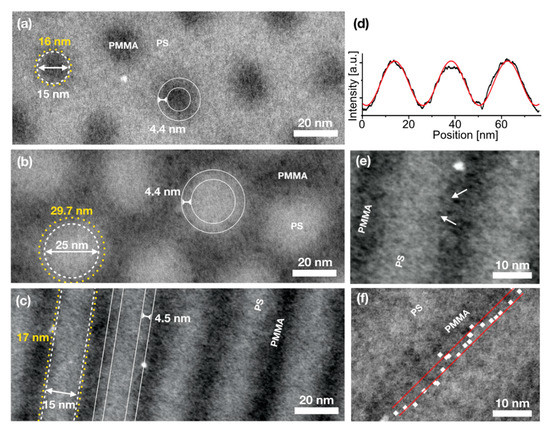 Figure 2.
STEM-annular dark field (ADF) images of PS-
b
-PMMA BCPs with block length ratios of (
a
) PS:PMMA 70:30, (
b
) PS:PMMA 30:70 and (
c
) PS:PMMA 50:50 with bright contrast of PS and darker contrast of PMMA. Sketches in these images mark the domain sizes as measured by SEM (white dashed lines), domain sizes determined at 50% contrast in STEM ADF (yellow dotted lines) and theoretical interfacial widths of 4.4 and 4.5 nm (white solid lines). (
d
) Contrast profile perpendicular to alternating PS and PMMA lamellae as in (
c
) (black) superimposed by a sinusoidal fit (red). (
e
) Image section of BCP PS:PMMA 50:50 at higher magnification. White arrows mark grains of opposite contrast which might contain entrapped foreign polymer. (
f
) Image section of BCP PS:PMMA 50:50 with identified positions of 50% contrast (white dots) and resulting line edge roughness (LER) (distance of red lines = 3.2 nm).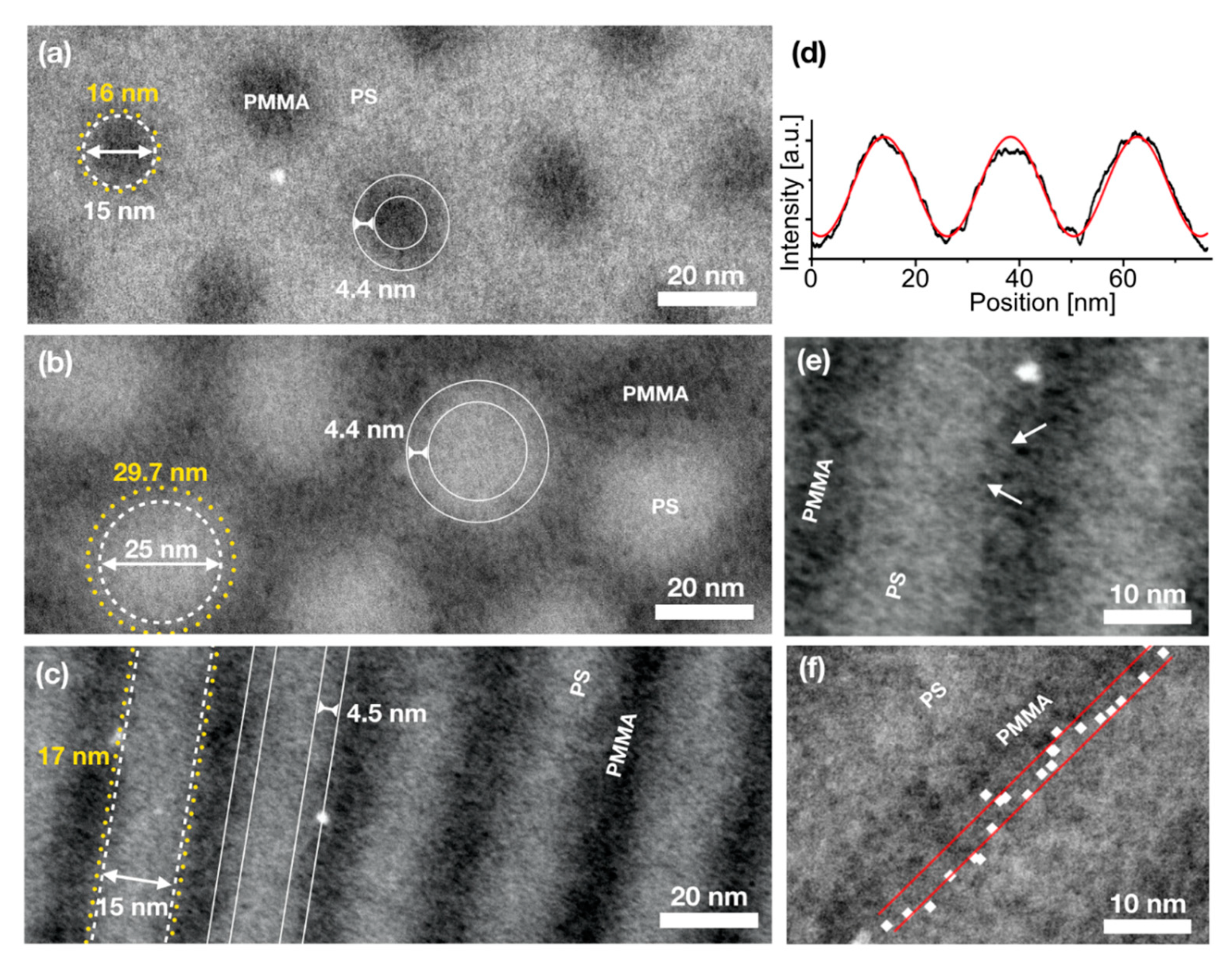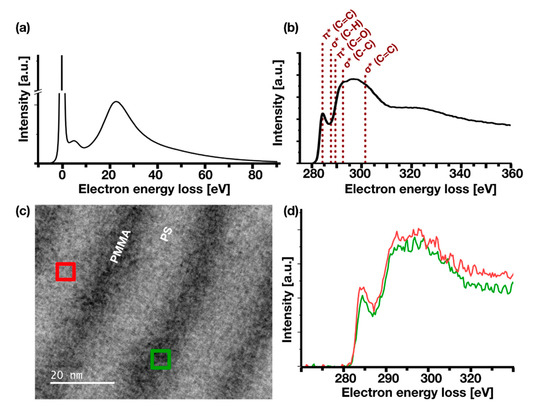 Figure 3.
TEM-electron energy loss (EEL) spectra of BCP PS:PMMA 50:50 showing (
a
) the low-loss region and (
b
) high-loss at the carbon K-edge with assignment of peaks in (
b
) according to References [
65
,
66
,
67
,
68
]. (
c
) STEM-ADF image with marked positions of corresponding STEM-EELS spectra in (
d
). The spectra are displayed after zero-loss peak alignment and background subtraction.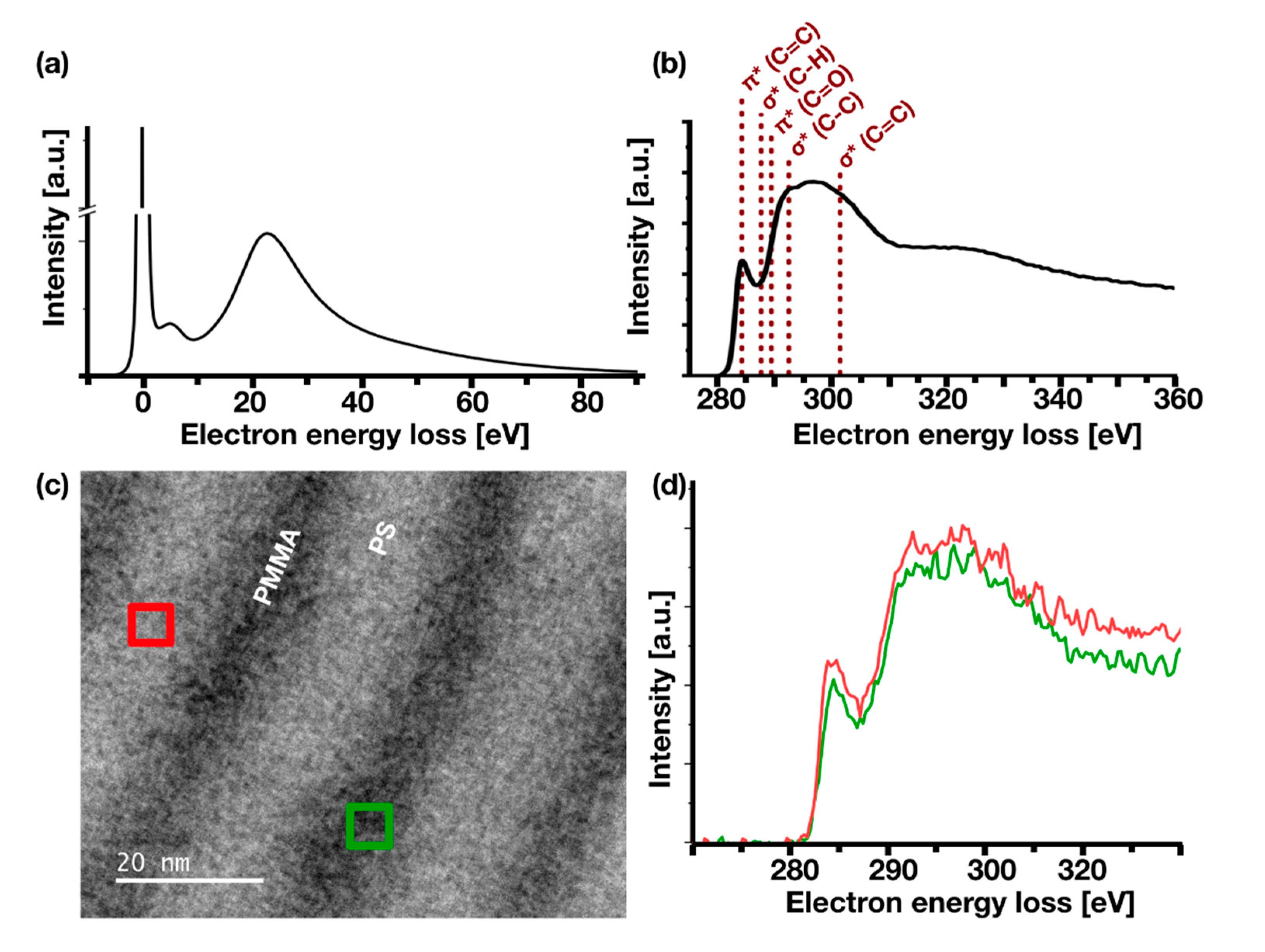 Figure 4. Energy-filtered TEM spectroscopic imaging of lamellae-forming BCP PS:PMMA 50:50. Images are collected from energy windows between −5 eV and +115 eV with an energy filter slit width of 10 eV. Energies noted in each image refer to the window centre. All scale bars are 50 nm.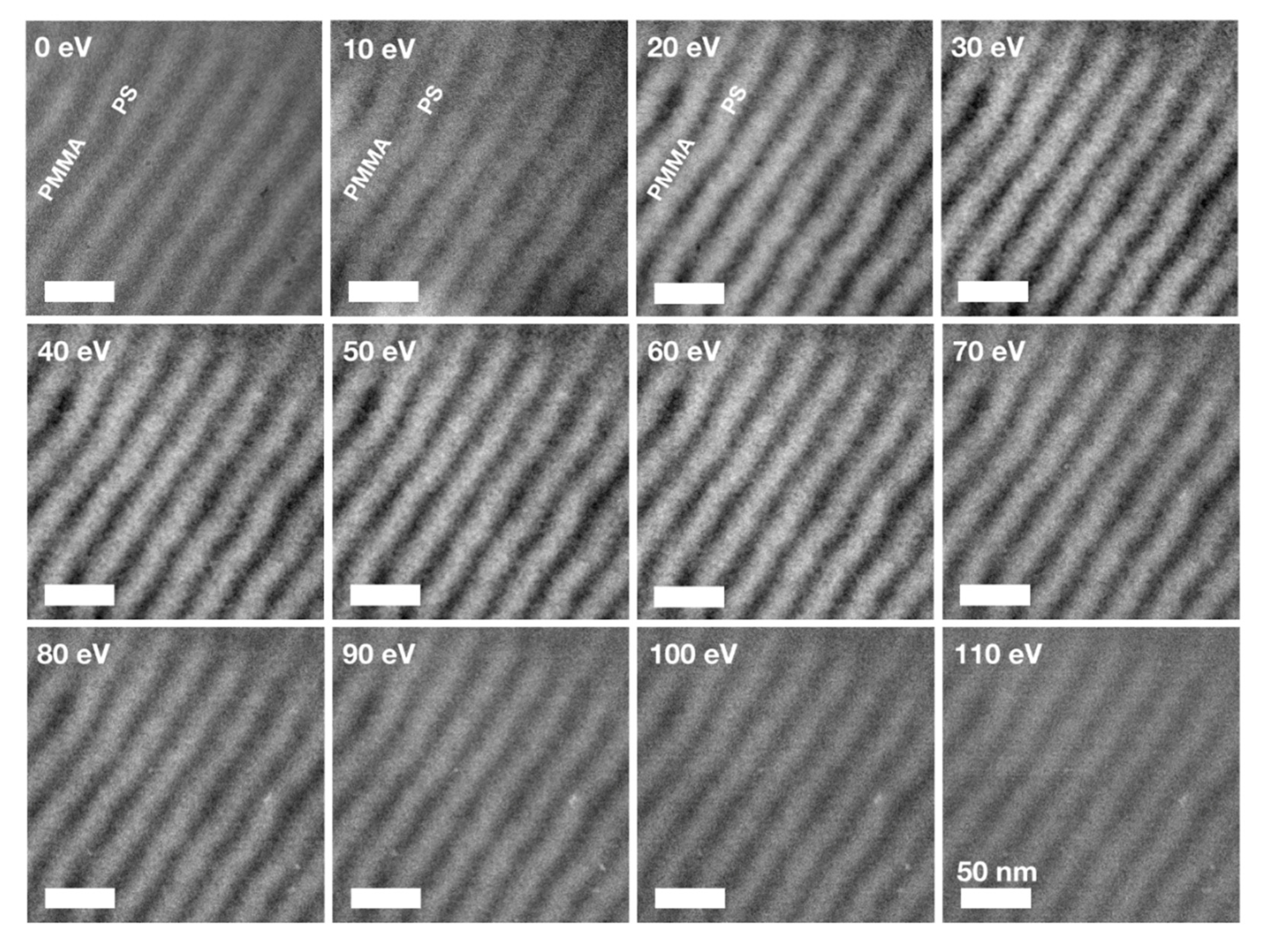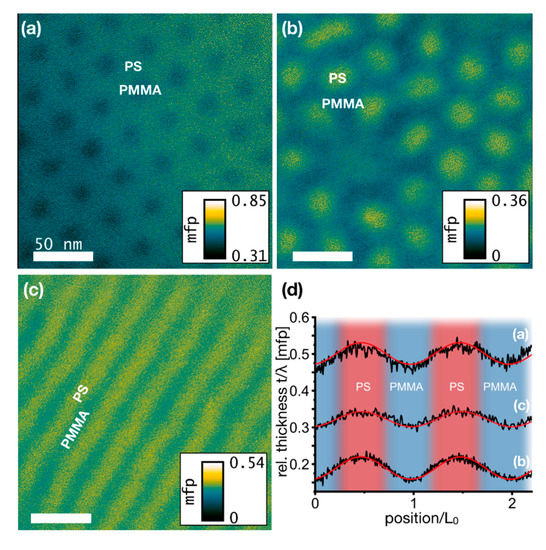 Figure 5. Energy-filtered TEM thickness maps of three BCPs with block length ratios of (a) PS:PMMA 70:30, (b) PS:PMMA 30:70 and (c) PS:PMMA 50:50. Colour coded maps display film thickness in units of mean free path (mfp). Lateral scale bars are all 50 nm. The small gradient in (a) from the lower left to the upper right corner is due to bending of the free polymer membrane close to a hole in the supporting Quantifoil film. (d) Line plots across polymer domains (position normalised to L0 of each polymer).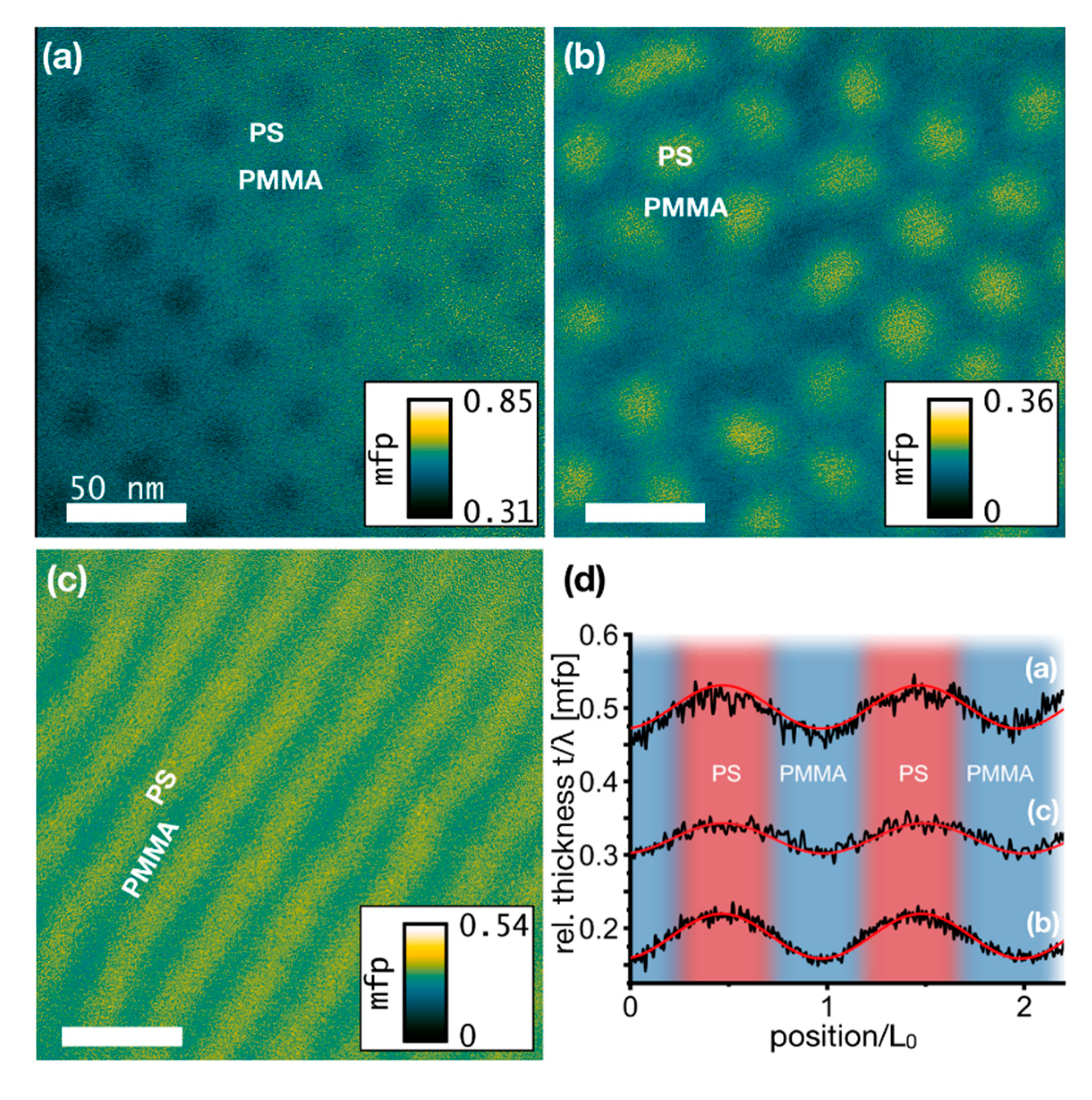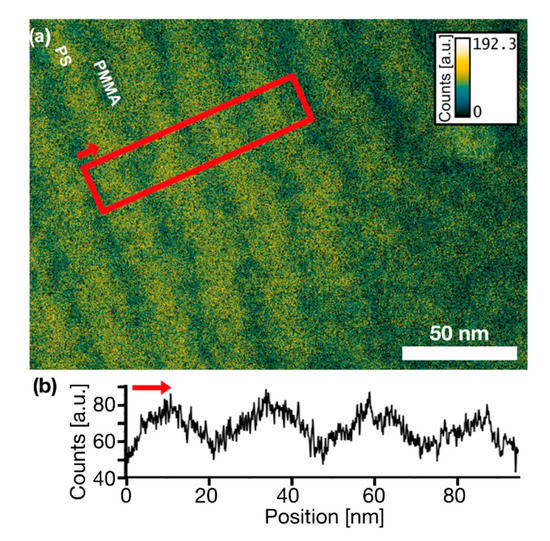 Figure 6. (a) Energy filtered TEM (EFTEM) carbon map and (b) concentration line-plot corresponding to the red marked area. The arrows display the direction of the line-plot.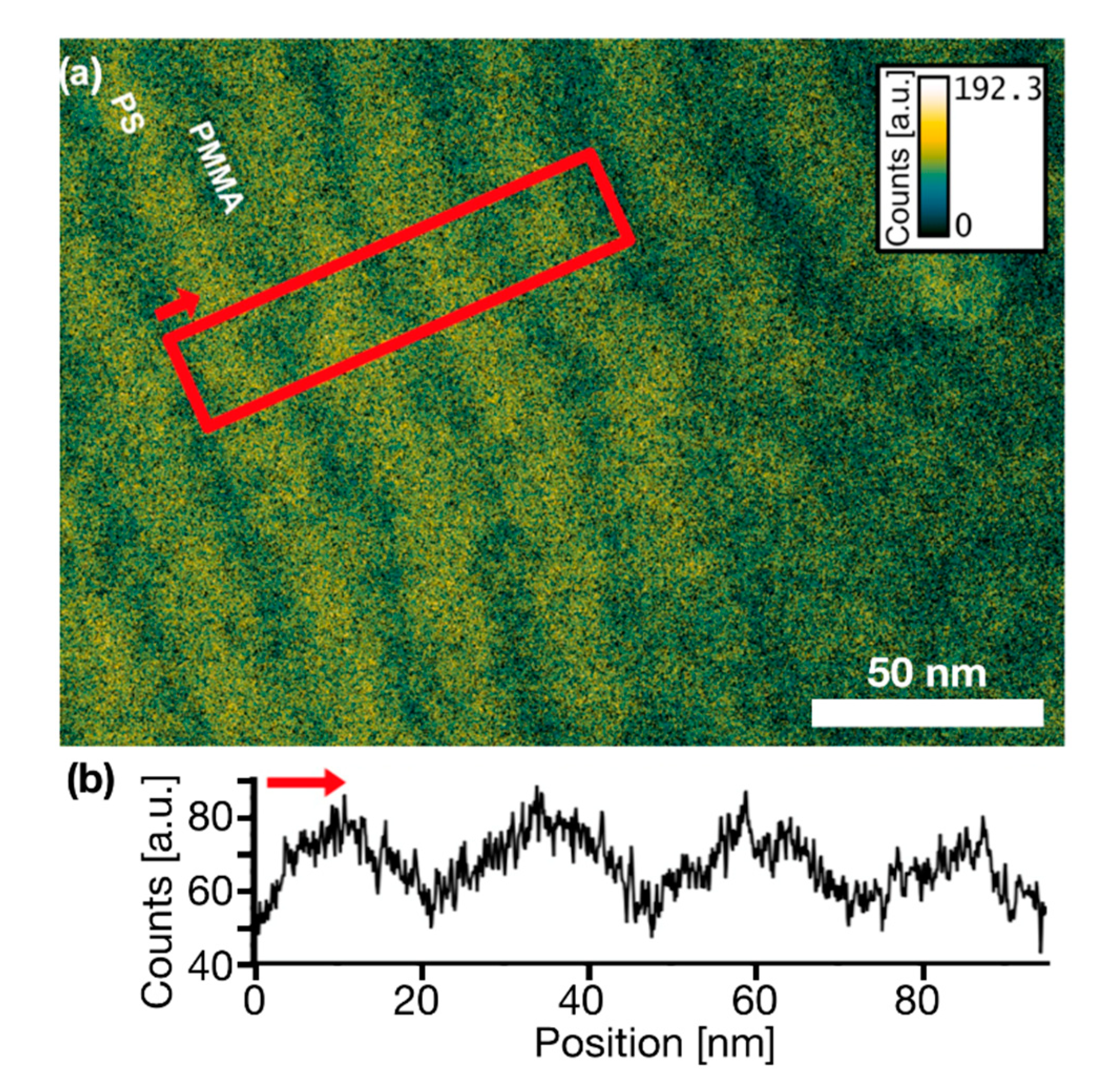 Table 1. Overview of polymer specifics. Molecular weights Mn (PS-PMMA), polymerisation degrees NPS-NPMMA, product of Flory Huggins parameter and polymerisation degree χN, domain size dSEM and periodicity L0,SEM determined from SEM images, domain size dTEM determined by TEM, height differences between polymer domains hAFM determined by atomic force microscopy (AFM) (with polymethylmethacrylate (PMMA) domains exhibiting a larger thickness), interfacial widths ∆x after Hannon/Kline and positional fluctuation of interface σ.
| Polymer | Mn (PS-PMMA) [kg/mol] | NPS-NPMMA | χN | dSEM [nm] | L0,SEM [nm] | dTEM [nm] | hAFM [nm] | ∆x [nm] | σ [nm] |
| --- | --- | --- | --- | --- | --- | --- | --- | --- | --- |
| PS:PMMA 70:30 | 46.1–21.0 | 443–210 | 23.9 | 15.0± 2.6 a | 35.0 ± 4.4 | 16.0 ± 0.9 a | 1.12 ± 0.30 | 4.39 | 1.04 |
| PS:PMMA 30:70 | 20.2–50.5 | 194–505 | 25.6 | 24.6± 4.5 b | 35.6 ± 6.0 | 29.7 ± 0.6 b | 1.15 ± 0.27 | 4.36 | 1.04 |
| PS:PMMA 50:50 | 25.0–26.0 | 240–257 | 18.2 | 14.7 ± 2.4 c | 24.3 ± 1.2 | 9.2 c | 1.28 ± 0.28 | 4.53 | 0.93 |
a Diameter of PMMA cylinder; b diameter of PS cylinder; c width of PS lamella.

© 2020 by the authors. Licensee MDPI, Basel, Switzerland. This article is an open access article distributed under the terms and conditions of the Creative Commons Attribution (CC BY) license (http://creativecommons.org/licenses/by/4.0/).