Impact of Different Titanium Implant Thread Designs on Bone Healing: A Biomechanical and Histometric Study with an Animal Model
1
Department of Research, Biotecnos CP 11100-Montevideo, Uruguay
2
Instituto de Bioingenieria, Universidad Miguel Hernández, Avda. Ferrocarril s/n, 03202 Elche (Alicante), Spain
3
Department of Anatomy, Faculty of Veterinary, Universidade de Rio Verde, 104, Rio Verde-GO 75901-970, Brazil
4
Laboratorio de Interacciones Molecular, Facultad de Ciencias, Universidad de la Republica, Calle Iguá 4225, 11400 Montevideo, Uruguay
5
Department of Oral and Implant Surgery, Faculty of Health Sciences, Universidad Católica de Murcia (UCAM), 30107 Murcia, Spain
6
Departamento de Materiales, Óptica y Tecnologia Electrónica, Universidad Miguel Hernández, Avda. Universidad s/n, 03202 Elche (Alicante), Spain
*
Author to whom correspondence should be addressed.
Received: 14 April 2019 / Revised: 15 May 2019 / Accepted: 17 May 2019 / Published: 31 May 2019
Abstract
Threads of dental implants with healing chamber configurations have become a target to improve osseointegration. This biomechanical and histometric study aimed to evaluate the influence of implant healing chamber configurations on the torque removal value (RTv), percentage of bone-to-implant contact (BIC%), bone fraction occupancy inside the thread area (BAFO%), and bone and osteocyte density (Ost) in the rabbit tibia after two months of healing. Titanium implants with three different thread configurations were evaluated: Group 1 (G1), with a conventional "v" thread-shaped implant design; Group 2 (G2), with square threads; and Group 3 (G3), the experimental group with longer threads (healing chamber). Ten rabbits (4.5 ± 0.5 kg) received three implants in each tibia (one per group), distributed in a randomized manner. After a period of two months, the tibia blocks (implants and the surrounding tissue) were removed and processed for ground sectioning to evaluate BIC%, BAFO%, and osteocyte density. The ANOVA one-way statistical test was used followed by the Bonferoni's multiple comparison test to determine individual difference among groups, considering a statistical difference when
p
< 0.05. Histometric evaluation showed a higher BAFO% values and Ost density for G3 in comparison with the other two groups (G1 and G2), with
p
< 0.05. However, the RTv and BIC% parameters were not significantly different between groups (
p
> 0.05). The histological data suggest that the healing chambers in the implant macrogeometry can improve the bone reaction in comparison with the conventional thread design.
View Full-Text
►

▼

Figures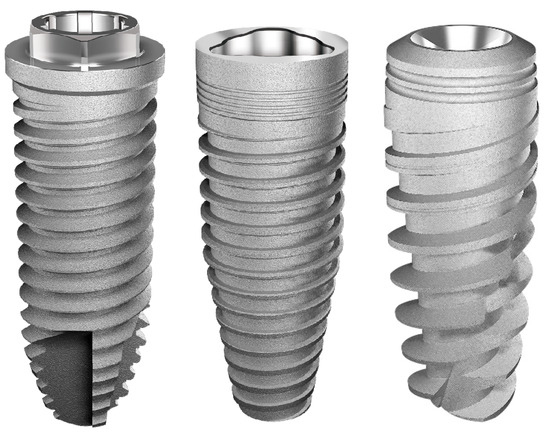 Figure 1
This is an open access article distributed under the
Creative Commons Attribution License
which permits unrestricted use, distribution, and reproduction in any medium, provided the original work is properly cited (CC BY 4.0).

Share & Cite This Article
MDPI and ACS Style
Gehrke, S.A.; Eliers Treichel, T.L.; Pérez-Díaz, L.; Calvo-Guirado, J.L.; Aramburú Júnior, J.; Mazón, P.; de Aza, P.N. Impact of Different Titanium Implant Thread Designs on Bone Healing: A Biomechanical and Histometric Study with an Animal Model. J. Clin. Med. 2019, 8, 777.
Note that from the first issue of 2016, MDPI journals use article numbers instead of page numbers. See further details here.
Related Articles
Comments
[Return to top]