Open Access This article is
freely available
re-usable
Review
Contribution of Epithelial Plasticity to Therapy Resistance
1
Departamento de Bioquímica, Universidad Autónoma de Madrid (UAM), Instituto de Investigaciones Biomédicas 'Alberto Sols' (CSIC-UAM), IdiPAZ, c/ Arzobispo Morcillo 4, 28029 Madrid, Spain
2
Centro de Investigación Biomédica en Red de Cáncer (CIBERONC), c/ Monforte de Lemos 3-5, 28029 Madrid, Spain
3
Fundación MD Anderson Internacional, c/ Gómez Hemans 2, 28033 Madrid, Spain
*
Authors to whom correspondence should be addressed.
Received: 15 April 2019 / Accepted: 10 May 2019 / Published: 14 May 2019
Abstract
:
Therapy resistance is responsible for tumour recurrence and represents one of the major challenges in present oncology. Significant advances have been made in the understanding of the mechanisms underlying resistance to conventional and targeted therapies improving the clinical management of relapsed patients. Unfortunately, in too many cases, resistance reappears leading to a fatal outcome. The recent introduction of immunotherapy regimes has provided an unprecedented success in the treatment of specific cancer types; however, a good percentage of patients do not respond to immune-based treatments or ultimately become resistant. Cellular plasticity, cancer cell stemness and tumour heterogeneity have emerged as important determinants of treatment resistance. Epithelial-to-mesenchymal transition (EMT) is associated with resistance in many different cellular and preclinical models, although little evidence derives directly from clinical samples. The recognition of the presence in tumours of intermediate hybrid epithelial/mesenchymal states as the most likely manifestation of epithelial plasticity and their potential link to stemness and tumour heterogeneity, provide new clues to understanding resistance and could be exploited in the search for anti-resistance strategies. Here, recent evidence linking EMT/epithelial plasticity to resistance against conventional, targeted and immune therapy are summarized. In addition, future perspectives for related clinical approaches are also discussed.
Keywords:
epithelial–mesenchymal transition; hybrid E/M states; plasticity; tumour heterogeneity; treatment resistance; immunotherapy scape
1. Introduction
The emergence of therapy resistance is one of the main unsolved issues in present oncology and represents a major hurdle to defeating cancer.
2. Tumour Heterogeneity and Epithelial Plasticity: Traits Conferring Tumour Aggressiveness and Resistance
3. Evidence Linking EMT to Treatment Resistance
Work in cancer cellular models and patient samples, mostly analysing gene expression profiles that can be associated with therapy response, have allowed to establish a link between the gene expression associated with an EMT program and the development of therapeutic resistance [
8
]. The underlying mechanisms have been extensively reviewed [
8
,
23
,
28
] being essentially related to increased ability of EMT cells to avoid apoptosis induced by most standard anti-cancer drugs, implementation of mechanisms mediating drug detoxification and expression of immunosuppressive and immunoevasive molecules to avoid attack by the immune system. While the impact of hybrid E/M states to tumour aggressiveness is starting to be elucidated [
29
], several signalling pathways and molecular mechanisms are emerging as potential common traits of EMT and treatment resistance. For instance, a cellular signalling network consistently linked to EMT-mediated drug resistance across different cancer types is conveyed by the AXL tyrosine kinase receptor (known as AXL) that alters mitogen-activated protein kinase (MAPK)/ERK and phosphoinositide 3 kinase (PI3K)/Akt signalling pathways favouring proliferation, survival, migration and invasion [
74
]. Briefly, the AXL relationship to EMT (either as effector or inducer) has been explored in different tumour types, being associated with metastasis and drug resistance and, thus worse prognosis in patients (recently reviewed in Reference [
74
]). Additionally, AXL has been implicated in engaging other receptor tyrosine kinases (RTKs) and their downstream signalling in ovarian cancer [
75
] or epidermal growth factor receptor (EGFR) signalling in TNBC [
76
], which seem to be relevant in EMT cancer cells and associated resistance to RTK-targeted therapies.
In addition, a cellular adaptive mechanism known as the unfolded protein response (UPR) is activated to cope with the endoplasmic reticulum stress resulting from tumour progression (reviewed in References [
77
,
78
,
79
]). In cancer cells, UPR activation reduces the pro-apoptotic effects of several chemotherapeutic drugs and favours drug detoxifying mechanisms. Unfolded protein response activation has been suggested to uphold EMT, becoming both programs' allies in cancer initiation and progression (reviewed in another chapter in this special issue [
80
]) and contributing to cellular adaptive mechanisms responsible for chemotherapy resistance.
Tumour microenvironments can also have an important role in EMT and treatment resistance. Numerous studies have demonstrated that EMT programs in cancer cells are elicited by an array of signals originating from the different components of the tumour stroma [
24
,
42
,
44
]. Among them, cancer associated fibroblasts (CAFs), tumour associated macrophages (TAMs), infiltrating T-lymphocytes and myeloid-derived suppressor cells (MDSCs) can play prominent roles in the paracrine regulation of EMT induction, mainly mediated by TGFβ, tumor necrosis factor alpha (TNFα) or interleukin 6 (IL-6) secretion, among other cytokines and growth factors (reviewed in References [
8
,
23
]). The cytokine TGFβ is perhaps the most potent EMT-inducing signal in many different tumour contexts and indeed its secretion by CAFs and/or TAMs leads to EMT induction in breast cancer and hepatocarcinoma, among other tumour cells [
81
,
82
,
83
,
84
], while IL-6 secretion by CAFs has been associated to EMT-mediated resistance in non-small cell lung cancer (NSCLC) [
85
]. Interestingly, TGFβ has been proposed as a determinant of metastatic dissemination in CRC models [
86
] and poor prognosis CRC subtypes share a gene program driven by stromal TGFβ that seems to be associated with treatment resistance [
87
]. Recently, stromal TGFβ has been linked to immune evasion in CRC and urothelial tumours [
88
,
89
], although the potential connection to EMT induction has not been directly addressed. At present, the influence of the microenvironment in regulating intermediate E/M states and their association with therapeutic resistance is basically unknown, but it can be speculated that paracrine signals from CAFs, TAMs and other stromal components are relevant players in the dynamic regulation of epithelial plasticity in cancer progression.
3.1. Studies on Tumour Cell Lines
There are many examples in different cancer settings in which the expression of one or several core EMT-TFs is linked to increased resistance to radio- and chemotherapy as well as to targeted therapy [
19
,
20
,
90
,
91
,
92
,
93
,
94
,
95
]. Moreover, resistant tumour cells in culture frequently exhibit a mesenchymal phenotype [
8
] supporting the EMT involvement in therapy resistance. We will next discuss recent literature exemplifying such a link in several cellular cancer models.
3.2. Computational Modelling Analyses on Epithelial Plasticity and Tumour Resistance
The presence of heterogeneous phenotypes within tumours before treatment and their plausible plastic transition across different E/M states might be useful to inform the outcome and, thus select therapies targeting particular phenotypes. To gain insight into phenotypic plasticity involvement in tumour heterogeneity and drug resistance, Gupta and co-workers [
125
] developed a method to mark the few cells within a breast cancer cell line that contain subpopulations of both epithelial and mesenchymal phenotypes. Expansion of this cell line originated clones composed of epithelial or mesenchymal cells or a mixture of both. In addition to concluding that phenotypic plasticity is inherited, these authors used these in vitro data gathered from these marked clones to perform computational simulations of the outcome of tumours containing mixed clones with different E/M phenotypes upon drug treatment. They modelled the effect of different chemotherapeutic drugs, selectively targeting epithelial or mesenchymal phenotypes, in different therapy regimens and concluded that the most efficient treatment is the combination therapy, repeated alternation of drugs targeting epithelial or mesenchymal phenotypes compared to monotherapy or sequential therapy [
125
].
Other computational modelling has provided an EMT metric to predict the extent of the EMT status, either epithelial, mesenchymal or hybrid E/M, of a given transcriptomic sample, aiming at being clinically informative [
67
]. Based on data from gene expression profiles, this EMT score has been validated in cancer cell lines with known EMT phenotypes and it provides valuable information regarding EMT score and survival as well as relapse upon treatment.
3.3. Studies on Mouse Models
At present, few reports have analysed EMT and treatment resistance in cancer mouse models, aside from analyses of xenografted tumour cell lines in immune-deficient mice.
A role for EMT in in vivo chemoresistance has been backed recently by two studies in mouse cancer models based on EMT downregulation [
58
,
59
]. Pancreatic mouse tumours generated after knocking down Snail or Twist were more sensitive to gemcitabine, the standard of care drug [
59
]. Additionally, in an EMT lineage tracing mouse model of breast cancer, EMT inhibition by miR-200 overexpression, which directly targeted
Zeb1
and
Zeb2
, the tumour resistance to the chemotherapy drug cyclophosphamide was abrogated [
58
]. Although the limitations of both studies regarding EMT contribution to metastasis have since been argued as already mentioned [
46
,
60
,
61
], they provided significant in vivo preclinical evidence of EMT involvement in chemoresistance.
4. Insights on EMT and Treatment Resistance in the Clinical Setting
The association of EMT and epithelial plasticity with resistance in the clinical context is not completely understood. As discussed above, EMT can provide tumour cells with the abilities to escape apoptosis, anoikis and senescence, among other traits and, thus confer treatment resistance in several preclinical models [
8
,
28
,
29
,
126
], but direct proof for this mechanistic link in tumours is still missing.
Nevertheless, different evidence supports the impact of EMT on treatment resistance in human tumours, such as the studies in which gene expression profiles from tumour samples are correlated to the clinical behaviour of treated patients. Some of these studies have resulted in the identification of several EMT-related gene expression signatures strongly associated with conventional and targeted therapy resistance, particularly in breast cancer and NSCLC [
96
,
127
,
128
].
4.1. EMT and Resistance to Conventional and Targeted Therapy
4.2. EMT and Immunotherapy: A Further Link to Immune Evasion
Further studies are required to precisely decipher the immune scape mechanisms occurring in cancer. Nevertheless, some hints point to an important contribution of EMT/epithelial plasticity to immune escape as well as a to the potential utility of EMT assessment in patients as a predictive biomarker for immune therapy selection.
5. Novel Perspectives for Targeting EMT-Mediated Resistance
6. Conclusions
The EMT program and epithelial plasticity have been associated with resistance to chemo, radio and targeted therapies, as well as to novel immune-based treatments in different tumour contexts. Mechanistic insights behind such relationships are starting to emerge from experimental cellular and preclinical tumour models. Although evidence in clinical settings is still scarce, the recent appreciation that intermediate or hybrid E/M states might represent a more likely situation in tumours, together with their potential involvement in tumour heterogeneity and stemness, are providing new opportunities to expand our understanding of the contribution of epithelial plasticity to treatment resistance. As depicted in
Figure 1
, the attained knowledge will provide additional means to design therapeutic strategies aimed at reverting resistance by targeting epithelial plasticity and eliminating E/M cells similar to the induction of irreversible differentiated cell states.
Author Contributions
All authors made substantial contributions to the conception, design and writing of the article and approved the submitted version. (Conceptualization, P.G.S., G.M.-B. and A.C.; writing—original draft preparation, P.G.S., G.M.-B. and A.C.; design of Figures and Tables, P.G.S., G.M.-B.; review and editing, P.G.S., G.M.-B. and A.C.; funding acquisition, P.G.S., G.M.-B. and A.C.).
Funding
This work was supported by grants from the Spanish Ministerio de Economía y Competividad (SAF2013-44739-R, SAF2016-76504-R) and Instituto de Salud Carlos III (CIBERONC 16/12/00295; PI16/00134), all of them partly supported by EU-FEDER fund, FC AECC (Grupos Estables de Investigación 2018-AECC) and Worldwide Cancer Research UK (formerly AICR, 12-1057 and 16-0295).
Acknowledgments
We thank members of the A. Cano lab for their insightful discussions.
Conflicts of Interest
The authors declare no conflict of interest.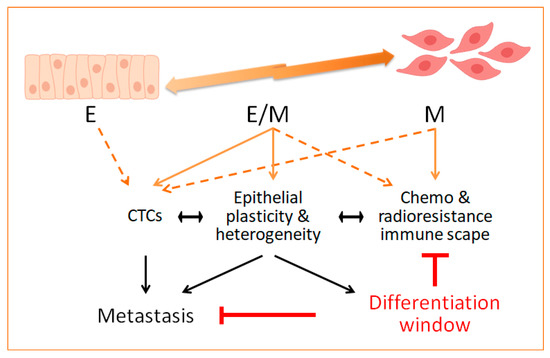 Figure 1. Tumours are formed by heterogeneous and phenotypically diverse cancer cell populations. During tumour progression, epithelial cells lose their apical–basal polarity and acquire mesenchymal traits through the Epithelial-to-mesenchymal transition (EMT) program. In vivo, EMT generates a wide spectrum of cellular phenotypes from epithelial (E) to mesenchymal (M) phenotypes, accompanied by gain of migratory and invasive abilities. Cells in hybrid E/M states give raise to heterogeneous populations, some endowed with stem cell-like features. These metastable E/M cells, able to rapidly adapt to changes in the tumour microenvironment, could ultimately be responsible for tumour resistance to anti-cancer therapy and immune scape. Indeed, hybrid E/M cells are associated with tumour progression, metastatic dissemination and tumour recurrence since they thrive in hostile situations due to their inherent plasticity. Circulating tumour cells (CTCs) isolated from patients display E/M traits and, in some tumour types, are considered crucial for metastatic colonization. Since treatment resistance and metastasis are the main consequences of cancer progression, drugs aimed at exploiting epithelial plasticity by promoting a cell irreversible differentiation state might constitute a successful anti-cancer strategy.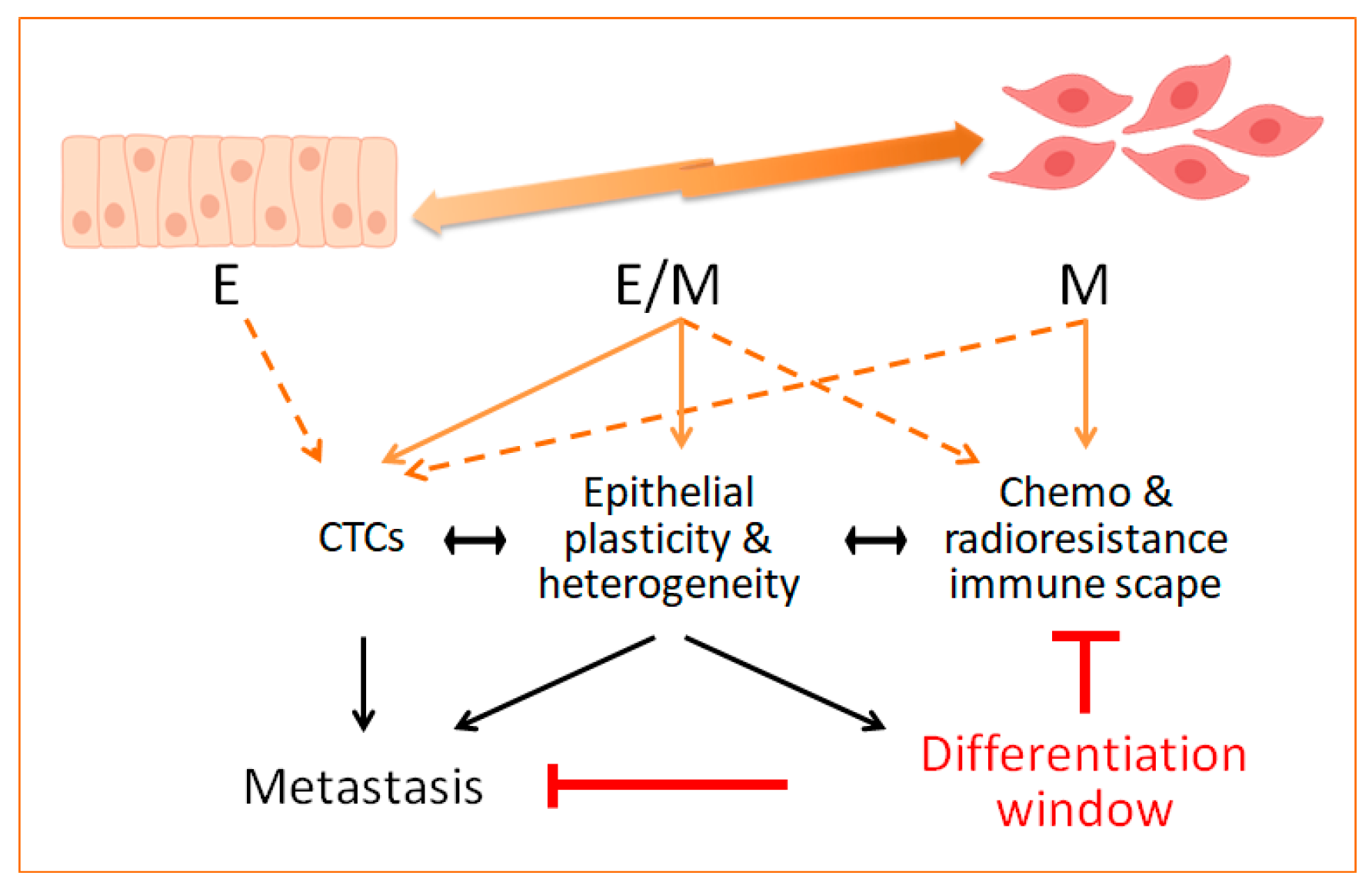 EMT State
Epithelial (E)
Hybrid E/M
Mesenchymal (M)
Morphology
Apical–basal polarity, cells attached to each other and to extracellular matrix (ECM)
Partial loss of cell–cell and cell–ECM attachment, epithelioid shape
Front–rear polarity, elongated shape, detached cells
Markers
E-cadherin, claudins, occludins, cytokeratins *
Co-expression of E and M markers: E-cadherin, cytokeratins *, vimentin
N-cadherin, vimentin, fibronectin, matrix metalloproteinases (MMPs), fibrillar collagens
Associated functional traits
Restrained motility, regulated proliferation
Motility, invasion, stemness, dissemination, metastasis, immune evasion, therapy resistance
Core EMT-TFs:
Snail & Slug, ZEB1 & ZEB2, Twist, E47/TCF3
* Cytokeratins (Krts) such as Krt8/18 are commonly detected in E states whereas Krt5/14 in E/M states. EMT: epithelial-to-mesenchymal transition; EMT-TFs: EMT-transcription factors.

Table 2. Examples of the contribution of epithelial plasticity to treatment resistance in cancer patients.
Specific Therapy
Tumour Subtype
Status *
Phenotype #
Reference(s)
Chemotherapy
Platinum/etoposide
SCLC 1
Clinical
Undifferentiated
[102]
Taxanes
NSCLC 1
Clinical
Differentiated
[131]
Cisplatin
Ovarian
Clinical
Undifferentiated
[132]
Docetaxel/Cabazitaxel
Prostate
Clinical/preclinical
Differentiated
[115,133]
Radiotherapy
Radiotherapy
Prostate
Clinical
Differentiated
[114,134]
Targeted therapy
Temazolomide 2
Glioblastoma MGMT-met
Clinical
Undifferentiated
[123]
Erlotinib 3/temsirolimus 4
HNSCC 1
Clinical
Differentiated
[135]
Cobimetinib 3
Melanoma
Preclinical
Undifferentiated
[117]
Vemurafenib 3
Melanoma
Clinical/preclinical
Undifferentiated
[117]
Erlotinib/gefitinib 3
NSCLC EGFR-mut
Preclinical
Undifferentiated
[96]
Immunotherapy
Nivulumab 5
NSCLC (CTCs) 1
Clinical
Undifferentiated
[136]
* Clinical: study on patient tumour samples; Preclinical: study using preclinical models (like patient derived xenografts (PDXs)). # Estimated according to the tumour cell morphology. 1 SCLC: squamous cell lung cancer; HNSCC: head and neck squamous cell carcinoma; NSCLC: non-small cell lung cancer; CTCs: circulating tumour cells. 2 Alkylating cytotoxic prodrug. 3 Epidermal growth factor receptor/mitogen activated protein kinase/B-Raf protein kinase (EGFR/MAPK/BRAF) inhibitors. 4 mammalian target of rapamycin (mTOR) inhibitor. 5 monoclonal antibody against PD ligand 1 (mAb αPD-L1).

© 2019 by the authors. Licensee MDPI, Basel, Switzerland. This article is an open access article distributed under the terms and conditions of the Creative Commons Attribution (CC BY) license (http://creativecommons.org/licenses/by/4.0/).