Open Access This article is
freely available
re-usable
Review
iPS-Cell Technology and the Problem of Genetic Instability—Can It Ever Be Safe for Clinical Use?
1
Department of Life Sciences, The Natural History Museum, London SW7 5BD, UK
2
Department of Physiology, Anatomy and Genetics, University of Oxford, Oxford OX1 3PT, UK
3
Control of Pluripotency Laboratory, Department of Physiological Sciences I, Faculty of Medicine, University of Barcelona, Hospital Clinic, Casanova 143, 08036 Barcelona, Spain
4
Victor Chang Cardiac Research Institute, Sydney, NSW 2145, Australia
5
Harry Perkins Research Institute, Fiona Stanley Hospital, University of Western Australia, PO Box 404, Bull Creek, Western Australia 6149, Australia
*
Author to whom correspondence should be addressed.
Received: 14 February 2019 / Accepted: 25 February 2019 / Published: 28 February 2019
Abstract
:
The use of induced Pluripotent Stem Cells (iPSC) as a source of autologous tissues shows great promise in regenerative medicine. Nevertheless, several major challenges remain to be addressed before iPSC-derived cells can be used in therapy, and experience of their clinical use is extremely limited. In this review, the factors affecting the safe translation of iPSC to the clinic are considered, together with an account of efforts being made to overcome these issues. The review draws upon experiences with pluripotent stem-cell therapeutics, including clinical trials involving human embryonic stem cells and the widely transplanted mesenchymal stem cells. The discussion covers concerns relating to: (i) the reprogramming process; (ii) the detection and removal of incompletely differentiated and pluripotent cells from the resulting medicinal products; and (iii) genomic and epigenetic changes, and the evolutionary and selective processes occurring during culture expansion, associated with production of iPSC-therapeutics. In addition, (iv) methods for the practical culture-at-scale and standardization required for routine clinical use are considered. Finally, (v) the potential of iPSC in the treatment of human disease is evaluated in the light of what is known about the reprogramming process, the behavior of cells in culture, and the performance of iPSC in pre-clinical studies.
Keywords:
adverse event; clinical translation; evolution; genetic stability; pluripotent stem-cell; safety; stem cell; stem-cell research; stem cell therapy
1. Introduction
1.1. Experiences with Human Embryonic Stem-Cell (hESC)-Derived Cells
Much can be learnt from recent clinical trials involving hESC-derived cells in the treatment of degenerative diseases, such as spinal cord injury and the wet form of macular degeneration [
1
]. The trial data show a general lack of Serious Adverse Events (SAE) associated with cell implants derived from hESC [
2
], and studies of hESC lines have shed light on genomic aberrations and epigenetic changes associated with long-term in vivo culture and directed differentiation of pluripotent cells [
3
]. In addition, experiences with hESC have informed the development of safer and better standardized culture protocols that enhance genome stability and the fidelity of derived cells [
4
]. Together with Mesenchymal Stem Cells (MSC), also reviewed here, hESC provide evidence of safety across a much greater range of tissue types, transplant sites, and over longer periods of clinical follow-up than the five years possible with induced Pluripotent Stem Cells (iPSC). Understanding gleaned from review of hESC and MSC clinical deployment is, however, limited in that it reveals little about the effects of the reprogramming step, which is unique to iPSC.
Although hESC have the potential to differentiate into any adult cell type required for the therapeutic regeneration of diseased tissues, numerous concerns hinder their clinical scale-up and widespread use:
Ethical issues surround the source of hESC, which is usually the destruction of a 5–10-day-old blastocyst―a cluster of 100–200 cells [

5

].

Therapeutic use of hESCs is inherently problematic. The cells are not only potentially immunogenic, but also the use of failed In Vitro Fertilization (IVF) embryos invites complications of abnormal development.

hESC lines often show or develop karyotypic abnormalities associated with proliferative advantage or exhibit full teratomagenicity [

6

].
1.2. Human-Induced Pluripotent Stem Cells (hiPSC)
The discovery in 2006 that retrovirus-mediated transfection of four Embryonic Stem Cell (ESC) phenotype-related factors (subsequently termed "Yamanaka-factors" or "OKSM" (OCT4, KLF4, SOX2 and MYC) including variants thereof [
7
]) (
Figure 1
) could produce ESC-like stem cells from, first Mouse Embryonic-Fibroblasts (MEF), mouse adult [
8
] and then Human Dermal-Fibroblasts (HDF) [
9
,
10
], was a major step in addressing the failings of hESC-therapies. These authors called the transformed cells "induced pluripotent stem cells" as they exhibited characteristics of pluripotency.
Autologous iPSC appeared to offer new therapies for patients with a rare tissue type, or for those in cell therapies where repeated collection of stem cells is necessary (e.g., autologous blood stem-cell transplantation in myeloma chemotherapy [
12
]). The therapeutic potential of iPSC was demonstrated unequivocally in animals, leading up to the First-In-Human (FIH) test case in 2014 to treat Age-related Macular Degeneration (AMD) (
Figure 2
). In view of the current expansion of clinical trials involving iPSC, this review will consider the safety issues surrounding the use of iPSC-therapies, and how these might be overcome in the treatment of degenerative disease.
2. Reprogramming Leads to Genetic Dysregulation
3. iPSC Are Dangerous by Design?
3.1. Neoplasia Following Stem-Cell Therapies
The engineers of iPSC clearly intended them to be immortal cell-lines, and with such design comes a significant challenge to their safe translation to the clinic. Furthermore, two of the Yamanaka-factors,
c-Myc
and
Klf-4
are potent oncogenes [
62
]. In view of the nature of iPSC, reports of tumourigenesis in a mouse model following receipt of iPSC-derived neural cells [
63
], and in a primate model with undifferentiated iPSC [
64
], are not surprising. Teratoma formation with procine and bovine iPSC-derivates has been attributed to residual expression of reprogramming factors in the derivates [
65
]. More recently, evidence for transgene reactivation leading to proliferative growth in mesenchymal and endothelial iPSC derivatives generated from iPSC reprogrammed using integrative constructs in mouse models [
66
], has highlighted issues relating to iPSC-derivate stability.
There has been only one clinical test of iPSC in humans; however, adult Stem-Cell Therapies (SCT), involving either directed differentiation of adult multipotent stem cells (usually of fetal origin) or transplant of multipotent cells themselves, are commonly practiced worldwide. Re-differentiated adult stem cells are comparable to four features of iPSC that relate to their safety: (i) stem-cell character; (ii) being derived from clonal expansions of cells in culture; (iii) having been reprogrammed by certain factors; and (iv) being re-differentiated into a tissue type cell. Therefore, experiences with adult stem cells can shed some light on potential problems with iPSC. Receipt of mesenchymal, embryonic, and fetal neural stem cells, to regenerate damaged neural tissue, has been associated with development of apparently benign neoplasms resembling glioneuronal tumors. In one case a boy developed neoplasms in brain and spinal cord, detected four years following SCT (with human fetal neural stem cells) in Russia for ataxia telangiectasia [
67
], in another adult male, who was not taking immunosuppressants, developed a thoracic spinal cord neoplasm following SCT for ischemic stroke in China, Argentina, and Mexico [
68
]. Such SCT are subject to less regulation, if any [
69
], than those in the EU for example, and this may explain the lack of SAE in published hESC trials (see
Table 2
). Nevertheless, there is need for great caution as the reported neoplasms became apparent beyond the timescale of follow-up in hESC and iPSC clinical trials.
3.2. The Challenge of Removal of Undifferentiated iPSC
3.3. Genetic Stability: iPSC Have a Good Safety Record
3.4. Clinical Trial History of MSC-Based Interventions Can Inform iPSC Safety Assessment
The lack of SAE observed in the iPSC trials so far could be a consequence of limited follow-up time. Indeed, the earliest iPSC human trial terminated a mere six years ago [
73
], and experiences with hESC-therapies have been included in this review to address this. In addition, some indications of potential iPSC safety may be gleaned from the safety record of MSC-based interventions. MSC, a catch-all term [
116
] that also includes (and might be predominantly) multipotent mesenchymal stromal cells, have been extensively used in regenerative medicine. MSC derived from iPSC have been investigated as a solution to the problem of the short lifespan of MSC during in vitro expansion [
117
]. In addition, CYP-001, the iPSC-derived MSC (see
Section 3.3
), has been found to be safe, and well tolerated in the first cohort (of eight GvHD patients) enrolled in phase I trials [
118
]. MSC are also informative in terms of the numbers of patients that have received such therapeutics without SAE. None of the 493 MSC trials have so far reported any SAE relevant to iPSC therapy, i.e., tumourigenesis [
119
]. A meta-analysis covering 36 studies, comprising 1012 participants, did not report any significant link between intravascular delivery of MSC and malignancy (or short-term SAE such as infection and organ system complications) [
120
]. Similarly, a systematic review of 844 procedures involving intra-articular injections of MSC found no association with such adverse events [
121
]. The lack of an association between MSC and malignancy is despite their implication in promoting stem-like properties in cancer cells [
122
]; this suggests that in the sense of their common features with iPSC, MSC are very safe. The comparative database for safety assessment of iPSC continues to expand, with 2835 patients currently enrolled in ongoing MSC clinical trials for cardiac diseases alone [
123
].
Like iPSC, MSC-therapies involve significant ex vivo population expansion because they tend to exhibit low frequencies in source tissues, for example comprising only 0.001–0.01% in the BM, and large infusions, of millions of cells per kg of patient body mass, are typically required [
124
]. Preparation of enough cells for a single therapeutic intervention can involve 3–5 passages, around 15 doublings, and up to one month in culture [
125
]. In this sense the potential for culture adaptation, genotoxic stress, accumulation of genetic aberration [
126
], and clonal heterogeneity and competition, is comparable with that of iPSC development. Unlike iPSC, however, MSC show loss of stemness over prolonged expansion, normally enter a senescence state characterized by cell-cycle arrest and loss of multilineage potential [
127
], and show therapeutic effects not dependent on persistence in vivo [
124
]. CD34+MSC are of particular interest, as CD34+ markers are here associated with enhanced and prolonged proliferative capacity [
128
], i.e., a more PSC-like phenotype. As CD34 is regarded as a marker of hematopoietic cells, the International Society for Cellular Therapy requires that ≤2% may express CD34 [
129
]. At such a level of stringency, the implantation of up to 4 × 10
7
CD34 + MSC is possible for each adult treated with 2 × 10
9
cells. In view of this, the MSC literature provides a wealth of advanced phase clinical trial data, involving thousands of patients and tens of billions of CD34+ cells administered over a period exceeding a decade, and captures two of the features of iPSC-derived implants (stem-cell characteristics, and expansion in culture). MSC-therapies do not inform the reprogramming and re-differentiation involved in iPSC-based product development; therefore, clinical deployment of iPSC should be gradual and accompanied by long-term, and detailed, follow-up.
4. iPSC Are Inherently Unstable and Unreliable?
4.1. iPSC May Possess Overt Cancer Driver Mutations As Well As Cryptic Tumourigenic Genetic Changes
4.2. The Problem of iPS-Cell Evolution during Preparation of Therapeutic Product
4.3. Epigenetics
A further problem related to differentiation is somatic memory. Epigenetic study of hiPSC has shown 71 Differentially Methylated Regions (DMR) relative to hESC [
179
]. Somatic memory is a particular safety concern as CpG methylation errors appear transmitted to hiPSC-derivates at high frequency, and could therefore affect the behavior of transplanted cells [
180
]. In addition, iPSC from different donor-cell types show distinct methylation patterns [
181
], and iPSC from blood cells more readily differentiate into hematopoietic cells and those from fibroblasts towards the osteogenic pathway [
182
]. Unlike karyotypic aberrations, however, DMR appear to decrease with passage number; though at reprogramming hiPSC appear to enter an initial stage of hypermethylation followed by waves of aberrant methylation that gradual decrease in amplitude until an asymptotic approach to hESC methylation profiles. By passage 40 there remained 100 DMR, with little improvement thereafter [
181
]. Lyonization may also diminish during prolonged culture, with X-inactive specific transcript expression and foci of H3K27me3, as well as expression of genes on the inactivated X-chromosome [
183
]. Nevertheless, lyonization in hiPSC appears more complete than in hESC [
184
], and of 87 imprinted hiPSC loci studied, only
Meg3
(6/15 lines) and H19 (all lines) showed aberrant methylation. Others regard cell function in hiPSC-derived stem cells as most likely robust to minor aberrations in methylation [
185
], and if so hiPSC are likely to perform normally in vivo. More work is required to address questions related to somatic memory before the behavior of iPSC-therapeutics can be fully understood.
The expansion of clones bearing driver mutations during iPSC production may be used as a means of detecting common problematic mutations. Monitoring of iPSC during development will allow selection coefficients to be estimated for commonly occurring SNV, such that the process of culture adaptation can be better understood. As the frequency of oncogenic SNV is likely to be lower than the theoretical predictions above (most mutations will be neutral or inhibit proliferation rather than drive it), it is likely that all common oncogenic SNV can be identified and iPSC-lines can be regularly screened for their presence. The results of studies into recurrent mutations, across independent iPSC-lines, are beginning to accumulate [
101
,
112
,
113
,
186
,
187
]. The increasing frequencies in T12 and T17 observed with hESC are consistent with ongoing positive selection in vitro. In further support of selection for rapidly dividing hiPSC is the observation that hotspots of aberration in the hiPSC genome are syntenic with hotspots in PSC of other species (e.g., human 17q25 and murine 11qE2; and macaque 16q and human 17q) [
188
]. The recognition of such common aberrations may lead to the development of a database of mutations to be targeted by Quality Control (QC) screening of iPSC and thereby enhance their safe translation.
Relatively little work has been done on the (epi-)genetic effects of re-differentiation, and the safety issues are not understood. The safe translation of hiPSC will require further studies in this area given the regulatory climate in which hiPSC are likely to be deployed. For example, the use of Food and Drug Administration-approved hiPSC will probably simplify the regulatory approval process, but such lines are likely to be older and culture-adapted.
5. Translation into Standard of Care Will Be Problematic?
Quality assurance requires standardized manufacturing processes delivering robust and consistent high-quality hiPSC. Unfortunately, even a minor change in the expression cassette ordering of reprogramming factors between laboratories appeared to affect the imprinting of the
Dl1-Dios3
cluster and the ability, or lack thereof, to form viable all-iPSC mice [
189
]. Clearly international harmonization is essential in ensuring safety, as are bespoke databases for traceability, and availability of lines of cGMP-compliant differentiated cells (for evaluation) [
190
]. Master Cell Banks (MCBs) such as FT500 [
61
] (see
Section 2
) can provide cost-effective mass-production of genetically modified cells and an off-the-shelf product that is readily available. Nevertheless, MCBs may not offer the expected consistency and uniformity. Stochastic events occurring during reprogramming, colony expansion, hiPSC selection, re-differentiation, hiPSC-derivate expansion and purification, storage, and transport are likely to complicate efforts towards a standardized product. Consequently, variation may exist within any MCB established for validation purposes, and between MCB and hiPSC product in the clinic. Such variability requires continual genotypic, phenotypic, and functional assessment. For example, after two weeks' passage, re-differentiated MEF-originated iPSC-Embryoid-Body-derived-cardiomyocytes showed a similar proliferation rate to the source iPSC, and at four weeks, both derived cardiomyocytes and source iPSC formed teratomas; this suggests significant de-differentiation of the cardiomyocytes [
191
].
Although the problems appear insurmountable, several inroads have already been made towards taming iPSC for clinical use. Partial Reprogramming (PR) is a distinct solution to the problem of teratogenicity. PR preserves the proliferative and regenerative capacities of adult stem cells in vitro culture, resulting in cells at a midpoint between multipotency and pluripotency [
192
]. For example, peripheral blood monocytes have been converted to immature β-endocrine cells by growth-factor-induced PR [
193
]. Finally, the move away from xeno-supportive feeder cells (e.g., MEF) towards xeno-free and feeder-free surfaces is increasing the capacity for standardization and reducing immunogenicity and risk of pathogen transfer. For example, nanocrystalline graphene provides a fully synthetic surface that equals MEF in supporting culture of hiPSC [
194
]. More work is warranted to bring PR cells to the same stage as iPSC-derived cells, to provide a potentially safer, quicker, and cheaper source of material for cell replacement strategies.
Reprogramming-associated point mutations are regarded by some as a general feature of hiPSC [
195
]. As detailed in
Section 4.2
, a database of common genetic aberrations associated with hiPSC development can be compiled and used in QC screening at reprogramming, colony expansion and implantation stages, and after any process that forces the hiPSC population through a bottleneck (e.g., gene editing). Deep sequencing of donor cells is also required to detect pre-existing low frequency mosaic variants that may expand during iPSC production. It has been suggested that a threshold of 10
−11
or 10
−12
mutations per base pair per cell division should be set, beyond which an hiPSC should not be allowed in clinical use [
163
]. In addition to simply reducing the number of generations in cell culture by adopting strategies such as CryoPause, and using younger or potentially more genetically protected donor cells than fibroblasts [
195
], measures are being found to stabilize better the genome during reprogramming. For example, reprogramming in the presence of oocyte factor Zscan4, in combination with OKSM, was reportedly associated with not only improved genetic stability but also greater efficiency [
196
]. A similar effect was seen after increasing the level of checkpoint kinase 1 (CHK1) [
197
]. A further development is the availability of alternative factors to
c-Myc
[
198
]. Together such advances are greatly improving genome stability during reprogramming and paving the way to reliable and routine clinical deployment.
6. Conclusions
Clinical deployment of hiPSC offers a solution to the ethical and availability issues surrounding the use of hESC, and potentially also to the immunological problems associated with allogeneic stem-cell transplantation. The present review has highlighted experiences with currently practiced therapies involving endogenous stem cells, studies identifying genetic aberrations found in iPSC, and theoretical predictions based on population genetic theory―all suggesting a potential for oncogenesis associated with iPSC implantation that might be a barrier to widespread adoption of hiPSC-based therapies. In contrast, widely adopted SCT and the follow-up of the small number of hiPSC implantations made to date in humans, indicate that such therapies are safe. The reasons for this have been discussed, and include exclusion of cells with oncogenic potential (e.g., those with impaired DNA damage repair pathways) effected by the re-differentiation process, that epigenetic aberrations found in some studies may diminish with culture time, leaving the final product with a normal (hESC-like) methylome, that the genomic aberrations found in hiPSC are beneficial and typify the normal development of stem cells in vivo, and that mutations seen are synonymous, neutral or growth-inhibitory, or concentrated in structurally condensed (i.e., inactive) regions of the genome. Taken together, these findings suggest that iPSC-based therapies are likely to perform well in the clinic, particularly after refinement of production protocols in the light of future pre-clinical studies.
Protocol refinement is likely to be through a better understanding of the reprogramming process, together with a greatly expanded knowledge base (amassed through study of animal models and clinical experience); this will also lead to improved tests for undifferentiated cells. Processes such as the natural down-regulation of reprogramming factors in host cells, DNA repair mechanisms, and replicative-stress reduction will be exploited to refine hiPSC-derivate production. Technical innovations such as CryoPause will avoid lengthy culture steps during which iPSC may "evolve", and synthetic (xeno- and feeder-free) culture systems are already improving standardization. As mentioned above, hiPSC selected for rapid growth in culture often fail to re-differentiate and are removed during purification of the hiPSC product. Carefully conducted hiPSC experiments have not shown tumourigenesis, and with continual improvements in detection of undifferentiated cells, the safety of hiPSC is likely to reach standards of GCP.
Standard of Care (SoC) must consider the long-term effects of genetic instability and gene alterations caused by reprogramming―even if detected aberrations are unrelated to disease-loci, protein production, or directly causative of cancer―to exclude or greatly minimize the risks associated with their use. Issues such as the relationship between alterations in the sequences (e.g., de novo mutations) at certain regions of the genome and inflammation or immune response has not been considered due to the relatively short follow-up time post transplantation and the low number of clinical studies to date. How mutations, epigenetic changes or alterations in non-coding regions are related to inflammation remains poorly understood [
87
]. Nevertheless, potential tests for immunogenicity of autologous hiPSC-derivates are already beginning to emerge in the form of screening for markers associated with aberrant immune signaling (e.g., overexpression of TLR3 short-isoform [
87
]) or directly for immune response (e.g., use of humanized mouse models [
88
]).
Consequently, the future is likely to bring many more clinical trials involving hiPSC in conditions such as AMD, PD, acute spinal cord injury, stroke, and acute myocardial infarction that lead to SoC interventions at least as safe as currently licensed advanced therapy medicinal products. Such trials will be supported by improved understanding of hiPSC epigenetics and improved tests for cells bearing oncogenic changes. Such hiPSC-derivate therapeutics will likely be directed against the increasing barrage of degenerative conditions facing an aging population.
Acknowledgments
This review is based on work submitted in part fulfillment of the requirements for the degree of Master of Science at the University of Oxford (by SWA).
Conflicts of Interest
The authors declare no conflict of interest.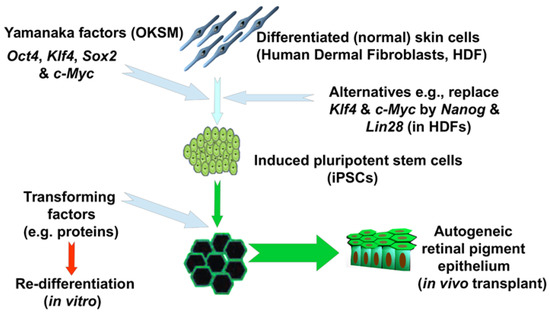 Figure 1.
Outline of the procedure underlying the production of iPSC. The example given is of their use in treating age-related macular degeneration [
11
].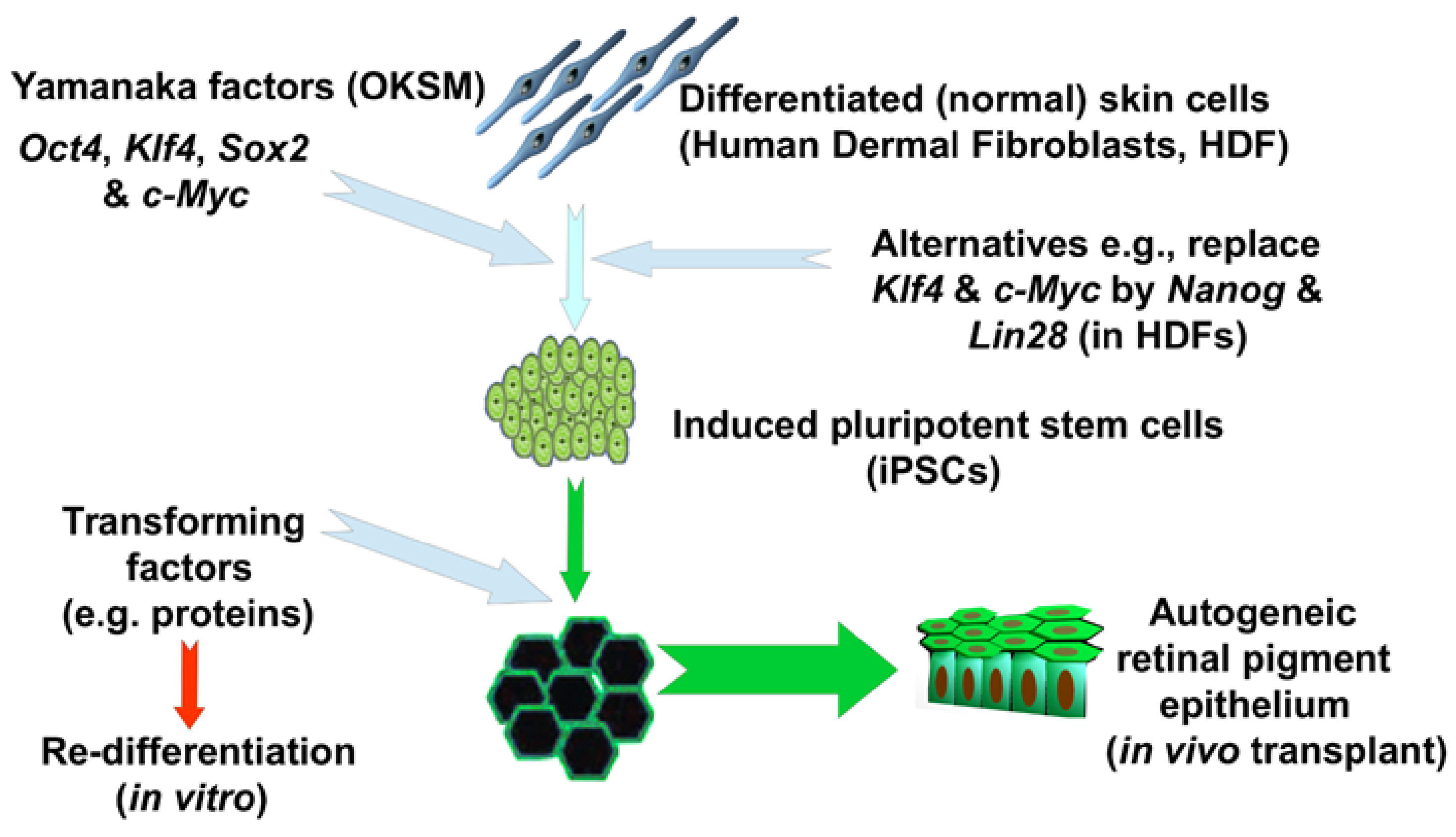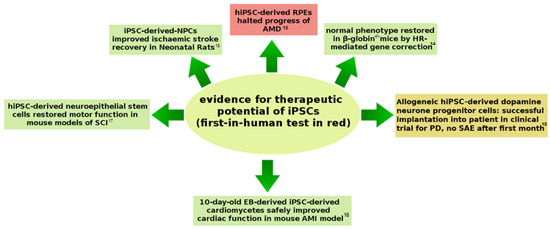 Figure 2.
Evidence of the therapeutic potential of iPSC-derived stem cells in the form of two clinical and four pre-clinical studies. Abbreviations: AMD, Age-related Macular Degeneration; AMI, Acute Myocardial Infarction; EB, Embryoid Body; HR, Homologous Recombination; NPC, Neural Progenitor Cells; PD, Parkinson's Disease; SAE, Serious Adverse Event; SCI, Spinal Cord Injury. Sources: [
13
,
14
,
15
,
16
,
17
,
18
].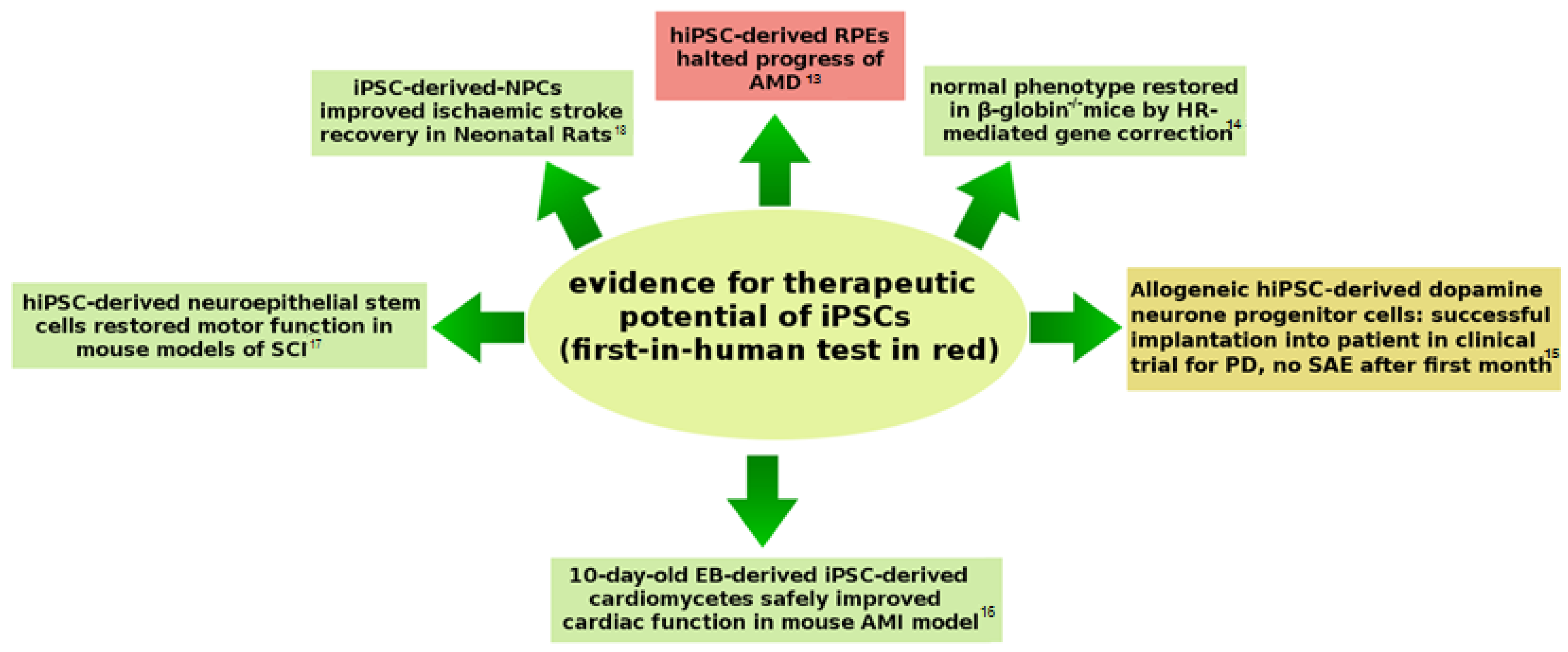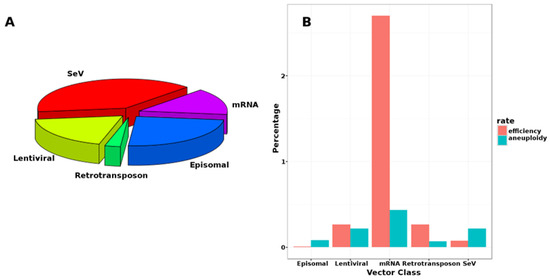 Figure 3.
Adoption and performance of alternative vector classes. (
A
) Usage of different classes by labs generating iPSC from fibroblasts or red blood cells; (
B
) Reprogramming efficiency and reciprocal of aneuploidy rates (as percentages) for each vector. Plotted using R computing language [
54
] and based on data in Schlaeger et al. (2014) [
23
].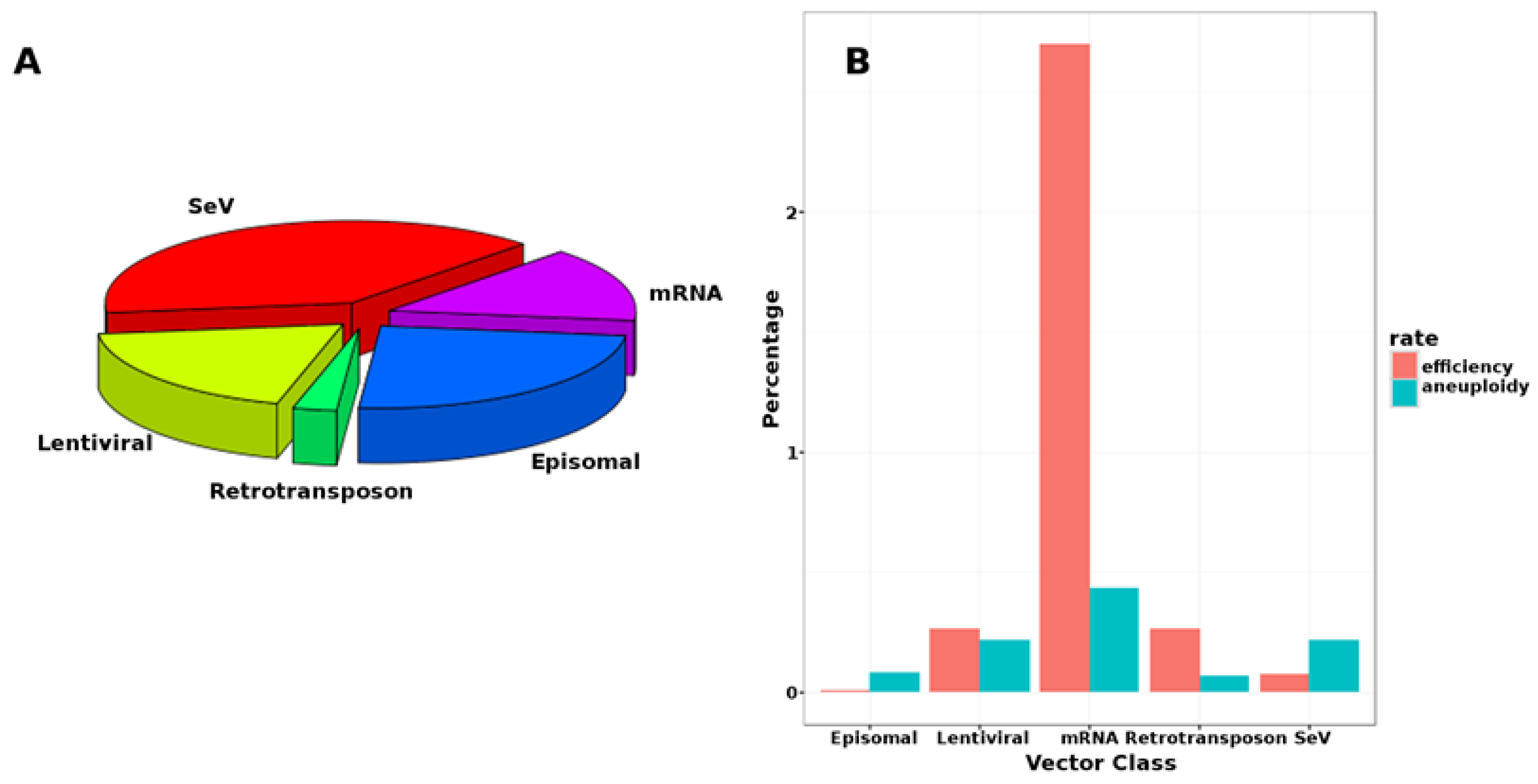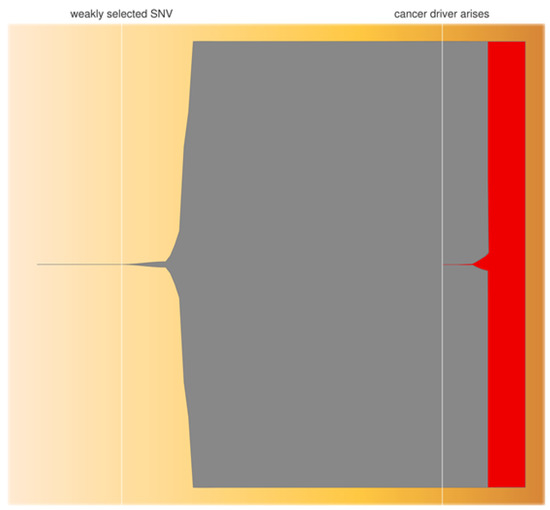 Figure 4.
Clonal expansion of first a weakly selected Single-Nucleotide Variant (SNV) arising at generation two of iPSC in vitro culture (grey), followed by a second cancer driver mutation at generation 60 (red). The height of the expanding clones indicates allele frequency in the population. The weakly selected SNV reaches a frequency of 100%, replacing all cells bearing the donor-cell allele, but is then itself replaced by the more highly selected cancer driver which reaches 100% by generation 70. Plot produced using R package fish plot (version 0.5 [
174
]), with timings of mutations and rates of clonal expansion estimated using the parameters and equations in
Section 4.2
(above).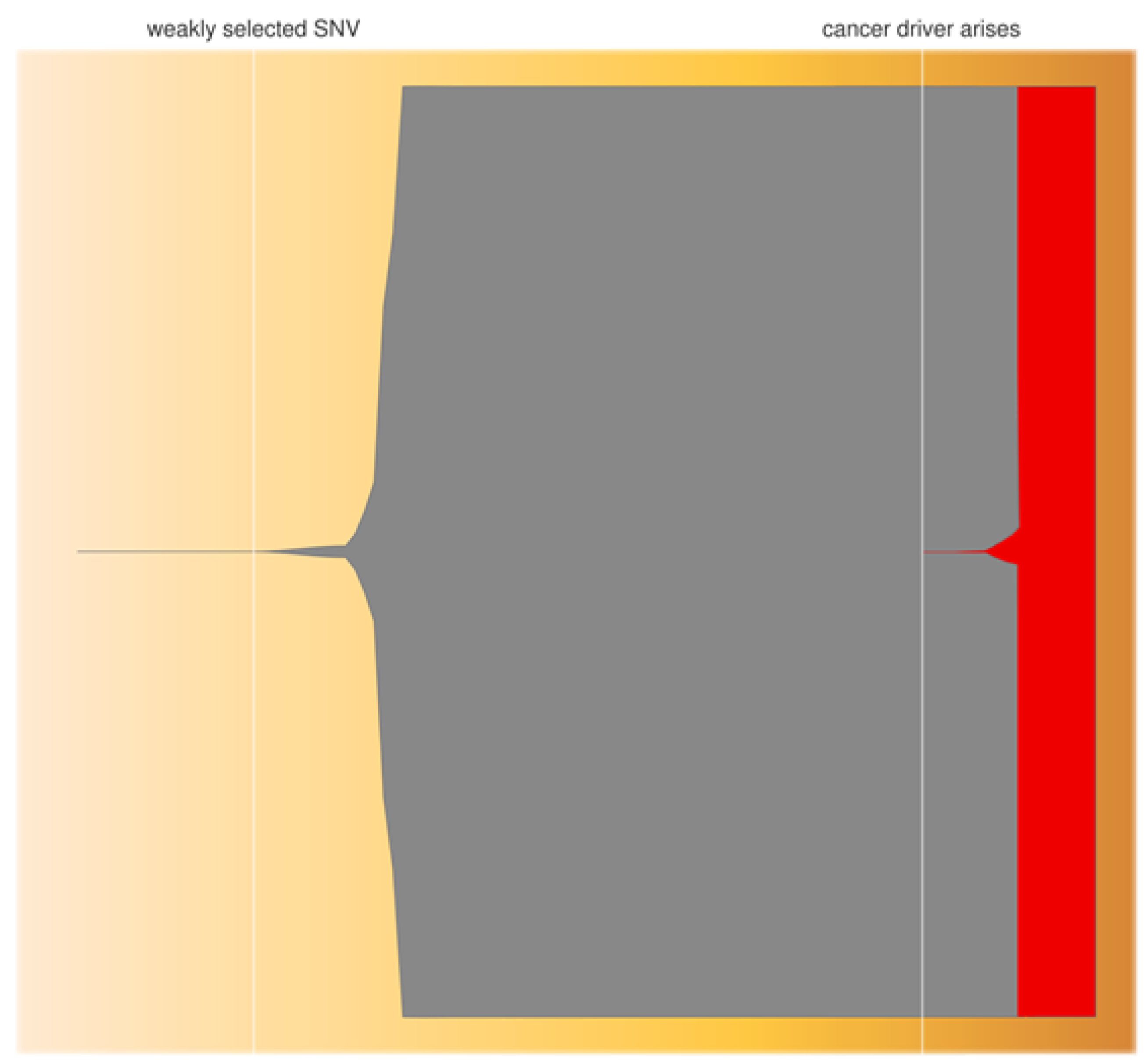 Table 1. Reprogramming strategies developed to avoid transgene integration, and most commonly used in the production of iPSC. Abbreviations: cGMP, Good Manufacturing Practice certified; EBNA, Epstein–Barr Nuclear Antigen 1; miR, micro-RNA. Sources used in compilation of the table are given in the rightmost column.
Procedure
Caveats
Source
mir-200c, 302s and 369s (direct)
efficiency 0.01% cf. 0.02% adenovirus and 0.27% retroviral
[26]
mRNAs
(direct transfection)
1.4–4.4% efficiency, but high in vitro cytotoxicity, fails with hematopoietic cells
[27]
non-integrating adenoviruses
transfected hepatocytes
(show high permissivity to adenovirus)
[28]
OriP/EBNA episomal plasmids
0.006–0.1%
(with EBNA mRNA coexpression and hypoxia) cGMP
[29]
Sendai-viral (SeV)
efficiency 0.077%, but complex protocols
[30]
Small molecules
(e.g., epigenetic regulators)
usually require one transgene
(e.g., VPA, CHIR99021 and 616452 +

Oct4

), non-persistent
[31]

Table 2. Completed clinical trials involving pluripotent stem cells, with number of participants treated (N) and termination date. Trials listed are phase 1 or 1/2. Abbreviations: AL, Allogeneic; AMD, Age-Related Macular Degeneration; ASCI, Acute Spinal Cord Injury; AU, Autogeneic; CD15+ Isl-1+ CardioVascular Progenitors, CVP; First-In-Human, FIH; Ischemic Heart Disease, IHD; Oligodendrocyte Progenitor Cells, OPCs; Retinal Pigment Epithelium, RPE; Serious Adverse Event, SAE; Stargardt's Macular Dystrophy, SMD.
Date
Agent (N)
Condition
Derivate
Comments
2011
AU
hESC (4)
ASCI
OPCs
Geron: effect remyelination; no SAE; early termination on financial grounds or futility; not reproducible; contains xeno-derived components (e.g., Matrigel) of potential immunogenicity [70]
2013
AU
Hesc (?)
ASCI
OPCs
NCT01217008 (Asterias Biotherapeutics): continuation of Geron's phase 1 trial; completed but unpublished
2017
AU
hiPSC (FIH)
AMD
RPE
RIKEN: RPE engraftment to effect photoreceptor rescue; no SAE at 27 months; degeneration only halted; costly

$

930,000 [11]
2015
AL
hESC (9)
AMD
RPE
NCT01344993: RPE engraftment to effect photoreceptor rescue; no SAE at 12–37 months; visual acuity gain in 6 eyes at 6 months [71]
2015
AL
hESC (9)
SMD
RPE
NCT01345006: RPE engraftment to effect photoreceptor rescue; no SAE at 12–37 months; visual acuity gain in 3 eyes at 6 months [71]
2018
AL
hESC(6)
IHD
CVP
NCT02057900: Epicardial delivery of hESC-derivates to improve systolic motion in severe ischemic left ventricular dysfunction; no SAE at 18 months [72]

© 2019 by the authors. Licensee MDPI, Basel, Switzerland. This article is an open access article distributed under the terms and conditions of the Creative Commons Attribution (CC BY) license (http://creativecommons.org/licenses/by/4.0/).