Pentoxifylline for Renal Protection in Diabetic Kidney Disease. A Model of Old Drugs for New Horizons
1
Unidad de Investigación, Hospital Universitario Nuestra Señora de Candelaria, 38010 Santa Cruz de Tenerife, Spain
2
GEENDIAB (Grupo Español para el estudio de la Nefropatía Diabética), Sociedad Española de Nefrología, 39008 Santander, Spain
3
Servicio de Medicina Interna, Hospital Nuestra Señora de Candelaria, 38010 Santa Cruz de Tenerife, Spain
4
Department of Dialyisis, AURA Nord, Saint Ouen, 93400 Paris, France
5
Department of Renal Physiology, Necker Hospital, University Paris Descartes, 75006 Paris, France
6
Laboratorio de Biología Celular en Enfermedades Renales, Universidad Autónoma Madrid, IIS-Fundación Jiménez Díaz, 28004 Madrid, Spain
7
REDINREN (Red de Investigación Renal-RD16/0009/0007), Instituto de Salud Carlos III, 28029 Madrid, Spain
8
Departamento de Nefrología e Hipertensión, IIS-Fundación Jiménez Díaz y Facultad de Medicina, Universidad Autónoma de Madrid, 28049 Madrid, Spain
9
REDINREN (Red de Investigación Renal-RD16/0009/0001), Instituto de Salud Carlos III, 28029 Madrid, Spain
10
REDINREN (Red de Investigación Renal-RD16/0009/0022), Instituto de Salud Carlos III, 28029 Madrid, Spain
11
Servicio de Nefrología, Hospital Universitario Nuestra Señora de Candelaria, 38010 Santa Cruz de Tenerife, Spain
12
Instituto de Tecnologías Biomédicas, Universidad de La Laguna, 38010 Santa Cruz de Tenerife, Spain
*
Author to whom correspondence should be addressed.
†
These authors share senior authorship.
Received: 31 January 2019 / Revised: 21 February 2019 / Accepted: 22 February 2019 / Published: 27 February 2019
Abstract
Diabetic kidney disease is one of the most relevant complications in diabetes mellitus patients, which constitutes the main cause of end-stage renal disease in the western world. Delaying the progression of this pathology requires new strategies that, in addition to the control of traditional risk factors (glycemia and blood pressure), specifically target the primary pathogenic mechanisms. Nowadays, inflammation is recognized as a critical novel pathogenic factor in the development and progression of renal injury in diabetes mellitus. Pentoxifylline is a nonspecific phosphodiesterase inhibitor with rheologic properties clinically used for more than 30 years in the treatment of peripheral vascular disease. In addition, this compound also exerts anti-inflammatory actions. In the context of diabetic kidney disease, pentoxifylline has shown significant antiproteinuric effects and a delay in the loss of estimated glomerular filtration rate, although at the present time there is no definitive evidence regarding renal outcomes. Moreover, recent studies have reported that this drug can be associated with a positive impact on new factors related to kidney health, such as Klotho. The use of pentoxifylline as renoprotective therapy for patients with diabetic kidney disease represents a new example of drug repositioning.
View Full-Text
►

▼

Figures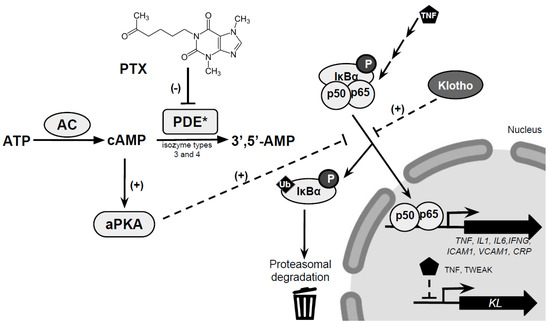 Figure 1
This is an open access article distributed under the
Creative Commons Attribution License
which permits unrestricted use, distribution, and reproduction in any medium, provided the original work is properly cited (CC BY 4.0).

Share & Cite This Article
MDPI and ACS Style
Donate-Correa, J.; Tagua, V.G.; Ferri, C.; Martín-Núñez, E.; Hernández-Carballo, C.; Ureña-Torres, P.; Ruiz-Ortega, M.; Ortiz, A.; Mora-Fernández, C.; Navarro-González, J.F. Pentoxifylline for Renal Protection in Diabetic Kidney Disease. A Model of Old Drugs for New Horizons. J. Clin. Med. 2019, 8, 287.
Note that from the first issue of 2016, MDPI journals use article numbers instead of page numbers. See further details here.
Related Articles
Comments
[Return to top]