Open Access This article is
freely available
re-usable
Review
Risk and Protective Environmental Factors Associated with Autism Spectrum Disorder: Evidence-Based Principles and Recommendations
1
Department of Biomedicine and Prevention, Tor Vergata University of Rome, 00133 Rome, Italy
2
Child Neurology and Psychiatry Unit, Systems Medicine Department, Tor Vergata University of Rome, 00133 Rome, Italy
3
Division of Pediatric Gastroenterology and Nutrition, Massachusetts General Hospital for Children, Harvard Medical School, Boston, MA 02114, USA
4
Hospital General Universitario Gregorio Marañón. 28009 Madrid, Spain
5
Division of Pharmacology, Utrecht Institute for Pharmaceutical Sciences, Faculty of Science, Utrecht University, 3584 Utrecht, The Netherlands
6
Child Neurology Unit, Neuroscience and Neurorehabilitation Department, Bambino Gesù Children's Hospital, IRCCS, 00165 Rome, Italy
7
Braun School of Public Health and Community Medicine, Hebrew University, Hadassah 99875, Israel
8
Child and Adolescent Neuropsychiatry, Federico II University, 80133 Naples, Italy
9
Department of Biotechnological and Applied Clinical Sciences, University of L'Aquila, 67100 L'Aquila, Italy
10
The Autism Center/ALUT, Assaf Harofeh Medical Center, Sackler Faculty of Medicine, Tel Aviv University, 69978 Tel Aviv, Israel
11
DIMES, Bologna University, 40126 Bologna, Italy and IRCCS Fondazione Don Carlo Gnocchi, 20148 Milan, Italy
*
Author to whom correspondence should be addressed.
Received: 8 January 2019 / Accepted: 5 February 2019 / Published: 8 February 2019
Abstract
:
Autism Spectrum Disorder (ASD) is a complex condition with early childhood onset, characterized by a set of common behavioral features. The etiology of ASD is not yet fully understood; however, it reflects the interaction between genetics and environment. While genetics is now a well-established risk factor, several data support a contribution of the environment as well. This paper summarizes the conclusions of a consensus conference focused on the potential pathogenetic role of environmental factors and on their interactions with genetics. Several environmental factors have been discussed in terms of ASD risk, namely advanced parental age, assisted reproductive technologies, nutritional factors, maternal infections and diseases, environmental chemicals and toxicants, and medications, as well as some other conditions. The analysis focused on their specific impact on three biologically relevant time windows for brain development: the periconception, prenatal, and early postnatal periods. Possible protective factors that might prevent or modify an ASD trajectory have been explored as well. Recommendations for clinicians to reduce ASD risk or its severity have been proposed. Developments in molecular biology and big data approaches, which are able to assess a large number of coexisting factors, are offering new opportunities to disentangle the gene–environment interplay that can lead to the development of ASD.
Keywords:
Autism Spectrum Disorder; risk factors; protective factors; environment; genetics; medications; toxicants; recommendations
1. Introduction
In October 2018, international ASD experts convened in Rome to discuss the potential pathogenetic role of environmental factors, as well as their interactions with genetic susceptibility, focusing on three biologically relevant windows for brain development: the periconception, prenatal and early postnatal periods. From the epidemiological point of view, the identification of the exact timing of action of each environmental factor, as well as its consequences in the neurodevelopmental pathways, remains elusive. Nevertheless, it is now possible to establish some differentiations among risk factors that can assist in developing detection and personalized follow-up of populations at higher risk for ASD.
In this paper, we summarize the results of this consensus conference and put forward clinical recommendations for clinicians to reduce ASD risk and/or its severity.
4. Perinatal/Early Postnatal Period
5. Gene–Environment Interactions and Epigenetics
The pathogenetic role of environmental risk factors in ASD etiology must not be considered as a separate element but rather like a complex network of factors that can epigenetically affect genetic components. Furthermore, recently, there has been an emphasis in shifting from associative observations to more mechanistic studies to establish cause–effect relationship linking environmental factors to ASD pathogenesis [
26
].
For example, an association between ozone exposure and ASD risk has been demonstrated only among individuals who have a high CNV burden [
61
]. Moreover, the impact of MIA on the onset and severity of ASD seems to be significantly influenced by genetic susceptibility [
137
,
138
]. Some environmental factors such as certain toxins and vitamin D deficiency increase the risk of gene mutation that, in turn, can lead to an increased risk of ASD [
139
]. Likewise, as an association between maternal adiposity and variations in newborn blood DNA methylation has been confirmed, it could lead to the modified expression of several important genes (such as
apolipoprotein D
) that are critical to neurodevelopment in utero [
135
].
To explain the effects of gene–environment relations, many researches pointed their interest in examining potential involvement of epigenetics in ASD etiology [
140
,
141
]. Epigenetic mechanisms are biochemical modifications of DNA that affect gene expression without changing the DNA sequence; these are influenced by exposure to environmental factors [
20
]. Epigenetic programming is dynamic and responsive to different environmental exposures during development and includes several interrelated processes, including chromatin remodeling, histone modifications, DNA methylation, and expression of microRNAs (miRNAs). Epigenetic mechanisms play a critical role in normal brain development, thus drawing a bridge between genetic predisposition and environmental factors. They affect brain functions throughout the whole life, both at the individual and the transgenerational levels [
140
]. Several studies examined also the putative effects of stressful experiences in utero, such as prenatal infections, in epigenetic processes. In particular, animal models of MIA revealed that prenatally infected offspring exhibited significant differences in the expression of miRNA, altered histone modification, and changes in DNA methylation [
132
].
7. Early Intervention Strategies
The preconception and prenatal periods are probably the stages, in which the risk and protective factors play their major role. However, the well-known postnatal plasticity of the brain suggests that, during the first month and/or year of life, there are additional prospects to mitigate the impact of ASD on the quality of life of the affected person. In fact, developmental trajectories in children with ASD are complex and highly variable, so one of the major challenges is identifying potential protective factors and developing effective treatments. Single-gene syndromes with a high prevalence of neurodevelopmental disorders such as TSC or PTEN syndrome provide a unique opportunity to investigate risks and protective factors. Actually, the development of the phenotype does not stop when the diagnosis is made; the several risk and protective factors persist in acting together across the whole life, but particularly during the earliest stages. For this reason, early detection and subsequent early intervention strategies might positively modify the evolving developmental trajectories.
Actually, beyond some general environmental aspects, which have been shown to be protective, such as an inclusive educational environment or a positive parenting, in the last few years, a number of peripheral markers have been identified in children affected by idiopathic autism, including altered redox balance and mitochondrial dysfunction [
150
], decreased DHA and cholesterol with impaired Na
+
/K
+
-ATPase activity in erythrocyte membranes [
151
,
152
], upregulation of inflammatory cytokines and dysfunctional microbiota [
153
,
154
], and a characteristic metabolomic signature [
136
,
155
]. These altered parameters not only may provide tools for early diagnosis, but should be regarded as hubs of a network of inter-related dysfunctions, which are the basis for the manifestation of autistic clinical symptoms and its more common comorbidities. Providing remediation for such peripheral dysfunctions, specifically in a very early period of life, may make a significant difference in lessening the severity of symptoms, thus improving the quality of life. Ideally, one should monitor in high-risk infants and in newly diagnosed toddlers and children, a number of biological parameters, including nutritional deficiencies, oxidative stress, mitochondrial dysfunction, inflammation markers, intestinal leakage markers, and lipid composition of membranes, and then provide appropriate nutraceutical supplementations. Following a few months of treatment, the clinical outcome and the biological parameters should be assessed, in order to evaluate the efficacy of treatment.
8. Clinical Recommendations
Table 3
summarizes the main clinical recommendations for each period of vulnerability. However, as extensively discussed in the previous chapters, the impact in terms of ASD risk of several of these factors is only partially clarified; thus, these clinical recommendations should be acknowledged considering possible pitfalls related to still existing contradictory data interpretations. For this reason, these recommendations should be pondered in the perspective of the precautionary principle. Some general recommendations are, of course, related to antenatal care for each pregnancy, such as no smoking, no alcohol consumption, and prevention of folate acid and vitamin D deficiencies. Nevertheless, pediatricians should pay attention also to environmental conditions, which are recognized as risk factors for ASD. These include, but are not limited to, advanced parental age, a sibling with ASD, prematurity, a history of ART, maternal diabetes, and maternal obesity, as well as the use of antiepileptic or antidepressant drugs. In all these cases, close monitoring aiming to minimize the effects of risk factors and to maximize the impact of protective factors is warranted.
Of course, there are situations, like car exhaust-related or other sorts of air pollution, in which the reduction of the impact of a risk factor is not prerogative of single individual's choice; rather it is matter of governments' policies. Nevertheless, some simple strategies, namely ventilation improvements and air cleansers, can be of assistance in reducing at least indoor pollution.
Anyway, it should also be mentioned that several of these factors have been associated with other neurodevelopmental or psychiatric disorders as well, for example with Attention Deficit Hyperactivity Disorder (ADHD), conduct problems, or lower behavioral scores [
166
]. As a matter of fact, it is now recognized that co-occurrence of neurodevelopmental disorders is more often the rule than the exception. In this perspective, one should ask not just if an environmental factor increases the risk for ASD, but also if it might impact individually just one of the different features of ASD, like social-communication or repetitive behavior.
In short, the synergic effects of genetic, epigenetic and environmental factors can lead to a higher susceptibility during the whole pregnancy, especially in a subset of mothers at high risk of having a child with ASD. Although it is not possible, at present, to change the pathogenetic effects of the majority of these factors, some modifiable environmental agents could be modulated in order to restrain the severity of the disorder and, potentially, to prevent its onset.
Figure 1
summarizes the impact of selected environmental factors on ASD risk.
9. Future Perspectives
Future studies will need to take into account the complexity and heterogeneity of ASD, aiming at detecting the interactions of the diverse and multiple risks and protective factors associated with ASD. Thus, we should move from the research of a single risk factor to models which take into account the dynamic relationship between genetics and environment. Large long-term genetically informed prospective studies, including multi-generational ones, are needed to take into account new genetic/epigenetic evidence, as well as data arising from cellular, computational, or animal models. Large and heterogeneous sample sizes are needed to be able to identify timing of exposure in relation to critical developmental periods in which the risk and protective factors are acting. Furthermore, studies on environment toxics have been until now largely limited by a lack of reliable exposure measurements. In addition, this aspect would benefit from prospective designs.
In conclusion, recent developments in molecular biology and big data approaches, which are able to assess a large number of coexisting factors, are offering new opportunities to disentangle the gene–environment interplay that can lead to the development of ASD.
Author Contributions
P.C., L.E.G., and L.M. conceptualized the consensus conference; P.C., and L.E.G. coordinated the implementation of the consensus conference, its infrastructure and logistics; all authors actively participated in the consensus conference; P.C., L.E.G., M.M., A.B., R.M., and M.S. conceptualized, and drafted the initial manuscript, and reviewed and revised the final manuscript; L.M., A.F., A.G.A., R.R., and D.Z. critically reviewed and revised the manuscript; all authors approved the final manuscript as submitted.
Conflicts of Interest
The authors declare no conflicts of interest.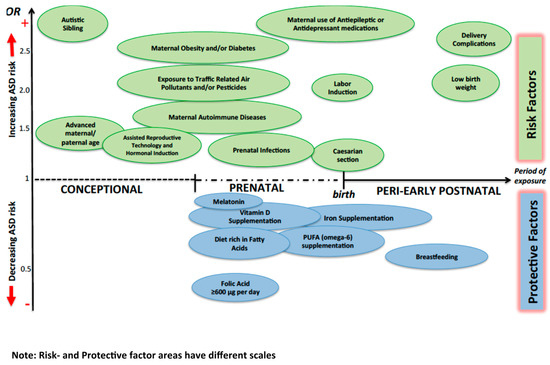 Figure 1. Possible impact of different environmental factors on ASD risk. The Odds Ratio (OR) for protective factors other than breastfeeding usually refers to conditions where the mother presents a lack of the specific factor. OR of "Autistic sibling" is around 7, so it is presented out of scale.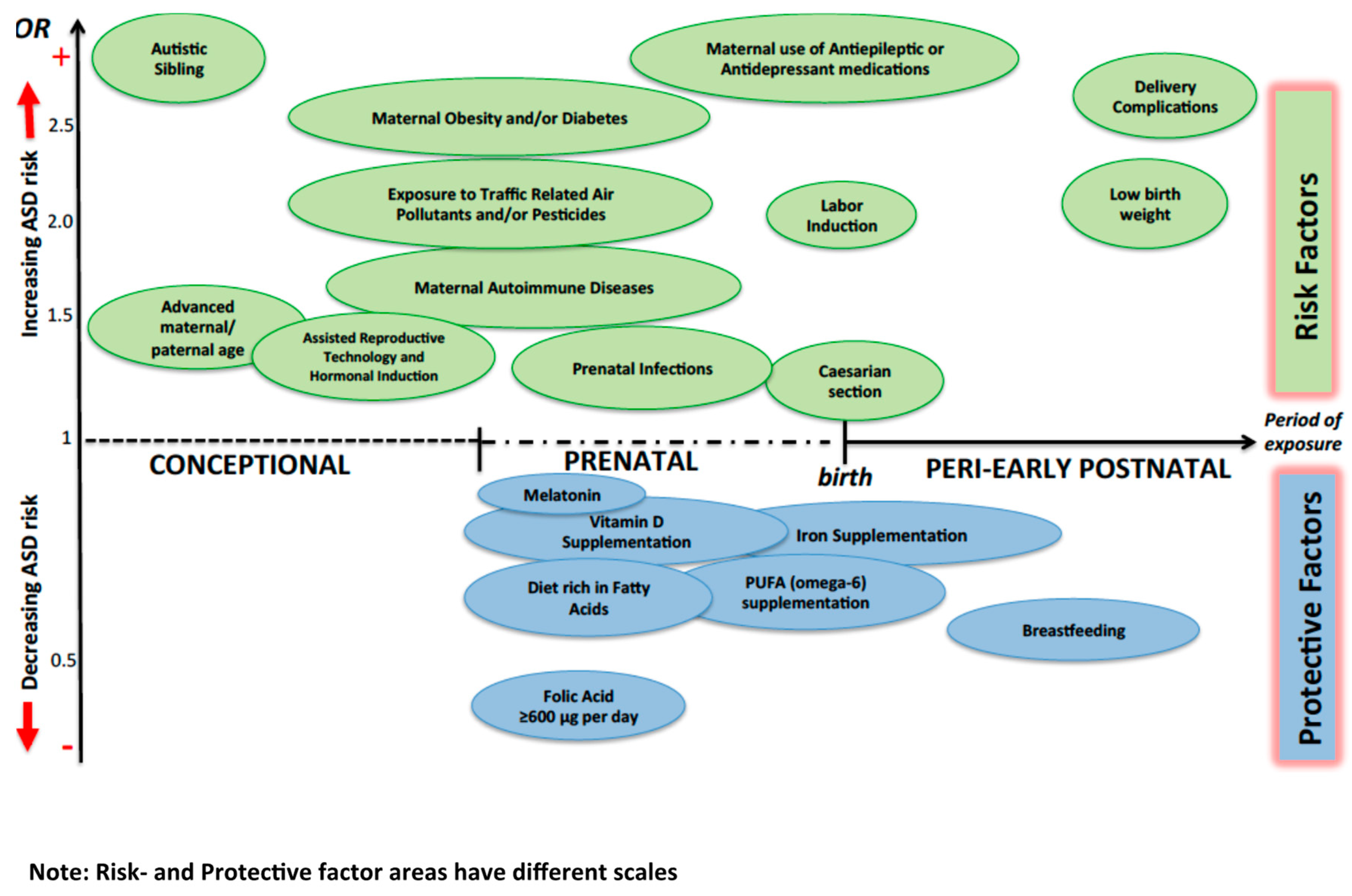 Risk Factor
Hypothesized Period of Action
Selected Studies
Advanced parental age
Conception
Durkin et al., 2008 [23]; Ben Itzchak et al., 2011 [24]; Geier et al., 2016 [25]; Sandin et al., 2016 [27]; Modabbernia et al., 2017 [26]
Use of hormonal induction; Assisted Reproductive Technologies (ART)
Conception
Auyeung et al., 2009 [36]; Zachor & Ben Itzchak., 2011 [38]; Liu et al., 2017 [31]
Environmental chemicals and toxicants:
air pollution
pesticides
phthalates
Conception, prenatal
Volk et al., 2011 [69]; Becerra et al., 2013 [70]; Rossignol et al., 2014 [40]; Weisskopf et al., 2015 [67]; Gong et al., 2017 [71]; Raz et al., 2018 [73]; Eskenazi et al., 2007 [79]; Cheslack-Postava, 2013 [77]; Shin et al., 2018 [134]; Braun et al., 2014 [78]
Nutritional factors:
maternal obesity or undernutrition
folates
vitamin D deficiency
iron deficiency
Conception; prenatal; early postnatal
Georgieff et al., 2007 [45]; Krakowiak et al., 2012 [41]; Getz et al., 2016 [42]; Andersen et al., 2018 [43]; Schmidt et al., 2011, 2012 and 2017 [46,135,136]; Vinkhuyzen et al., 2017 [101]; Schmidt et al., 2014 [53]
Medications:
valproate
other AEDs
SSRIs
antibiotics
antibiotic
Prenatal
Roullet, et al., 2013 [86]; Veroniki et al., 2017 [87]; Mezzacappa et al., 2017 [57]; Atladottir, 2012 [91]
Infections;
Fever;
Maternal Immune Activation (MIA)
Prenatal
Zerbo et al., 2013 [105]; Jiang et al., 2016 [137]; Brucato et al., 2017 [106]; Zerbo et al., 2013 [105]; Parker-Athill et al., 2010 [109]; Jones et al., 2017 [110]
Maternal individual factors and diseases:
gestational diabetes;
maternal melatonin levels;
depression (?)
Prenatal
Gardener at al., 2009 [114]; Lyall et al., 2012 [115]; Jin et al., 2018 [120]
Delivery method
Perinatal
Dodds et al., 2011 [122]; Emberti Gialloreti et al., 2014 [123]
Fetal distress
Perinatal
Modabbernia et al., 2017 [26]; Wang et al., 2017 [126]
Nutritional Protective Factors
Period of Exposure
Study
Folic acid of ≥600 μg
Folic acid + MTHFR 677 C > T variant genotype
Prenatal
Prenatal
Schmidt et al., 2012 [143]; Schmidt et al., 2011 [149]; Suren et al., 2013 [100]
Fatty acid
PUFA
Prenatal
Lyall et al., 2013 [19]; Morgese et al., 2016 [148]
Vitamin D
Prenatal
Stubbs et al., 2016 [144]
Iron
Iron + Breastfeeding
Prenatal; postnatal
Schmidt et al., 2014 [53]
Melatonin
Prenatal
Jin et al., 2018 [120]
Breast feeding
Postnatal
Bar et al., 2016 [146]; Boucher et al., 2017 [147]; Tseng et al., 2017 [145]
Clinical Recommendations
Minimizing Risk Factors
Maximizing Protective Factors
References
Periconception Period
Encouraging women weight loss in case of obesity and strict glycaemia control in case of diabetes;
close monitoring and/or treatment of preconception maternal diseases and/or conditions (psychiatric conditions, vitamin D or folic acid deficiencies);
close follow-up of children born after ART use using frequent developmental surveillance after birth
Monitor diet of women;
encourage assumption of daily folic acid and vitamin D intake from natural sources before pregnancy; have reasonable exposure to sunlight.
Peretti et al., 2017 [99]; Schmidt et al., 2012 [143]; Andersen et al., 2018 [43]; Oberlander et al., 2017 [90]; Zachor & Ben Itzchak, 2011 [38]
Prenatal Period
Close monitoring and symptomatic treatment even for mothers with minor infections or inflammatory episodes;
prevention of infections during pregnancy with vaccination programs; surveillance of mothers who are using long-term medications.
Mothers who had already autistic children and/or with de novo or inherited ASD-associated CNVs are more susceptible to environmental insults in the subsequent pregnancy; therefore, a strict surveillance and treatment of infections or inflammatory episodes during whole pregnancy is highly recommended.
Recommend daily folic acid intake of ≥600 μg during the first month of pregnancy;
recommend a constant intake of vitamin D and iron
Babenko et al., 2015 [156]; Schmidt et al., 2014 [53]; Mezzacappa et al., 2017 [57]; Veroniki et al., 2017 [87]
Perinatal/Early Postnatal Period
Close monitoring not only of premature newborns, but also of those with minor perinatal complications;
defined medical and neuropsychological follow-up of preterm children; ASD screening in all preterm infants, as recommended by AAP, using instruments such as M-CHAT
In case of syndromic ASD: early and frequent neurodevelopment assessment to promptly identify early signs suggestive of ASD (i.e. deficits in social communication behaviors in TSC, low adaptive behaviors in social area in FXS, lack of language development in Angelman syndrome, and difficulties in joint attention in preterm infants)
In case of high risk for epilepsy, EEG monitoring and immediate treatment of seizures (to minimize the impact on long-term outcome)
In all high-risk infants, (genetic syndromes, preterm birth, and familial history) parental education to warrant early referral and parent-mediated intervention
Whenever possible, encourage breastfeeding;
monitor diet of infants and toddlers;
early targeted behavioral interventions to potentiate cognitive abilities, which can act as protective factors reducing the severity of ASD symptoms
Curatolo et al., 2018 [157]; Peralta-Carcelen et al., 2018 [158]; McDonald et al., 2017 [159]; Tseng et al., 2017 [145]; Peretti et al., 2017 [99]; Zwaigenbaum et al., 2015 [160]; Bonati et al., 2007 [161]; McCary et al., [162]; Jones et al., 2017 [163]
As early as possible in high-risk infants and in newly diagnosed toddlers/children
Following the evaluation of biological parameters, provide appropriate nutraceutical supplementations
Li et al., 2017 [164]; Adams et al., 2018 [165]

© 2019 by the authors. Licensee MDPI, Basel, Switzerland. This article is an open access article distributed under the terms and conditions of the Creative Commons Attribution (CC BY) license (http://creativecommons.org/licenses/by/4.0/).