Muscle Involvement in a Large Cohort of Pediatric Patients with Genetic Diagnosis of Mitochondrial Disease
1
Clinical Biochemistry, Pathology, Paediatric Neurology and Molecular Medicine Departments and Biobank, Institut de Recerca Sant Joan de Déu and CIBERER-ISCIII, 08950 Esplugues, Spain
2
Secció d'Errors Congènits del Metabolisme—IBC, Servei de Bioquímica i Genètica Molecular, Hospital Clínic, IDIBAPS, CIBERER-ISCIII, 08028 Barcelona, Spain
3
Centro Andaluz de Biología del Desarrollo, Universidad Pablo de Olavide and CIBERER-ISCIII, 41013 Sevilla, Spain
4
Departamento de Bioquímica, Biología Molecular y Celular, Instituto de investigación Sanitaria de Aragón and CIBERER-ISCIII, Universidad de Zaragoza, 50013 Zaragoza, Spain
*
Author to whom correspondence should be addressed.
Received: 30 November 2018 / Revised: 17 December 2018 / Accepted: 7 January 2019 / Published: 10 January 2019
Abstract
Mitochondrial diseases (MD) are a group of genetic and acquired disorders which present significant diagnostic challenges. Here we report the disease characteristics of a large cohort of pediatric MD patients (
n
= 95) with a definitive genetic diagnosis, giving special emphasis on clinical muscle involvement, biochemical and histopathological features. Of the whole cohort, 51 patients harbored mutations in nuclear DNA (nDNA) genes and 44 patients had mutations in mitochondrial DNA (mtDNA) genes. The nDNA patients were more likely to have a reduction in muscle fiber succinate dehydrogenase (SDH) stains and in SDH-positive blood vessels, while a higher frequency of mtDNA patients had ragged red (RRF) and blue fibers. The presence of positive histopathological features was associated with ophthalmoplegia, myopathic facies, weakness and exercise intolerance. In 17 patients younger than two years of age, RRF and blue fibers were observed only in one case, six cases presented cytochrome c oxidase (COX) reduction/COX-fibers, SDH reduction was observed in five and all except one presented SDH-positive blood vessels. In conclusion, muscle involvement was a frequent finding in our series of MD patients, especially in those harboring mutations in mtDNA genes.
View Full-Text
►

▼

Figures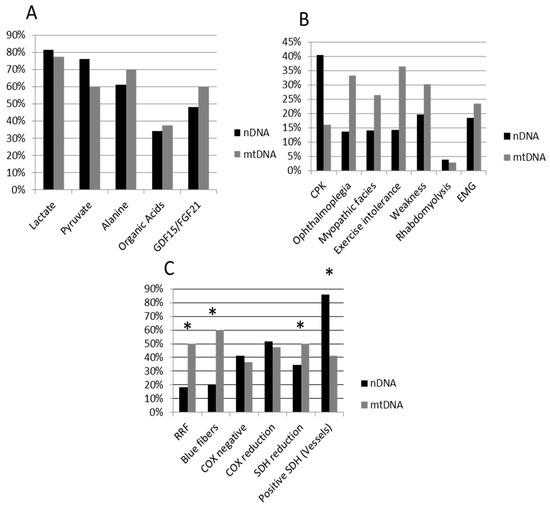 Figure 1
This is an open access article distributed under the
Creative Commons Attribution License
which permits unrestricted use, distribution, and reproduction in any medium, provided the original work is properly cited (CC BY 4.0).

Share & Cite This Article
MDPI and ACS Style
Jou, C.; Ortigoza-Escobar, J.D.; O'Callaghan, M.M.; Nascimento, A.; Darling, A.; Pias-Peleteiro, L.; Perez-Dueñas, B.; Pineda, M.; Codina, A.; Arjona, C.; Armstrong, J.; Palau, F.; Ribes, A.; Gort, L.; Tort, F.; Navas, P.; Ruiz-Pesini, E.; Emperador, S.; Lopez-Gallardo, E.; Bayona-Bafaluy, P.; Montero, R.; Jimenez-Mallebrera, C.; Garcia-Cazorla, A.; Montoya, J.; Yubero, D.; Artuch, R. Muscle Involvement in a Large Cohort of Pediatric Patients with Genetic Diagnosis of Mitochondrial Disease. J. Clin. Med. 2019, 8, 68.
Note that from the first issue of 2016, MDPI journals use article numbers instead of page numbers. See further details here.
Related Articles
Comments
[Return to top]