Angiopoietin-2: A Potential Mediator of the Glycocalyx Injury in Adult Nephrotic Patients
1
Medical Sciences Postgraduate Program, Universidade de Fortaleza–UNIFOR, Fortaleza 60811-905, Ceara, Brazil
2
Medical Course, Universidade de Fortaleza—UNIFOR, Fortaleza 60811-905, Ceara, Brazil
3
Department of Clinical Medicine, Universidade Christus, Fortaleza 60811-905, Ceara, Brazil
4
Medical Sciences Postgraduate Program, Department of Clinical Medicine, Universidade Federal do Ceará, Fortaleza 60811-905, Ceará, Brazil
5
Department of Clinical and Toxicological Analysis, Faculty of Pharmacy, Federal University of Ceara, Fortaleza 60811-905, Ceara, Brazil
6
Experimental Biology Centre (NUBEX), University of Fortaleza (UNIFOR), Fortaleza 60811-905, Ceara, Brazil
*
Author to whom correspondence should be addressed.
Received: 24 September 2018 / Revised: 20 October 2018 / Accepted: 22 October 2018 / Published: 31 October 2018
Abstract
Introduction: Glomerulopathy is a group of diseases that affect mainly young adults between the ages of 20 and 40 years. Recently, it has been demonstrated that syndecan-1, a biomarker of endothelial glycocalyx damage, is increased in nephrotic patients with near-normal renal function and it is important to endothelial dysfunction in these patients. Angiopoietin-2 (AGPT2) is an endothelial growth factor that promotes cell derangement. Here we evaluated AGPT2 levels in patients with nephrotic syndrome, near-normal renal function and the possible interaction of AGPT2 with endothelial glycocalyx derangement. Methods: This was a cross-sectional study performed from January through November 2017. Adult patients (age > 18 years) with nephrotic syndrome and without immunosuppression were included. Blood samples were drawn after a 12 h fast for later measurement of syndecan-1 and AGPT2. Mediation analyses were performed to assess the hypothesized associations of nephrotic syndrome features and AGPT2 with syndecan-1. Results: We included 65 patients, 37 (56.9%) of them female, with primary glomerular disease. Syndecan-1 in nephrotic patients was higher than in control individuals (102.8 ± 36.2 vs. 28.2 ± 9.8 ng/mL,
p
< 0.001). Correlation of syndecan-1 with the main features of nephrotic syndrome after adjustment for age and estmmated glomerular filtration rate (eGFR) demonstrated that syndecan-1 was significantly associated with 24-h urinary protein excretion, total cholesterol, LDL (low density lipoprotein)-cholesterol, HDL (high-density lipoprotein)-cholesterol, and triglycerides. Angiopoietin-2 was independently associated with serum albumin, 24 h urinary protein excretion, total cholesterol, and LDL-cholesterol, in addition to being strongly associated with syndecan-1 (0.461,
p
< 0.001). The results of the mediation analyses showed that the direct association between LDL-cholesterol and syndecan-1 was no longer significant after AGPT-2 was included in the mediation analysis. AGPT2 explained 56% of the total observed association between LDL-cholesterol and syndecan-1. Conclusion: The association between LDL-cholesterol and glycocalyx derangement in nephrotic patients is possibly mediated by AGPT2.
View Full-Text
►

▼

Figures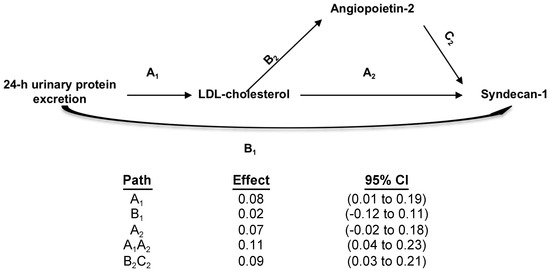 Figure 1
This is an open access article distributed under the
Creative Commons Attribution License
which permits unrestricted use, distribution, and reproduction in any medium, provided the original work is properly cited (CC BY 4.0).

Share & Cite This Article
MDPI and ACS Style
Chaves, M.M.S.; Mendes, M.S.; Schwermann, M.P.; Queiroz, R.; Coelho, R.F.; Salmito, F.T.S.; Meneses, G.C.; Martins, A.M.C.; Moreira, A.C.O.M.; Libório, A.B. Angiopoietin-2: A Potential Mediator of the Glycocalyx Injury in Adult Nephrotic Patients. J. Clin. Med. 2018, 7, 401.
Note that from the first issue of 2016, MDPI journals use article numbers instead of page numbers. See further details here.
Related Articles
Comments
[Return to top]