Long-Term Effects of Spironolactone on Kidney Function and Hyperkalemia-Associated Hospitalization in Patients with Chronic Kidney Disease
1
Department of Internal Medicine, Changhua Christian Hospital, Changhua 50006, Taiwan
2
School of Medicine, Kaohsiung Medical University, Kaohsiung 80708, Taiwan
3
School of Medicine, Chung Shan Medical University, Taichung 40201, Taiwan
*
Author to whom correspondence should be addressed.
†
These authors contributed equally to this work.
Received: 14 November 2018 / Accepted: 19 November 2018 / Published: 21 November 2018
Abstract
Background: Spironolactone, a non-selective mineralocorticoid receptor antagonist, can protect against cardiac fibrosis and left ventricular dysfunction, and improve endothelial dysfunction and proteinuria. However, the safety and effects of spironolactone on patient-centered cardiovascular and renal endpoints remain unclear. Methods: We identified predialysis stage 3–4 chronic kidney disease (CKD) patients between 2000 and 2013 from the Longitudinal Health Insurance Database 2005 (LHID 2005). The outcomes of interest were end-stage renal disease (ESRD), major adverse cardiovascular events (MACE), hospitalization for heart failure (HHF), hyperkalemia-associated hospitalization (HKAH), all-cause mortality and cardiovascular mortality. The Fine and Gray sub-distribution hazards approach was adopted to adjust for the competing risk of death. Results: After the propensity score matching, 693 patients with stage 3–4 CKD were spironolactone users and 1386 were nonusers. During the follow-up period, spironolactone users had a lower incidence rate for ESRD than spironolactone non-users (39.2 vs. 53.69 per 1000 person-years) and a higher incidence rate for HKAH (54.79 vs. 18.57 per 1000 person-years). The adjusted hazard ratios for ESRD of spironolactone users versus non-users were 0.66 (95% CI, 0.51–0.84;
p
value < 0.001) and 3.17 (95% CI, 2.41–4.17;
p
value < 0.001) for HKAH. A dose-response relationship was found between spironolactone use and risk of ESRD and HKAH. There were no statistical differences in MACE, HHF, all-cause mortality and cardiovascular mortality between spironolactone users and non-users. Conclusion: Spironolactone represented a promising treatment option to retard CKD progression to ESRD amongst stage 3–4 CKD patients, but strategic treatments to prevent hyperkalemia should be enforced.
View Full-Text
►

▼

Figures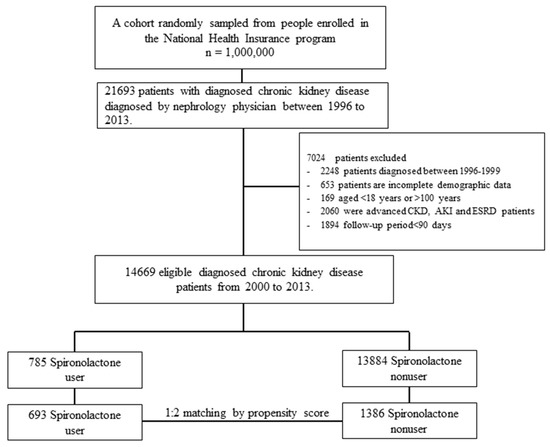 Figure 1
This is an open access article distributed under the
Creative Commons Attribution License
which permits unrestricted use, distribution, and reproduction in any medium, provided the original work is properly cited (CC BY 4.0).

Share & Cite This Article
MDPI and ACS Style
Yang, C.-T.; Kor, C.-T.; Hsieh, Y.-P. Long-Term Effects of Spironolactone on Kidney Function and Hyperkalemia-Associated Hospitalization in Patients with Chronic Kidney Disease. J. Clin. Med. 2018, 7, 459.
Note that from the first issue of 2016, MDPI journals use article numbers instead of page numbers. See further details here.
Related Articles
Comments
[Return to top]