Do We Utilize Our Knowledge of the Skin Protective Effects of Carotenoids Enough?
1
Department of Dermatology and Venereology, University Hospital Centre Zagreb, School of Medicine, University of Zagreb, Šalata 4, 10 000 Zagreb, Croatia
2
School of Medicine, University of Zagreb, Šalata 3, 10 000 Zagreb, Croatia
*
Author to whom correspondence should be addressed.
Received: 30 June 2019 / Revised: 22 July 2019 / Accepted: 24 July 2019 / Published: 31 July 2019
(This article belongs to the Special Issue
Carotenoids
)
Abstract
Due to their potential health-promoting effects, carotenoids have drawn both scientific and public attention in recent years. The primary source of carotenoids in the human skin is diet, mainly fruits, vegetables, and marine product, but they may originate from supplementation and topical application, too. In the skin, they accumulate mostly in the epidermis and act as a protective barrier to various environmental influences. Namely, the skin is exposed to numerous environmental factors, including ultraviolet radiation (UVR), air pollution, and smoking, that cause oxidative stress within the skin with consequent premature (extrinsic) aging. UVR, as the most prominent environmental factor, may cause additional detrimental skin effects, such as sunburn, DNA damage, and skin cancer. Therefore, photoprotection is the first line intervention in the prevention of premature aging and skin cancer. Numerous studies have demonstrated that carotenoids, particularly β-carotene, lycopene, lutein, and astaxanthin, have photoprotective effects, not only through direct light-absorbing properties, but also through their antioxidant effects (scavenging reactive oxygen species), as well as by regulation of UV light-induced gene expression, modulation of stress-dependent signaling, and/or suppression of cellular and tissue responses like inflammation. Interventional studies in humans with carotenoid-rich diet have shown its photoprotective effects on the skin (mostly by decreasing the sensitivity to UVR-induced erythema) and its beneficial effects in prevention and improvement of skin aging (improved skin elasticity and hydration, skin texture, wrinkles, and age spots). Furthermore, carotenoids may be helpful in the prevention and treatment of some photodermatoses, including erythropoietic protoporphyria (EPP), porphyria cutanea tarda (PCT) and polymorphous light eruption (PMLE). Although UVR is recognized as the main etiopathogenetic factor in the development of non-melanoma skin cancer (NMSC) and melanoma, and the photoprotective effects of carotenoids are certain, available studies still could not undoubtedly confirm the protective role of carotenoids in skin photocarcinogenesis.
View Full-Text
►

▼

Figures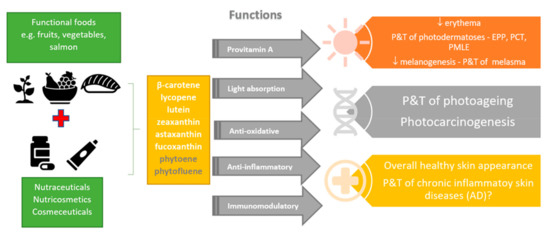 Figure 1
This is an open access article distributed under the
Creative Commons Attribution License
which permits unrestricted use, distribution, and reproduction in any medium, provided the original work is properly cited (CC BY 4.0).

Share & Cite This Article
MDPI and ACS Style
Balić, A.; Mokos, M. Do We Utilize Our Knowledge of the Skin Protective Effects of Carotenoids Enough? Antioxidants 2019, 8, 259.
Note that from the first issue of 2016, MDPI journals use article numbers instead of page numbers. See further details here.
Related Articles
Comments
[Return to top]