Lycopene Modulates Pathophysiological Processes of Non-Alcoholic Fatty Liver Disease in Obese Rats
1
Medical School, São Paulo State University (Unesp), Botucatu 18618-687, Brazil
2
School of Dentistry, São Paulo State University (Unesp), Araraquara 14800-901, Brazil
*
Author to whom correspondence should be addressed.
Received: 27 June 2019 / Revised: 24 July 2019 / Accepted: 1 August 2019 / Published: 5 August 2019
(This article belongs to the Special Issue
Carotenoids
)
Abstract
Background
: The higher consumption of fat and sugar are associated with obesity development and its related diseases such as non-alcoholic fatty liver disease (NAFLD). Lycopene is an antioxidant whose protective potential on fatty liver degeneration has been investigated. The aim of this study was to present the therapeutic effects of lycopene on NAFLD related to the obesity induced by a hypercaloric diet.
Methods
: Wistar rats were distributed in two groups: Control (Co,
n
= 12) and hypercaloric (Ob,
n
= 12). After 20 weeks, the animals were redistributed into the control group (Co,
n
= 6), control group supplemented with lycopene (Co+Ly,
n
= 6), obese group (Ob,
n
= 6), and obese group supplemented with lycopene (Ob+Ly,
n
= 6). Ob groups also received water + sucrose (25%). Animals received lycopene solution (10 mg/kg/day) or vehicle (corn oil) via gavage for 10 weeks.
Results
: Animals which consumed the hypercaloric diet had higher adiposity index, increased fasting blood glucose, hepatic and blood triglycerides, and also presented in the liver macro and microvesicular steatosis, besides elevated levels of tumor necrosis factor-α (TNF-α). Lycopene has shown therapeutic effects on blood and hepatic lipids, increased high-density lipoprotein cholesterol (HDL), mitigated TNF-α, and malondialdehyde (MDA) and further improved the hepatic antioxidant capacity.
Conclusion
: Lycopene shows therapeutic potential to NAFLD.
View Full-Text
►

▼

Figures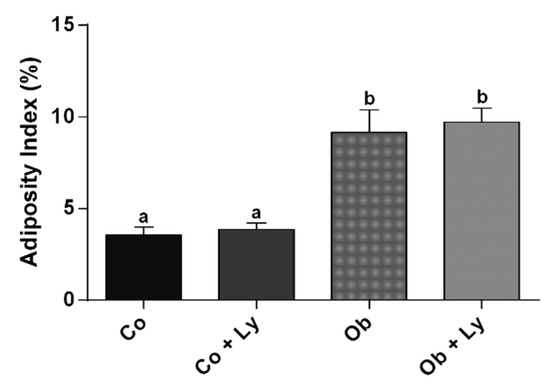 Figure 1
This is an open access article distributed under the
Creative Commons Attribution License
which permits unrestricted use, distribution, and reproduction in any medium, provided the original work is properly cited (CC BY 4.0).

Share & Cite This Article
MDPI and ACS Style
Róvero Costa, M.; Leite Garcia, J.; Cristina Vágula de Almeida Silva, C.; Junio Togneri Ferron, A.; Valentini Francisqueti-Ferron, F.; Kurokawa Hasimoto, F.; Schmitt Gregolin, C.; Henrique Salomé de Campos, D.; Roberto de Andrade, C.; dos Anjos Ferreira, A.L.; Renata Corrêa, C.; Moreto, F. Lycopene Modulates Pathophysiological Processes of Non-Alcoholic Fatty Liver Disease in Obese Rats. Antioxidants 2019, 8, 276.
Note that from the first issue of 2016, MDPI journals use article numbers instead of page numbers. See further details here.
Related Articles
Comments
[Return to top]