Synthesis, Characterization and Antioxidant Properties of a New Lipophilic Derivative of Edaravone
1
Dipartimento di Scienze della Vita e dell'Ambiente (DISVA), Università Politecnica delle Marche, via Brecce Bianche, 60131 Ancona, Italy
2
Dipartimento S.I.M.A.U., Università Politecnica delle Marche, via Brecce Bianche, 60131 Ancona, Italy
3
Sooft Italia SpA, Contrada Molino 17, 63833 Montegiorgio, Italy
4
Dipartimento Scienze Cliniche Specialistiche ed Odontostomatologiche, Università Politecnica delle Marche, via Brecce Bianche, 60131 Ancona, Italy
*
Author to whom correspondence should be addressed.
Received: 1 July 2019 / Revised: 26 July 2019 / Accepted: 29 July 2019 / Published: 31 July 2019
Abstract
As part of a program aimed to obtain antioxidants able to interact with cell membrane, edaravone (EdV, 3-methyl-1-phenyl-2-pyrazolin-5-one), a well-known free radical scavenger, has been modified by alkylation at its allylic position (4) with a C-18 hydrocarbon chain, and the increased lipophilicity has been determined towards the interaction with liposomes. The obtained derivative has been studied by means of density functional theory (DFT) methods in order to characterize its lowest energy conformers and predict its antioxidant properties with respect to the parent compound EdV. The in vitro antioxidant activity of C18-edaravone was studied by means of the α,α-diphenyl-β-picrylhydrazyl (DPPH) assay and in lipid peroxidation experiments performed on artificial lipid membranes using water-soluble as well as lipid-soluble radical initiators. Moreover, since oxidative stress is involved in numerous retinal degenerative diseases, the ability of C18-edaravone to contrast 2,2-azobis (2-amidinopropane hydrochloride) (AAPH)-induced cell death was assessed in adult retinal pigmented epithelium (ARPE-19) cells. Overall, the results demonstrated that the newly synthesized molecule has a high affinity for lipid membrane, increasing the efficacy of the unmodified edaravone under stress conditions.
View Full-Text
►

▼

Figures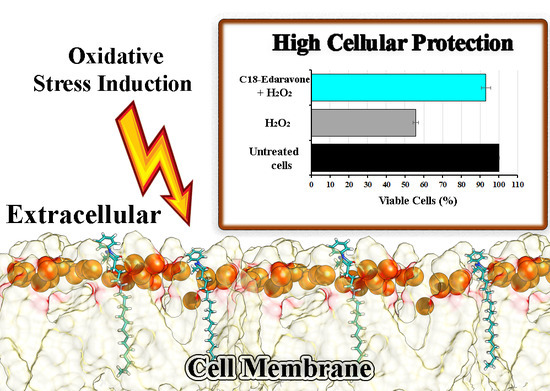 Graphical abstract
This is an open access article distributed under the
Creative Commons Attribution License
which permits unrestricted use, distribution, and reproduction in any medium, provided the original work is properly cited (CC BY 4.0).

Share & Cite This Article
MDPI and ACS Style
Minnelli, C.; Laudadio, E.; Galeazzi, R.; Rusciano, D.; Armeni, T.; Stipa, P.; Cantarini, M.; Mobbili, G. Synthesis, Characterization and Antioxidant Properties of a New Lipophilic Derivative of Edaravone. Antioxidants 2019, 8, 258.
Note that from the first issue of 2016, MDPI journals use article numbers instead of page numbers. See further details here.
Related Articles
Comments
[Return to top]