Antioxidant Activity of
Graptopetalum paraguayense

E. Walther Leaf Extract Counteracts Oxidative Stress Induced by Ethanol and Carbon Tetrachloride Co-Induced Hepatotoxicity in Rats

1

Department of Nutrition and Health Sciences, Kainan University, Taoyuan 33857, Taiwan

2

Department of Food and Nutrition, Providence University, Taichung 43301, Taiwan

3

Graduate Institute of Veterinary Pathobiology, National Chung Hsing University, Taichung 40227, Taiwan

*

Author to whom correspondence should be addressed.

Received: 26 June 2019 / Revised: 24 July 2019 / Accepted: 25 July 2019 / Published: 28 July 2019
Abstract
(1) Background:
Graptopetalum paraguayense
E. Walther is a traditional Chinese herbal medicine. In our previous study, 50% ethanolic
G. paraguayense
extracts (GE50) demonstrated good antioxidant activity. (2) Methods: To investigate the hepatoprotective effects of GE50 on ethanol and carbon tetrachloride (CCl
4
) co-induced hepatic damage in rats, Sprague–Dawley rats were randomly divided into five groups (Control group; GE50 group, 0.25 g/100 g BW; EC group: Ethanol + CCl
4
, 1.25 mL 50% ethanol and 0.1 mL 20% CCl
4
/100 g BW; EC + GE50 group: Ethanol + CCl
4
+ GE50; EC + silymarin group: ethanol + CCl
4
+ silymarin, 20 mg/100 g BW) for six consecutive weeks. (3) Results: Compared with the control group, EC group significantly elevated the serum aspartate aminotransferase (AST), alanine aminitransferase (ALT), and lactate dehydrogenase (LDH). However, GE50 or silymarin treatment effectively reversed these changes. GE50 had a significant protective effect against ethanol + CCl
4
induced lipid peroxidation and increased the levels of glutathione (GSH), vitamin C, E, total antioxidant status (TAS), and the activities of superoxide dismutase (SOD), glutathione peroxidase (GPx), catalase (CAT), and glutathione S-transferases (GST). Furthermore, in EC focal group, slight fat droplet infiltration was observed in the livers, while in the GE50 or silymarin treatment groups, decreased fat droplet infiltration. HPLC phytochemical profile of GE50 revealed the presence of gallic acid, flavone, genistin, daidzin, and quercetin. (4) Conclusions: The hepatoprotective activity of GE50 is proposed to occur through the synergic effects of its chemical component, namely, gallic acid, flavone, genistin, daidzin, and quercetin. Hence,
G. paraguayense
can be used as a complementary and alternative therapy in the prevention of alcohol + CCl
4
-induced liver injury.
View Full-Text
►

▼

Figures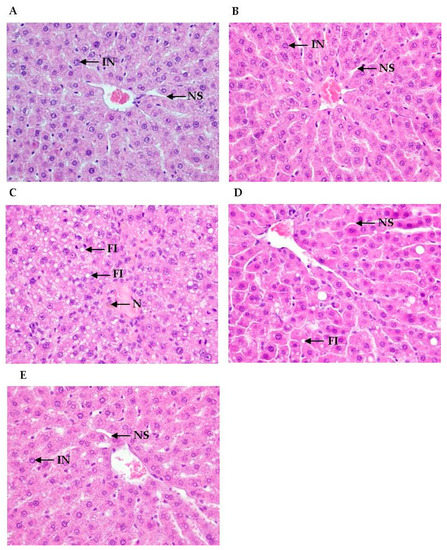 Figure 1
This is an open access article distributed under the
Creative Commons Attribution License
which permits unrestricted use, distribution, and reproduction in any medium, provided the original work is properly cited (CC BY 4.0).

Share & Cite This Article
MDPI and ACS Style
Chao, W.-W.; Chen, S.-J.; Peng, H.-C.; Liao, J.-W.; Chou, S.-T. Antioxidant Activity of Graptopetalum paraguayense E. Walther Leaf Extract Counteracts Oxidative Stress Induced by Ethanol and Carbon Tetrachloride Co-Induced Hepatotoxicity in Rats. Antioxidants 2019, 8, 251.
Note that from the first issue of 2016, MDPI journals use article numbers instead of page numbers. See further details here.
Related Articles
Comments
[Return to top]