Effect of Manitoba-Grown Red-Osier Dogwood Extracts on Recovering Caco-2 Cells from H2O2-Induced Oxidative Damage
1
College of Food Science and Technology, Nanjing Agricultural University, Nanjing 210095, China
2
Department of Animal Science, University of Manitoba, Winnipeg, MB R3T 2N2, Canada
3
Guelph Research & Development Centre, Agriculture and Agri-Food Canada, 93 Stone Road West, Guelph, ON N1G 5C9, Canada
4
Department of Physics, University of Manitoba, Winnipeg, MB R3T 2N2, Canada
5
St. Boniface Hospital Research Centre, Winnipeg, MB R2H 2A6, Canada
*
Author to whom correspondence should be addressed.
Received: 27 June 2019 / Revised: 24 July 2019 / Accepted: 26 July 2019 / Published: 28 July 2019
Abstract
Red-osier dogwood, a native species of flowering plant in North America, has been reported to have anti-oxidative properties because of abundant phenolic compounds; this could be promising as a functional food or a feed additive. In the present study, an oxidative damage model using 1.0 mM hydrogen peroxide (H
2
O
2
) in Caco-2 cells was established to evaluate the antioxidative effects of red-osier dogwood extracts (RDE). The results showed that 1.0 mM H
2
O
2
pre-exposure for 3 h significantly decreased cell viability, and increased interleukin 8 (IL-8) secretion and the intracellular reactive oxygen species (ROS) level. Caco-2 cells were treated with 100 µg/mL RDE for 24 h after pre-exposure to H
2
O
2
. It was found that the decreased cell viability caused by H
2
O
2
was significantly restored by a subsequent 100 µg/mL RDE treatment. Furthermore, the IL-8 secretion and ROS level were significantly blocked by RDE, accompanied by the enhanced gene expression of hemeoxygenase-1 (HO-1), superoxide dismutase (SOD), and glutathione peroxidase (GSH-Px), and the enhanced protein expression of the nuclear factor (erythroid-derived 2)-like 2 (Nrf-2). Moreover, RDE improved barrier functions in Caco-2 cells. Using RDE reduced the diffusion of fluorescein isothiocyanate (FITC)-dextran and increased the transepithelial resistance (TEER) value. The relative mRNA level of tight junction claudin-1, claudin-3, and occludin was elevated by RDE. These extracts also repaired the integrity of zonula occludens-1 (ZO-1) damaged by H
2
O
2
and increased the protein expressions of ZO-1 and claudin-3 in the H
2
O
2
-pretreated cells. These results illustrated that RDE reduced the ROS level and enhanced the barrier function in oxidative-damaged epithelial cells.
View Full-Text
►

▼

Figures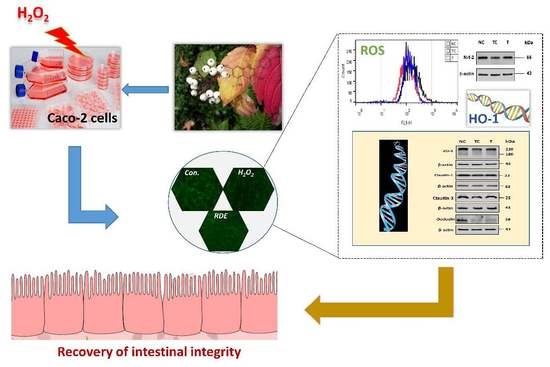 Graphical abstract
This is an open access article distributed under the
Creative Commons Attribution License
which permits unrestricted use, distribution, and reproduction in any medium, provided the original work is properly cited (CC BY 4.0).

Share & Cite This Article
MDPI and ACS Style
Yang, R.; Hui, Q.; Jiang, Q.; Liu, S.; Zhang, H.; Wu, J.; Lin, F.; O, K.; Yang, C. Effect of Manitoba-Grown Red-Osier Dogwood Extracts on Recovering Caco-2 Cells from H2O2-Induced Oxidative Damage. Antioxidants 2019, 8, 250.
Note that from the first issue of 2016, MDPI journals use article numbers instead of page numbers. See further details here.
Related Articles
Comments
[Return to top]