Inhibition of LPS-Induced Oxidative Damages and Potential Anti-Inflammatory Effects of
Phyllanthus emblica

Extract via Down-Regulating NF-κB, COX-2, and iNOS in RAW 264.7 Cells

1

College of Oceanology and Food Science, Quanzhou Normal University, Quanzhou 362000, China

2

Graduate Institute of Biomedical Engineering, National Chung Hsing University, Taichung City 402; Taiwan

3

Graduate Institute of Medicine, College of Medicine, Kaohsiung Medical University, Kaohsiung 807, Taiwan

4

Department of Medical Laboratory Science and Biotechnology, China Medical University, Taichung City 404, Taiwan

5

Department of Life Science, National Chung Hsing University, Taichung City 402, Taiwan

6

Deloitte Institute of Biology, Yangtze River Delta Research Institute, Tsinghua University, Beijing 100084, China

7

Department of Chemical and Materials Engineering, Tunghai University Taichung City 407, Taiwan

8

Undergraduate Study Program of Biomedical Engineering, Department of Physics, Faculty of Science & Technology, Airlangga University, Surabaya 60115, Indonesia

9

Tissue Engineering and Regenerative Medicine Laboratory, Department of Biomedical Engineering, International University, Vietnam National University, Ho Chi Minh City 700000, Vietnam

10

Department of Biomedical Informatics, Postdoctoral researcher for Biomedical Informatics, National Defense Medical Center, Taipei 114, Taiwan

11

Cardiovascular Clinic, Kaohsiung Armed Forces General Hospital, Kaohsiung City 802, Taiwan

12

Neurology, Internal Medicine, Cheng Ching Hospital, Taichung City 407, Taiwan

*

Authors to whom correspondence should be addressed.

†

These authors contributed equally to this work.

Received: 22 July 2019 / Revised: 30 July 2019 / Accepted: 31 July 2019 / Published: 2 August 2019
Abstract
Phyllanthus emblica
is an edible nutraceutical and functional food in the Asia area with medicinal and nutritive importance. The fruit extract of
P. emblica
is currently considered to be one of the effective functional foods for flesh maintenance and disease treatments because of its antioxidative and immunomodulatory properties. We examined the antioxidant abilities of the fruit extract powder by carrying out 2,2-diphenyl-1-picrylhydrazyl (DPPH) free radical scavenging, iron reducing power, and metal chelating activity analysis and showed excellent antioxidative results. In 3-(4,5-dimethylthiazol-2-yl)-2,5-diphenyltetrazolium bromide (MTT) assay, the result showed that the samples had no cytotoxic effect on RAW 264.7 cells even at a high concentration of 2 mg/mL. To investigate its immunomodulatory function, our estimation was to treat it with lipopolysaccharide (LPS) in RAW 264.7 cells to present anti-inflammatory capacities. The extract decreased reactive oxygen species (ROS) production levels in a dose-dependent manner measured by flow cytometry. We also examined various inflammatory mRNAs and proteins, including nuclear factor-κB (NF-κB), inducible nitric oxide synthases (iNOS), and cyclooxygenase-2 (COX-2). In quantitative reverse transcription polymerase chain reaction (qRT-PCR) and western blotting assay, all three targets were decreased by the extract, also in a dose-dependent manner. In conclusion,
P. emblica
fruit extract powder not only lessened antioxidative stress damages, but also inhibited inflammatory reactions.
View Full-Text
►

▼

Figures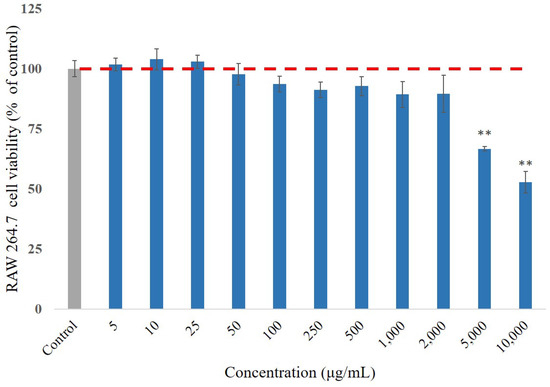 Figure 1
This is an open access article distributed under the
Creative Commons Attribution License
which permits unrestricted use, distribution, and reproduction in any medium, provided the original work is properly cited (CC BY 4.0).

Share & Cite This Article
MDPI and ACS Style
Wang, H. .-D.; Fu, L.; Cheng, C.C.; Gao, R.; Lin, M.Y.; Su, H.L.; Belinda, N.E.; Nguyen, T.H.; Lin, W.-H.; Lee, P.C.; Hsieh, L.P. Inhibition of LPS-Induced Oxidative Damages and Potential Anti-Inflammatory Effects of Phyllanthus emblica Extract via Down-Regulating NF-κB, COX-2, and iNOS in RAW 264.7 Cells. Antioxidants 2019, 8, 270.
Note that from the first issue of 2016, MDPI journals use article numbers instead of page numbers. See further details here.
Related Articles
Comments
[Return to top]