Paraoxonases (PON) 1, 2, and 3 Polymorphisms and PON-1 Activities in Patients with Sickle Cell Disease
1
Lipids, Oxidation, and Cell Biology Group, Laboratory of Immunology (LIM19), Heart Institute (InCor), Hospital das Clínicas HCFMUSP, Faculdade de Medicina, Universidade de Sao Paulo, 05403-900 Sao Paulo, Brazil
2
Department of Immunology, Institute of Biomedical Sciences, Universidade de Sao Paulo, 05508-000 Sao Paulo, Brazil
3
Department of Hematology, Faculdade de Medicina FMUSP, Universidade de Sao Paulo, 05419-000 Sao Paulo, Brazil
4
Center of Innovation and Translational Medicine (CIMTRA), Department of Medicine, Faculdade de Medicina FMUSP, Universidade de Sao Paulo, 05360-130 Sao Paulo, Brazil
5
Instituto Nacional de Ciencia e Tecnologia em Medicina Regenerativa (INCT-Regenera), CNPq, 21941-902 Rio de Janeiro, Brazil
*
Author to whom correspondence should be addressed.
Received: 19 June 2019 / Revised: 8 July 2019 / Accepted: 18 July 2019 / Published: 30 July 2019
Abstract
(1) Background: Oxidative stress, chronic inflammation, vasoocclusion, and free iron are all features present in sickle cell disease. Paraoxonases (PON) are a family (PON-1, PON-2, PON-3) of antioxidant enzymes with anti-inflammatory action. Here, for the first time, we described PON-1 activities and PON-1, PON-2, PON-3 polymorphisms in patients with sickle cell disease, homozygous for HbSS, compared with healthy controls. (2) Methods: The groups were matched for age and gender. PON-1 activities (arylesterase and paraoxonase) were determined by enzymatic hydrolysis of phenylcetate and paraoxon, respectively. Polymorphisms were determined by Restriction Fragment Length Polymorphism- Polymerase Chain Reaction (RFLP-PCR). (3) Results: Plasma cholesterol and fractions, ApoA1 and ApoB levels were all decreased in sickle cell disease patients, while anti-oxidized low-density lipoprotein (LDL) antibodies and C-reactive protein were increased. Serum arylesterase activity was lower in sickle cell disease patients when compared with healthy controls. In patients, paraoxonase activity was higher in those with PON-1 RR Q192R polymorphism. In these patients, the increase of serum iron and ferritin levels and transferrin saturation were less pronounced than those observed in patients with QQ or QR polymorphism. No differences were observed with PON-1 L55M, and PON-2 and PON-3 polymorphisms. Multivariate regression analysis showed that transferrin and ferritin concentrations correlated with arylesterase and paraoxonase activities. (4) Conclusions: Both transferrin and ferritin were the main predictors of decreased arylesterase and paraoxonase activities in patients with sickle cell disease. LDL oxidation increased, and RR PON-1 Q192R polymorphism is likely to be a protective factor against oxidative damage in these patients.
View Full-Text
►

▼

Figures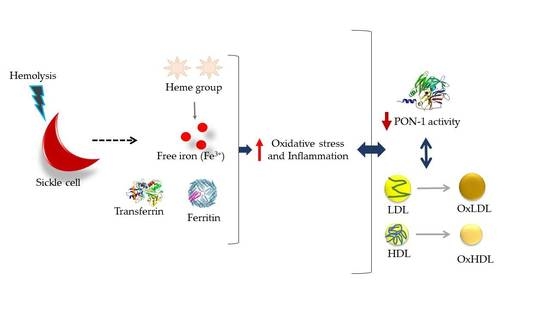 Graphical abstract
This is an open access article distributed under the
Creative Commons Attribution License
which permits unrestricted use, distribution, and reproduction in any medium, provided the original work is properly cited (CC BY 4.0).

Share & Cite This Article
MDPI and ACS Style
Reichert, C.O.; de Macedo, C.G.; Levy, D.; Sini, B.C.; Monteiro, A.M.; Gidlund, M.; Maselli, L.M.F.; Gualandro, S.F.M.; Bydlowski, S.P. Paraoxonases (PON) 1, 2, and 3 Polymorphisms and PON-1 Activities in Patients with Sickle Cell Disease. Antioxidants 2019, 8, 252.
Note that from the first issue of 2016, MDPI journals use article numbers instead of page numbers. See further details here.
Related Articles
Comments
[Return to top]