Cancer Development and Damped Electromagnetic Activity
1
Institute of Physics of the Czech Academy of Sciences, Na Slovance 2, 182 21 Prague 8, Czech Republic
2
Department of Gynaecology and Obstetrics of the 1st Faculty of Medicine, Charles University and General Teaching Hospital, Apolinářská 18, 128 51 Prague 2, Czech Republic
3
Senior private researcher, 250 92 Šestajovice, Czech Republic
4
3rd Department of Medicine, Department of Endocrinology and Metabolism of the 1st Faculty of Medicine, Charles University and General University Hospital in Prague, U nemocnice 1, 128 08 Prague 2, Czech Republic
*
Author to whom correspondence should be addressed.
Received: 29 December 2019 / Revised: 23 February 2020 / Accepted: 27 February 2020 / Published: 6 March 2020
Cancer can be initiated in a cell or a fibroblast by short-circuiting of the cellular electromagnetic field by various fibers, parasitic energy consumption, virus infections, and mitochondrial defects, leading to a damped cellular electromagnetic field. Except short-circuiting (e.g., by asbestos fibers), the central process is mitochondrial dysfunction in cancer cells (the Warburg effect) or in fibroblasts associated with a cancer cell (the reverse Warburg effect), critically lowered respiration, reversed polarity of the ordered water layers around mitochondria, and damped electromagnetic activity of the affected cells. Frequency and power changes of the generated electromagnetic field result in broken communication between cells and possibly in reduced control over chemical reactions, with an increased probability of random genome mutations. An interdisciplinary framework of phenomena related to cancer development is presented, with special attention to the causes and consequences of disturbed cellular electromagnetic activity. Our framework extends the current knowledge of carcinogenesis, to clarify yet unexplained phenomena leading to genome mutation and cancer initiation.
2. Materials and Methods
Cell-mediated immunity (CMI) response is considered to correlate with adherence of T lymphocytes to some solid-state surfaces [
39
] and interaction forces between human CD
4
Ly cells with the antigen [
40
]. Leukocyte adherence inhibition (LAI) assay is based on microscopic evaluation of in vitro adherence of T lymphocytes to surfaces of specific glass or plastic materials in the presence and in the absence of antigens. Two types of antigens were used. The specific antigen is an immunological functional fraction prepared from a malignant tumor of the same type as the malignancy of the patient from which the blood was taken. The nonspecific antigen is an immunological functional fraction prepared from the serum of inbred laboratory mouse C3H H2k strain infected with the LDH virus. Both antigens prepared by high-pressure gel chromatography are ribonucleic acids (RNA). A comprehensive description of the experimental method including preparation of T lymphocytes and the antigens is available in [
9
,
33
,
34
,
37
]. Sorption effects for separation of a complex naturally occurring mixture of high-molecular-weight compounds is described in Vytášek et al. [
41
] A simple and sensitive test for detection of tumor-specific antigen mediated by macrophage adherence inhibition is in Holáň et al. [
42
]. The gel chromatogram of antigen fractions prepared from human carcinoma and inbred mice (strain C3H) infected with LDH virus is in Jandová et al. [
37
]. Besides chemical reactions, the antigens were separated by a differential refractometer and a spectrophotometric detector, and the data were recorded, using a two-channel Philips PM 8010 recorder [
43
]. The antigen is a 340 nm fraction. A schematic picture with the receptor, ligand, and signaling pathway is in Jandová et al. [
36
].
The CMI response by the described method was investigated on patients with cancer of the cervix, endometrium, ovary, breast, and lung, as well as melanoblastoma and otorhinolaryngological cancers. Cancer diagnosis was verified by histopathology, using cell samples taken during surgery. Conditions for malignant transition in cancer development were studied on precancerous cervical lesions. These lesions were diagnosed by cytological (PAP) smears, from examination by colposcopy and from colposcopically directed 'punch' biopsy material by histology. The grades of development of precancerous lesions LSIL and HSIL (low- and high-grade squamous intraepithelial lesions, respectively) were determined by cytology, and CIN 1, 2, and 3 (cervical intraepithelial neoplasia) grades by histology—Jandová et al. [
37
].
Cells from healthy humans adhere both without and with the antigens, adherence of cancer cells with either antigen is decreased, and the mutual difference is small. The results of LAI assay were evaluated in three regions—healthy, noise, and pathological (e.g., cancer). A relative number is used:
M
= 100 ·
m
/
m
0
(in %) where
m
0
and
m
are numbers of cells in the suspension before and after the sedimentation–adhesion process.
The LAI assay is a complex and tedious experimental method, and unequivocal results are conditioned by a high purity of antigens. Chemical and physical agents can affect the cell-mediated immunity response [
34
,
35
,
36
]. For example, magnetic field 0.5–10 mT decreases (increases) adherence of CD
4
Ly taken from healthy humans (cancer patients). Magnetic field can affect adherence surface of glass, interaction forces between CD
4
Ly, and properties of antigen, but the mechanism of such behavior is unknown.
A positive response to the nonspecific antigen was also examined in patients with acute myocardial infarction, schizophrenia, and recurrent spontaneous abortions in early pregnancy from unknown reasons [
44
].
4. Discussion
Preventative measures should target the suppression of parasitic energy consumption and the production of increased immunity reactions against infectious agents—mainly viruses and bacteria—which can cause damping of generated electromagnetic field and condition mitochondrial dysfunction and genome mutation.
5. Conclusions
Electromagnetic activity is a natural part of life. Cancer is a disease of the cellular energy system, a pathological disturbance of coherent cellular electromagnetic field, leading to disturbed organization forces in inflicted cells and tissues. The fundamental disturbance is formed by damping caused by electron conductivity in cytosol or by short-circuiting fibers contaminating cells. A well-known short-circuiting is caused by asbestos. Damping by free electrons occurs in Warburg effect cancer cells and in fibroblasts associated with reverse Warburg effect cancer cells. The damping electrons are released from ordered water layers around mitochondria if the pH is higher than the critical intermediate value due to decreased transport of H+ ions across the mitochondrial membranes. Decreased transfer of H+ ions from the mitochondrial matrix may be caused by extensive parasitic consumption of pyruvate energy, by inhibition of pyruvate transfer to mitochondria resulting from dysfunction of PDH enzymes or other defects of mitochondrial function. Damped electromagnetic field and disturbed control by the reverse vibrational Stark effect might result in randomization of chemical reactions; this hypothesis may explain the occurrence of massive genome somatic mutations. Mitochondrial dysfunction is the central process triggering the development of the Warburg effect cancer cell and of the fibroblast malignant activity associated with the reverse Warburg effect cancer cells. Genome mutations then follow, rather than being the causing initiator. The main biophysical pathological links of both cancer transformation pathways are described and graphically visualized. Results of our extensive immune response study indicate precancerous conditions to be the critical phase in cancer transformation.
Cancers can be divided into three phenotypes based on their underlying mechanisms:
The Warburg effect (differentiated) cancer with mitochondrial dysfunction in a cancer cell is a process within a single cell. The electromagnetic field is damped, and the frequency of oscillations is increased. Gradual evolution of the pathological processes results in gradual morphological changes.

The reverse Warburg effect (undifferentiated) cancer is a pathological state not only of a cell but also of pathological interactions in the tissue. Fibroblasts with mitochondrial dysfunction supply energy-rich metabolites to the corresponding cancer cell. The cancer cell has fully functional mitochondria, high power of the electromagnetic field shifting oscillations to an unstable nonlinear region, and lowered frequency. Strong, unstable acting forces result in extensive morphological changes.

Cancer caused by short-circuiting of a cell by conducting fibers is a single-cell process with similar characteristics as Warburg effect cancers.
All three phenotypes share common properties: decreased coherence, disturbed organization forces, and changed oscillation frequencies, resulting in disrupted interaction with the tissue, local invasion, and metastases.
Author Contributions
Conceptualization, J.P.; physical investigation, J.P.; medical investigation, J.K.; laboratory investigation, A.J.; medical consultation, R.H. All authors have read and agreed to the published version of the manuscript.
Funding
This research was funded by the Czech Science Foundation, grant number 16–12757S.
Acknowledgments
We would like to thank Ivan Gregora for his help with image processing, and to Ivan Rychetský for his help with proofreading.
Conflicts of Interest
The authors declare no conflict of interest.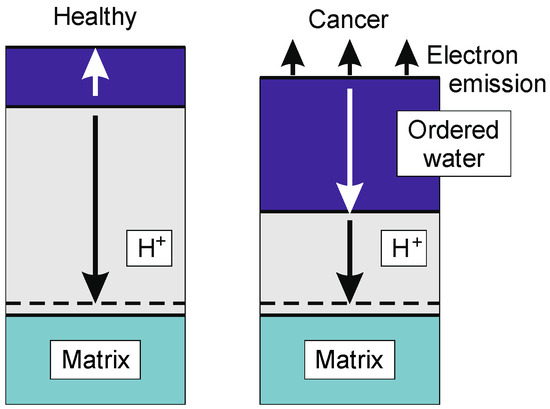 Figure 1. Potential layers at the inner mitochondrial membrane of functional (Healthy) and dysfunctional (Cancer) mitochondria. The electric potential consists of two components—the actual electric potential of the electrochemical H+ gradient and the potential of the ordered water layer. The vertical dimensions of the layers correspond to the electric potentials and the inner arrows denote orientations of the intensity of the electric field. For pH < pH0, the intensity of the electric field in the ordered water layer has an opposite direction to the electric potential of the electrochemical H+ gradient. For pH > pH0, both directions are the same. The intermediate value pH0 determines the point where the ordered water layer is not formed. The arrows at the upper surface of ordered water layer in the cancer case denote emission of electrons which damp the electromagnetic field.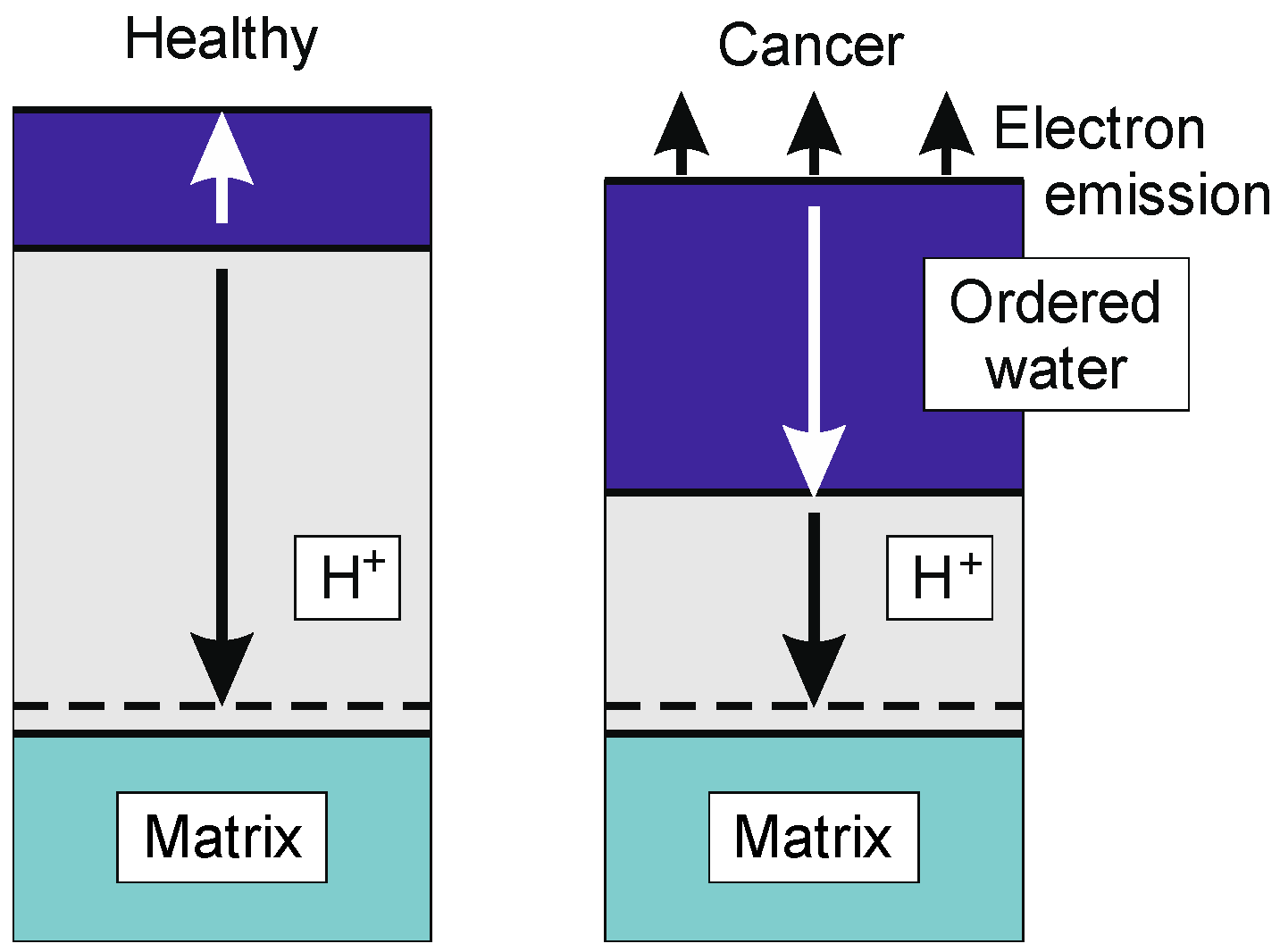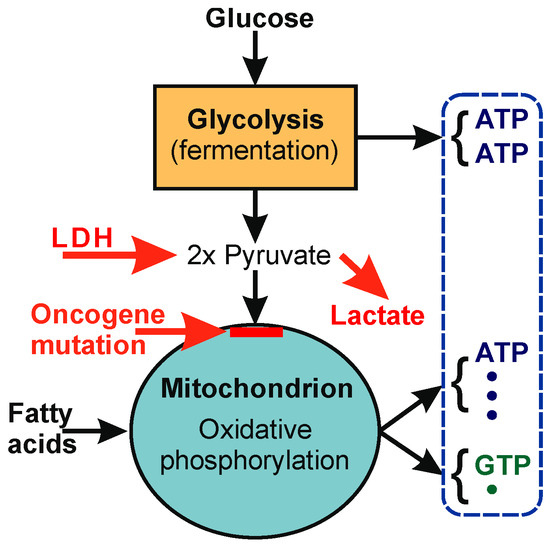 Figure 2. Energy transformation by glycolysis and oxidative phosphorylation in living cells. Cancer development can result from inhibition of pyruvate transfer to mitochondrial matrix. Parasitic energy consumption and transfer of pyruvate to lactate form a parallel pathway to mitochondrial dysfunction caused by deactivated PDH enzymes.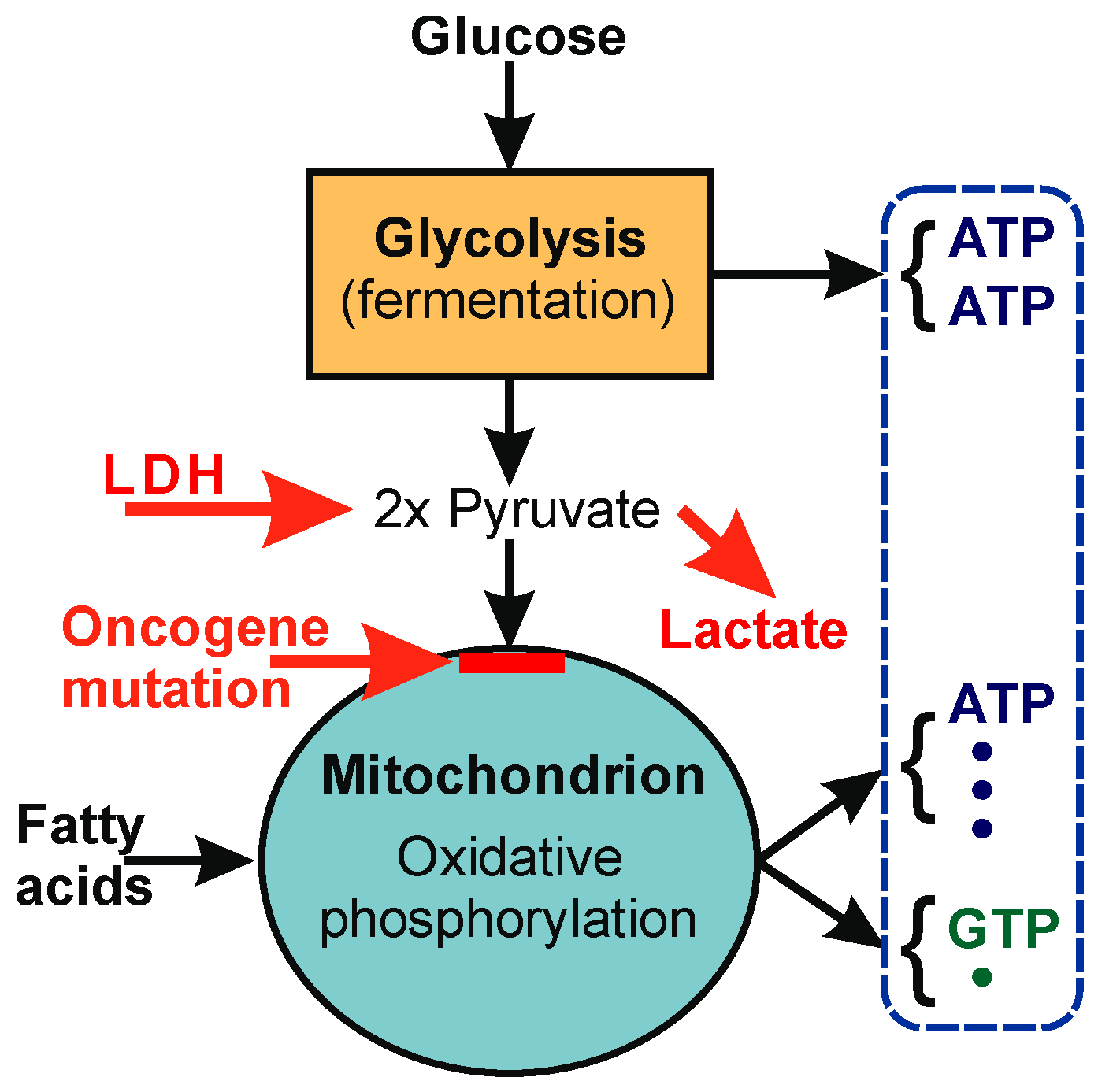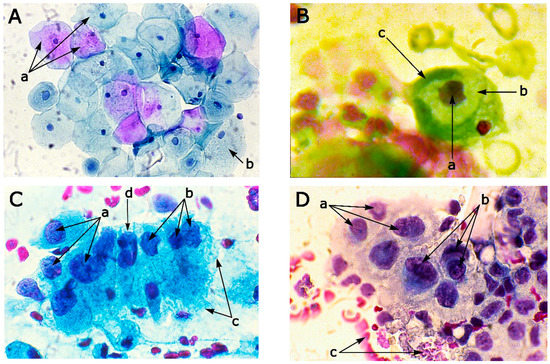 Figure 3.
Cellular morphological disorder indicates pathologically mutated forces. (
A
) Healthy uterine cervix cells: (a) superficial squamous cells. (b) Intermedial cells. (
B
) LSIL—low grade squamous intraepithelial cervical cell lesion (mild precancerosis): (a) nucleoli are generally absent, nuclei are three times larger compared to those of normal intermedial cells. A variable degree of nuclear hyperchromasia. (b) Perinuclear cavitation (koilocytosis) consisting of sharply delineated clear perinuclear zone. (c) Well-defined cytoplasm. (
C
) HSIL—high grade squamous intraepithelial cervical cell lesion (severe precancerosis): (a) the cells are smaller than the cells in LSIL. Cell size varies. (b) The degree of nuclear enlargement is variable too. (c) Contours of nuclear membrane are quite irregular. (d) Wrinkling of nuclear membrane. (
D
) Invasive carcinoma cells: (a) cells are frequently smaller than healthy ones and display most of the features of HSIL cells. (b) Nuclei demonstrate coarsely clumped chromatin. (c) Tumor diathesis consists of necrotic debris of cells and old blood. Magnification: (
A
) 200×; (
B
–
D
) 350×; Staining: (
A
,
C
,
D
)—Papanicolaou [
70
], (
B
)—Pekárek [
71
], Kobilková and Siracký [
72
]. Location: (
A
) ectocervix of uterus; (
B
) vagina; (
C
,
D
) endocervical area. Nuclei—dark colors; cytoplasm—light colors.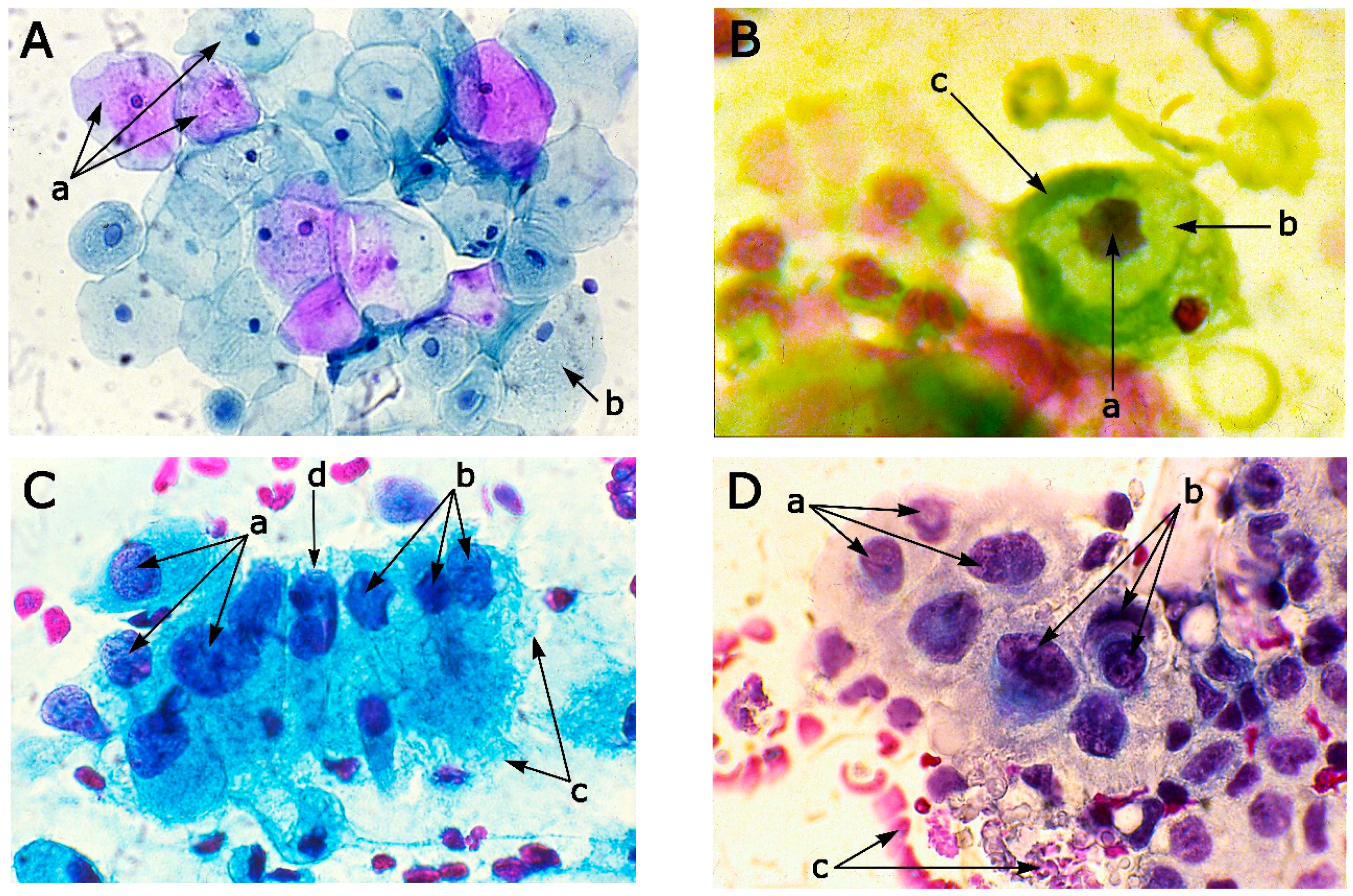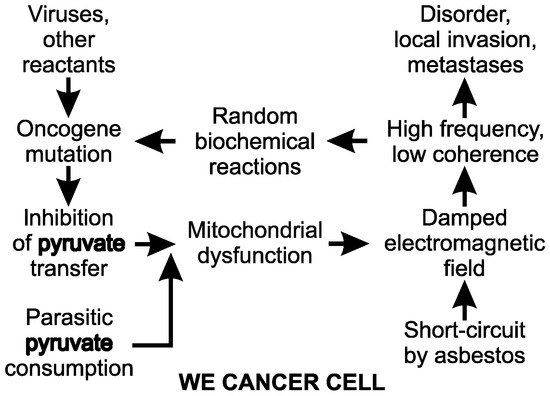 Figure 4. A schematic picture of physical pathological links in cancer development of the Warburg effect (differentiated) phenotype. Damping of the cellular electromagnetic field is the main functional link along the pathway of cancer development. The electromagnetic field can be damped by electrons released from the repolarized ordered water layers around dysfunctional mitochondria or by conducting fibers inside the cell, such as asbestos. The organization forces of electromagnetic nature in a cell are disturbed.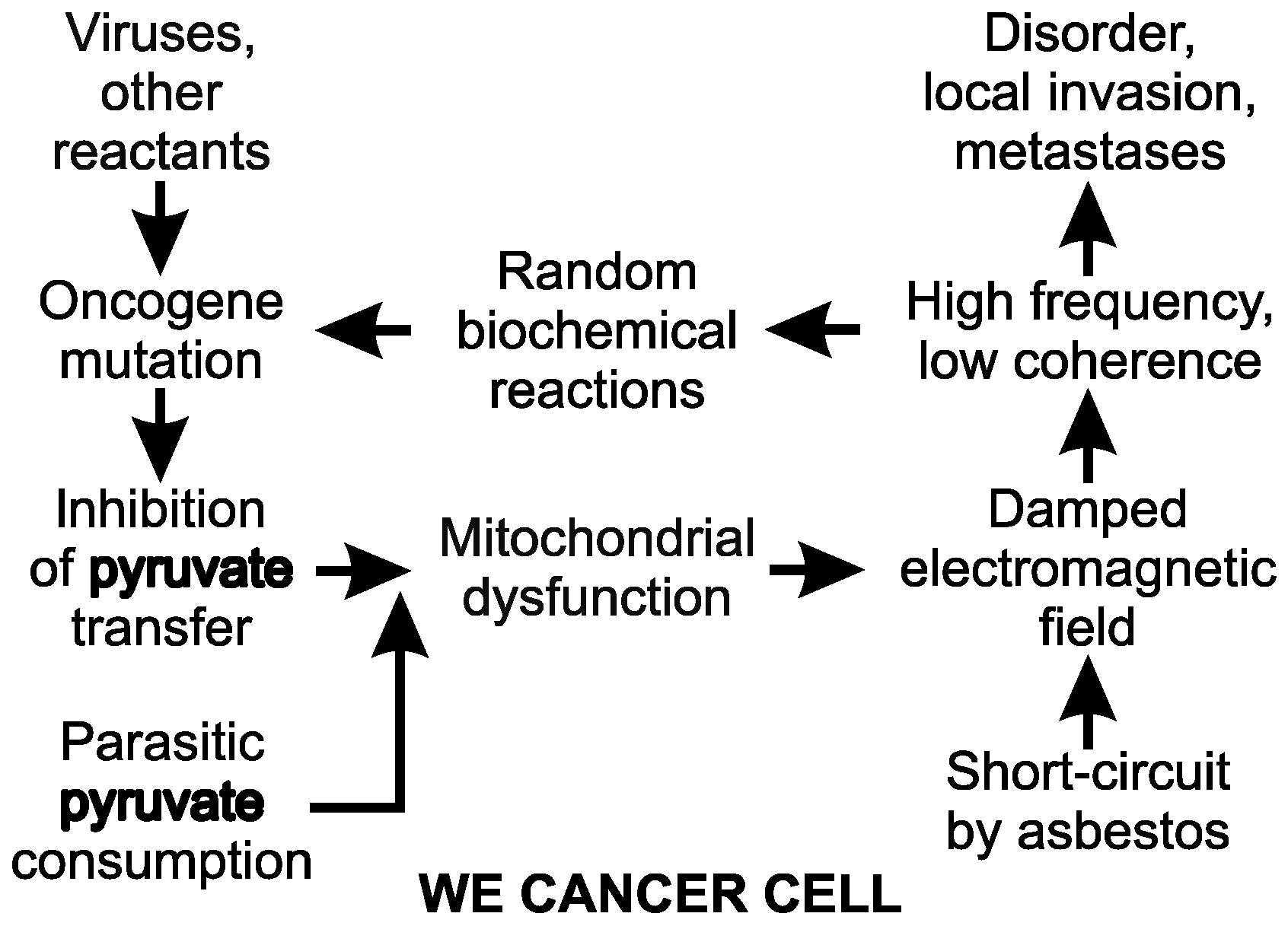 Figure 5. A schematic picture of physical pathological links in cancer development of the reverse Warburg effect (undifferentiated) phenotype. Pathological processes in a fibroblast associated with the cancer cell are similar to those in a cancer cell of the Warburg effect. Pathological transformation of the fibroblast is controlled by signaling from the tissue and from the cancer cell. Loss of stromal Cav-1 expression is a key condition for development of the reverse Warburg effect. The cancer cell is fueled by energy-rich metabolites produced by fibroblasts.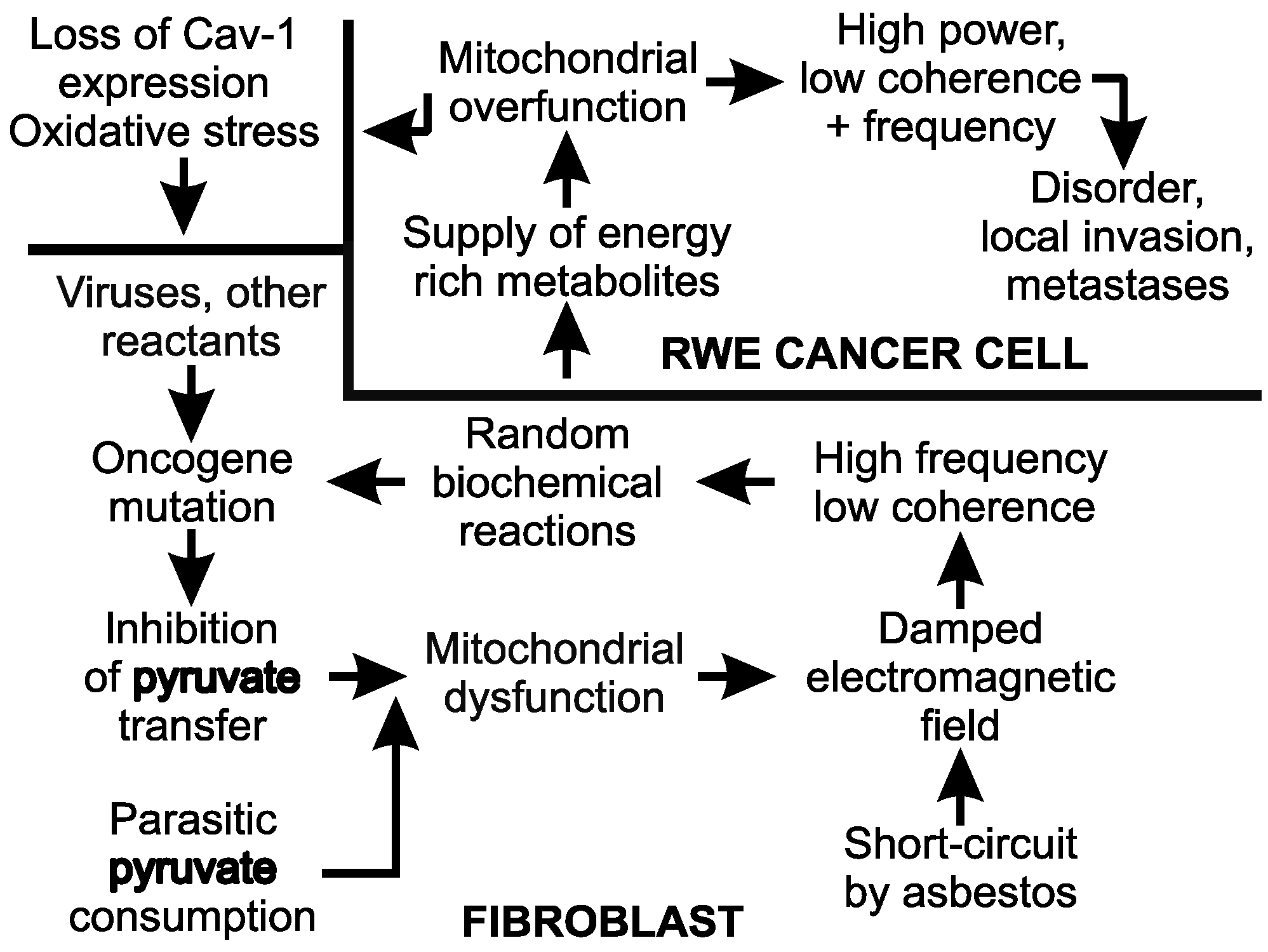 © 2020 by the authors. Licensee MDPI, Basel, Switzerland. This article is an open access article distributed under the terms and conditions of the Creative Commons Attribution (CC BY) license (http://creativecommons.org/licenses/by/4.0/).