Effects of Dietary Energy on Growth Performance, Rumen Fermentation and Bacterial Community, and Meat Quality of Holstein-Friesians Bulls Slaughtered at Different Ages
State Key Laboratory of Animal Nutrition, College of Animal Science and Technology, China Agricultural University, Beijing 100193, China
*
Authors to whom correspondence should be addressed.
Received: 29 October 2019 / Revised: 7 December 2019 / Accepted: 9 December 2019 / Published: 11 December 2019
(This article belongs to the Section
Cattle
)
Simple Summary
Beef tenderness, flavour and juiciness are quality characteristics of consumer eating satisfaction. Marbling level of beef could determine quality characteristics by concentrating water soluble flavour molecules and releasing low fat-solubility volatiles faster. Increasing number of Holstein-Friesians bulls are used for beef production, and this breed is considered to have lower meat quality than purebred and crossbred beef cattle. Therefore, in this study we designed different dietary energy levels and slaughter ages to find ways to improve the meat quality of Holstein-Friesians bulls in beef production. We found that Holstein-Friesians bulls fed with 10.90 and 11.68 MJ/kg metabolizable energy diets, compared to a diet with 10.12 MJ/kg of metabolizable energy, had higher average daily gain, dressing percentage, intramuscular fat content and water holding capacity at 23 or 26 months of age. This study provides a basis to use bulls to produce beef by providing indicators of growth performance, rumen fermentation and ruminal bacteria community, and meat quality.
The objective of this study was to evaluate the effects of dietary energy levels on growth performance, rumen fermentation and bacterial community, and meat quality of Holstein-Friesians bulls slaughtered at different ages. Thirty-six Holstein-Friesians bulls (17 months of age) were divided into a 3 × 3 factorial experiment with three energy levels (LE, ME and HE; metabolizable energy is 10.12, 10.90 and 11.68 MJ/kg, respectively) of diets, and three slaughter ages (20, 23 and 26 months). Results indicated that bulls fed with ME and HE diets had higher dry matter intake, average daily gain, and dressing percentage at 23 or 26 months of age. The ME and HE diets also reduced bacterial diversity, altered relative abundances of bacteria and produced lower concentrations of acetate, but higher butyrate and valerate concentrations in rumen fluid. Increasing in dietary energy and slaughter age increased the intramuscular fat (IMF) and water holding capacity. In summary, Holstein-Friesians bulls fed with ME and HE diets, slaughtered at 23 and 26 months of age could be a good choice to produce beef with high IMF. Slaughter age may have less influence than dietary energy in altering fermentation by increasing amylolytic bacteria and decreasing cellulolytic bacteria, and thus, further affecting meat quality.
View Full-Text
►

▼

Show Figures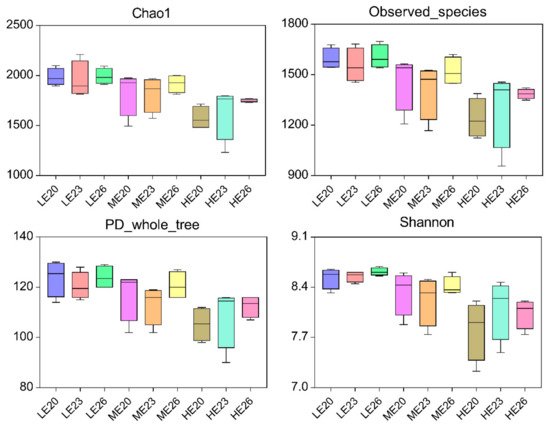 Figure 1
This is an open access article distributed under the
Creative Commons Attribution License
which permits unrestricted use, distribution, and reproduction in any medium, provided the original work is properly cited

MDPI and ACS Style
Wang, H.; Li, H.; Wu, F.; Qiu, X.; Yu, Z.; Niu, W.; He, Y.; Su, H.; Cao, B. Effects of Dietary Energy on Growth Performance, Rumen Fermentation and Bacterial Community, and Meat Quality of Holstein-Friesians Bulls Slaughtered at Different Ages. Animals 2019, 9, 1123.
Show more citation formats
Show less citations formats
Note that from the first issue of 2016, MDPI journals use article numbers instead of page numbers. See further details
here
.