High Altitude Adaptability and Meat Quality in Tibetan Pigs: A Reference for Local Pork Processing and Genetic Improvement
1
College of Animal Science and Technology, Sichuan Agricultural University, Chengdu 611130, Sichuan, China
2
Farm Animal Genetic Resources Exploration and Innovation Key Laboratory of Sichuan Province, Sichuan Agricultural University, Chengdu 611130, Sichuan, China
*
Authors to whom correspondence should be addressed.
†
These authors contributed equally to this work.
Received: 2 October 2019 / Revised: 20 November 2019 / Accepted: 20 November 2019 / Published: 3 December 2019
Simple Summary
The increase in altitude will bring about a complex change in a series of elements of nature, which will have a profound impact on human production and life. Studying domestic animals in the native environment is an effective way to explore the impact of high altitude on human life, and at the same time is conducive to the development of local animal husbandry. Here, we found that the hypoxic adaptation of Tibetan pigs may be related to higher levels of VEGFA, HIF1 and myoglobin expression. The higher aerobic oxidative capacity of Tibetan pigs is beneficial to improve energy utilization, and the higher UFA content of Tibetan pigs is beneficial to cold resistance. In addition, Tibetan pigs have higher levels of BCAA and Myh2 expression, which serve to relieve muscle fatigue and improve endurance. In addition, it was observed that there are obvious differences in carcass and meat quality traits of different altitudes pigs. Taken together, our findings illustrate the adaptability of Tibetan pigs to high altitude from various perspectives and compare carcass and meat quality traits of three pig breeds.
The carcass and meat quality traits of pig breeds living at three different altitudes (Yorkshire pigs, YP: 500m; Qingyu Pigs, QYP: 1500m; Tibetan pigs, TP: 2500m) were compared. It was observed that there are obvious differences in pig breeds with respect to performance parameters. Specifically, YP had the best carcass traits, showing high slaughter rates and leanest meat. Conversely, QYP had the highest back fat thickness and intramuscular fat (IMF) content. For the high-altitude breed TP, the animals exhibited low L* and high a* values. The genotypes contributing to the observed phenotypes were supported by a PCR analysis. The glycolytic genes expression (HK, PFK, PK) were highest in YP, whereas expression of genes related to adipogenesis (C/EBPα, FABP4, SCD1) were highest in QYP. As expected, genes associated with angiogenesis and hypoxia (
HIF1a
,
VEGFA
) were expressed at the highest levels in TP. The composition and proportion of amino and fatty acids in pig muscles at the three altitudes examined also varied substantially. Among the breeds, TP had the highest proportion of umami amino acids, whereas QYP had the highest proportion of sweet amino acids. However, TP also exhibited the highest proportion of essential fatty acids and the lowest proportion of n6:n3. This study explains the high-altitude adaptive evolution and the formation of meat quality differences in different altitude pigs from various angles and provides a reference for local pork food processing and genetic improvement of local pigs.
View Full-Text
►

▼

Show Figures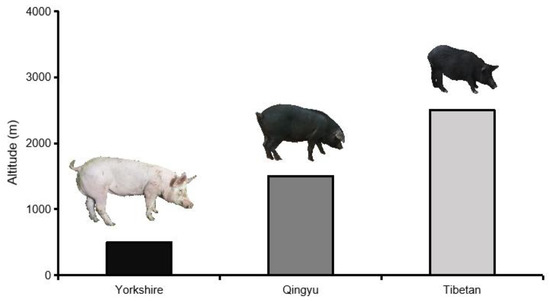 Figure 1
This is an open access article distributed under the
Creative Commons Attribution License
which permits unrestricted use, distribution, and reproduction in any medium, provided the original work is properly cited

MDPI and ACS Style
Gan, M.; Shen, L.; Fan, Y.; Guo, Z.; Liu, B.; Chen, L.; Tang, G.; Jiang, Y.; Li, X.; Zhang, S.; Bai, L.; Zhu, L. High Altitude Adaptability and Meat Quality in Tibetan Pigs: A Reference for Local Pork Processing and Genetic Improvement. Animals 2019, 9, 1080.
Show more citation formats
Show less citations formats
Note that from the first issue of 2016, MDPI journals use article numbers instead of page numbers. See further details
here
.