In Vitro Digestibility, In Situ Degradability, Rumen Fermentation and N Metabolism of Camelina Co-Products for Beef Cattle Studied with a Dual Flow Continuous Culture System
Animal Nutrition and Welfare Service (SNIBA), Department of Animal and Food Science, Universitat Autonòma de Barcelona, 08193 Bellaterra, Spain
*
Author to whom correspondence should be addressed.
Received: 6 November 2019 / Revised: 27 November 2019 / Accepted: 29 November 2019 / Published: 3 December 2019
Simple Summary
Currently, vegetable protein sources such as soybean meal and rapeseed meal are expensive and with volatile prices. These economic circumstances are driving the research of potential new protein resources for beef cattle diets that can reduce the ration cost without compromising animal productive yields. As possible candidates, camelina meal and camelina expeller have been studied; they are co-products with a high protein percentage, obtained after oil extraction from the oil seeds of Camelina sativa. The objectives of this study were to characterize these camelina co-products and ascertain if they could be useful ingredients for beef cattle diets. The results indicate that the diets formulated with camelina meal and camelina expeller do not show differences in the efficiency of microbial protein synthesis compared to the current reference proteins, camelina meal diet being the most similar to soybean meal and rapeseed meal diets, and camelina expeller the diet with the highest fermentation potential. The results of soybean meal as an individual ingredient reveal more differences with camelina co-products. In vivo studies are necessary to draw conclusions, but in vitro results obtained suggest that camelina meal and camelina expeller are potential substitutes for rapeseed meal in beef cattle diets.
Camelina meal (CM) and camelina expeller (CE) were compared with soybean meal (SM) and rapeseed meal (RM). Trial 1 consisted of a modified Tilley and Terry in vitro technique. Trial 2 was an in situ technique performed by incubating nylon bags within cannulated cows. Trial 3 consisted in dual-flow continuous culture fermenters. In Trial 1, CM, CE and RM showed similar DM digestibility and OM digestibility, and SM was the most digestible ingredient (
p
< 0.05). Trial 2 showed that CE had the numerically highest DM degradability, but CP degradability was similar to RM. Camelina meal had a DM degradability similar to SM and RM and had an intermediate coefficient of CP degradability. In Trial 3, CE diet tended to present a higher true OM digestibility than SM diet (
p
= 0.06). Total volatile fatty acids (VFA) was higher in CE and CM diets than in SM diet (
p
= 0.009). Crude protein degradation tended to be higher (
p
= 0.07), and dietary nitrogen flow tended to be lower (
p
= 0.06) in CE diet than in CM diet. The efficiency of microbial protein synthesis was not affected by treatment (
p
> 0.05). In conclusion, CE and CM as protein sources differ in CP coefficient of degradability but their results were similar to RM. More differences were detected with regard to SM.
View Full-Text
►

▼

Show Figures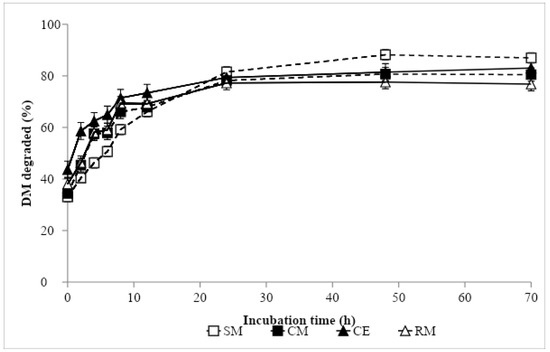 Figure 1
This is an open access article distributed under the
Creative Commons Attribution License
which permits unrestricted use, distribution, and reproduction in any medium, provided the original work is properly cited

MDPI and ACS Style
Salas, H.; Castillejos, L.; López-Suárez, M.; Ferret, A. In Vitro Digestibility, In Situ Degradability, Rumen Fermentation and N Metabolism of Camelina Co-Products for Beef Cattle Studied with a Dual Flow Continuous Culture System. Animals 2019, 9, 1079.
Show more citation formats
Show less citations formats
Note that from the first issue of 2016, MDPI journals use article numbers instead of page numbers. See further details
here
.