Effect of Breed on Fatty Acid Composition of Meat and Subcutaneous Adipose Tissue of Light Lambs
Dipartimento di Scienze Agrarie, Alimentari ed Ambientali, Università Politecnica delle Marche, Via Brecce Bianche 10, 60131 Ancona, Italy
*
Authors to whom correspondence should be addressed.
Received: 26 February 2020 / Revised: 21 March 2020 / Accepted: 22 March 2020 / Published: 23 March 2020
Simple Summary
The recognition of the role of food in the improvement and preservation of health is receiving more and more attention among consumers, especially in developed countries. Fats from red meats are considered quite unhealthy because of their high levels of cholesterol and saturated fatty acids. Healthier lipid profiles of red meats can be achieved by a proper feed composition of animals, but other factors, such as breed, sex, and live weight, are able to affect the nutritional properties of meats. This investigation aimed to evaluate the effect of breed (Bergamasca, Italian Merino, and Sopravissana) on the fatty acid composition of invisible (intramuscular) and visible (subcutaneous) fats of light lambs reared in Central Italy transhumant farms. They recently gained a Protected Geographical Indication label (European Union, Commission Implementing Regulation No. 475/2013), as "Agnello del Centro Italia". It is an income opportunity for local farms that passes through the nutritional valorization of lamb meat. The indices of nutritional quality of fats have showed that the meat of Italian Merino and Sopravissana lambs had better nutritional quality than the Bergamasca breed.
Lamb meat is the main product of Central Italy transhumant farms, where lambs are traditionally reared with their mothers on pastures and are supplemented with concentrates and/or hay from day 20–30 until slaughter. However, few data are available on the fatty acid (FA) composition of unweaned lambs reared by extensive systems in Central Italy. The study aimed to evaluate the effect of breed (Bergamasca, Italian Merino, and Sopravissana) on the FA composition of intramuscular (longissimus lumborum, LL) and subcutaneous (SC) fats of light lambs. Statistical analysis showed that breed had effect only on some FAs in LL muscle fat (C18:0, C20:0, C14:1, C16:1, C17:1, C18:3 n-3, trans and conjugated linoleic acid isomers) and in SC adipose tissue (C21:0, C16:1, C18:1, C20:4 n-6, C20:5 n-3, C18:1 trans isomers). Gas chromatography data in combination with a chemometric approach could have some potential to discriminate among breeds. Indices of nutritional quality of the lipids suggested that the meat of Italian Merino and Sopravissana lambs might have better nutritional quality than Bergamasca; further studies, involving a greater number of animals, are needed to confirm these early results.
View Full-Text
►

▼

Show Figures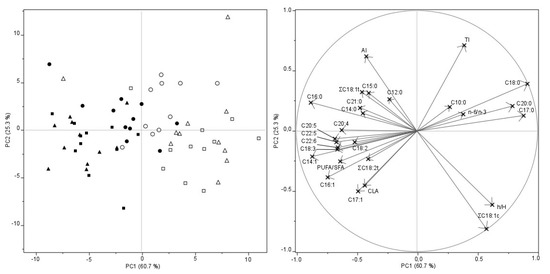 Figure 1
This is an open access article distributed under the
Creative Commons Attribution License
which permits unrestricted use, distribution, and reproduction in any medium, provided the original work is properly cited

Note that from the first issue of 2016, MDPI journals use article numbers instead of page numbers. See further details
here
.