Metabolomics Approach Explore Diagnostic Biomarkers and Metabolic Changes in Heat-Stressed Dairy Cows
1
Animal Nutrition Institute, Sichuan Agricultural University, Chengdu 611130, China
2
Department of Bioengineering, Sichuan Water Conservancy Vocation College, Chengdu 611845, China
*
Author to whom correspondence should be addressed.
Received: 3 August 2020 / Revised: 14 September 2020 / Accepted: 16 September 2020 / Published: 25 September 2020
Simple Summary
Heat stress results in a decline in the production performance of the dairy cows. This study explored the metabolomes of milk and blood plasma in heat-stressed cows by means of 1H nuclear magnetic resonance (1H NMR)-based metabolomics tools. Findings of the current experiment reveal that HS alters the metabolic composition of milk and blood plasma in lactating dairy cows. In brief, HS alters twelve metabolites in blood plasma and eight metabolites in milk, which are primarily involved in proteolysis, gluconeogenesis, and milk fatty acid synthesis, suggesting that these metabolites could be possible biomarkers for heat-stressed dairy cows.
In the present experiment, we investigated the impact of heat stress (HS) on physiological parameters, dry matter intake, milk production, the metabolome of milk, and blood plasma in lactating Holstein dairy cows. For this purpose, 20 Holstein lactating cows were distributed in two groups in such a way that each group had 10 cows. A group of 10 cows was reared in HS conditions, while the other group of 10 cows was reared in the thermoneutral zone. The results of the experiment showed that cows subjected to HS had higher respiration rates (
p
< 0.01) and greater rectal temperature (
p
< 0.01). Results of milk production and composition explored that HS lowered milk production (
p
< 0.01) and milk protein percentage (
p
< 0.05) than cows raised in a thermoneutral place. Furthermore, HS increased the concentrations of N-acetyl glycoprotein, scyllo-inositol, choline, and pyridoxamine in milk, while HS decreased the concentrations of O-acetyl glycoprotein, glycerophosphorylcholine, citrate, and methyl phosphate in milk. Moreover, HS enhanced plasma concentrations of alanine, glucose, glutamate, urea, 1-methylhistidine, histidine, and formate in cows, while the plasma concentration of low-density lipoprotein, very-low-density lipoprotein, leucine, lipid, and 3-hydroxybutyrate decreased due to HS. Based on the findings of the current research, it is concluded that HS alters the milk and blood plasma metabolites of lactating Holstein dairy cows. Overall, in the current experiment, HS altered eight metabolites in milk and twelve metabolites in the plasma of lactating Holstein dairy cows. Furthermore, the current study explored that these metabolites were mainly involved in proteolysis, gluconeogenesis, and milk fatty acid synthesis and could be potential biomarkers for dairy cows undergoing HS.
View Full-Text
►

▼

Show Figures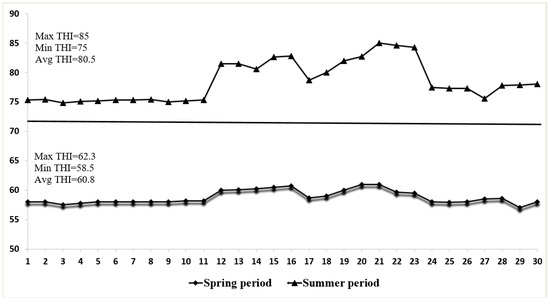 Figure 1
This is an open access article distributed under the
Creative Commons Attribution License
which permits unrestricted use, distribution, and reproduction in any medium, provided the original work is properly cited

MDPI and ACS Style
Yue, S.; Ding, S.; Zhou, J.; Yang, C.; Hu, X.; Zhao, X.; Wang, Z.; Wang, L.; Peng, Q.; Xue, B. Metabolomics Approach Explore Diagnostic Biomarkers and Metabolic Changes in Heat-Stressed Dairy Cows. Animals 2020, 10, 1741.
Show more citation formats
Show less citations formats
Note that from the first issue of 2016, MDPI journals use article numbers instead of page numbers. See further details
here
.